TOTEM 26" TY5.0 Alloy Mountain Bike (Blue White) with SHIMANO equipped

TOTEM Bicycles is a famous manufacturer established in 1987. Tianjin Golden Wheel Group Co.Ltd. is a 20-year history of the production of bicycles leading enterprises. R & D, manufacturing, sales of bicycles and related equipment in one, HQ is located in one of China's four major municipalities in Tianjin, own 100million RMB fixed assets, 3 head office, 26 plants, more than 5,000 employees. The factory park covers an area of nearly 300,000 square meters, with an annual output value of 1 billion RMB.
Golden Wheel Group products mainly export-oriented, the main brand:- TOTEM, UPLAND, agent brand has LAPIERRE (La Pyle, 70 years of history of the French bike brand, is the Tour de France FDJ one of the sponsors), 3T (Italian cycling spare parts brand), ZEFAL (French riding equipment brand) and so on.
In recent years, domestic and international previous bike exhibition, the TOTEM(Golden Wheel Group) exhibited a variety of nearly 100 kinds of aluminum alloy fork, carbon fiber and other new high-quality materials to build a new mountain bike, loved by customers in all over the world. In 2008 Shanghai International Bicycle exhibition, sales volume even reached more than 100 business deal, worth 600 million RMB.
TOTEM long-term partners, the world's top bicycle parts manufacturers, Japan Shimano Co., Ltd. founder Mr.SHIMANO give a high evaluation to TOTEM(Golden Wheel Group) products.
The pursuit of excellence with great service, TOTEM products bring joy and health for the world's friends.
Bicycling lets you have fun and get exercise while being kind to the environment at the same time. It can also be a great way to run errands, commute to work or experience a backcountry trail, not to mention more serious pursuits such as touring or racing. But what's better than a normal bicycle? A TOTEM bike of course! Now you can literally carry your bike around with TOTEM Bicycles. The thought of leading technology with various range of bicycles for all kinds of outdoor activities; from pure sight-seeing, cycling around the park to the extreme bicycle games and tricks, will immediately reflects and leads us to "TOTEM ".
TOTEM / MARSSTAR MTB Unboxing & Assembling Video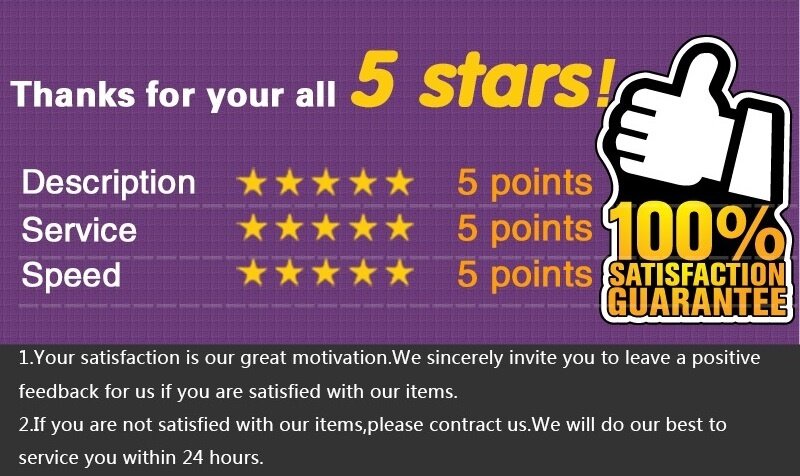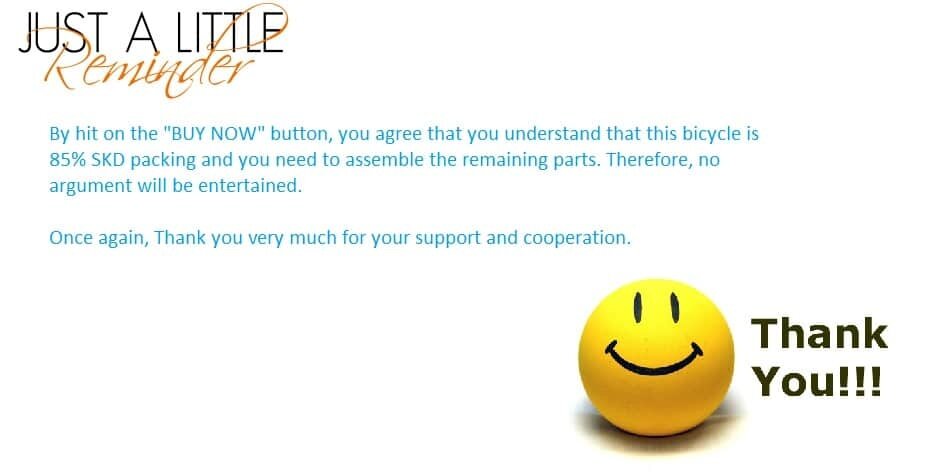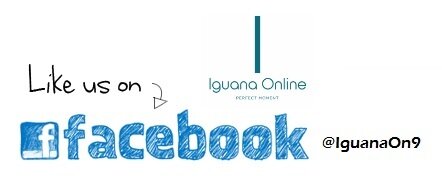 Warranty by Iguana Online
6 Months warranty from date of receipt.


For Warranty Claims:
*STEP 1: Email Iguana Online at igo@wahha.com.my and provide the following details:
[Name]
[Contact number]
[Delivery address]
[Order Reference number]
[Attached photo / video of faulty product]

*STEP 2: Upon confirmation, a mailing address will be provided.
*STEP 3: Faulty products must be delivered in its original packaging (including accessories, manuals, and documentation) to Iguana Online, Selangor. Delivery costs to be covered by customer. 14 working days to process.

Iguana Online will cover delivery costs of replacement or repaired product to customer.
Warranty claims which do not fulfill the steps above will not be processed due to missing information.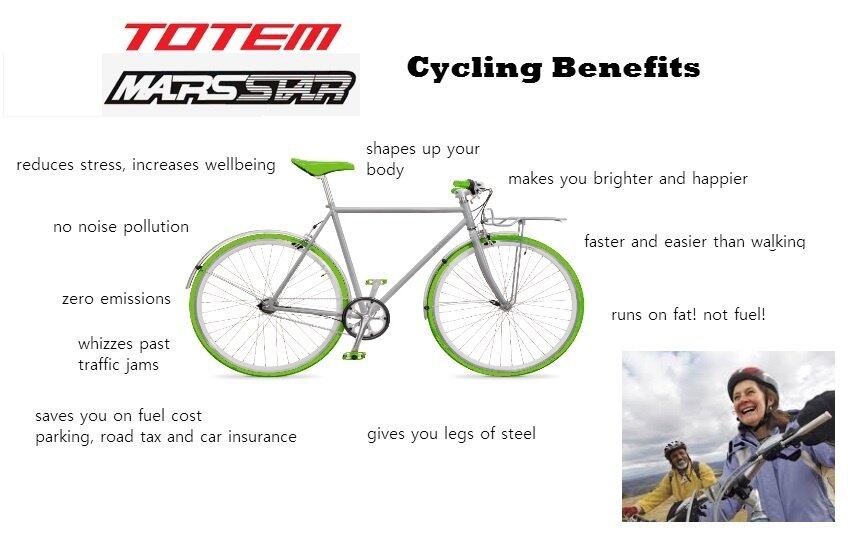 Basic Information
Basic Information of Product
Product Status/Sales Type
New
Product No.
55954240
Weight (KG)
18 kg
Country of Origin
N/A
Shipping Method
Courier Service
GST Applicable
SR 0%
After Sale Service
Need help? Please LIKE our FB: IguanaON9
Brand
Totem
Already purchased this product? Write your review here.
Read more

Read less
/300
(this will only be visible between you and seller)
All your Q&A posts are available in My Page > My Shopping Talk > My Q&A History.
Once seller replies, you will be notified by email.
Your posts may be removed and 11street reserves the right to suspend your account if inappropriate contents are found;

Any implication of direct trade / discounts with your contact number, email address, or any offline contact point.
Any indication of libel/defamation, inappropriate price comparison, unrelated ads, etc.
Seller's Information
Seller
IGUANA ONLINE
Shipping from
Return/Exchange address
Notice on Return/exchange
No Exchanges or Returns on Goods Sold

Any inquiries please drop us at this link:
https://api.whatsapp.com/send?phone=60129023566https://soffice.11street.my/product/ProductReg/viewForm.do?prdNo=55954240&reRegYn=N&popYn=Y&memNo=51767976&anchorPos=#btnModifySave
11Street Return/Exchange Policy
Cancellation

Request for cancellation if product has not been dispatched after payment completion.
Strictly no cancellation for E-voucher after purchased.

Return

Request for return within 7 calendar days following delivery date.
Check seller's approval on buyer's request.
Buyer sends product in question to buyer.
Seller receives and checks returned product.
Seller approves return and return is completed.
Strictly no return or refund for E-voucher.

Exchange

Request for exchange within 7 calendar days following receipt of delivery.
Check seller's approval on buyer's request.
Buyer sends product in question to seller.
Seller receives and checks returned product
Seller send new product to buyer, and buyer receives it, and exchange is completed.
No exchange for E-voucher purchased.
How to Request for Cancellation/Return/Exchange
You can request for cancellation after completing payment and if product has not been dispatched by then, cancellation request is approved and you can receive refund.
But, in case seller has already dispatched product, cancellation request can be rejected.
You can request for return after obtaining product, you should send the product in question to seller.
After seller checks if returned product is flawed, and approves your request, return is completed and payment is refunded.
You can request for exchange if wrong product is shipped, you should send the product in question to seller.
After seller checks if returned product is flawed, seller approves your request, and re-sends new product.
Criteria for Return/Exchange
You can request for return/exchange within 7 calendar days following delivery date. But return/exchange request cannot be made in following cases:
When request due to change of mind is made after 7 calendar days following delivery date
When product is used, destroyed or damaged
When tag attached to product is removed or package of product is opened and product value is damaged
When sealed package is opened or packaging materials are lost
When too much time has passed and product value has so decreased that its re-sale is not possible
When return/exchange request is made for customized product such as hand-made shoes or accessories
When components of product (including free gift) have been used or lost
When buyer did not follow instructions included in product
As e-voucher products are immediately sent to your e-mail, returns/exchanges are not available. Please take note of this before purchase, and input your e-mail address correctly.
As Mobile Top-up products are directly reloaded on your cell phone number, returns/exchanges are not available. Please take note of this before purchase, and enter your cell phone number correctly.


For any inconvenience regarding Cancellation/Return/Exchange, please contact Customer Service at 03-2720-0000 and we will do our best to help you.
Notice
Please note that, direct transaction with the seller without using 11street payment service can cause problems such as; not receiving the product, receiving different product etc.
For sales products and contents registered by the seller, 11street run by Celcom Planet has no responsibility on any of the registered contents.