Synology DS918+ NAS DiskStation 4-Bays Bundle With DDR3 Memory Module 4GB
Synology Official Store
Synology DS918+ NAS DiskStation 4-Bays


Synology DiskStation DS918+ is a 4-bay NAS designed for small and medium-sized businesses and IT enthusiasts. Powered by a new quad-core processor, DS918+ provides outstanding performance and data encryption acceleration along with real-time transcoding of 4K Ultra HD source contents. Synology DS918+ is backed by Synology's 3-year limited warranty.

High-speed Scalable Storage Server

Synology DS918+ is a 4-bay network attached storage solution equipped with an quad-core processor and 4GB DDR3L memory (expandable up to 8GB). With Link Aggregation enabled, DS918+ delivers great sequential throughput performance at over 226 MB/s reading and 222 MB/s writing1 . With AES-NI hardware accelerated encryption, DS918+ delivers encrypted data throughput at over 225 MB/s reading and 221 MB/s writing1 . DS918+ newly supports M.2 NVMe 2280 SSDs, allowing fast system cache creation without occupying internal drive bays.

DS918+ can support up to 9 drives when connected to one Synology DX5172 expansion unit. Storage capacity can be expanded according to your business needs with minimal effort.


Btrfs: Next Generation Storage Efficiency

DS918+ introduces the Btrfs file system, bringing the most advanced storage technologies to meet the management needs of modern businesses:

Built-in data integrity check detects data and file system corruption with data and meta-data checksums and improves the overall stability.

Flexible Shared Folder/User Quota System provides comprehensive quota control over all user accounts and shared folders.

Advanced snapshot technology with customizable backup schedule allows up to 1,024 copies of shared folder backups in a minimum 5-minute interval without occupying huge storage capacity and system resources.

File or folder level data restoration brings huge conveniences and saves time for users who wish to restore only a specific file or folder.

File self-healing: Btrfs file system can auto-detect corrupted files with mirrored metadata, and recover broken data using the supported RAID volumes, which include RAID1, 5, 6, and 10.
Comprehensive Business Applications

Powered by the innovative Synology DiskStation Manager (DSM), DS918+ comes fully-equipped with applications and features designed specifically for small or growing businesses:

Windows® AD and LDAP support allow easy integration with existing business directory services, without needing to recreate user accounts.

Windows ACL support provides fine-grained access control and efficient privilege settings, allowing DS918+ to fit seamlessly into current infrastructure.

Internet file access is simplified by the encrypted FTP server and Synology File Station, a web-based file explorer. HTTPS, firewall, and IP auto-block support ensure file sharing over the Internet is protected with a high level of security.

Application Privileges controls access to applications and packages based on each individual account, user group, or IP address.

MailPlus allows your business to set up a secure, reliable, and private mail server while giving your employees a modern mail client for receiving and sending messages.

The powerful Collaboration Suite integrates Synology Office, Calendar, and Chat, ensuring secure and effective private communications and allowing your organizations to easily manage and control relevant contents.
Virtualization Solutions

Synology's Virtual Machine Manager opens up abundant possibilities, allowing you to set up and run various virtual machines, including Windows, Linux, and Virtual DSM. You can also test new software versions in a sandbox environment, isolate your customers' machines, and increase the flexibility of your DS918+ with reduced hardware deployment and maintenance costs.

Synology iSCSI storage fully supports most of the virtualization solutions, enhancing work efficiency with an intuituve management interface. VMware vSphere™ 6.5 and VAAI integration help offload storage operations and optimize computation efficiency. Windows Offloaded Data Transfer (ODX) speeds up data transfer and migration rate, while OpenStack Cinder support transforms your Synology NAS into a block-based storage component.

4K Ultra HD Multimedia Library

Synology DiskStation DS918+ features real-time transcoding for up to 2 channels of H.264/H.265 4K videos at the same time, bringing more powerful support to the latest multimedia formats and contents. With Video Station, you can organize personal digital video library with comprehensive media information, and watch 4K Ultra HD movies and films. The intuitive design of Photo Station allows you to effortlessly organize photos into customized categories, smart albums and blog posts, and link them to social networking websites within a few clicks. Audio Station comes with Internet radio and lossless audio formats support, and provides music playback via DLNA and AirPlay®-compliant devices.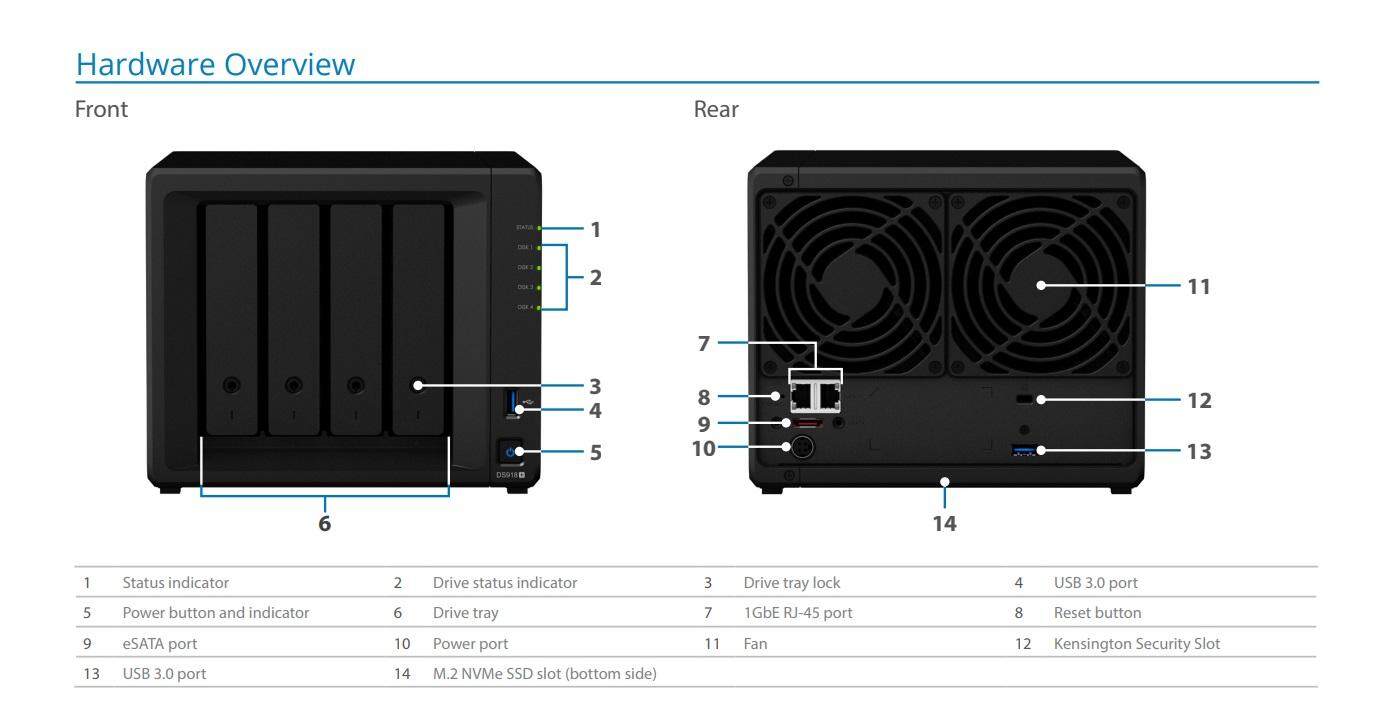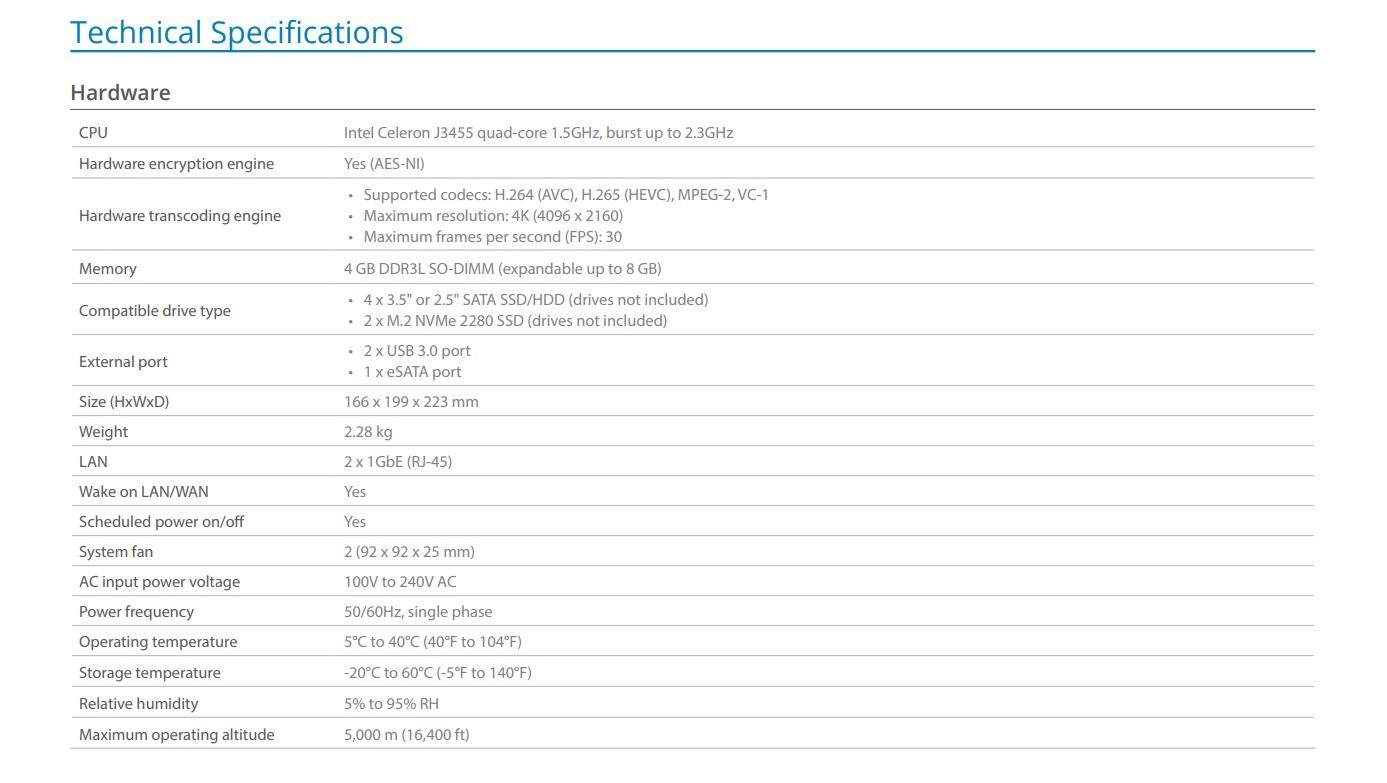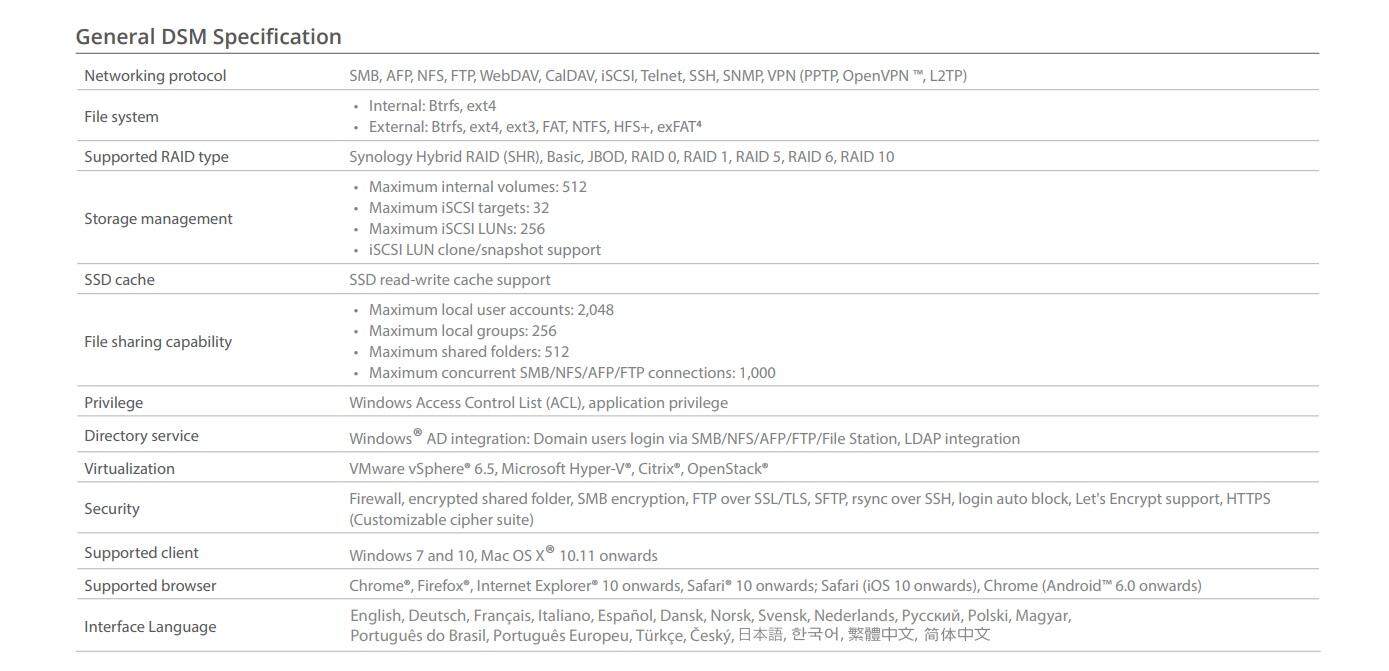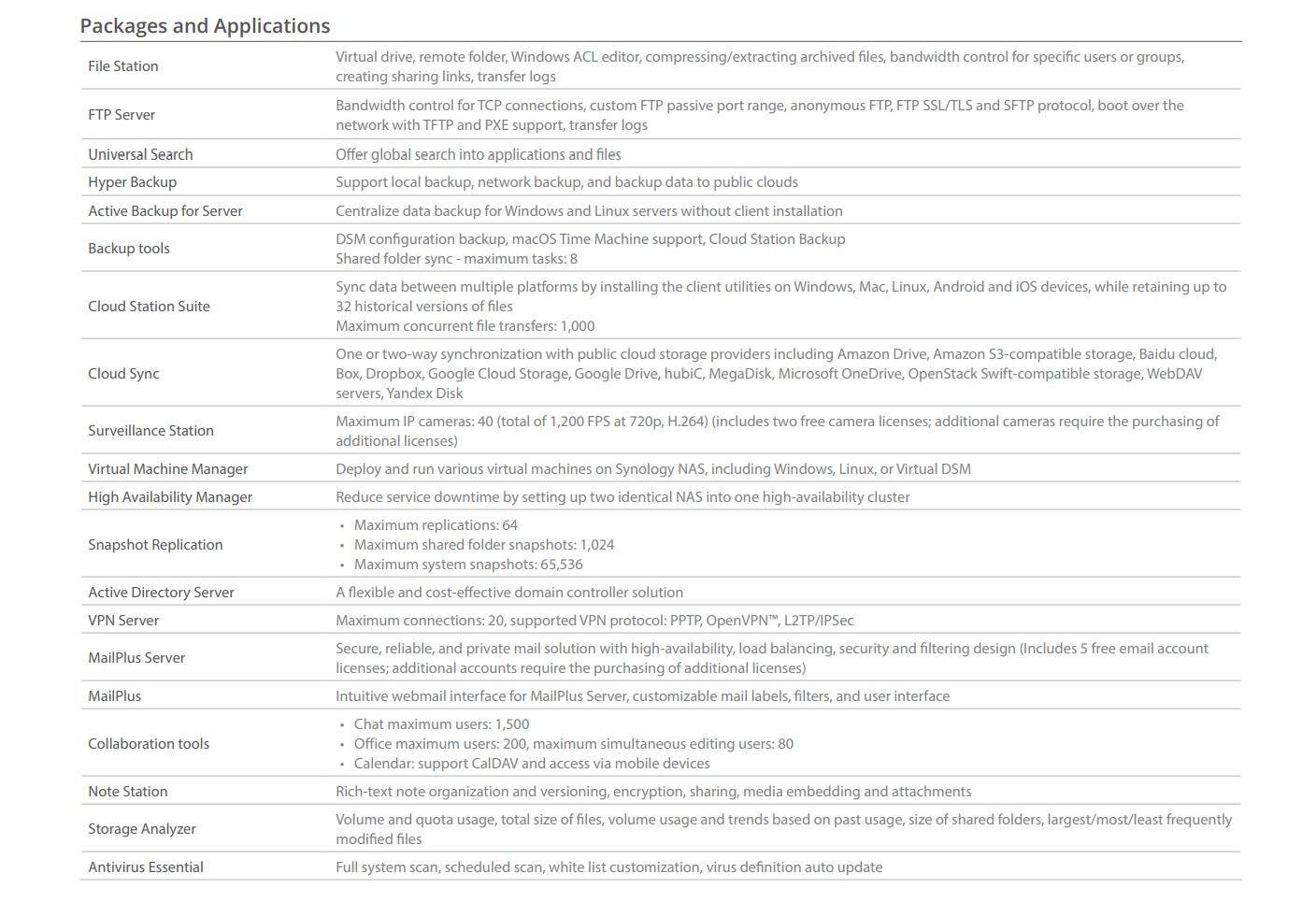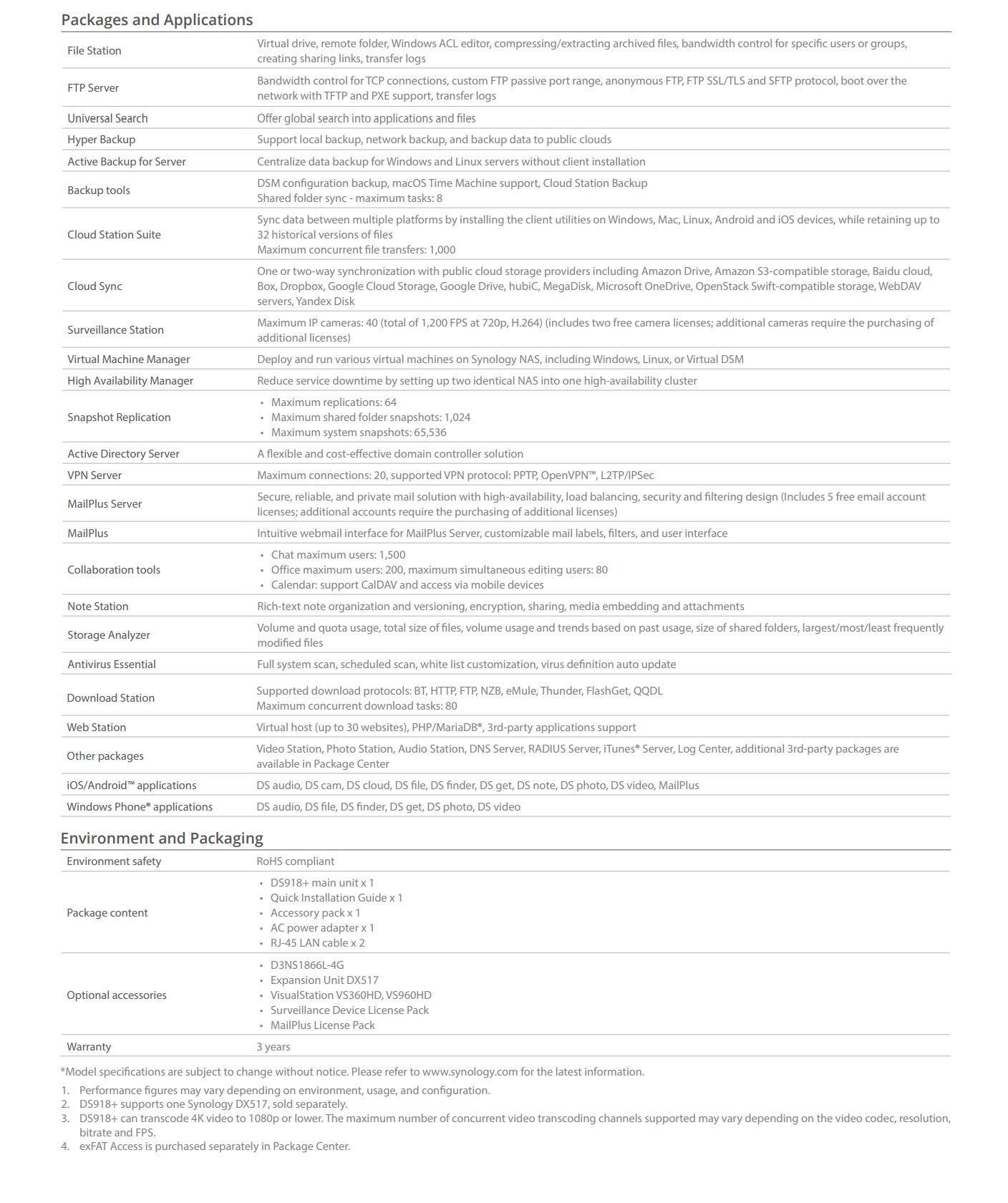 Basic Information
Basic Information of Product
Product Status/Sales Type
New
Product No.
55194862
Weight (KG)
2.04 kg
Country of Origin
N/A
Shipping Method
Courier Service
GST Applicable
SR 0%
After Sale Service
Synology Official Store
3 Years Warranty By Synology Malaysia
1 to 1 Exchange for Warranty Claim within 7 Days of Purchase
Brand
Synology
Already purchased this product? Write your review here.
Read more

Read less
/300
(this will only be visible between you and seller)
All your Q&A posts are available in My Page > My Shopping Talk > My Q&A History.
Once seller replies, you will be notified by email.
Your posts may be removed and 11street reserves the right to suspend your account if inappropriate contents are found;

Any implication of direct trade / discounts with your contact number, email address, or any offline contact point.
Any indication of libel/defamation, inappropriate price comparison, unrelated ads, etc.
Seller's Information
| | |
| --- | --- |
| Seller | SYNOLOGY OFFICIAL STORE |
| Shipping from | |
| Return/Exchange address | |
| Notice on Return/exchange | Terms And Conditions Apply |
11Street Return/Exchange Policy
Cancellation

Request for cancellation if product has not been dispatched after payment completion.
Strictly no cancellation for E-voucher after purchased.

Return

Request for return within 7 calendar days following delivery date.
Check seller's approval on buyer's request.
Buyer sends product in question to buyer.
Seller receives and checks returned product.
Seller approves return and return is completed.
Strictly no return or refund for E-voucher.

Exchange

Request for exchange within 7 calendar days following receipt of delivery.
Check seller's approval on buyer's request.
Buyer sends product in question to seller.
Seller receives and checks returned product
Seller send new product to buyer, and buyer receives it, and exchange is completed.
No exchange for E-voucher purchased.
How to Request for Cancellation/Return/Exchange
You can request for cancellation after completing payment and if product has not been dispatched by then, cancellation request is approved and you can receive refund.
But, in case seller has already dispatched product, cancellation request can be rejected.
You can request for return after obtaining product, you should send the product in question to seller.
After seller checks if returned product is flawed, and approves your request, return is completed and payment is refunded.
You can request for exchange if wrong product is shipped, you should send the product in question to seller.
After seller checks if returned product is flawed, seller approves your request, and re-sends new product.
Criteria for Return/Exchange
You can request for return/exchange within 7 calendar days following delivery date. But return/exchange request cannot be made in following cases:
When request due to change of mind is made after 7 calendar days following delivery date
When product is used, destroyed or damaged
When tag attached to product is removed or package of product is opened and product value is damaged
When sealed package is opened or packaging materials are lost
When too much time has passed and product value has so decreased that its re-sale is not possible
When return/exchange request is made for customized product such as hand-made shoes or accessories
When components of product (including free gift) have been used or lost
When buyer did not follow instructions included in product
As e-voucher products are immediately sent to your e-mail, returns/exchanges are not available. Please take note of this before purchase, and input your e-mail address correctly.
As Mobile Top-up products are directly reloaded on your cell phone number, returns/exchanges are not available. Please take note of this before purchase, and enter your cell phone number correctly.


For any inconvenience regarding Cancellation/Return/Exchange, please contact Customer Service at 03-2720-0000 and we will do our best to help you.
Notice
Please note that, direct transaction with the seller without using 11street payment service can cause problems such as; not receiving the product, receiving different product etc.
For sales products and contents registered by the seller, 11street run by Celcom Planet has no responsibility on any of the registered contents.