Sweet Heart Paris Safety Car Seat CS266 (Red) with Comfort Padded
Limited Time Offer


Upgrading your status to a parent is one of the most beautiful experiences one can have. It is however, not an easy task. As a parent you would certainly want the best for your precious child, for their health and their temperament. We adults have safety belts in our car to protect ourselves. However, toddlers are often vulnerable to hazards when you let them sit on adult seats. Sweet Heart Paris Car Seat CS266 is one you should consider to keep your little ones safe during a journey in the car.

Superior safety
The seatbelt just wouldn't safe them from accidents. This is when car seats come in handy. Sweet Heart Paris Car Seat CS266 is probably what you should consider buying for your little ones. Comes with European safety standards, this car seat allows you child to be seated in a place during a journey and minimizes impact, when accidents happen.

Travel Safe & Sound
The Sweet Heart Paris Carseat CS266 is suitable for babies and toddlers of up to 18kg. Use this seat in a rear-facing position for infants under 10kg and a forward-facing seat for toddlers between 10 to 18kg. This car seat features washable seat and plus a five point safety harness. The safety harness is padded for extra comfort and effectiveness, in just one easy step, your child is fastened in and secured.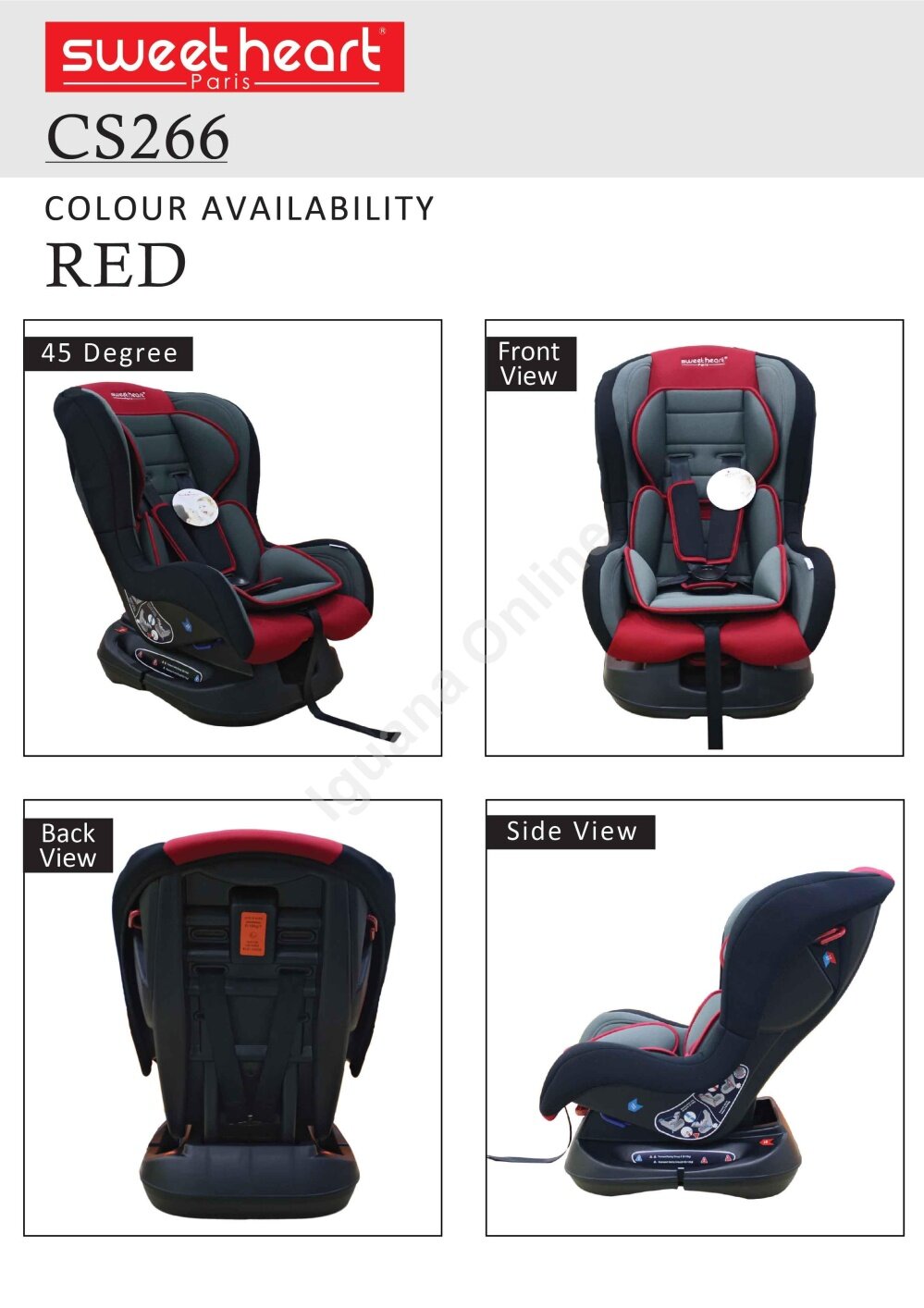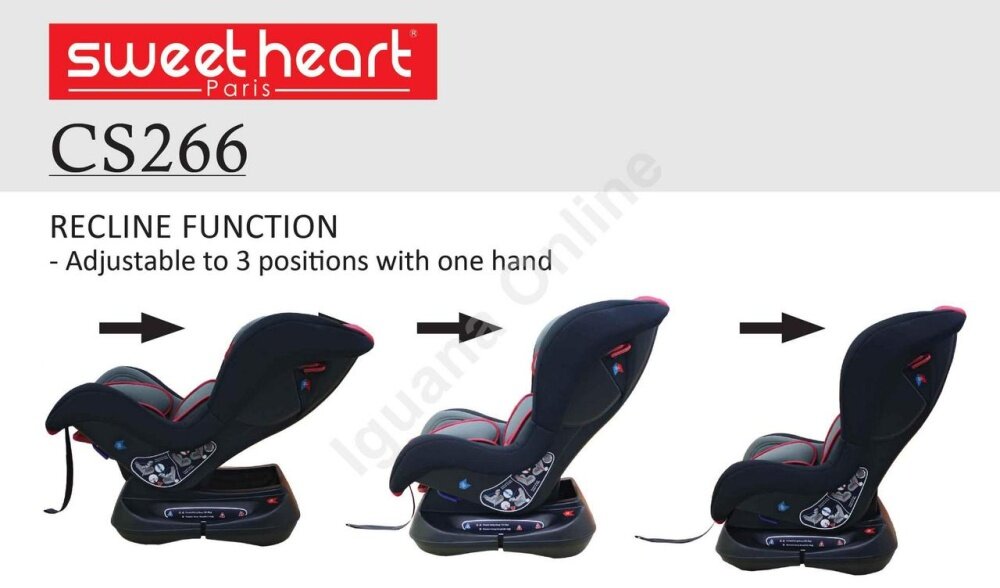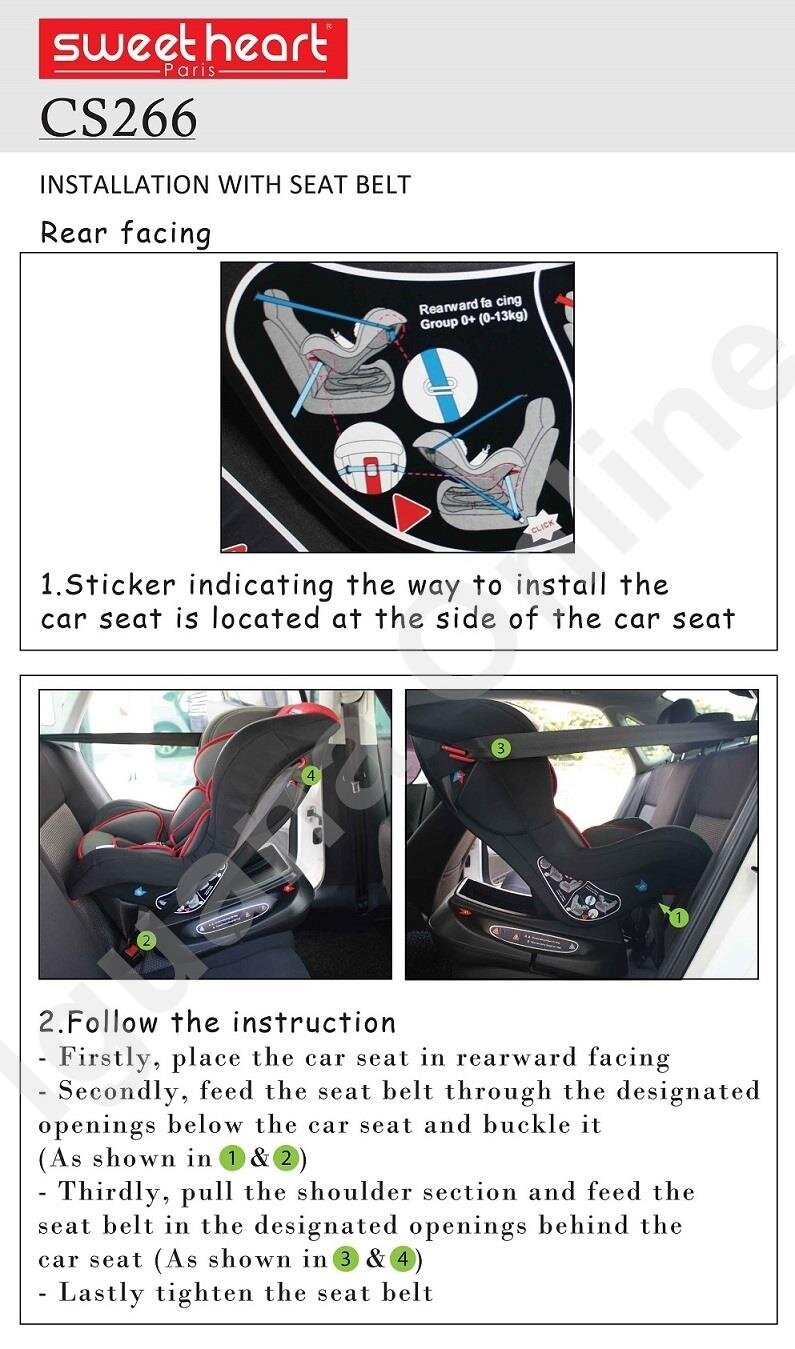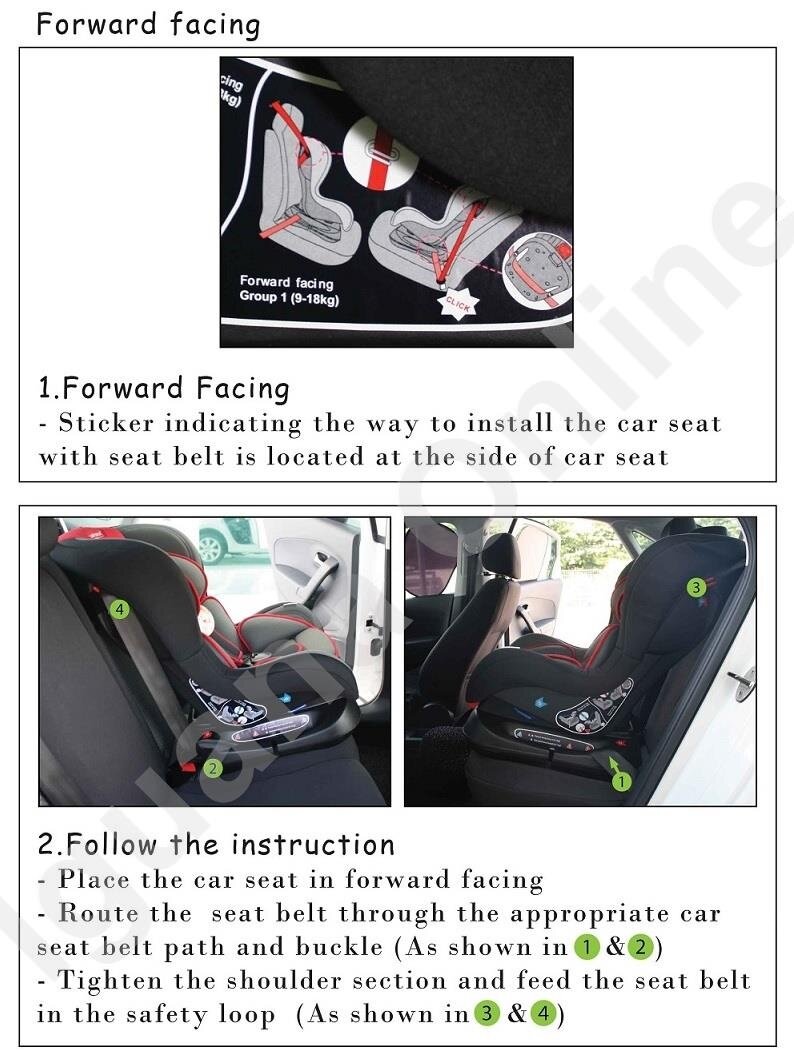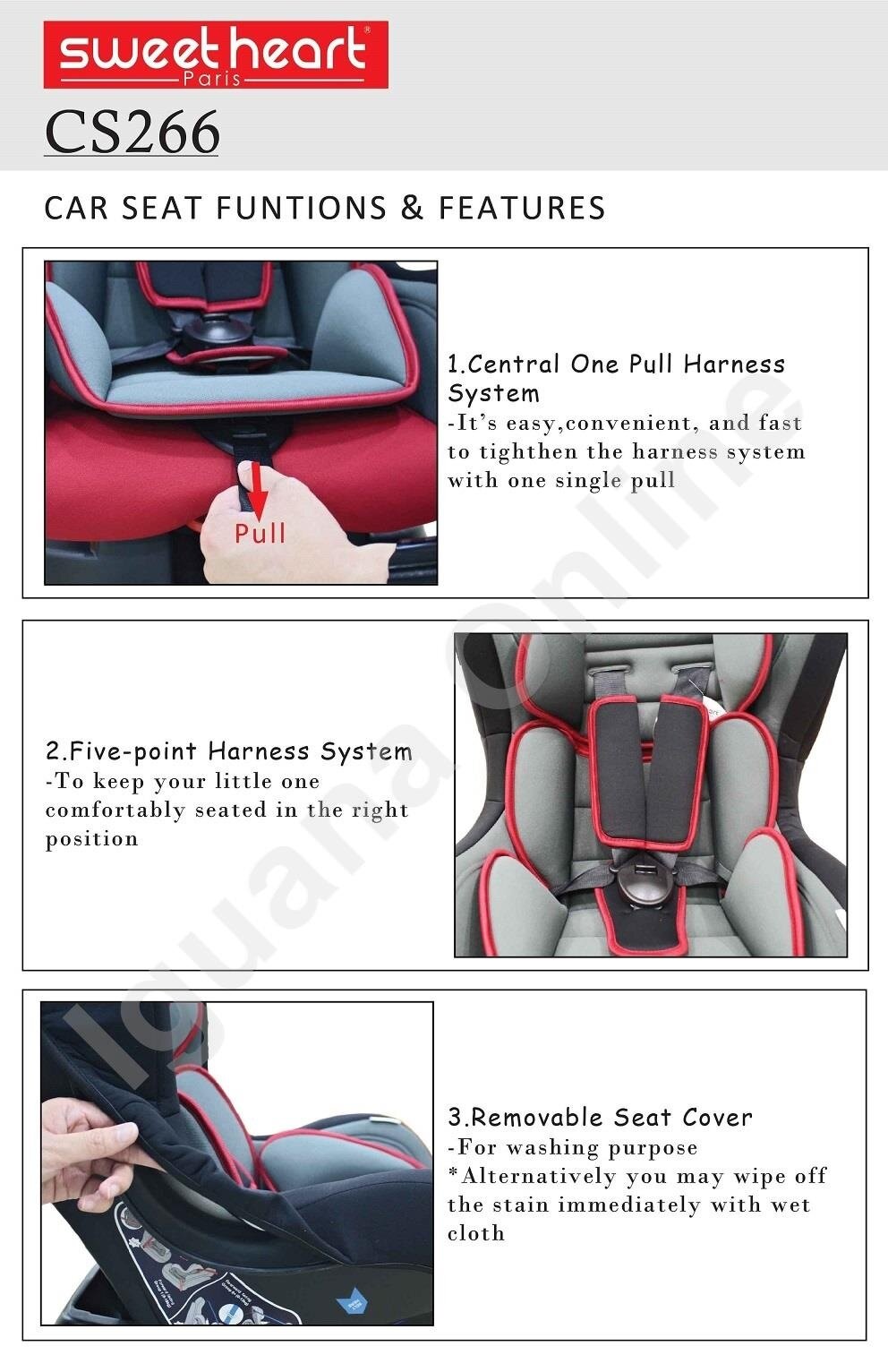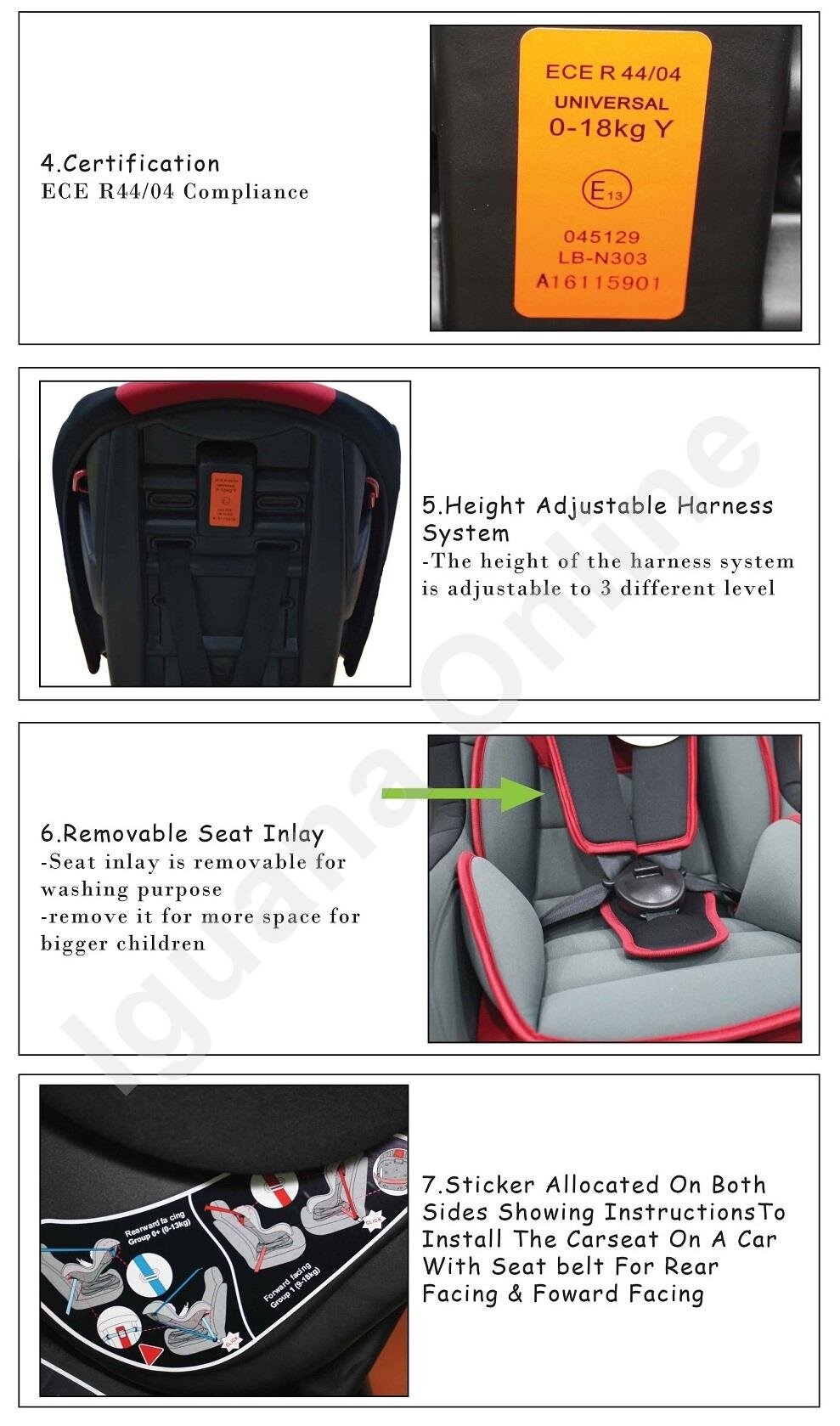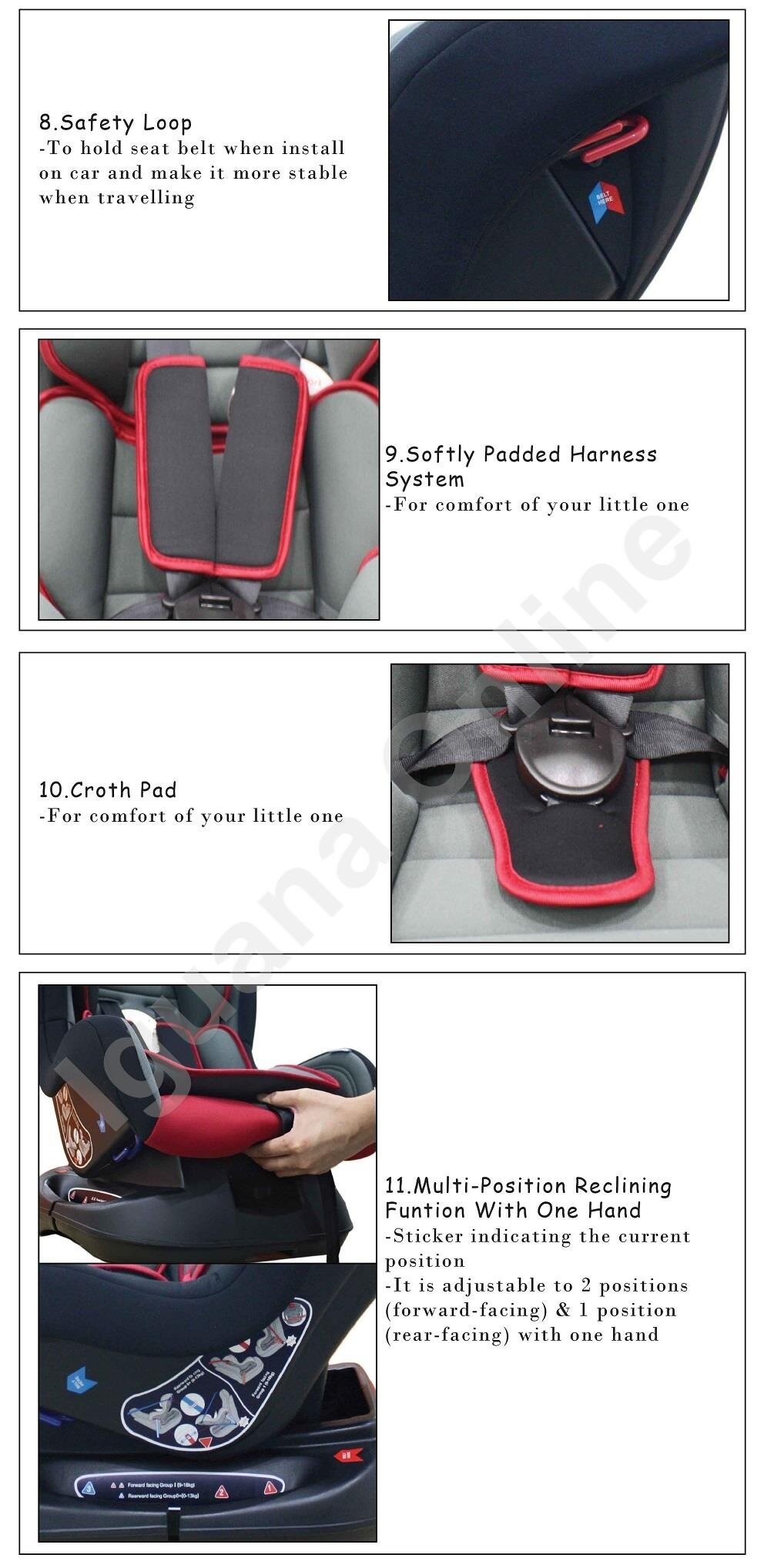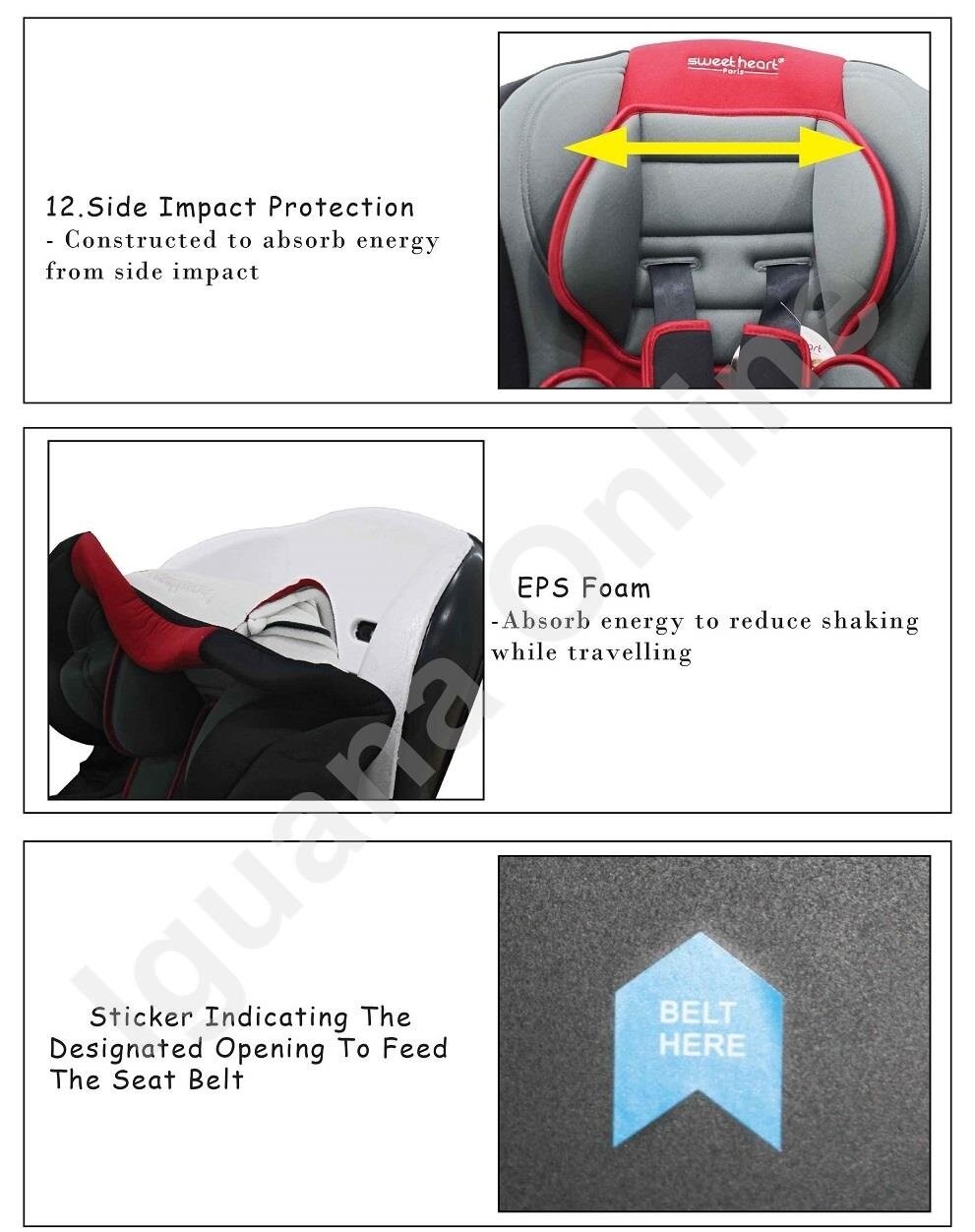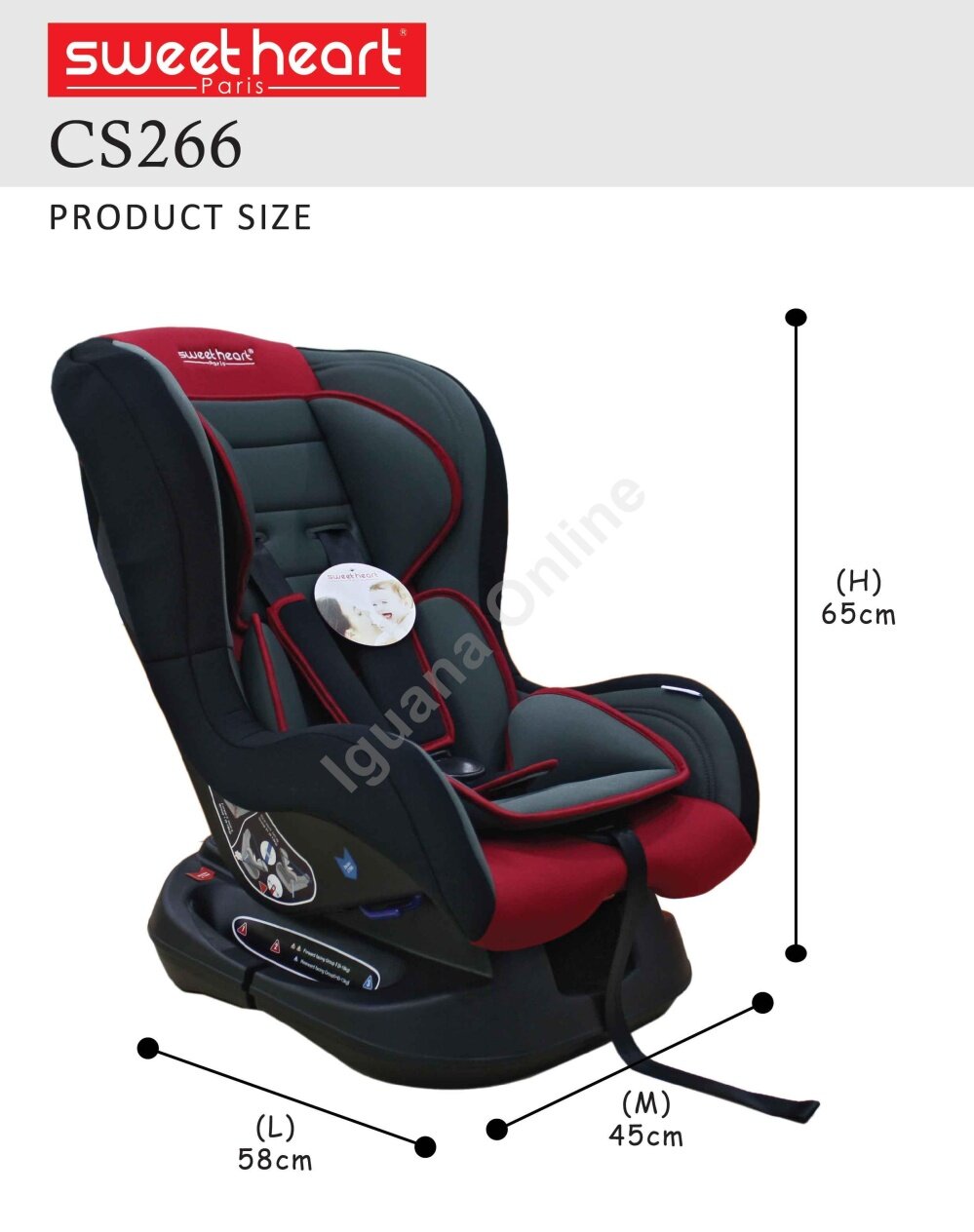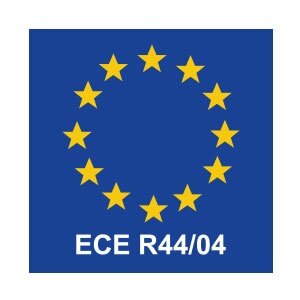 *ECE R44/04 regulations.
In most countries, the approval for sale of child safety seats depends on the manufactures being able to demonstrate that is has passed various safety tests.In Europe, the manufacturers of child seats must employ an accredited laboratory to demonstrate that the seat complies with the requirements of regulation 44, version 04, devised by European Economic Commission, EEC (a dependent institution of the United Nations):Regulation EEC R44/04 or ECE R44/04. In other countries such as the US, Canada and Australia there are similar regulations.
Analysis of the safety of child seat demanded by the the European regulations includes:
-A frontal collision test at 50km/hr., to measure the movement and the forces exerted of the child's body (head, neck, chest...).
-A rear-end collision test at 30km/hr.
-Various tests on the harness buckle of the seat harness: to test whether it is easily opened after an accident while at the same time ensuring that under normal conditions is is not easily opened by a child.
-An analysis of the design of the seat to guarantee there are no sharp edges or rigid parts that are not padded.
-A study of the seat straps or harness, to check that it can be easily and safely adjusted to the body of children of varying weight and height.
-As well as other demands, such as the behavior the materials from which the seat is made during a fire, the resistance of the metallic parts to corrosion and the toxicity of it's components...
About 'Sweet Heart Paris'
'Sweet Heart Paris' with our holding brand vision, 'Growing With You' is to bring the growth of each child close together with the loved ones giving them the greatest memories and miraculous moments of life growth and it is the inspiration of our products creation and goals.
'Sweet Heart Paris' has a wide range of products which are chosen with great care and cautious to ensure the quality, design and features are trendy yet practical and compromises of great qualities to give the very best of products to our consumer and their beloved children.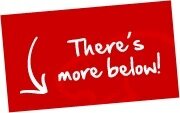 Iguana Mulitpurpose Rechargeable Battery Stroller Clip-On Fan
Iguana Online Multi Purpose Non-Contact Forehead
Sweet Heart Paris Hip Seat Baby Carrier BBS100 (Brow
Sweet Heart Paris BB30(X) Baby Bouncer with Adjustable
Sweet Heart Paris CS375 Baby Car Seat (White Grey) with Adjustable
Sweet Heart Paris BG203 (Red) One Second Folding Portable Baby Buggy Stroller
Sweet Heart Paris BG200 Stroller Buggy (Red) with Steel Frame & Back-Rest
Sweet Heart Paris ST220 Stroller (Blue) with 8pcs Wheels and Reversible
Sweet Heart Paris Aluminium 2IN1 Stroller + Rocker Cradle ST230 (Red) Bundle with Mosquito Net
Sweet Heart Paris ST260 Dirt Repellent Stroller (Red) with
Santa Barbara BG FLORENCE Lightweight Stroller (Green)
Sweet Heart Paris ST87T Travel System Stroller (Red) with One-Handed Folding
[NEW 2017] gb Pockit Plus Stroller (Seaport Blue) - World Lightweight Stroller with Reclining Seat (gb Malaysia Official)
Sweet Heart Paris WCT138 Multi Functional Baby Wooden Cot
Sweet Heart Paris TL MINI Music Ride on Car (Red)
Sweet Heart Paris TL614W 3 in 1 Ride on Car (Limited Edition White)
Sweet Heart Paris TL007B EXCAVATOR 2in1 RIDE-ON Car (Yellow)
Sweet Heart Paris Baby Walker BW01 (Blue) With 3
Sweet Heart Paris Baby Floor Jumpers BW10 (Green) with
Sweet Heart Paris CB1201 TANK Children Bicycle (New
Sweet Heart Paris CB1201 G-MAX Children Bicycle
Basic Information
Basic Information of Product
Product Status/Sales Type
New
Product No.
15125665
Weight (KG)
31 kg
Country of Origin
N/A
Shipping Method
Courier Service
GST Applicable
SR 0%
After Sale Service
Need help? Please LIKE our FB: IguanaON9

"Baby and Bicycles" Products
6 months warranty from date of receipt.

For Warranty Claims:
*STEP 1: Email Iguana Online at itkb@wahha.com.my and provide the following details:
[Name]
[Contact number]
[Delivery address]
[Order Reference number]
[Attached photo / video of faulty product]

*STEP 2: Upon confirmation, a mailing address will be provided.
*STEP 3: Faulty products must be delivered in its original packaging (including accessories, manuals, and documentation) to Iguana Online, Selangor. Delivery costs to be covered by customer.

Iguana Online will cover delivery costs of replacement or repaired product to customer.
Warranty claims which do not fulfill the steps above will not be processed due to missing information.
Brand
Sweetheart
Already purchased this product? Write your review here.
Read more

Read less
/300
(this will only be visible between you and seller)
All your Q&A posts are available in My Page > My Shopping Talk > My Q&A History.
Once seller replies, you will be notified by email.
Your posts may be removed and 11street reserves the right to suspend your account if inappropriate contents are found;

Any implication of direct trade / discounts with your contact number, email address, or any offline contact point.
Any indication of libel/defamation, inappropriate price comparison, unrelated ads, etc.
Seller's Information
Seller
IGUANA ONLINE
Shipping from
Return/Exchange address
Notice on Return/exchange
No Exchanges or Returns on Goods Sold

Any inquiries please drop us at this link:
https://api.whatsapp.com/send?phone=60129023566
11Street Return/Exchange Policy
Cancellation

Request for cancellation if product has not been dispatched after payment completion.
Strictly no cancellation for E-voucher after purchased.

Return

Request for return within 7 calendar days following delivery date.
Check seller's approval on buyer's request.
Buyer sends product in question to buyer.
Seller receives and checks returned product.
Seller approves return and return is completed.
Strictly no return or refund for E-voucher.

Exchange

Request for exchange within 7 calendar days following receipt of delivery.
Check seller's approval on buyer's request.
Buyer sends product in question to seller.
Seller receives and checks returned product
Seller send new product to buyer, and buyer receives it, and exchange is completed.
No exchange for E-voucher purchased.
How to Request for Cancellation/Return/Exchange
You can request for cancellation after completing payment and if product has not been dispatched by then, cancellation request is approved and you can receive refund.
But, in case seller has already dispatched product, cancellation request can be rejected.
You can request for return after obtaining product, you should send the product in question to seller.
After seller checks if returned product is flawed, and approves your request, return is completed and payment is refunded.
You can request for exchange if wrong product is shipped, you should send the product in question to seller.
After seller checks if returned product is flawed, seller approves your request, and re-sends new product.
Criteria for Return/Exchange
You can request for return/exchange within 7 calendar days following delivery date. But return/exchange request cannot be made in following cases:
When request due to change of mind is made after 7 calendar days following delivery date
When product is used, destroyed or damaged
When tag attached to product is removed or package of product is opened and product value is damaged
When sealed package is opened or packaging materials are lost
When too much time has passed and product value has so decreased that its re-sale is not possible
When return/exchange request is made for customized product such as hand-made shoes or accessories
When components of product (including free gift) have been used or lost
When buyer did not follow instructions included in product
As e-voucher products are immediately sent to your e-mail, returns/exchanges are not available. Please take note of this before purchase, and input your e-mail address correctly.
As Mobile Top-up products are directly reloaded on your cell phone number, returns/exchanges are not available. Please take note of this before purchase, and enter your cell phone number correctly.


For any inconvenience regarding Cancellation/Return/Exchange, please contact Customer Service at 03-2720-0000 and we will do our best to help you.
Notice
Please note that, direct transaction with the seller without using 11street payment service can cause problems such as; not receiving the product, receiving different product etc.
For sales products and contents registered by the seller, 11street run by Celcom Planet has no responsibility on any of the registered contents.