SAMSUNG GRILL MICROWAVE OVEN MG28J5255GS 28L 1400W [HEALTHY STEAM]
CERAMIC ENAMEL l LED DISPLAY l GRILL
Healthy Steam
With the Healthy Steam function and Glass Steamer you can quickly and easily prepare nutritious and succulent steam cooked food. Simply choose the food and size and it automatically selects the optimal cooking time.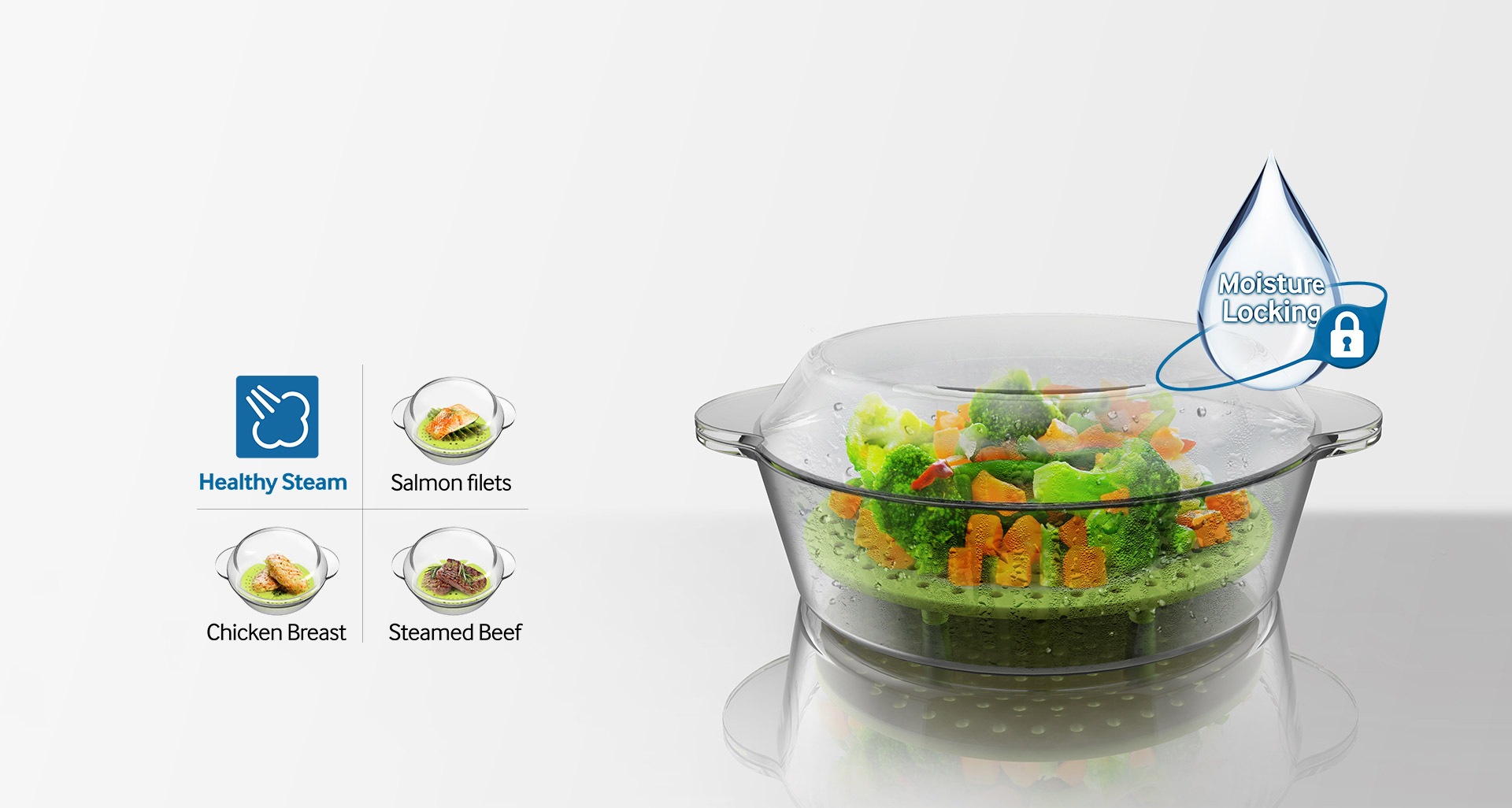 Wide Range Of Steam Cooking Program
Create deliciously healthy steam cooked food and prepare a wide range of local recipes in minutes automatically.
Warming Drawer Mode
The Warming Drawer Mode keeps dishes warm and food at the proper temperature without over-cooking. So it stays full of flavor and texture and is always deliciously tasty like freshly cooked food and ready to serve.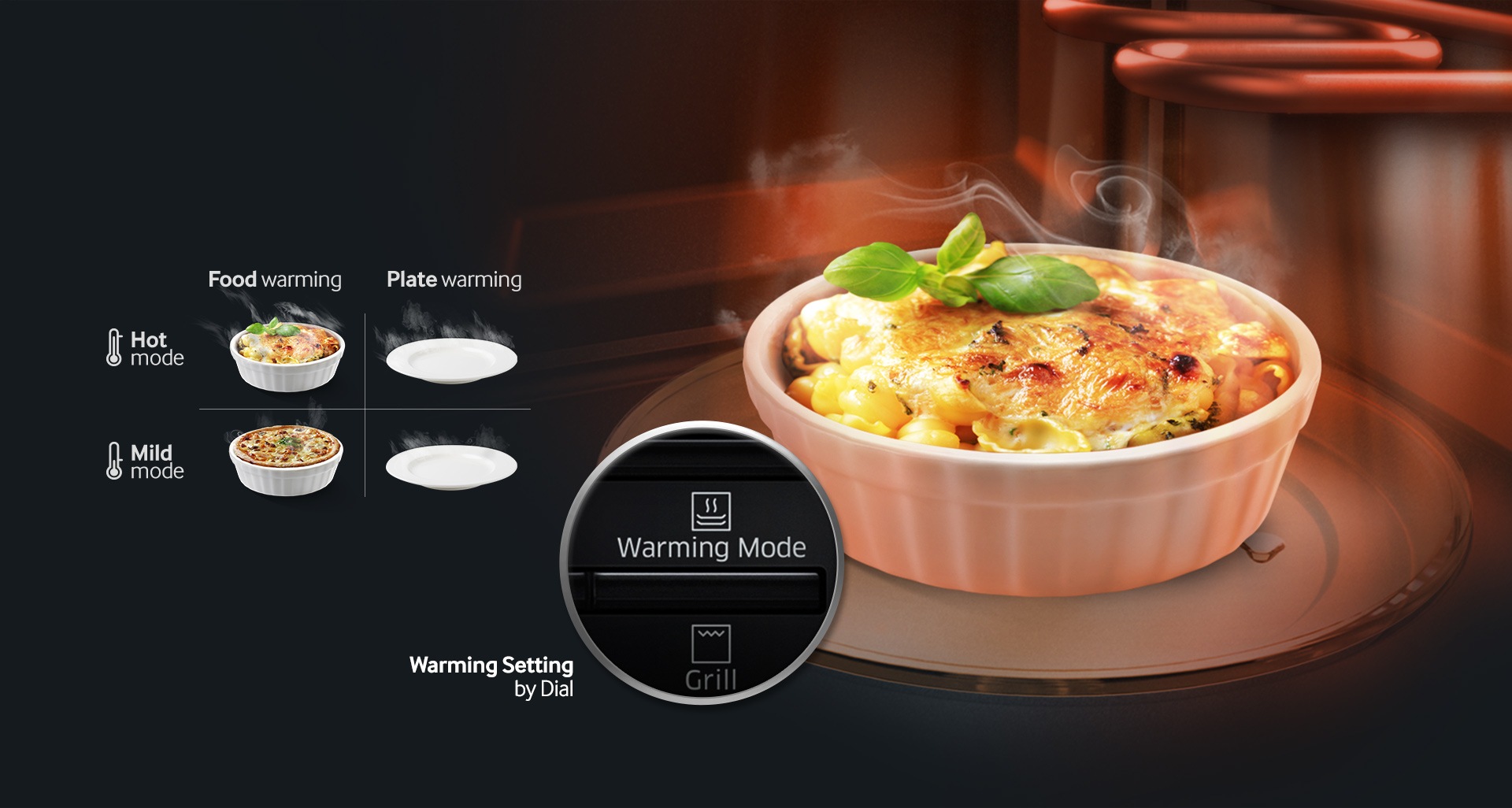 Plate Warming
The Plate Warming is to keep dishes quickly (within max.5minutes) and perfectly warm until you†re ready to serve. You can choose two kinds of warming modes(Hot, Mild) depend on type of food.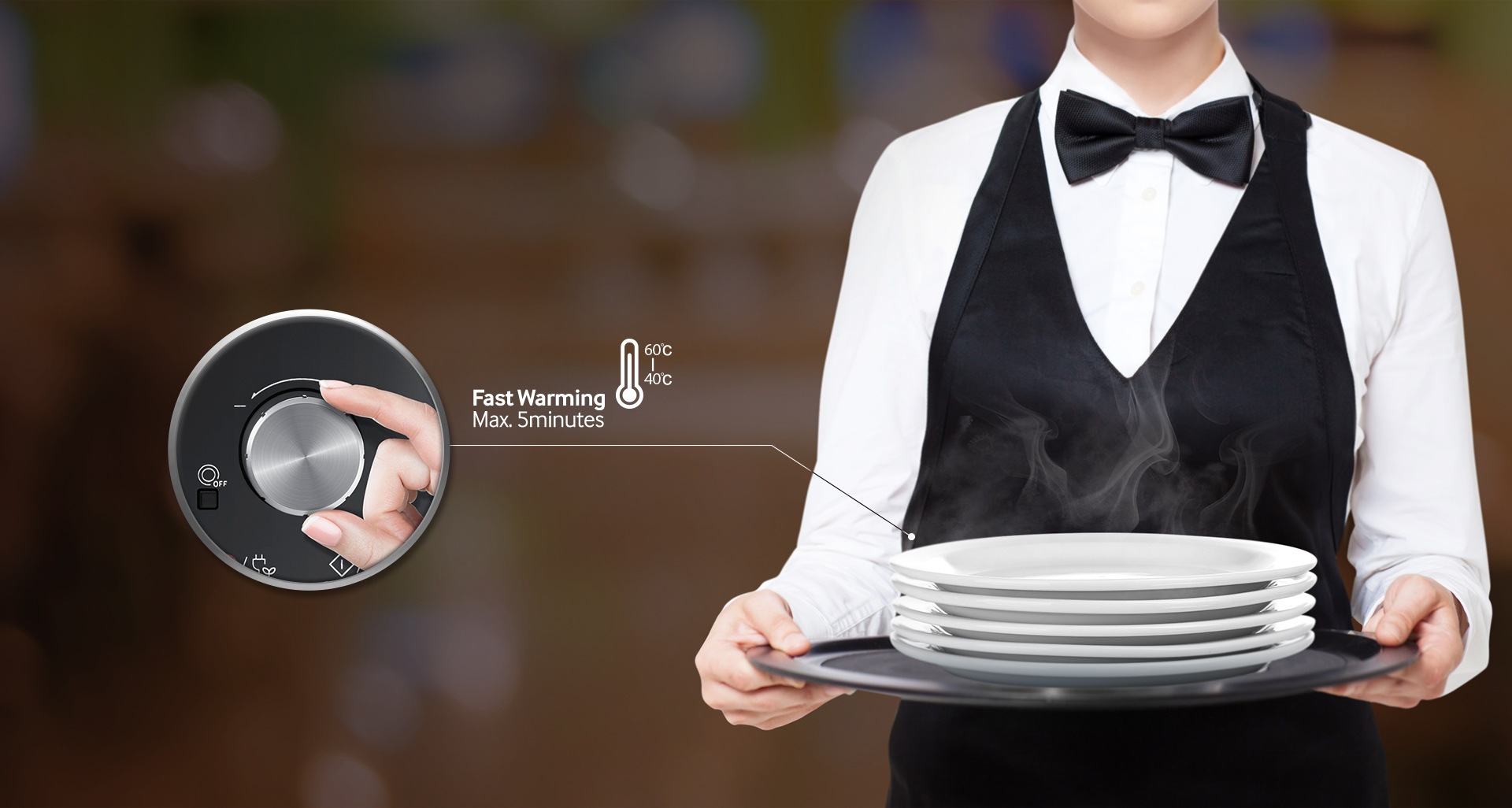 CERAMIC INSIDE™
The MW5200J microwave oven features a smooth ceramic interior that is easy to clean and won†t scratch or discolor over time. 99.9% anti-bacterial protection and scratch-resistant interior is made to last.
Local Recipe
Choose from a wide variety of pre-programmed local recipes and enjoy familiar flavors with the simple touch of a button.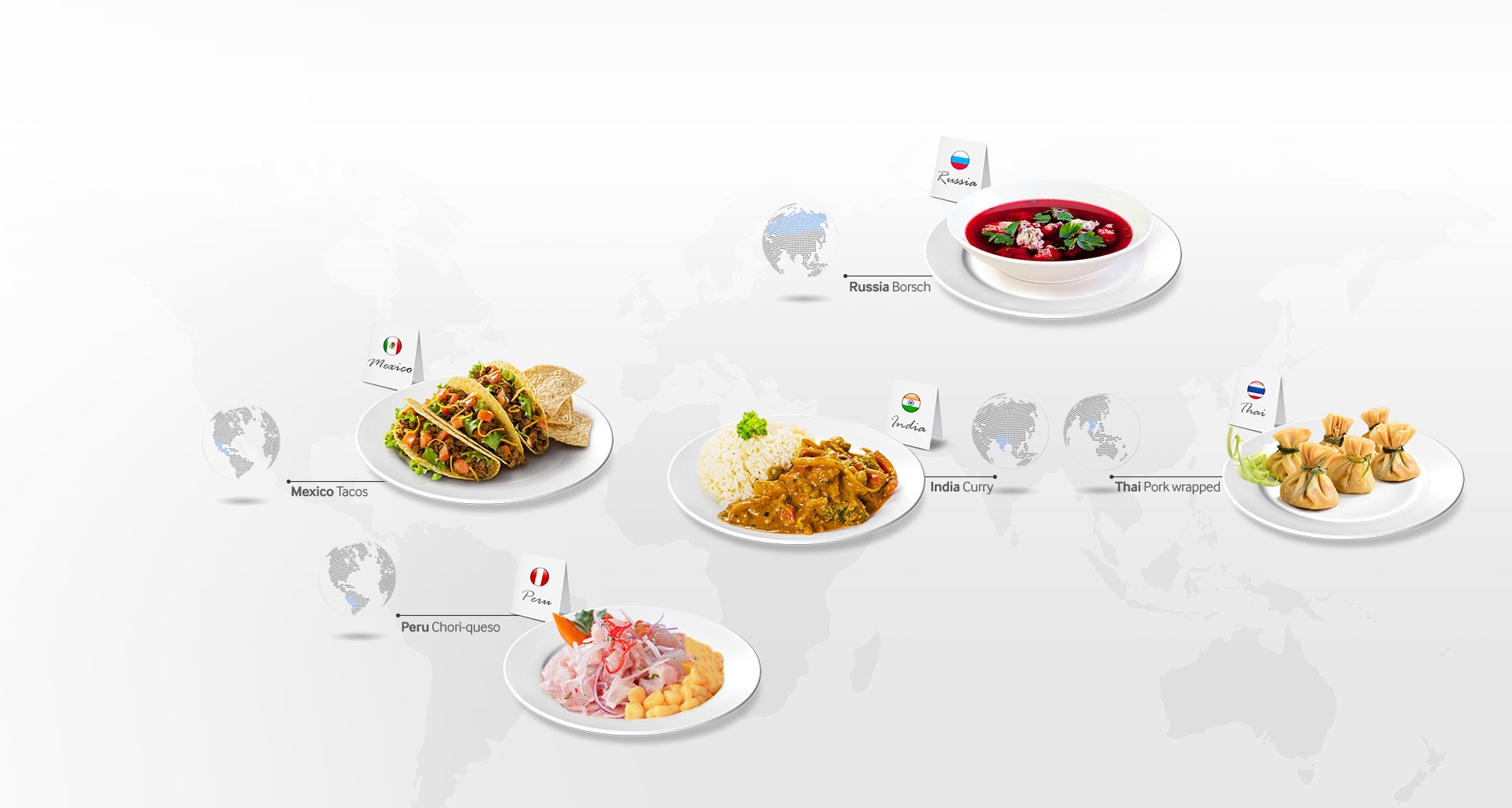 Deodorization
Strong odors won†t linger inside the inside the Samsung smart oven. Simply select the Deodorisation seeting to force interior air outside to dissipate. This feature quickly eliminates any bad smells so your food tastes as fresh and delicious as intended.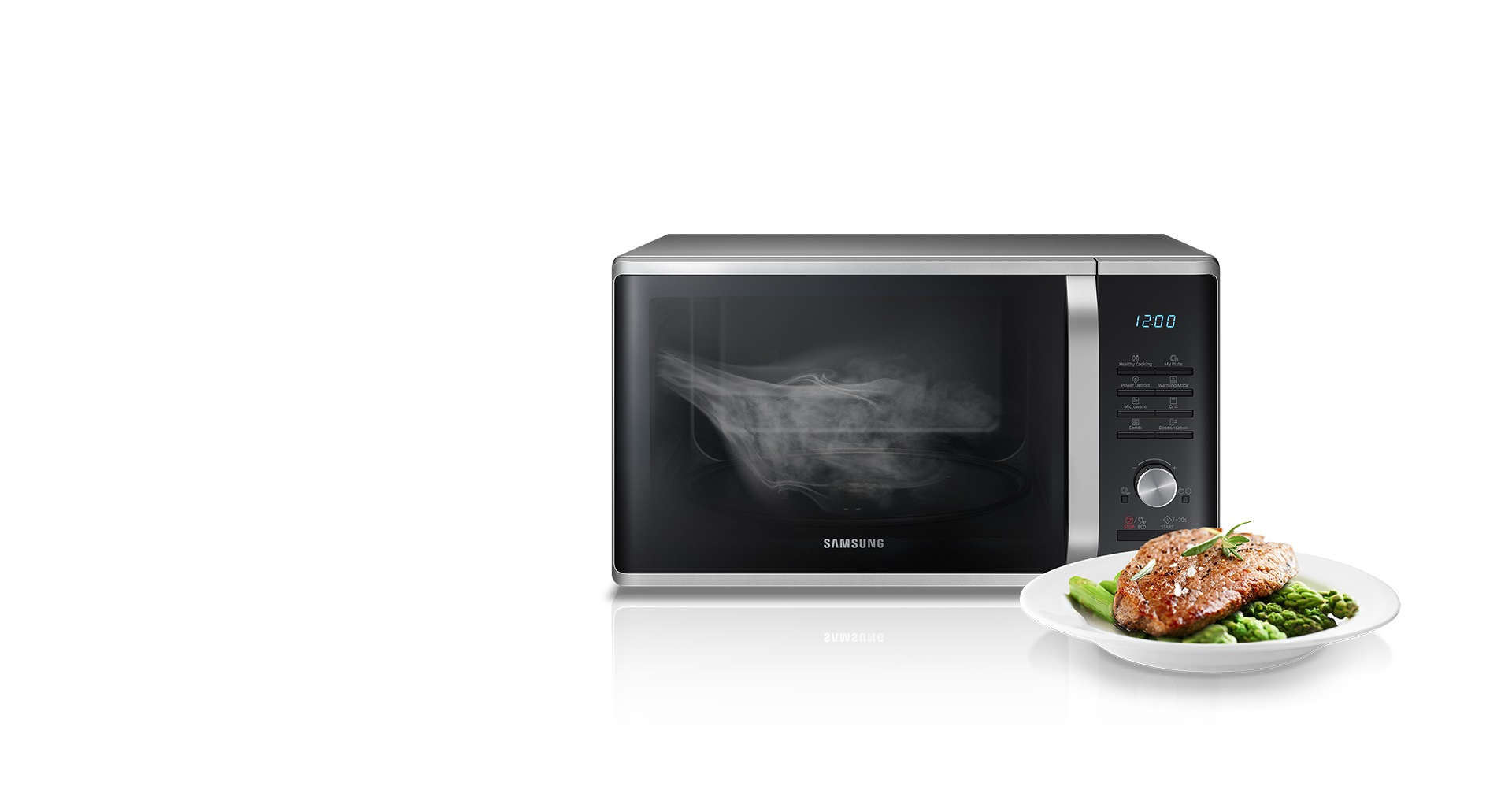 Healthy Cooking
Up to 16 recipes are preprogrammed for your convenience. Easily cook everything-from green beans to brown rice, boneless chicken breast to Grilled salmon steaks-confident that the result will be moist and flavorful food.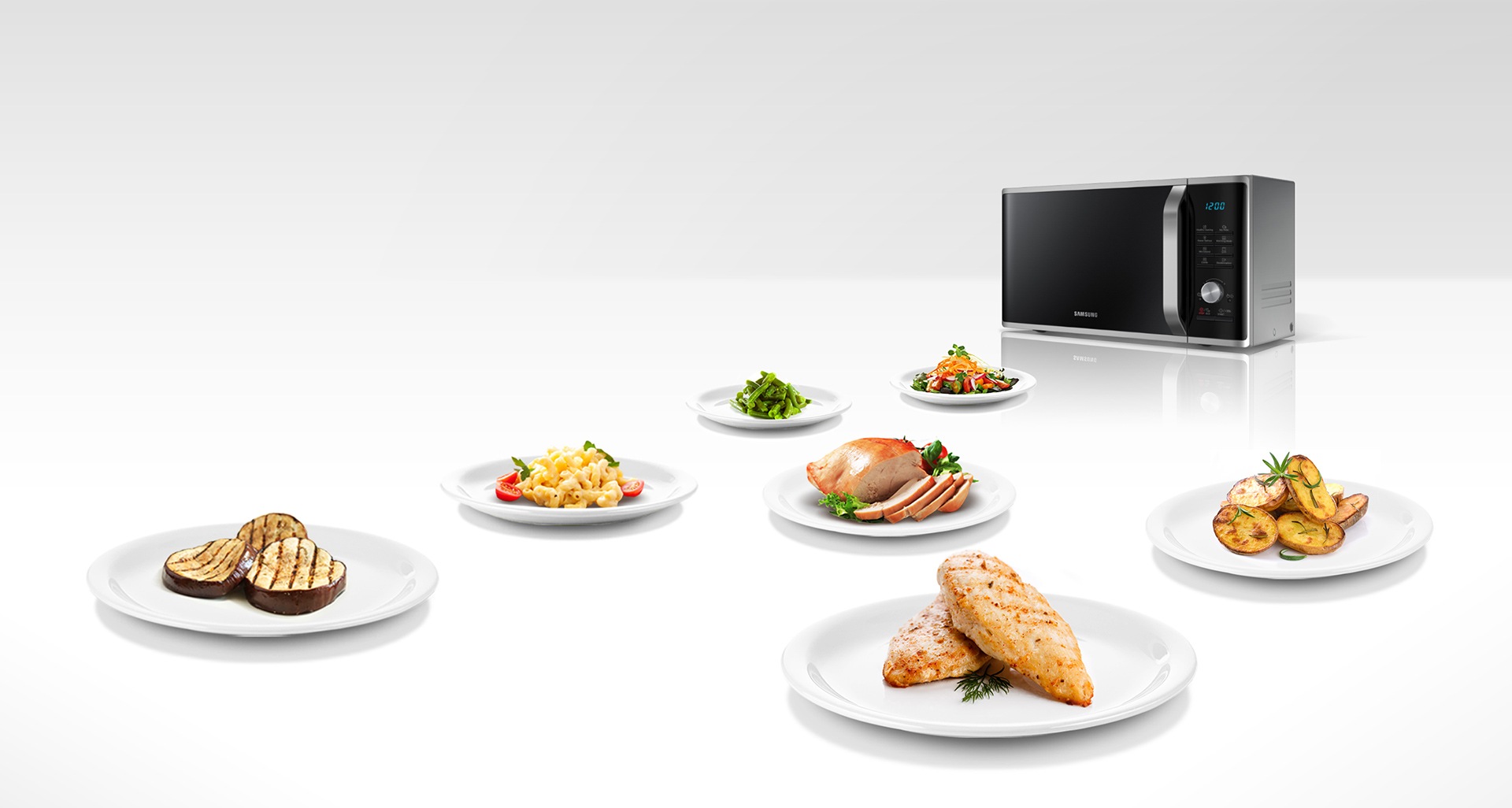 Eco Mode
The MW5200J has the world†s lowest standby power consumption. Consumers can save 40% on standby energy.
Power Defrost
Power Defrost lets you defrost frozen foods quickly and evenly. Food won†t get soggy. Defrost frozen to their freshest state, so you and your famliy can enjoy delicious food whenever you want.
Turntable On/Off
Turntable On/Off offers the option to disable the turntable, so you can utilize the entire interior space to accommodate larger, square-shaped dishes.
Type

Product Type

Grill

Installation Type

CMO

Capacity
Materials/Finishes

Color(Door)

Silver

Color(Cabinet)

Silver

Control Method

Tact & Dial

Door Type

Handle

Cavity Material

Ceramic Enamel

Turntable Size

318 mm

Display Type

LEB

Grill Heater

Sheath

Power/Ratings

Power Source

240V / 50Hz

Output Power (Microwave)

900 W

Power Consumption (Grill)

1650 W

Power Consumption (Microwave)

1400 W

Power Consumption (Max)

3050 W

Power Level

6

Features

Various Cooking Mode

Yes

Clock

Yes

30 sec. Plus

Yes

Eco Mode

Yes

Defrost (Auto / Power / Sensor)

Power

Sensor Cook

No

Steam Cook

Yes

Auto Programs

Yes

Steam Clean

No

Turntable On/Off

Yes

Deodorization

No

Child Safety Lock

Yes

Kitchen Timer

No

Memory

No

Sound on/off

Yes

Language Option

No

Others

Local Recipe

Accessories

Wire Rack

Yes

Crusty Plate

No

Pro Steamer

No

Pure Steam Bowl

Yes

Power Steam Bowl

No

Steam Clean Accessory

No

Built-in Kit (Trim Kits)

No

Cook Book

No

Quick Guide Label

Yes

Others

No

Weights/Dimensions

Cavity (WxHxD)

357 x 255 x 357 mm

Outside (WxHxD)

517 x 297 x 444 mm

Shipping (WxHxD)

570 x 362 x 466 mm

Weight (Net)

15.0 kg

Weight (Shipping)

19.0 kg

Loading Quantity (20/40ft)

280 / 595
Basic Information
Basic Information of Product
Product Status/Sales Type
New
Product No.
28954084
Weight (KG)
19 kg
Country of Origin
N/A
Shipping Method
Courier Service
GST Applicable
ZRL 0%
After Sale Service
1 Year Warranty by Samsung Malaysia
Brand
Samsung
Already purchased this product? Write your review here.
Read more

Read less
/300
(this will only be visible between you and seller)
All your Q&A posts are available in My Page > My Shopping Talk > My Q&A History.
Once seller replies, you will be notified by email.
Your posts may be removed and 11street reserves the right to suspend your account if inappropriate contents are found;

Any implication of direct trade / discounts with your contact number, email address, or any offline contact point.
Any indication of libel/defamation, inappropriate price comparison, unrelated ads, etc.
Seller's Information
Seller
HOME & LIVING
Shipping from
Return/Exchange address
Notice on Return/exchange
We understand sometimes, things may not turn out as they should be. Hence follow our simple return policy:

1. Kindly check your item within 24 hours upon receiving it to ensure that it isn't damaged.

2. Submit a form to goo.gl/Twh2eF, and raise a request for "Return/Exchange" via 11 Street platform.

3. Attach the original box/packaging picture as well as the damaged/defective part clearly for our QC team to review and process.

4. For any returns or exchange, the original product have to be packed in its original condition (with original box & safety packagings that come along with); if otherwise, we will not honor the exchange/return/cancellation.

5. Any cancellations after item have been shipped out, shipping cost will be borne by buyer.

6. By purchasing this product, you have read and understood the Return Policy.
11Street Return/Exchange Policy
Cancellation

Request for cancellation if product has not been dispatched after payment completion.
Strictly no cancellation for E-voucher after purchased.

Return

Request for return within 7 calendar days following delivery date.
Check seller's approval on buyer's request.
Buyer sends product in question to buyer.
Seller receives and checks returned product.
Seller approves return and return is completed.
Strictly no return or refund for E-voucher.

Exchange

Request for exchange within 7 calendar days following receipt of delivery.
Check seller's approval on buyer's request.
Buyer sends product in question to seller.
Seller receives and checks returned product
Seller send new product to buyer, and buyer receives it, and exchange is completed.
No exchange for E-voucher purchased.
How to Request for Cancellation/Return/Exchange
You can request for cancellation after completing payment and if product has not been dispatched by then, cancellation request is approved and you can receive refund.
But, in case seller has already dispatched product, cancellation request can be rejected.
You can request for return after obtaining product, you should send the product in question to seller.
After seller checks if returned product is flawed, and approves your request, return is completed and payment is refunded.
You can request for exchange if wrong product is shipped, you should send the product in question to seller.
After seller checks if returned product is flawed, seller approves your request, and re-sends new product.
Criteria for Return/Exchange
You can request for return/exchange within 7 calendar days following delivery date. But return/exchange request cannot be made in following cases:
When request due to change of mind is made after 7 calendar days following delivery date
When product is used, destroyed or damaged
When tag attached to product is removed or package of product is opened and product value is damaged
When sealed package is opened or packaging materials are lost
When too much time has passed and product value has so decreased that its re-sale is not possible
When return/exchange request is made for customized product such as hand-made shoes or accessories
When components of product (including free gift) have been used or lost
When buyer did not follow instructions included in product
As e-voucher products are immediately sent to your e-mail, returns/exchanges are not available. Please take note of this before purchase, and input your e-mail address correctly.
As Mobile Top-up products are directly reloaded on your cell phone number, returns/exchanges are not available. Please take note of this before purchase, and enter your cell phone number correctly.


For any inconvenience regarding Cancellation/Return/Exchange, please contact Customer Service at 03-2720-0000 and we will do our best to help you.
Notice
Please note that, direct transaction with the seller without using 11street payment service can cause problems such as; not receiving the product, receiving different product etc.
For sales products and contents registered by the seller, 11street run by Celcom Planet has no responsibility on any of the registered contents.