Olympus Stylus Tough TG-5 / TG5 + Underwater Casing + 16GB SD Card + Microfiber Case & Cloth + Pod
What's In the box :
- Olympus Stylus Tough TG5 Black / Red x1
- 16GB Memory Card x1
- Extra LI-92B Battery x1
- CSCH-121 Case x1
- PT058 Underwater Casing x1
Product details of Olympus Stylus Tough TG-5 + Underwater Housing(Olympus Malaysia Wty)
Designed for adrenaline junkies who want to capture fast action under extreme conditions. Tough cameras are waterproof, shockproof, crushproof, freezeproof, and dustproof for worry-free operation on any adventure.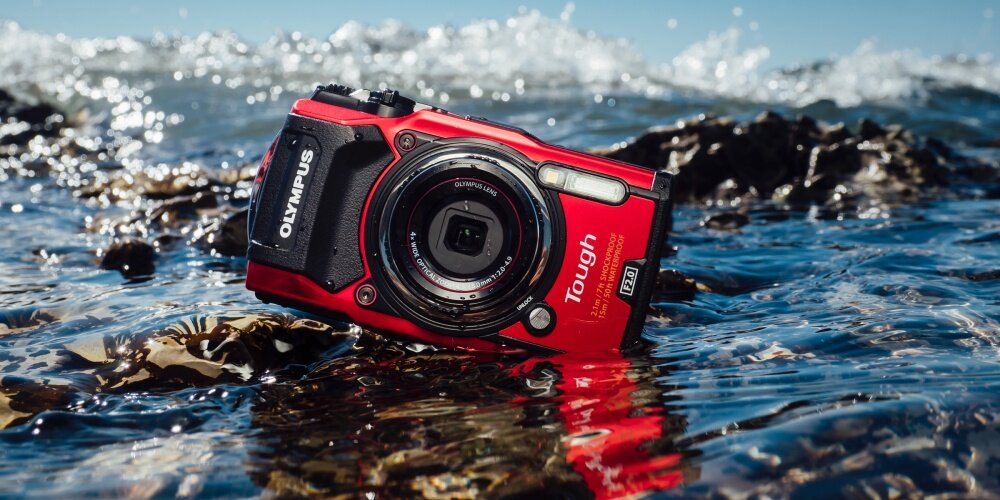 RUGGED TO GO ANYWHERE
Olympus Tough cameras are incredibly rugged. Take them up a rocky mountain trail one day and scuba diving the next, and you'll get spectacular shots every step of the way. Packed with unmatched combinations of features, Tough cameras capture the smallest details and brightest colors of every exciting moment. Tough is the camera you'll always have along.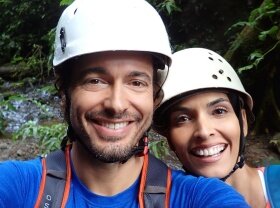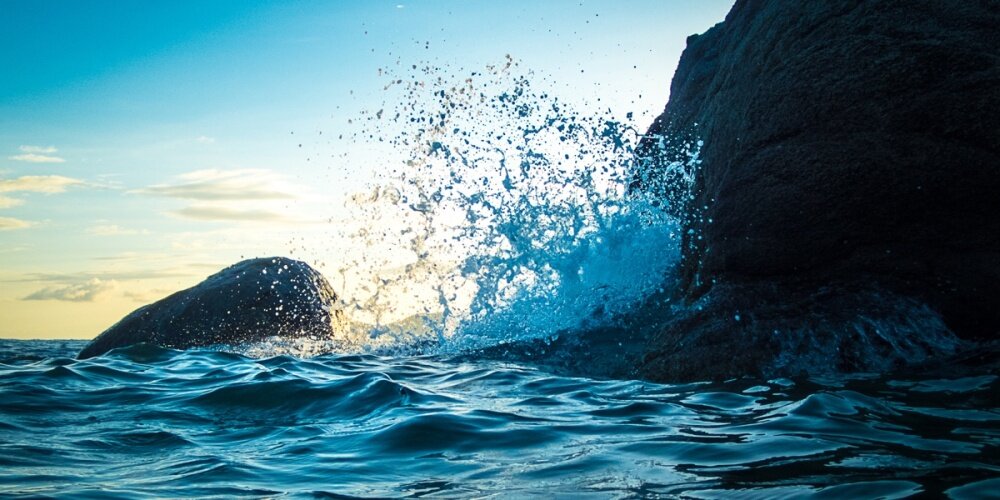 POWERFUL IMAGING
Rugged on the outside, sophisticated Olympus technologies on the inside. Tough cameras have the power to create incredibly crisp and bright shots, even in low-light environments (like underwater) or when you're on the move (Tough records smooth HD video too). Tough is all you'll need to capture every adventure and tell every story.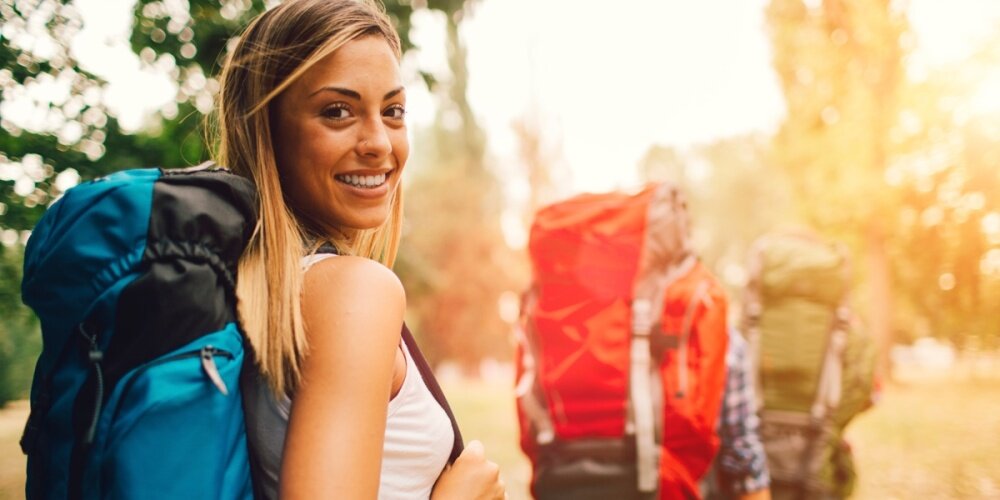 EASY TO SHOOT, EASY TO SHARE
You want to capture epic adventures, not fuss with complicated controls or set-ups. That's why Tough cameras are easy to operate. With built-in Wi-Fi for remote shooting, wireless sharing, and a Field Sensor System that includes a GPS sensor, Tough cameras help you find, shoot and share your adventures like never before.

CREATE THE ULTIMATE RUGGED SYSTEM
Turn your Tough camera into the centerpiece of a versatile photography system with waterproof lenses, protective cases, and an underwater housing for the really deep dives. All the components are just as rugged as the cameras they're designed for.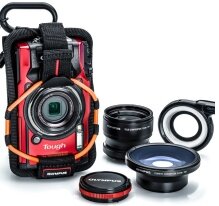 Built for adventure. Designed to bring back amazing looking souvenirs. The Tough TG-5 is packed with pro features that help you nail bright, crisp outdoor shots even in challenging conditions. You'll find imaging firepower that's optimized for shooting action like a fast F2.0 Olympus lens, high-resolution RAW stills and spectacular Ultra HD 4K video. Action Track Sensors record location, temperature, direction and altitude data that bring your images and video to life. As with all Tough cameras, it's waterproof, shockproof, crushproof, freezeproof and dustproof. No other camera handles so much abuse while producing stunning photography like the TG-5.

• 12 Megapixel BSI CMOS Sensor
• Ultra HD 4K Video20fps Seq. Shooting (Electronic)
• High-Speed F2.0 Wide Angle Lens
• Microscope Modes
• RAW Capture
• Action Track Sensors
• Built-in Wi-Fi
• Sensor Shift Image Stabilization
• Waterproof to 50 ft / 15 m
• Shockproof to 7 ft / 2.1 m
• Crushproof to 220 lbf / 100 kgf
• Freezeproof to 14deg. F / -10deg. C
• Dustproof
• Anti-Fog Lens Glass

Your Adventures Deserve Awesome Images
The TG-5 has the imaging power you need to never miss a shot. Its specialized image sensor and dual quad core TruePic VIII Processor minimize noise to produce sharp shots in all lighting conditions, even underwater and in low light. Capture fast moving subjects without blur thanks to the bright F2.0 lens and shoot continuously up to 20 frames per second in full res RAW. Use Pro Capture Mode to nail perfect shots that require split second timing. It buffers a running series of high-resolution images, then captures a precise moment plus the previous 5 frames with a single button press.

Tell Better Stories With Data
When you're on an adventure, you're focused on getting awesome shots. Capture the complete picture with TG-5's built-in Action Track Sensors. A GPS, compass, temperature sensor and a manometer for altitude and depth record data about your movement and environment. Use the free Olympus Image Track app on a smart device to view and store your tracking data synced with your photography. Easily export stills and videos with data overlays to relive and share your adventures. And with the TG-5's built-in Wi-Fi, you can compose images, control camera settings and shoot remotely all from your smart device.

Survival Of The Toughest
Whether you're shooting on a rafting trip or in a snowboard park, you're focused on getting awesome shots. Your camera should take care of itself. The TG-5 does - no protective housing needed. It's waterproof to 50 ft (15 m), crushproof up to 220 lbf (100 kgf) and shockproof from 7 ft (2.1 m). It's dustproof and works great even at a bone-chilling 14deg. F (-10deg. C). When you're on the go, temperatures can change quickly. That's why the TG-5's lens is equipped with Anti-Fog Dual Pane Protective Glass to stop moisture from getting in. We've even designed the knobs and buttons for easy operation while you're wearing heavy gloves.

Video As Vivid As Real Life
With TG-5, incredible still shots are only half the story. Simply turn the TG-5's Mode Dial to the movie icon to capture Ultra HD 4K video with spectacular detail just as you remember it - the colors in a sunset, the coral on a reef, a skier carving a mountainside. Besides jaw-dropping 4K, you can shoot video in Full HD 1080 or HD 720. Get creative with TG-5's Full HD 120 fps High Speed Video for slow motion playback. For longer adventures, the 4K Time Lapse feature lets you easily create short videos of extended periods of time.

Shoot Close.
Really, Really Close
An exotic flower, a multicolored seashell, an insect on a leaf. The TG-5 makes incredible macro photography easy. Turn the Mode Dial to the microscope icon and shoot as close as 1 cm from your subject. Microscope Control Mode provides magnification in precise steps up to 44x. Use the Focus Bracketing and Focus Stacking Modes to easily create images with maximum depth of field and razor sharp focus. Add the optional LG-1 Light Guide to evenly illuminate still subjects up close and the optional FD-1 Flash Diffuser to freeze moving macro subjects at fast shutter speeds.

Build Your Very Own Tough System
The TG-5's ergonomic design features an Accessory Lock to secure optional lenses and other accessories. The waterproof TCON-T01 Teleconverter Lens boosts the TG-5's optical zoom to nearly 7x, while the waterproof FCON-T01 Fisheye Converter Lens produces distinctive ultra-wide photos. Shoot evenly lit macro shots with help from the LG-1 Light Guide and waterproof FD-1 Flash Diffuser. Keep your TG-5 conveniently strapped to a backpack or chest harness using the CSCH-123 Sport Holder and dive deeper - up to 147 feet (45 meters) - using the PT-058 Underwater Housing.
Olympus Stylus Tough TG-5 Features
New 12MP Hi-Speed Image Sensor for Improved Low Light Performance and Noise Reduction
Bright F2.0 Hi-Speed Lens
Dual Quad Core TruePic VIII Image Processor
RAW Capture
New Field Sensor System w/ GPS, Manometer, Compass & Temperature Sensor
On Screen Field Sensor Data Display
Olympus Image Track app Plays and Exports Videos and Still Images with Field Sensor System Data
Waterproof to depths of 50 feet / 15m
Crushproof to 220 lbf/100 kgf
Shockproof from 7 ft /2.1 m
Freezeproof to 14F / -10C
Dustproof
New Anti-Fog Lens with Sealed, Dual Pane Glass to Prevent Condensation
New 4K Video Capture
New Full HD 120fps High Speed Video
New PRO Capture Mode for Lag-Free Shooting
4 Macro Modes: Microscope, Microscope Control, Focus Stacking, and Focus Bracketing
4 Underwater Modes: Underwater, Wide, Underwater Macro, Underwater Snapshot, and Underwater HDR
Ergonomic Body Design with Convenient Dial Control, Zoom Lever and Accessory Lock Button
Built-in Wi-Fi for Remote Shooting and Wireless Sharing
Already purchased this product? Write your review here.
Read more

Read less
/300
(this will only be visible between you and seller)
All your Q&A posts are available in My Page > My Shopping Talk > My Q&A History.
Once seller replies, you will be notified by email.
Your posts may be removed and 11street reserves the right to suspend your account if inappropriate contents are found;

Any implication of direct trade / discounts with your contact number, email address, or any offline contact point.
Any indication of libel/defamation, inappropriate price comparison, unrelated ads, etc.
Seller's Information
Seller
N4 Camera Store
Shipping from
Return/Exchange address
Notice on Return/exchange
Please email to service@n42u.com.my with following 4 information!
1. Tax Invoice
2. Camera Brand, Model, Serial Number
3. Customer Name & Contact Number
4. Faulty description

After N4 Service Team confirm, N4 Service Team will send a Service Code, Delivery Address for you to send back for service!
11Street Return/Exchange Policy
Cancellation

Request for cancellation if product has not been dispatched after payment completion.
Strictly no cancellation for E-voucher after purchased.

Return

Request for return within 7 calendar days following delivery date.
Check seller's approval on buyer's request.
Buyer sends product in question to seller.
Seller receives and checks returned product.
Seller approves return and return is completed.
Strictly no return or refund for E-voucher.

Exchange

Request for exchange within 7 calendar days following receipt of delivery.
Check seller's approval on buyer's request.
Buyer sends product in question to seller.
Seller receives and checks returned product
Seller send new product to buyer, and buyer receives it, and exchange is completed.
No exchange for E-voucher purchased.
How to Request for Cancellation/Return/Exchange
You can request for cancellation after completing payment and if product has not been dispatched by then, cancellation request is approved and you can receive refund.
But, in case seller has already dispatched product, cancellation request can be rejected.
You can request for return after obtaining product, you should send the product in question to seller.
After seller checks if returned product is flawed, and approves your request, return is completed and payment is refunded.
You can request for exchange if wrong product is shipped, you should send the product in question to seller.
After seller checks if returned product is flawed, seller approves your request, and re-sends new product.
Criteria for Return/Exchange
You can request for return/exchange within 7 calendar days following delivery date. But return/exchange request cannot be made in following cases:
When request due to change of mind is made after 7 calendar days following delivery date
When product is used, destroyed or damaged
When tag attached to product is removed or package of product is opened and product value is damaged
When sealed package is opened or packaging materials are lost
When too much time has passed and product value has so decreased that its re-sale is not possible
When return/exchange request is made for customized product such as hand-made shoes or accessories
When components of product (including free gift) have been used or lost
When buyer did not follow instructions included in product
As e-voucher products are immediately sent to your e-mail, returns/exchanges are not available. Please take note of this before purchase, and input your e-mail address correctly.
As Mobile Top-up products are directly reloaded on your cell phone number, returns/exchanges are not available. Please take note of this before purchase, and enter your cell phone number correctly.


For any inconvenience regarding Cancellation/Return/Exchange, please email to hello@11street.my and we will do our best to help you.
Notice
Please note that, direct transaction with the seller without using 11street payment service can cause problems such as; not receiving the product, receiving different product etc.
For sales products and contents registered by the seller, 11street run by Celcom Planet has no responsibility on any of the registered contents.