Logitech G29 Driving Force Racing Wheel for PS3/PS4
FEATURES
GET EXCLUSIVE PROJECT CARS SKINS
When you order G29 Driving Force Racing Wheel
All your controls are where you can reach them. The D-Pad, buttons and paddle shifters are incorporated into the racing wheel. LED indicator lights positioned just above the center of the wheel tell you exactly when to up- or down-shift. You maintain maximum acceleration without taking your eyes off the track. A 24-point selection dial and the +/- buttons on the front of the wheel let you further fine-tune your driving preferences
FOR PLAYSTATION 3 AND PLAYSTATION 4
Enhance your console experience
You will never want to race with a regular controller again after you add Driving Force to your controller selection.
G29 game steering wheel is designed for the latest racing games for your PlayStation®4 or PlayStation®3 console. G29 Driving Force also works on your PC using Logitech Gaming Software.
Download Logitech Gaming Software
DUAL-MOTOR FORCE FEEDBACK
Feel every weight shift, and tire slip
Feel your tires on every turn and type of terrain, sense under- or over-steer drifting and more. Powerful dual-motor force feedback realistically simulates force effects so you can respond with precision.
QUALITY CONSTRUCTION
Race-ready materials that can handle it all
Driving Force handles the stress of racing action and is built for long-lasting reliability. G29 has solid steel ball bearings in the wheel shaft and stainless steel paddle shifters and pedals. The race wheel is covered in high-quality, hand-stitched leather, giving it the look and feel of a high-performance racecar wheel and giving you a more comfortable, durable experience.
HELICAL GEARING WITH ANTI-BACKLASH
Tight, smooth, precise control
You get an exceptionally smooth, quiet steering action. Helical gears are modeled after gears used in automotive transmissions to reduce unwanted noise and vibration. Anti-backlash keeps the wheel and pedals tight, maximizing your control. G29 Driving Force Racing Wheel features a long lasting, reliable hall-effect steering sensor, using magnetic fields to sense the position of the wheel.
EASY-ACCESS GAME CONTROLS
Control right at your fingertips
All your controls are where you can reach them. The D-Pad, buttons and paddle shifters are incorporated into the racing wheel. LED indicator lights positioned just above the center of the wheel tell you exactly when to up- or down-shift. You maintain maximum acceleration without taking your eyes off the track. A 24-point selection dial and the +/- buttons on the front of the wheel let you further fine-tune your driving preferences.
RESPONSIVE FLOOR PEDAL UNIT
Adjustable for maximum control
Maintain a more realistic driving body position with the separate floor pedal unit with integrated throttle, brake, and clutch pedals. G29 Driving Force lets you comfortably accelerate, brake and change gears with the feel of an actual car.
The nonlinear brake pedal mimics the performance of a pressure-sensitive brake system for a more responsive, accurate braking feel. For even finer control, reposition the pedal faces to make heel-toe maneuvers easier to perform.
Rubber feet for hard surfaces and a patented retractable carpet grip system help your pedals stay right where you put them.
MOUNTS SECURELY
Performance that stays where you want it
Drive fearlessly knowing the wheel won't shift during aggressive maneuvers. The racing wheel mounts securely to your table or racing rig via built-in clamps or screw mounting points.
Take your racing to the next level with a Playseat® racing simulation cockpit.
Check Out Playseat®
900° STEERING
For realistic turns on the track
The 900-degree lock-to-lock rotation of the G29 Driving Force means you can turn the wheel two and a half times. It's the same degree of motion as a steering wheel inside a car.
STEERING WHEEL STRIPE
Stay oriented in the right direction
Easily see if your steering is dialed in using a visual cue within your peripheral vision. The steering wheel stripe is a visual indicator of which direction the wheel is pointing.
WORKS WITH DRIVING FORCE SHIFTER ATTACHMENT
Pinpoint gear selection
Complete your racing rig for the most realistic experience. Add the 6-speed manual Driving Force shifter to your racing wheel setup.
Click for more information on Driving Force Shifter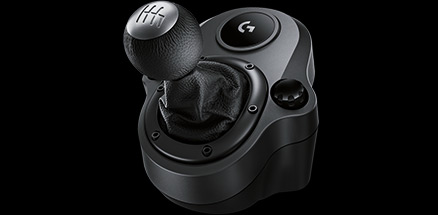 SPECIFICATIONS
PART NUMBER
941-000110
WARRANTY INFORMATION
2-Year Limited Hardware Warranty
SYSTEM REQUIREMENTS
Playstation®4 or Playstation®3
Powered USB port

OR

Windows® 8.1, Windows 8 or Windows 7

Powered USB Port
Internet connection and 150MB hard drive space (for optional software download)
Games that support Logitech® force feedback racing wheel
PACKAGE CONTENTS
Steering wheel
Pedals
Power adapter
User documentation
PHYSICAL SPECIFICATIONS
Wheel




Height: 270 mm (10.63 in)
Width: 260 mm (10.24 in)
Length: 278 mm (10.94 in)
Weight without cables: 2.25 kg (4.96 lb)

Pedal

Height: 167 mm (6.57 in)
Width: 428.5 mm (16.87 in)
Depth: 311 mm (12.24 in)
Weight without cables: 3.1 kg (6.83 lb)
TECHNICAL SPECIFICATIONS
Software Support (at release): Logitech Gaming Software
Connection Type: USB
USB VID_PID: 046D_C24F (PC Mode)
USB Protocol: USB 2.0
USB Speed: Full Speed
Indicator Lights (LED): Yes

Wheel
Rotation: 900 degrees lock-to-lock
Hall-effect steering sensor
Dual-Motor Force Feedback
Overheat safeguard

Pedals
Nonlinear brake pedal
Patented carpet grip system
Textured heel grip
Self-calibrating

Materials
Wheel spokes: Anodized aluminum
Wheel cover Hand-stitched leather
Steering shaft: Steel
Shifter paddles: Brushed stainless steel
Mounting clamps: Glass-filled nylon
Pedal frames and arms: cold rolled steel
Pedal faces: Brushed stainless steel
Pedal piston sleeves: Polyoxymethylene thermoplastic (POM)
Basic Information
Basic Information of Product
Product Status/Sales Type
New
Product No.
8109802
Weight (KG)
10 kg
Country of Origin
N/A
Shipping Method
Courier Service
GST Applicable
SR 0%
After Sale Service
1. 2 Years Local Manufacturer Warranty (100% Genuine Logitech Manufacturer )
2. Goods sold are not returnable / refundable
3. TAX INVOICE will be provided by 11street , please download the TAX INVOICE from ( my page -&gt TAX INVOICE ( on the left ) . Customers are required to click " Purchase Confirm " after receiving the goods then only the TAX INVOICE will be generated . We will not provide TAX INVOICE directly to Customer as the billing will go direct from 11Street to customers.
4. Our Team will keep the Order Status updated in order to provide a better tracking process of the parcel to the Customers.

Self Collect Policy
1. For self collect Customer , you are required to state " SELF COLLECT" at the remark column.
2. Our Team will reach out to Customer once the order has been processed to make relevant self-collect arrangement with the Customer in person.
3. Shipping fees paid IS NOT refundable.
4. Customer is required to click " CONFIRM PURCHASE " to complete the deal during the pick up to complete the Self-Pickup process.
5. Our Online Team will be operating from Monday – Friday ( 10am – 8pm ) Saturday ( 10am – 4pm ) Sunday ( Close )

Thanks for your support and we look forward to service you again in the coming future , Happy Shopping With IT Comp
Brand
None
Already purchased this product? Write your review here.
Read more

Read less
/300
(this will only be visible between you and seller)
All your Q&A posts are available in My Page > My Shopping Talk > My Q&A History.
Once seller replies, you will be notified by email.
Your posts may be removed and 11street reserves the right to suspend your account if inappropriate contents are found;

Any implication of direct trade / discounts with your contact number, email address, or any offline contact point.
Any indication of libel/defamation, inappropriate price comparison, unrelated ads, etc.
Seller's Information
| | |
| --- | --- |
| Seller | IT Comp |
| Shipping from | |
| Return/Exchange address | |
| Notice on Return/exchange | No Return Applicable |
11Street Return/Exchange Policy
Cancellation

Request for cancellation if product has not been dispatched after payment completion.
Strictly no cancellation for E-voucher after purchased.

Return

Request for return within 7 calendar days following delivery date.
Check seller's approval on buyer's request.
Buyer sends product in question to buyer.
Seller receives and checks returned product.
Seller approves return and return is completed.
Strictly no return or refund for E-voucher.

Exchange

Request for exchange within 7 calendar days following receipt of delivery.
Check seller's approval on buyer's request.
Buyer sends product in question to seller.
Seller receives and checks returned product
Seller send new product to buyer, and buyer receives it, and exchange is completed.
No exchange for E-voucher purchased.
How to Request for Cancellation/Return/Exchange
You can request for cancellation after completing payment and if product has not been dispatched by then, cancellation request is approved and you can receive refund.
But, in case seller has already dispatched product, cancellation request can be rejected.
You can request for return after obtaining product, you should send the product in question to seller.
After seller checks if returned product is flawed, and approves your request, return is completed and payment is refunded.
You can request for exchange if wrong product is shipped, you should send the product in question to seller.
After seller checks if returned product is flawed, seller approves your request, and re-sends new product.
Criteria for Return/Exchange
You can request for return/exchange within 7 calendar days following delivery date. But return/exchange request cannot be made in following cases:
When request due to change of mind is made after 7 calendar days following delivery date
When product is used, destroyed or damaged
When tag attached to product is removed or package of product is opened and product value is damaged
When sealed package is opened or packaging materials are lost
When too much time has passed and product value has so decreased that its re-sale is not possible
When return/exchange request is made for customized product such as hand-made shoes or accessories
When components of product (including free gift) have been used or lost
When buyer did not follow instructions included in product
As e-voucher products are immediately sent to your e-mail, returns/exchanges are not available. Please take note of this before purchase, and input your e-mail address correctly.
As Mobile Top-up products are directly reloaded on your cell phone number, returns/exchanges are not available. Please take note of this before purchase, and enter your cell phone number correctly.


For any inconvenience regarding Cancellation/Return/Exchange, please contact Customer Service at 03-2720-0000 and we will do our best to help you.
Notice
Please note that, direct transaction with the seller without using 11street payment service can cause problems such as; not receiving the product, receiving different product etc.
For sales products and contents registered by the seller, 11street run by Celcom Planet has no responsibility on any of the registered contents.