Huawei P10 4/64GB LTE ORIGINAL Huawei Malaysia (Screen Protector & Case In the Box)
SPECIFICATION:
Display : 5.1" (1920 x 1080)
Processor : Hisilicon Kirin 960
Internal Storage : 64GB ROM
MicroSD slot : Used SIM2 Slot
Camera : Rear 20MP+12MP; Front 8MP

Artistic Portrait in Leica Image Style
Put a portrait studio in your pocket. The new Leica Dual Camera 2.0 uses precise 3D facial detection, dynamic illumination, and natural portrait enhancements to produce stunning artistic portrait shots in Leica image style.


Flavor Studio
HUAWEI P10's imaging algorithm helps create artistic portraits in Leica image style for natural, studio-like enhancements. Eyes receive special attention with optical technology that brings out innate brightness and colour.

Dynamic Illumination
As lighting changes, HUAWEI P10's light-sensing algorithm automatically adjusts photo configurations—including AWB, shutter speed and more. Dynamic illumination readjusts the lighting to add artistic glow to your portrait shots.


Perfect You
HUAWEI P10's precise 3D facial detection technology identifies personal features with more accuracy to give you better more beautiful portraits.


Authentic Monochrome Photography with Bokeh Effect
Experience authentic monochrome photography with bokeh effect. The monochrome sensor captures sharp black & white photos with greater detail, producing incredible photos that never go out of style.


Hybrid Zoom
HUAWEI P10's 20MP + 12MP camera modules and HUAWEI's versatile hybrid zoom improve the smoothness, clarity and simplicity of portrait photography.


Highlights
Highlights automatically generates a video of your best moments based on time, location and shooting mode. Select from various templates.


Best-ever Self Portraits with Leica Front Camera
An all new Leica front camera captures 2x more light, offering amazing self portraits, whether day or night. HUAWEI P10 even senses groufies and automatically switches to wide-angle shots when more people enter the picture. Capture unique selfies in Leica image style.


Adaptive Self Portraits
HUAWEI P10's large sensor captures 200 percent more light, offering dramatic colour depth and range, while automatically switching to wide-angle view for groufie shots.

Engineering Marvel: Leica Dual Camera 2.0
HUAWEI P10's Leica Dual Camera 2.0 carries two SUMMARIT-H lenses with an F2.2 aperture. The result: 4K shooting, 20MP+12MP sensors, Optical Image Stabilisation, Superior low-light photography. When you see the world more clearly, you see how beautiful it is.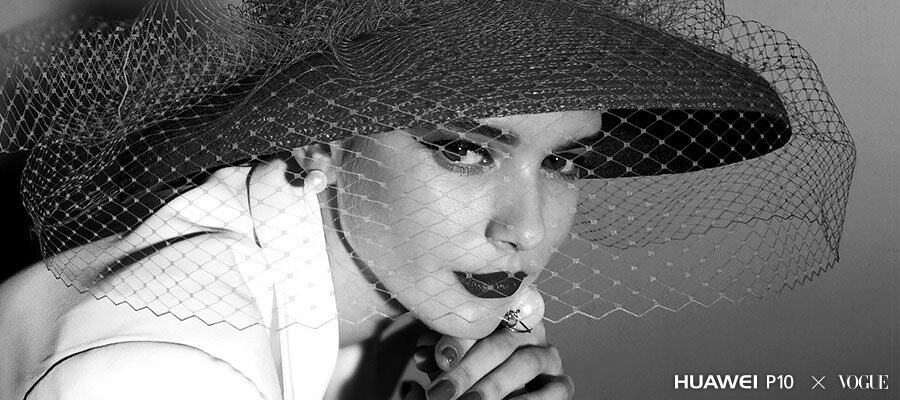 HUAWEI + LEICA
Take some of the most outstanding pictures of your life: 20MP + 12MP camera modules, Optical Image Stabilisation (OIS), Artistic portraits and unique selfies in Leica image style. Redefine modern portrait photography.
Fast Focus
4-in-1 hybrid auto-focus. Faster adjustments. Improved precision.
Greater Depth
Cutting-edge, instantaneous depth of field changes.
Stability Control
Optical Image Stabilisation (OIS): great shots, reduced motion blur.


4K Shooting
Capture your life in detailed 4K resolution rich enough to cast to large screens.

The Speed of Life
Machine learning and the ultra-fast Kirin 960 processor keep HUAWEI P10's performance at the peak of its game. Coupled with HUAWEI Ultra Memory technology that intelligently allocates, recycles, and compresses memory, the apps you love load faster than ever.
Smarter. Faster.
HUAWEI Ultra Memory uses machine learning to improve HUAWEI P10's speed and response time by reserving memory for the apps you love most. The result: HUAWEI P10 is faster and more nimble, providing a better experience while multitasking.


Connected. Always.
HUAWEI P10 uses Wi-Fi 2x2 MIMO to provide faster, more stable connections while widening coverage range and improving wall penetration capacity.


Super Fast Charging
HUAWEI P10's high-density 3200 mAH (TYP) battery supports HUAWEI SuperCharge technology. Backed by a 5-gate protection, charging is both fast and safe.
Basic Information
Basic Information of Product
Product Status/Sales Type
New
Product No.
34563944
Weight (KG)
0.8 kg
Country of Origin
N/A
Shipping Method
Courier Service
GST Applicable
SR 0%
After Sale Service
1) 1 Year Local Manufacturer Warranty.
2) Good sold is not returnable/Refundable
3) All the TAX INVOICE had provided by 11street, please download from my page-&gtleft side of the box Tax invoice. You may need to click confirm purchased after you had receive your goods then the Tax invoice will only appear.(Only applicable to PC). We will not provide our own TAX INVOICE since 11street had provide.
4) We will follow the Order that the goods of you purchase.
5) Unnecessary request put at the remark, WE will not entertain and will process as the Order we received.
6) We will try our best to REPLENISH the stock ALL TIME if the stock available from supplier.

Self Collect
1) Please remark "SELF COLLECT" when you purchase the goods at the remark box.
2) Our team will CONTACT customer when we process YOUR order, please do not come to shop straight after purchase although had remark, this is because to avoid our stock sold out or the stock not arrive to our store yet.
3) All the shipping fees is not REFUNDABLE
4)When collection, customer may need to click "confirm purchase" to complete the deal.
5)Online Team Operation Hours Mon-Friday 11am - 7pm. Sat-sunday & Public Holiday off.

Thank you for the support
Brand
Huawei
Already purchased this product? Write your review here.
Read more

Read less
/300
(this will only be visible between you and seller)
All your Q&A posts are available in My Page > My Shopping Talk > My Q&A History.
Once seller replies, you will be notified by email.
Your posts may be removed and 11street reserves the right to suspend your account if inappropriate contents are found;

Any implication of direct trade / discounts with your contact number, email address, or any offline contact point.
Any indication of libel/defamation, inappropriate price comparison, unrelated ads, etc.
Seller's Information
Seller
Egadget Solution
Shipping from
Return/Exchange address
Notice on Return/exchange
1. We guarantee all products from our company are brand new and in sealed. Therefore, we DO NOT accept any return from customer UNLESS when open box there is manufacture fault. Please notify us within 24 hours from the moment you receive the good and found that it is damaged or defected. Failure to do so will be treated at your own risk, WE will not going to responsible and accept any return after that.
2. Buyer is responsible for shipping and handling cost related to returning the item. All returns must be accompany with the original packaging including all original accessories and/or FOC items which accompanied by the original shipment.
3. One to one exchange only applicable to total loss damage. Other than that, item will be repaired by the respective Manufacturer.
11Street Return/Exchange Policy
Cancellation

Request for cancellation if product has not been dispatched after payment completion.
Strictly no cancellation for E-voucher after purchased.

Return

Request for return within 7 calendar days following delivery date.
Check seller's approval on buyer's request.
Buyer sends product in question to buyer.
Seller receives and checks returned product.
Seller approves return and return is completed.
Strictly no return or refund for E-voucher.

Exchange

Request for exchange within 7 calendar days following receipt of delivery.
Check seller's approval on buyer's request.
Buyer sends product in question to seller.
Seller receives and checks returned product
Seller send new product to buyer, and buyer receives it, and exchange is completed.
No exchange for E-voucher purchased.
How to Request for Cancellation/Return/Exchange
You can request for cancellation after completing payment and if product has not been dispatched by then, cancellation request is approved and you can receive refund.
But, in case seller has already dispatched product, cancellation request can be rejected.
You can request for return after obtaining product, you should send the product in question to seller.
After seller checks if returned product is flawed, and approves your request, return is completed and payment is refunded.
You can request for exchange if wrong product is shipped, you should send the product in question to seller.
After seller checks if returned product is flawed, seller approves your request, and re-sends new product.
Criteria for Return/Exchange
You can request for return/exchange within 7 calendar days following delivery date. But return/exchange request cannot be made in following cases:
When request due to change of mind is made after 7 calendar days following delivery date
When product is used, destroyed or damaged
When tag attached to product is removed or package of product is opened and product value is damaged
When sealed package is opened or packaging materials are lost
When too much time has passed and product value has so decreased that its re-sale is not possible
When return/exchange request is made for customized product such as hand-made shoes or accessories
When components of product (including free gift) have been used or lost
When buyer did not follow instructions included in product
As e-voucher products are immediately sent to your e-mail, returns/exchanges are not available. Please take note of this before purchase, and input your e-mail address correctly.
As Mobile Top-up products are directly reloaded on your cell phone number, returns/exchanges are not available. Please take note of this before purchase, and enter your cell phone number correctly.


For any inconvenience regarding Cancellation/Return/Exchange, please contact Customer Service at 03-2720-0000 and we will do our best to help you.
Notice
Please note that, direct transaction with the seller without using 11street payment service can cause problems such as; not receiving the product, receiving different product etc.
For sales products and contents registered by the seller, 11street run by Celcom Planet has no responsibility on any of the registered contents.