GoPro Hero 6 / Hero6 + 16GB Memory Card + Battery (Original Funsportz warranty)
Apply Coupons For More Discounts
GoPro Hero6 Black Edition Action Camera
Go Pro is back with a brand new take on a classic camera. The Hero series has been the go-to action camera for a few years now and, while it looks the same as last year, the Hero 6 Black packs a serious punch. It takes better photos, shoots better video and is what the company calls an "intelligent camera" thanks to its custom GP1 chip.
Highlights
GoPro Hero 6 Black: Design
Waterproof to 10m (33 feet)

Two screens: one front, one back
The short version of the design story: it looks just like the Hero 5. Very little, if anything, has changed on the outside. It's the same, small, square-ish rugged camera with waterproofing.
There's a small monochrome screen on the front, next to the camera, and a larger, colour touchscreen on the back to use as a viewfinder. This also acts as the window to the touch-based user interface that lets you quickly change shooting modes, access settings etc. It's still small enough to fit in the tiniest of pockets.
Having the same design as the previous model does offer some serious upsides. It means you can carry on using your existing mounts and accessories, which includes the Karma Drone. What's more, waterproofing up to 10 metres means you can take it underwater with you and shoot some great diving/swimming shots.
GoPro Hero 6 Black: GP1 processor, Photo and Video
4K at 60fps/1080p at 240fps

HEVC video codec

New algorithm for stabilsation

RAW and HDR photos
While the design hasn't changed much since last year's model, the Hero 6's case is hiding a new kind of magic inside. It's called the GP1 processor. It's custom designed, and enables features that weren't previously available.
Perhaps the most important is that this new action camera can now record both 4K at 60 frames-per-second, and 1080p at 240 frames-per-second. This means you can get stunning slow motion footage at full HD, and a much smoother ultra HD image.
In tandem with that, the Hero 6 captures HEVC codec video, which means the camera benefits also from not seeing excessive power consumption, or overheating, while still having fantastic image quality at a low bitrate.
The GP1 also enables a new stabilisation algorithm. So, while the camera doesn't have mechanical/optical stabilisation, this new algorithm should produce end results that look like they've been shot using a gimbal. Or at least, that's what GoPro promises.
Last but not least, the GoPro Hero 6 also now shoots some great-looking HDR still photos with vibrant colour, and impressive detailing. More vitally to photography enthusiasts; the camera has more natural tone-mapping and can shoot RAW, so photos in general look closer to what the eye sees than previously.
As a bonus, there's now also a digital zoom option that you access just by touching the screen on the back.
GoPro Hero 6 Black: QuikStories
GP1 enables advanced action recognition

Stories offload 3 times faster
One new feature launched earlier in the year for GoPro users was QuikStories. In essence, it was the ability to automatically transfer footage to your smartphone, and then have your phone magically create a video edit, cut to music, with you not having to lift a finger.
It showed a lot of promise and is massively convenient, although not perfect. In the Hero 6, thanks to the GP1 chip, it's getting a lot better.
Firstly, footage can offload to your phone three times faster than with the Hero 5, so there's less delay. Secondly, the Hero 6 - using its processor - can use audio and telemetry cues, as well as facial recognition to better choose shots where the action is happening.
This - in the end - means less time waiting for a QuikStory to be created, and less time having to fine tune it manually to get the shots that you want. It should get close to choosing those for you.
GoPro Hero 6 Black: GPS, voice control and other features
5GHz Wi-Fi

GPS, accelerometer, Bluetooth, gyroscope

Voice control in 10 languages
As you'd expect, the new GoPro has several sensors and connectivity options. This now includes 5GHz Wi-Fi to help get those large file transfers to your phone much faster than before.
Similar to the Hero 5, you'll be able to shout commands at it to get it to take photos and shoot video. This supports 10 languages.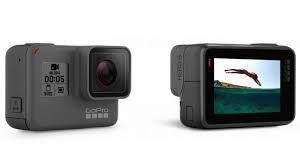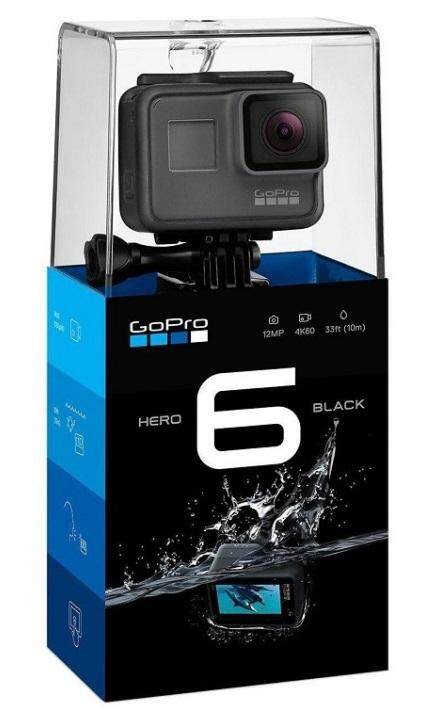 Basic Information
Basic Information of Product
Product Status/Sales Type
New
Product No.
53147297
Weight (KG)
0.5 kg
Country of Origin
N/A
Shipping Method
Courier Service
GST Applicable
ZRL 0%
After Sale Service
Brand
GoPro 
Already purchased this product? Write your review here.
Read more

Read less
/300
(this will only be visible between you and seller)
All your Q&A posts are available in My Page > My Shopping Talk > My Q&A History.
Once seller replies, you will be notified by email.
Your posts may be removed and 11street reserves the right to suspend your account if inappropriate contents are found;

Any implication of direct trade / discounts with your contact number, email address, or any offline contact point.
Any indication of libel/defamation, inappropriate price comparison, unrelated ads, etc.
Seller's Information
| | |
| --- | --- |
| Seller | N4 Camera Store |
| Shipping from | |
| Return/Exchange address | |
| Notice on Return/exchange | - |
11Street Return/Exchange Policy
Cancellation

Request for cancellation if product has not been dispatched after payment completion.
Strictly no cancellation for E-voucher after purchased.

Return

Request for return within 7 calendar days following delivery date.
Check seller's approval on buyer's request.
Buyer sends product in question to buyer.
Seller receives and checks returned product.
Seller approves return and return is completed.
Strictly no return or refund for E-voucher.

Exchange

Request for exchange within 7 calendar days following receipt of delivery.
Check seller's approval on buyer's request.
Buyer sends product in question to seller.
Seller receives and checks returned product
Seller send new product to buyer, and buyer receives it, and exchange is completed.
No exchange for E-voucher purchased.
How to Request for Cancellation/Return/Exchange
You can request for cancellation after completing payment and if product has not been dispatched by then, cancellation request is approved and you can receive refund.
But, in case seller has already dispatched product, cancellation request can be rejected.
You can request for return after obtaining product, you should send the product in question to seller.
After seller checks if returned product is flawed, and approves your request, return is completed and payment is refunded.
You can request for exchange if wrong product is shipped, you should send the product in question to seller.
After seller checks if returned product is flawed, seller approves your request, and re-sends new product.
Criteria for Return/Exchange
You can request for return/exchange within 7 calendar days following delivery date. But return/exchange request cannot be made in following cases:
When request due to change of mind is made after 7 calendar days following delivery date
When product is used, destroyed or damaged
When tag attached to product is removed or package of product is opened and product value is damaged
When sealed package is opened or packaging materials are lost
When too much time has passed and product value has so decreased that its re-sale is not possible
When return/exchange request is made for customized product such as hand-made shoes or accessories
When components of product (including free gift) have been used or lost
When buyer did not follow instructions included in product
As e-voucher products are immediately sent to your e-mail, returns/exchanges are not available. Please take note of this before purchase, and input your e-mail address correctly.
As Mobile Top-up products are directly reloaded on your cell phone number, returns/exchanges are not available. Please take note of this before purchase, and enter your cell phone number correctly.


For any inconvenience regarding Cancellation/Return/Exchange, please contact Customer Service at 03-2720-0000 and we will do our best to help you.
Notice
Please note that, direct transaction with the seller without using 11street payment service can cause problems such as; not receiving the product, receiving different product etc.
For sales products and contents registered by the seller, 11street run by Celcom Planet has no responsibility on any of the registered contents.