Garmin Fenix 5 / 5S / 5X Sapphire Multisport GPS Smartwatch - 2+1 Years Extended Warranty
PRODUCT HIGHLIGHT:
2 Year Garmin Warranty

Striking Design, Strong Performance

Dual Navigation Networks

Outstanding Readability

Wrist-Based Heart Rate

Advanced Performance Metrics

Advanced Running Dynamics
WHAT'S IN THE BOX:
fēnix 5
Fenix 5
Charging/data cable
Documentation
fēnix 5 Sapphire
Fenix 5 Sapphire
Charging/data cable
Documentation
fenix 5S
Fenix 5S
Charging/data cable
Documentation
fenix 5S Sapphire
Fenix 5S Sapphire
Charging/data cable
Documentation
fēnix 5X Sapphire
Fenix 5X Sapphire
Charging/data cable
Documentation
Free 20Gifts:
FREE 1 YEAR Extended Warranty Coverage by Ezicare worth RM300 (Total 3Years)
FREE Fenix Watch Band worth RM399 (Quick Fit type)
- Fenix 5 - Dark Blue Color
- Fenix 5S - Blue Color
- Fenix 5X - Red Color
FREE 5 units Fenix Tempered Glass Screen Protector worth RM99
- Fenix 5 - Tempered Glass
- Fenix 5S - Tempered Glass
- Fenix 5X - Screen Protector
FREE 2 units Fenix Charging/data cable RM 99
FREE Fenix Bike Mount Kit worth RM99
FREE Running Waist Pouch worth RM39
FREE Branded Bluetooth Headset worth RM 139
FREE Branded 10400mAh Power Bank worth RM79
FREE 2 x Portable Mini USB Fan worth RM35
FREE SP Cleaning Kits worth RM39
FREE Charger Port Protector worth RM19 *While stocks last only
FREE Watch Band Toolkits
FREE Fenix Watch Face Themes Unlimited Download
FREE Shipping to Entire Malaysia

Multisport GPS Watch for Fitness, Adventure and Style
Premium multisport GPS watch with Elevate™ wrist heart rate technology⊃1;
Fit for adventure with rugged design that features stainless steel bezel, buttons and rear case
Put key stats at your fingertips with the performance widget that shows the effects and progress of your workouts
Connected features⊃2; include smart notifications, automatic uploads to Garmin Connect™ online fitness community and personalization through free watch faces and apps from our Connect IQ™ store
Outdoor sensors, including GPS and GLONASS satellite reception and 3-axis compass with gyroscope and barometric altimeter
Battery life: up to 2 weeks in smartwatch mode (depending on settings), up to 24 hours in GPS mode or up to 75 hours in UltraTrac™ battery saver mode

Beat yesterday all day, every day. fēnix 5 is the premium multisport GPS watch with wrist-based heart rate⊃1;, advanced fitness features and interchangeable bands that let you go from workplace to workout without breaking stride. Whatever sport you want to track, fēnix 5 has it covered, thanks to built-in activity profiles and performance metrics plus smart notifications⊃2;.

Striking Design, Strong Performance
Athletes and adventurers come in all sizes. That's why the fēnix 5 series offers multiple models that vary in size to fit every wrist and every workout. Each version offers a variety of stainless steel finishes, QuickFit™ watch band combinations and premium feature sets to give you the look, performance and lightweight comfort to match both your aesthetic and athletic interests.
Dual Navigation Networks
Every fēnix 5 series watch features advanced GPS and GLONASS satellite reception to track in more challenging environments than GPS alone. You can count on long battery life in each mode of operation (varies by model, depending on settings). And for go-anywhere confidence, all fēnix 5 versions are water-rated to 100 meters.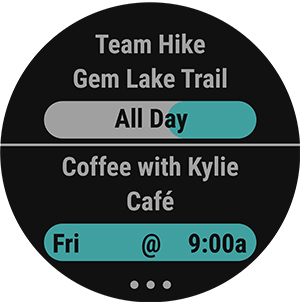 Outstanding Readability on the Run
A bright, high-resolution, full-color Garmin Chroma Display™ with LED backlighting assures great readability in all ambient conditions. Transflective technology that reflects and transmits light at the same time enables the watch face to become even more readable under intense sunlight. Sapphire editions feature a scratch-resistant sapphire lens and are also Wi-Fi®-enabled so your watch can connect to your wireless network and automatically send activity uploads for sharing on Garmin Connect.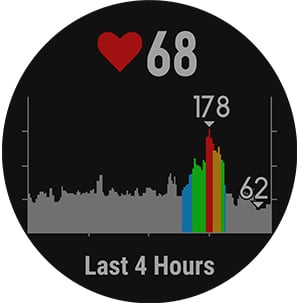 Wrist-based Heart Rate⊃1;
On your wrist, Elevate wrist heart rate technology lets you monitor your heart rate without wearing a chest strap. In addition to counting steps and monitoring sleep, the watch uses heart rate to provide calories burned information and quantify the intensity of your fitness activities.
Match Your Style with Interchangeable Watchbands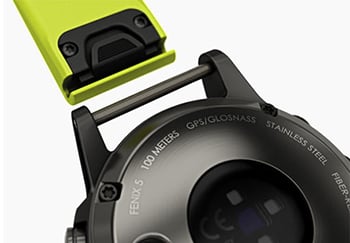 A selection of QuickFit bands in your choice of premium leather, metal or silicone makes it easy to mix and match styles to go with any sport or activity. No tools are required to make the transformation. Just swap, click and go.
Advanced Performance Metrics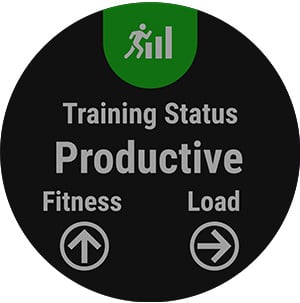 Every fēnix 5 series watch is packed with sophisticated training features to help monitor your form and performance⊃3;. Enhanced readouts for Training Status and Training Effect show aerobic and anaerobic benefits of your workout – so you can see how your workouts are paying off and even compare results with your peers. The VO2 max estimator crunches data, including your running speed, beats per minute and heart rate variability, to estimate the maximum volume of oxygen you can consume per minute. And other fitness metrics include recovery advisor with a recovery timer and recovery check, plus a race predictor that estimates your ideal finish time based on your current VO2 max number.
Advanced Running Dynamics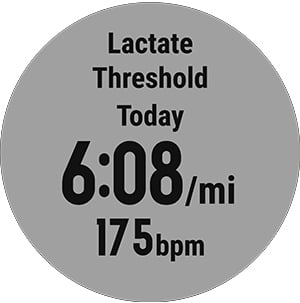 Now you can go further with your running data. Garmin training features that tap into extended physiological metrics and advanced running dynamics⊃1; can help improve your form and overall performance. These include:
Performance condition: After running for 6-20 minutes, fēnix 5 compares your real-time condition to your average fitness levels
Lactate threshold: Through analysis of your pace and heart rate, fēnix 5 estimates the point where your muscles start to rapidly fatigue
Cadence — number of steps per minute
Stride length — shows your stride length in real time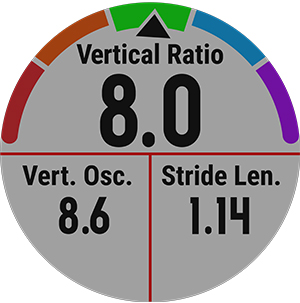 Want more? By pairing your watch with a compatible heart rate chest strap such as the HRM-Run™, you can access these additional fēnix 5 metrics⊃3;:
Vertical oscillation and ratio — the degree of 'bounce' in your running motion and the benefit ratio to stride length
Ground contact time and balance — shows how much time, in the running motion, your foot is on the ground rather than in flight and lets you check your running symmetry
Stress score: fēnix 5 measures your heart rate variability while standing still, for 3 minutes, to provide you with an estimated stress level. The scale of this is 1 to 100; low scores indicate lower stress levels
Swim Profiles, Skiing, Paddle Sports, Golf and More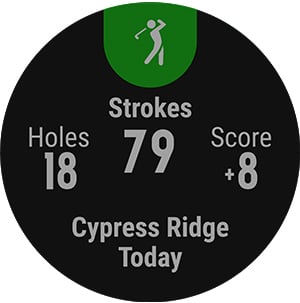 Beyond their running functions, fenix 5 watches also offer special feature sets to help with swim training, skiing, golfing and paddle sports, including stand-up paddle boarding and rowing. For swimmers, the device tracks your distance, pace, stroke count and more. Ski/Board mode puts speed, distance, vertical drop and an automatic run counter (with Auto Pause for the lift line) and more at your fingertips. The feature set for paddle sports includes stroke count, stroke rate and even distance per stroke. Golf mode gives you yardage to the front, back and middle of the green for any single course you've downloaded from Garmin Connect – and also adds enhancements such as stat tracking (fairways hit, etc.), Green View, AutoShot detection and auto measure.
Navigate the Great Outdoors, Your Way
Every fēnix 5 model provides comprehensive navigation and tracking to guide you on and off the beaten path using GPS plus ABC (altimeter, barometer and compass) sensor capabilities. The built-in altimeter provides elevation data to accurately monitor ascent and descent, while the barometer can be used to predict weather changes by showing short-term trends in air pressure. The 3-axis electronic compass keeps your bearing, whether you're moving or not. In addition, there's an internal gyroscope to help improve position accuracy (and battery life) in UltraTrac™ mode.
So Many Ways to Stay Connected
Smart notifications⊃2; through fēnix 5 let you receive emails, texts and alerts right on your watch – whether you're on the trail, on the golf course or simply away from your desk. Other connected features include automatic uploads to our Garmin Connect online fitness community, live tracking and social media sharing through our free Garmin Connect and Garmin Connect™ Mobile applications.
Custom Apps and Watch Faces
You can customize any fēnix 5 series watch with free downloads from our Connect IQ store. Change your watch face, add data fields or get apps and widgets for information at a glance.
Garmin is continually working with top companies and developers to build partnerships that add even more value to your fēnix multisport watch. Names such as Uber, Strava, AccuWeather and many others offer apps and enhancements that let you tailor your fēnix 5 to fit your lifestyle in more ways than ever.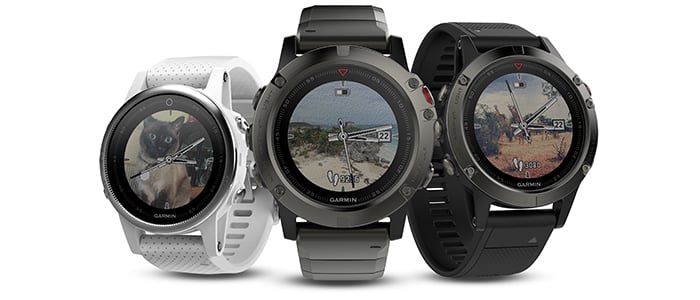 Wear Your Personality on Your Sleeve
You can also download the free Garmin Face It™ watch face app to customize your fēnix with any photo from your smartphone. Just download the app, choose an image from your photo library, adjust the style for time and set it as your watch's face. Whether it's a scenic view from your last hike or a picture of your new puppy, with Garmin you can add personality to your watch that's uniquely you.
Basic Information
Basic Information of Product
Product Status/Sales Type
New
Product No.
61687674
Weight (KG)
0.8 kg
Country of Origin
N/A
Shipping Method
Courier Service
GST Applicable
SR 0%
After Sale Service
Brand
Garmin
Already purchased this product? Write your review here.
Read more

Read less
/300
(this will only be visible between you and seller)
All your Q&A posts are available in My Page > My Shopping Talk > My Q&A History.
Once seller replies, you will be notified by email.
Your posts may be removed and 11street reserves the right to suspend your account if inappropriate contents are found;

Any implication of direct trade / discounts with your contact number, email address, or any offline contact point.
Any indication of libel/defamation, inappropriate price comparison, unrelated ads, etc.
Seller's Information
Seller
HLK SUPERSTORE
Shipping from
Return/Exchange address
Notice on Return/exchange
T&C
1. We guarantee all products from our company are brand new and and first class quality from their manufacturers. If customer found out there is manufacture fault when open box. Please notify us within 3 days from the moment you receive the good and found that it is damaged or defected. Failure to do so will be treated at your own risk, we will not going to responsible and accept any return after that.
2. Customer is responsible for shipping and handling cost related to returning the item. All returns must be accompany with the original packaging including all original accessories and/or FOC items which accompanied by the original shipment.
3. Kindly directly refer to manufacturer for warranty purpose.
Return Procedures
For customer who require making the return, please make sure you follow the procedures below to ease our process and expedites your replacement/refund:
(1) Notify us through e-mail at support@hlkss.my within 3days.
(2) Specify the following details in your e-mail:
Date and time you received the products
Order Number:
Brand and model number:
Prefer replacement or refund:
Reason for the Replacement or Refund:
(3) Obtain a "Return Authorization" from HLK Superstore Sdn Bhd via e-mail (please note that no return will be accepted without a Return Authorization from HLK Superstore Sdn Bhd).
(4) Write the Authorization Reference Number on your return-shipping label.
(5) The returned product must be in NEW and UNUSED condition, with all ORIGINAL PACKAGING and in Sealed Box.
(6) The return MUST be sent to:
HLK Superstore Sdn Bhd
No 9, Jalan Anggerik Mokara 31/54,
Kota Kemuning , Seksyen 31,
40706 Shah Alam, Selangor.
Tel: 03-5879 9031
*The returned product will be sent to manufacturer/supplier for investigation before any replacement or refund can be made.
Others
We reserve the absolute discretion to amend any terms and conditions contained herein at any time.
11Street Return/Exchange Policy
Cancellation

Request for cancellation if product has not been dispatched after payment completion.
Strictly no cancellation for E-voucher after purchased.

Return

Request for return within 7 calendar days following delivery date.
Check seller's approval on buyer's request.
Buyer sends product in question to buyer.
Seller receives and checks returned product.
Seller approves return and return is completed.
Strictly no return or refund for E-voucher.

Exchange

Request for exchange within 7 calendar days following receipt of delivery.
Check seller's approval on buyer's request.
Buyer sends product in question to seller.
Seller receives and checks returned product
Seller send new product to buyer, and buyer receives it, and exchange is completed.
No exchange for E-voucher purchased.
How to Request for Cancellation/Return/Exchange
You can request for cancellation after completing payment and if product has not been dispatched by then, cancellation request is approved and you can receive refund.
But, in case seller has already dispatched product, cancellation request can be rejected.
You can request for return after obtaining product, you should send the product in question to seller.
After seller checks if returned product is flawed, and approves your request, return is completed and payment is refunded.
You can request for exchange if wrong product is shipped, you should send the product in question to seller.
After seller checks if returned product is flawed, seller approves your request, and re-sends new product.
Criteria for Return/Exchange
You can request for return/exchange within 7 calendar days following delivery date. But return/exchange request cannot be made in following cases:
When request due to change of mind is made after 7 calendar days following delivery date
When product is used, destroyed or damaged
When tag attached to product is removed or package of product is opened and product value is damaged
When sealed package is opened or packaging materials are lost
When too much time has passed and product value has so decreased that its re-sale is not possible
When return/exchange request is made for customized product such as hand-made shoes or accessories
When components of product (including free gift) have been used or lost
When buyer did not follow instructions included in product
As e-voucher products are immediately sent to your e-mail, returns/exchanges are not available. Please take note of this before purchase, and input your e-mail address correctly.
As Mobile Top-up products are directly reloaded on your cell phone number, returns/exchanges are not available. Please take note of this before purchase, and enter your cell phone number correctly.


For any inconvenience regarding Cancellation/Return/Exchange, please contact Customer Service at 03-2720-0000 and we will do our best to help you.
Notice
Please note that, direct transaction with the seller without using 11street payment service can cause problems such as; not receiving the product, receiving different product etc.
For sales products and contents registered by the seller, 11street run by Celcom Planet has no responsibility on any of the registered contents.