Apple iPhone 8 Plus 64GB/256GB LTE - 1 Year Apple Local Warranty
Ready Stock, Brand new and Sealed.
The new iPhone 8 and iPhone 8 Plus
At its annual September iPhone event, which took place on September 12, Apple unveiled three new iPhones: the iPhone 8, the iPhone 8 Plus, and the iPhone X. While the iPhone X is the new high-end flagship device, the iPhone 8 and the iPhone 8 Plus both feature some major improvements.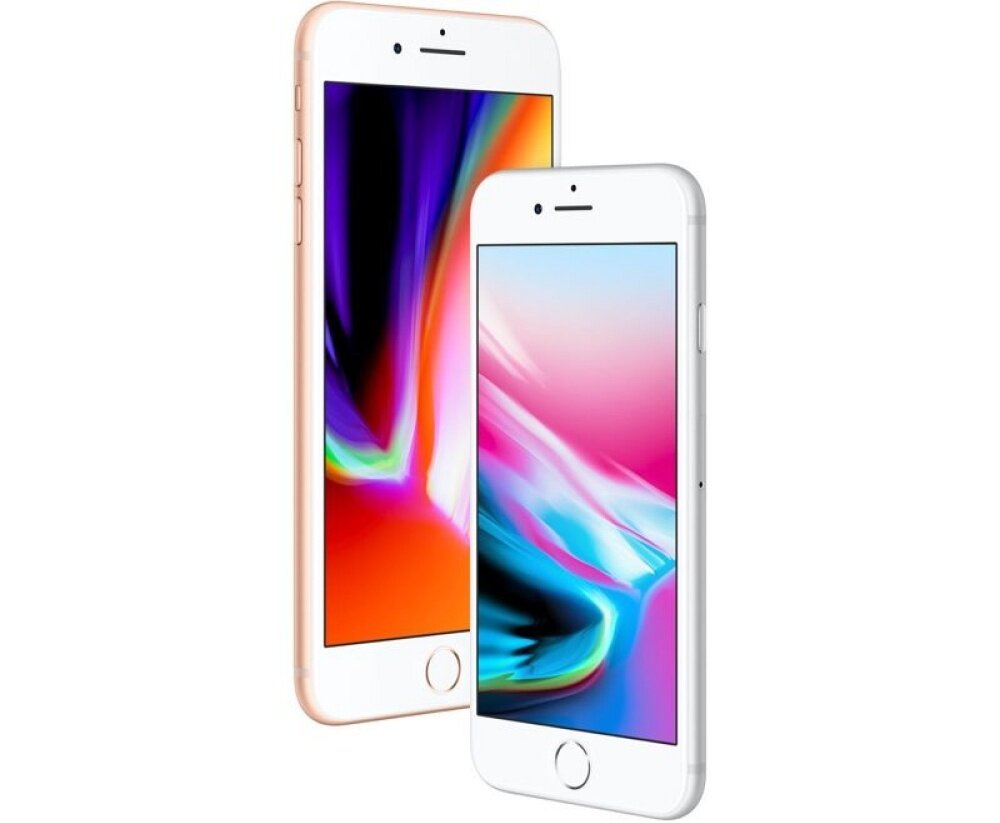 Like the iPhone X, the iPhone 8 and the iPhone 8 Plus feature an all-glass design, with new aluminum-framed glass bodies available in Space Gray, Gold, and Silver. Apple uses a seven-layer color process for "precise" hue and opacity, and the devices are constructed from the most durable glass ever used in a smartphone.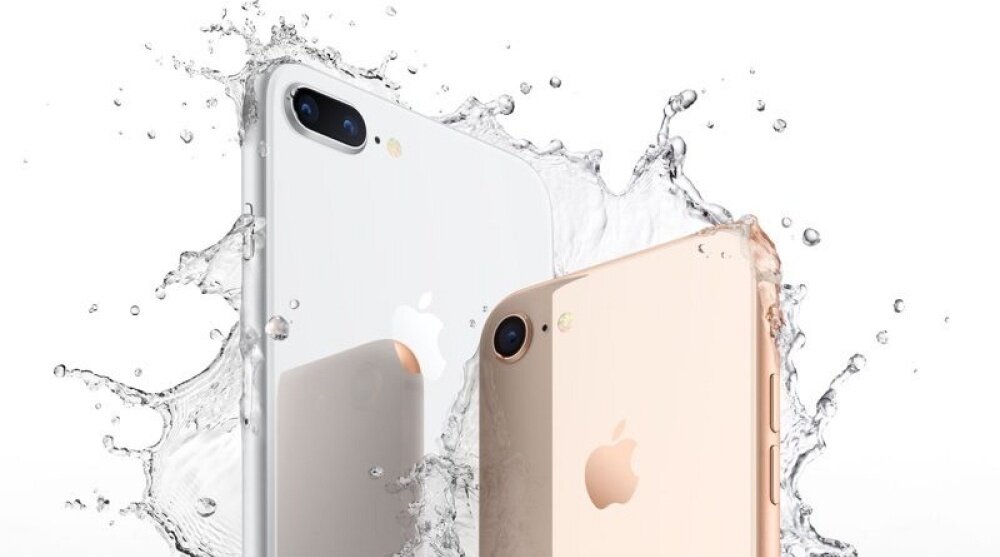 Aside from the glass design, the two new devices are otherwise nearly identical to the iPhone 7 and the iPhone 7 Plus, available in 4.7 (iPhone 8) and 5.5-inch (iPhone 8 Plus) size options with Touch ID and standard bezels. Both the iPhone 8 and the iPhone 8 Plus are IP67 water and dust resistant, and the speakers in the device are 25 percent louder with deeper bass.

New Retina HD displays have been added, with support for True Tone to match the color of the display to the ambient lighting for a more natural paper-like viewing experience. The display is the same brightness as the display in the iPhone 7 and continues to offer cinema-standard wide color gamut.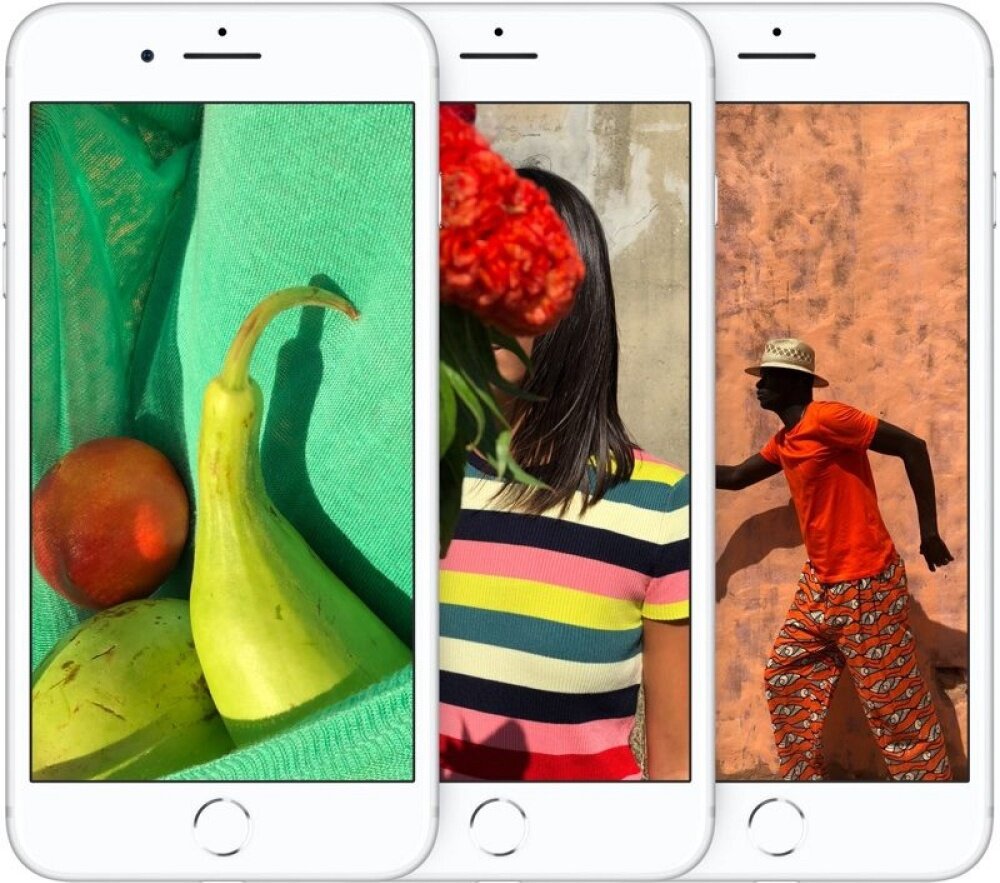 A new A11 Bionic chip features a six-core CPU design with two performance cores that are 25 percent faster and four efficiency cores that are 70 percent faster than the A10 Fusion chip in previous-generation devices.
Apple is introducing a new second-generation performance controller that's able to harness all six of the cores at the same time, for 70 percent better performance for multi-threaded workloads. The A11 Bionic also includes a three-core GPU that's up to 30 percent faster than the previous-generation GPU.
There's an improved 12-megapixel rear camera in the iPhone 8, with a dual-camera setup again available in the iPhone 8 Plus. Both models feature larger and faster sensors, a new color filter, and deeper pixels. With a new image signal processor, there's advanced pixel processing, wide color capture, faster autofocus in low light, and better HDR photos.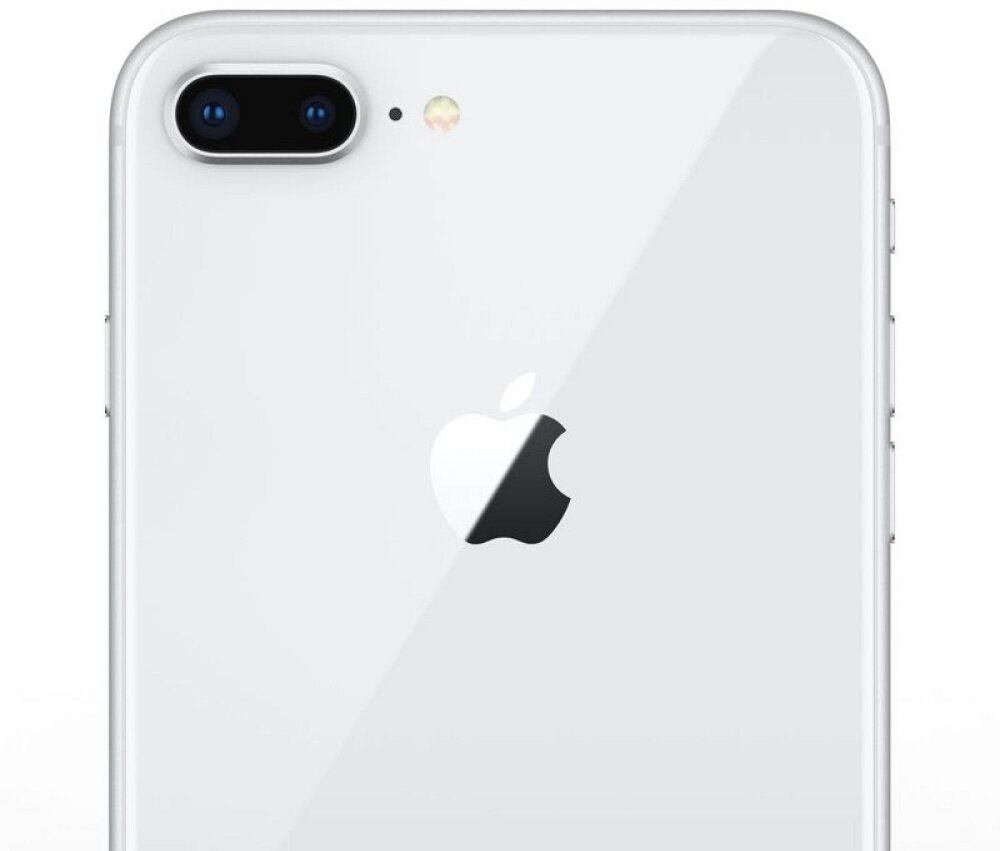 A new quad LED True Tone Flash with Slow Sync provides more uniformly lit backgrounds and foregrounds when using the flash.
When it comes to video, the camera can capture 4K video up to 60fps and 1080p slo-mo up to 240fps. A new video encoder offers up real-time image and motion analysis for better quality video.
On the iPhone 8 Plus, there's a new Portrait Lightning feature available for Portrait Mode, which is designed to allow iPhone users to add studio lighting effects to Portrait photos.
The iPhone 8 and iPhone 8 Plus have been designed with augmented reality experiences in mind. Each camera features individual calibration with new gyroscopes and accelerometers for more accurate motion tracking.
With their glass bodies, the iPhone 8 and the iPhone 8 Plus support Qi-based inductive wireless charging and are able to charge using a range of Qi-supported charging mats.
Basic Information
Basic Information of Product
Product Status/Sales Type
New
Product No.
52216587
Weight (KG)
0.6 kg
Country of Origin
N/A
Shipping Method
Courier Service
GST Applicable
Not Applicable (Non-GST seller)
After Sale Service
Brand
Apple
Already purchased this product? Write your review here.
Read more

Read less
/300
(this will only be visible between you and seller)
All your Q&A posts are available in My Page > My Shopping Talk > My Q&A History.
Once seller replies, you will be notified by email.
Your posts may be removed and 11street reserves the right to suspend your account if inappropriate contents are found;

Any implication of direct trade / discounts with your contact number, email address, or any offline contact point.
Any indication of libel/defamation, inappropriate price comparison, unrelated ads, etc.
Seller's Information
Seller
T&L Telecom
Shipping from
Return/Exchange address
Notice on Return/exchange
Upon purchase, you agree to the following terms and conditions:
1. All items sold are not refundable/exchangeable.
2. All products sold are brand new and comes with a 1-Year Apple Local Warranty.
3. All items are protected by Dead-on-Arrival policy against general manufacturing defects within the first 7-days of receipt.
4. The warranty provided does not cover any form of physical damage to the device unintentional or otherwise.
5. LCD/Display defects primarily dead/bright pixels are eligible for warranty only if it exceeds the minimum of 4 dead/bright pixels.
6. Water damaged devices even if the products were advertised and sold as waterproof/water resistant/dust-proof/IP-rated will still invalidate your warranty. Avoid submerging your device under any kind of liquid.
7. All orders are generally shipped within 2 working days (except public holidays).
8. We reserve the right to reject warranty claims if claims filed contradict the results of our inspection.

** Return Procedures **

For customers who require warranty support:
1. Write to us at tandltelecom@gmail.com. We will respond within 48 hours.
2. Include the following details in your e-mail:

Date of purchase, Order Number, Brand and Model number and Details of the fault

2. An RMA (Return Merchandise Authorization) number will be issued to you after our verification of your purchase details.
4. RMA number must be labelled on the return parcel. Return shipping will be borne by the customer and we recommend that a registered delivery service (with tracking number) be used.
5. The returned product must be accompanied with its original packaging and provided accessories. Any promotional items that were bundled with the product must be returned as well.
6. Any returns without the original packaging or accessories will not be accepted.
7. Device repairs can take between 2-5 weeks depending on the availability of replacement parts/components.
11Street Return/Exchange Policy
Cancellation

Request for cancellation if product has not been dispatched after payment completion.
Strictly no cancellation for E-voucher after purchased.

Return

Request for return within 7 calendar days following delivery date.
Check seller's approval on buyer's request.
Buyer sends product in question to buyer.
Seller receives and checks returned product.
Seller approves return and return is completed.
Strictly no return or refund for E-voucher.

Exchange

Request for exchange within 7 calendar days following receipt of delivery.
Check seller's approval on buyer's request.
Buyer sends product in question to seller.
Seller receives and checks returned product
Seller send new product to buyer, and buyer receives it, and exchange is completed.
No exchange for E-voucher purchased.
How to Request for Cancellation/Return/Exchange
You can request for cancellation after completing payment and if product has not been dispatched by then, cancellation request is approved and you can receive refund.
But, in case seller has already dispatched product, cancellation request can be rejected.
You can request for return after obtaining product, you should send the product in question to seller.
After seller checks if returned product is flawed, and approves your request, return is completed and payment is refunded.
You can request for exchange if wrong product is shipped, you should send the product in question to seller.
After seller checks if returned product is flawed, seller approves your request, and re-sends new product.
Criteria for Return/Exchange
You can request for return/exchange within 7 calendar days following delivery date. But return/exchange request cannot be made in following cases:
When request due to change of mind is made after 7 calendar days following delivery date
When product is used, destroyed or damaged
When tag attached to product is removed or package of product is opened and product value is damaged
When sealed package is opened or packaging materials are lost
When too much time has passed and product value has so decreased that its re-sale is not possible
When return/exchange request is made for customized product such as hand-made shoes or accessories
When components of product (including free gift) have been used or lost
When buyer did not follow instructions included in product
As e-voucher products are immediately sent to your e-mail, returns/exchanges are not available. Please take note of this before purchase, and input your e-mail address correctly.
As Mobile Top-up products are directly reloaded on your cell phone number, returns/exchanges are not available. Please take note of this before purchase, and enter your cell phone number correctly.


For any inconvenience regarding Cancellation/Return/Exchange, please contact Customer Service at 03-2720-0000 and we will do our best to help you.
Notice
Please note that, direct transaction with the seller without using 11street payment service can cause problems such as; not receiving the product, receiving different product etc.
For sales products and contents registered by the seller, 11street run by Celcom Planet has no responsibility on any of the registered contents.