[6 Months Warranty] RD802 HDMI VGA SD USB LED Mini Projector
WE ARE THE SOLE DISTRIBUTOR FOR BRAND OHHS, ALSO THE LARGEST DISTRIBUTOR FOR WIDE RANGE OF MINI PROJECTORS, PLEASE DONT HESITATE TO CONTACT US FOR BULK PURCHASE QUOTATION / RESELLER AGENT / WHOLESALE / DROPSHIPPING. BUY ORIGINAL!
FREE Mini Tripod Stand !!!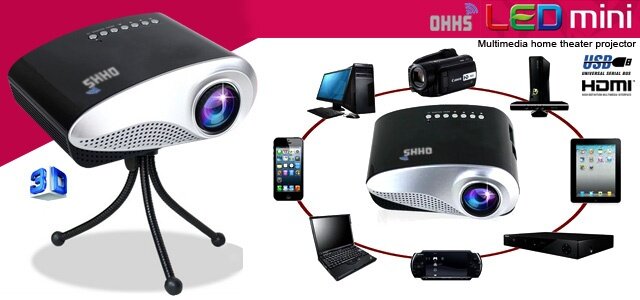 100% brand new mini tripod
Portable and light weight design to carry with conveniently
Also an ideal companion for your camera during travel
Universal interface, suitable for all general digital cameras, camcorders
High quality of plastic, sturdy and durable
Rubber foot-pad to prevent slipping
Easy to adjust, possible to rotate in any angle
Color: Black
Net Weight: 61g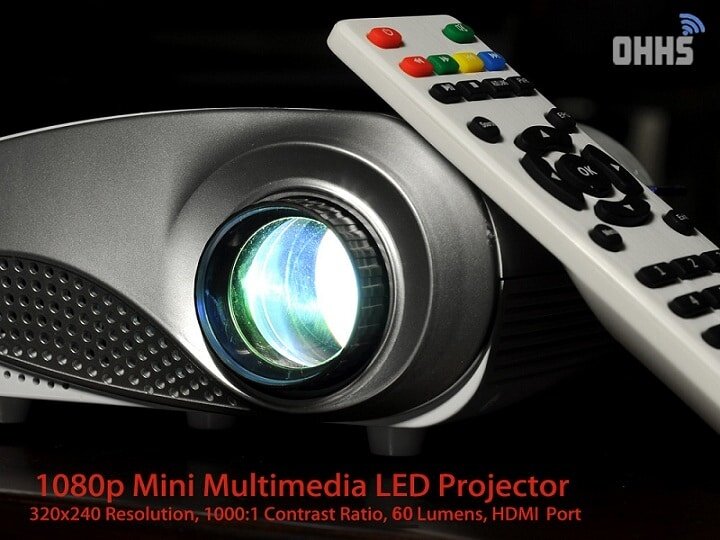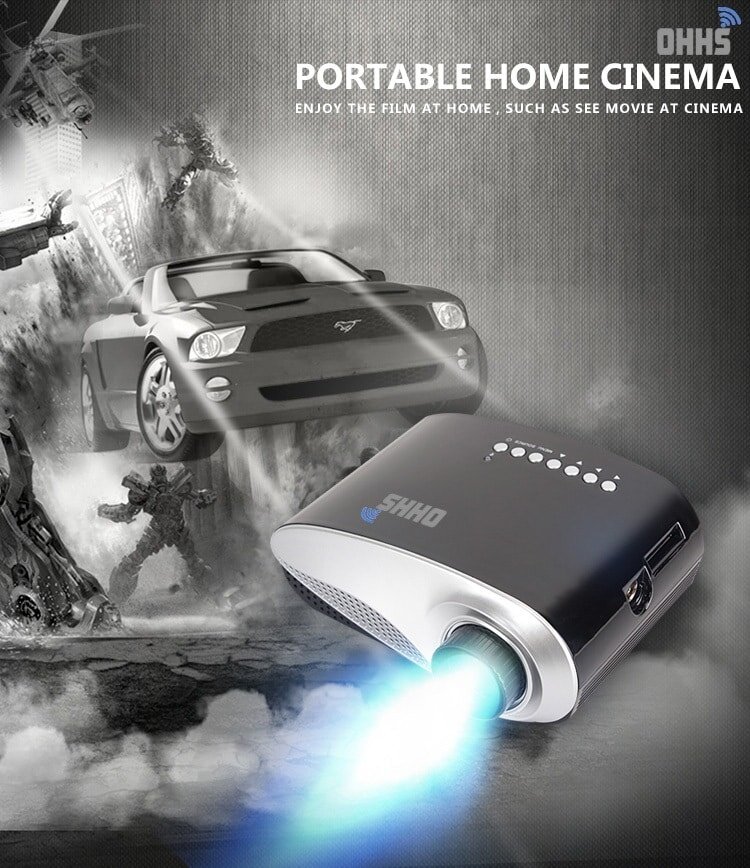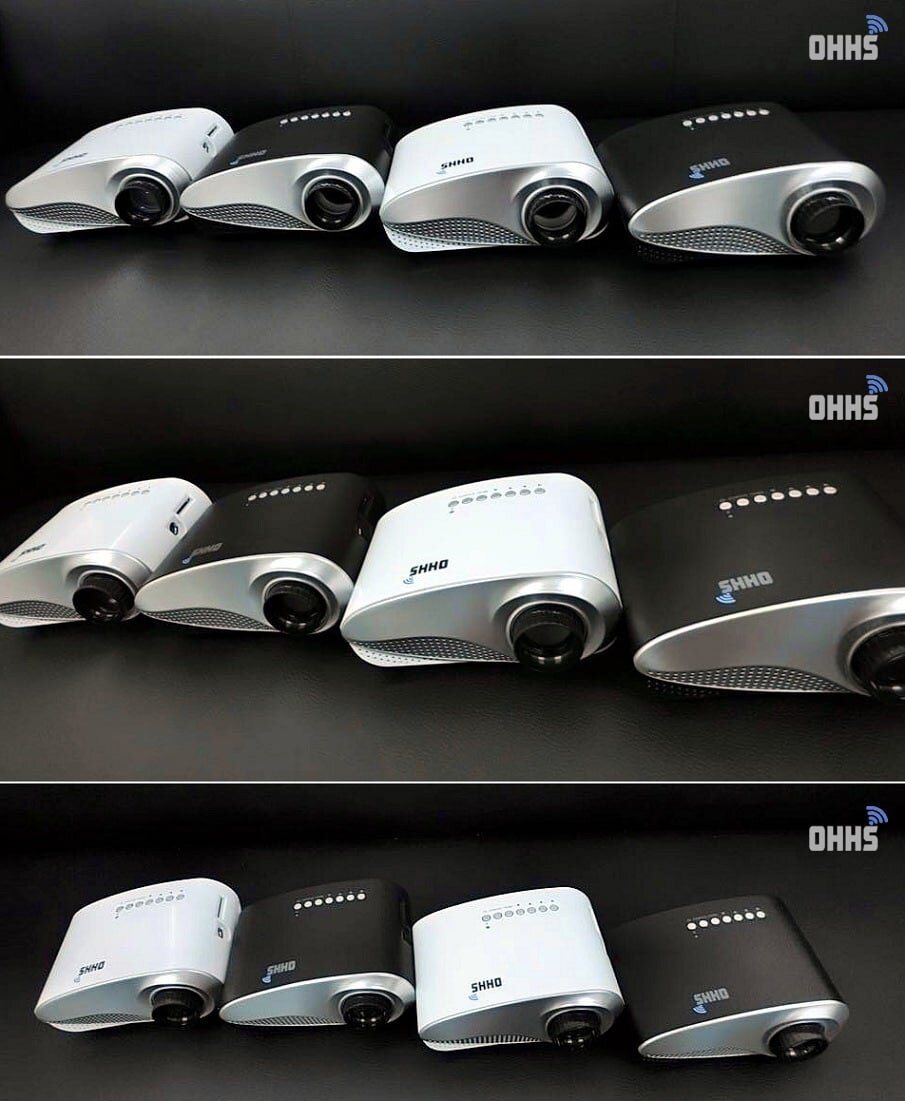 Description:
This OHHS RD802 Mini LED Projector is convenient to carry with a lightweight and portable design.
It can switch aspect ratio between 16:9 with 4:3 easily. Up to 50,000 hours LED lamp life and lower power consumption, it also can be charged by vehicle power.
With 3 pieces glass, the projector can show a clear image for you. Meanwhile, it is a green environmental protection product and not hurt the eyes while long times turn on.
It is a good choice for home theater, and also great toy projector for kids play and education.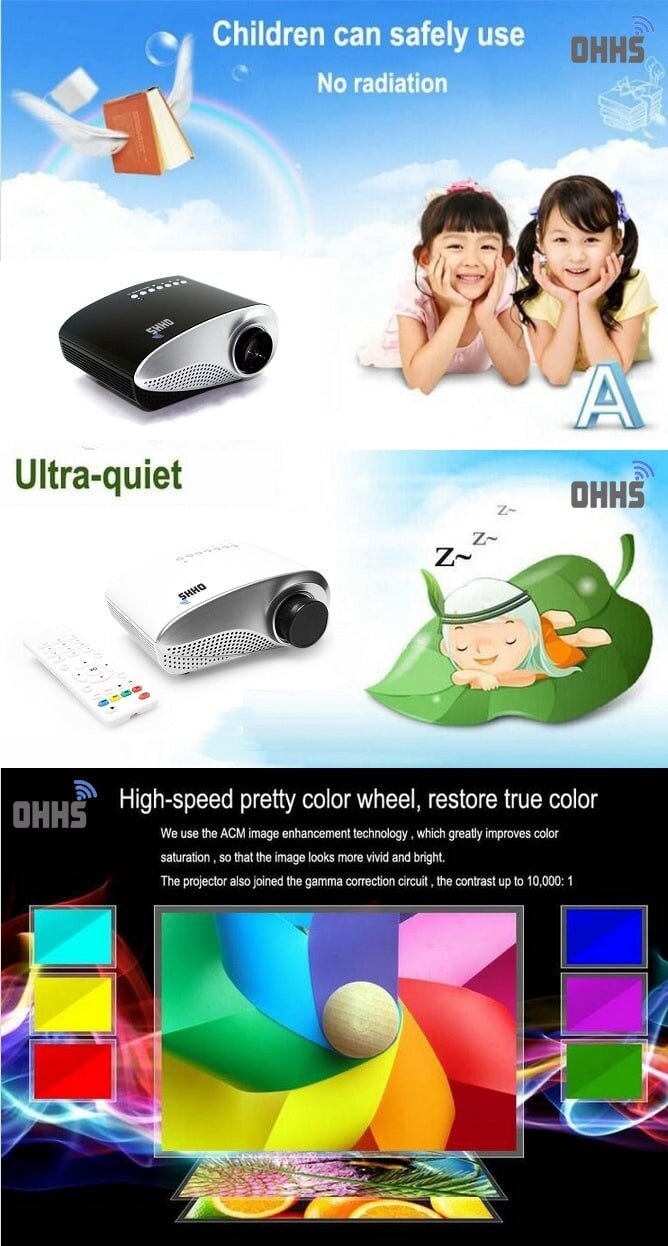 Features:

1. The professional appearance design brings perfect ventilation and steadier use.
2. The LED lamp life can be up to 50,000 hours, also display beautiful colors
3. Multi-function interface: HDMI/SD/USB/VGA/AV/AUDIO OUT/TV
4. Manual focus adjusting, viewing picture is from 20 to 100 inch
5. Professional trouble shooting and protection measures
6. Due to small dimension and light weight, easy to carry
7. Easy switching aspect ratio between 16:9 and 4:3
8. Low power consumption, ultra quiet isolation
9.Support charged by the vehicle power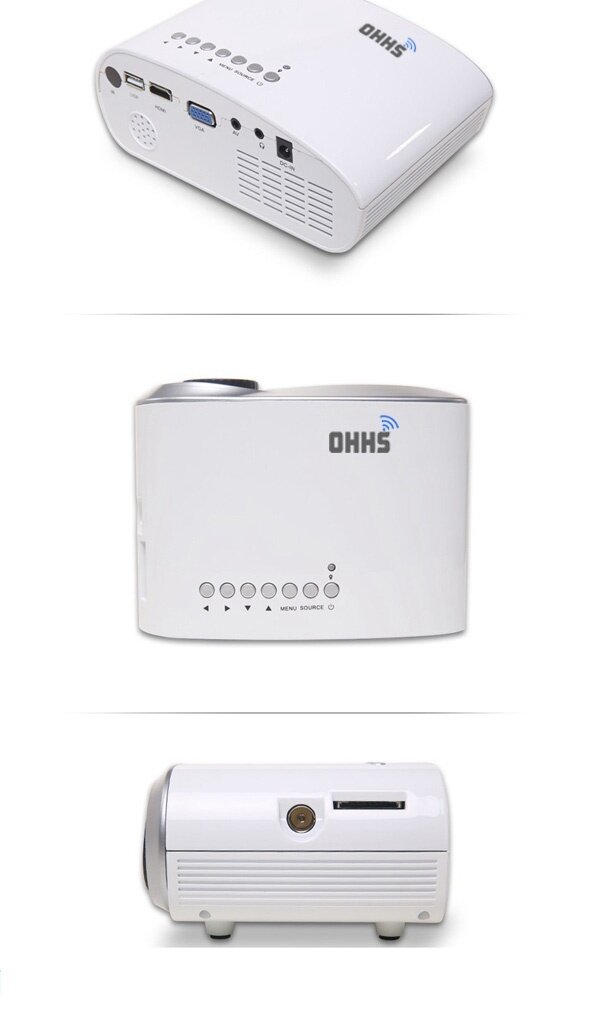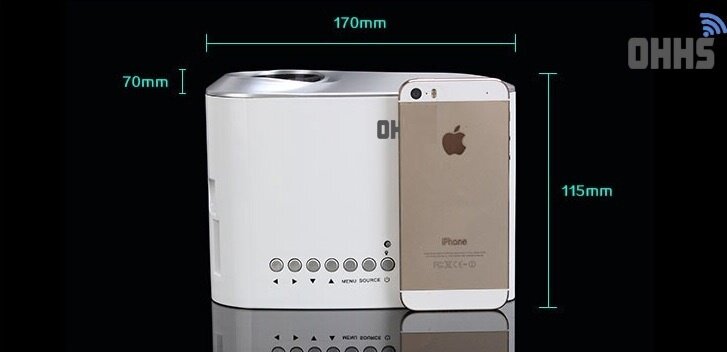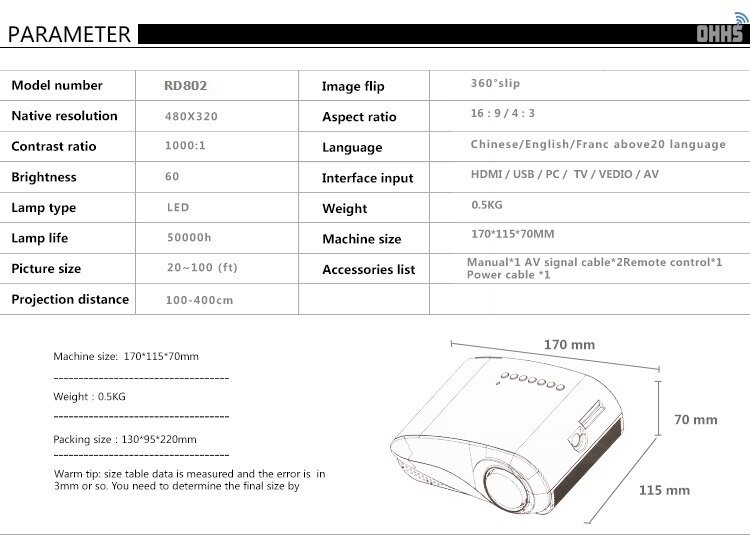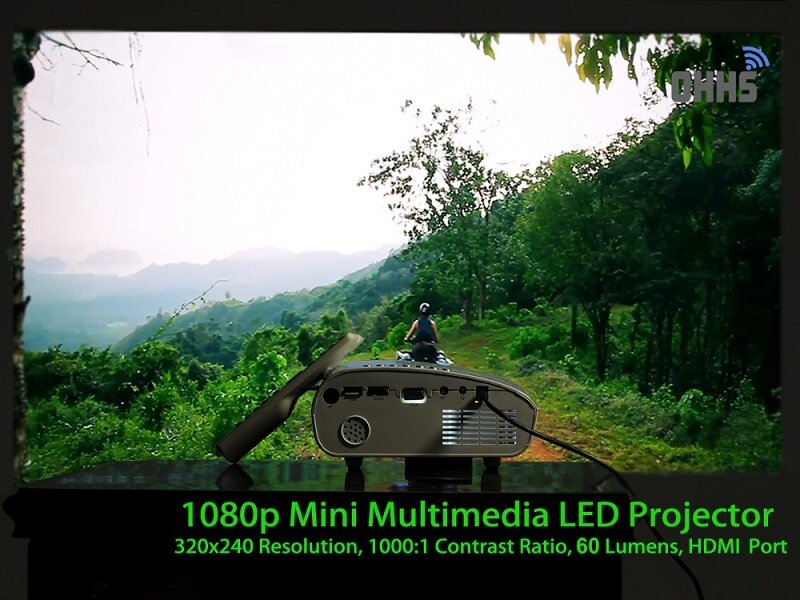 Specification:
Brand -- OHHS
Model -- RD802
Native resolution -- 480*320, support 576p/720p
Brightness -- 60 Lumens
Language -- English 23 languages
Contrast -- 1,000:1
Image flip -- 360 degree flip
Lens -- 3 pieces of glass lenses, manual focus
Aspect ratio -- 16:9 & 4:3
Lamps type -- LED 20 W, 50000 hours life
Picture zoom -- N/A
Picture size -- 20-100 inch
Keystone -- N/A
Nosie -- <25 Db
Working voltage -- 110-240V/50-60Hz
Interface input -- HDMI/USB/SD/AV/AUDIO OUT
Optional function -- ATV/DVB-T
Projection distance -- 1.2~3.6m
Projection mode -- Front projection
Speaker -- 2.0W*1
Size -- 170*115*70mm
Working temperature -- -10~38℃
Supported Audio -- WMA MP3 M4A
Supported Image -- JPEG BMP PNG
Supported Video -- MPEG1 MPEG2 MPEG4 RM.RMVB II264 MOV MJPEG FLV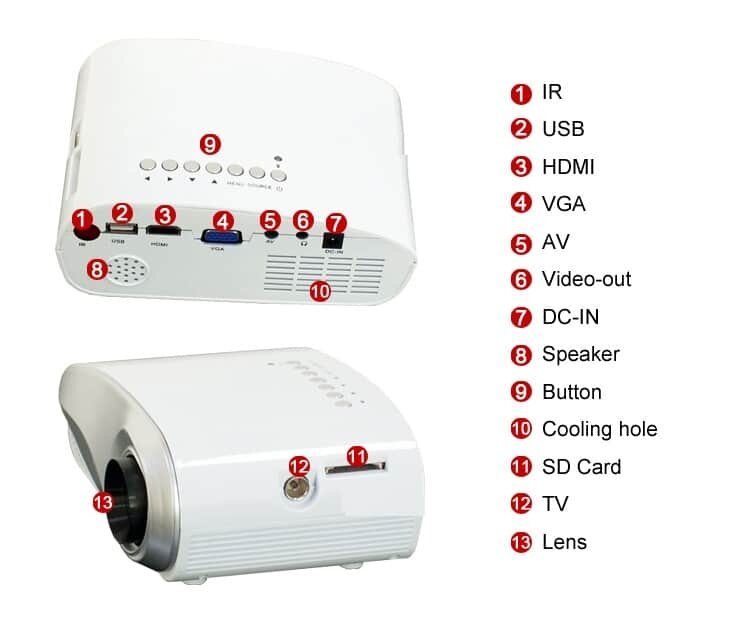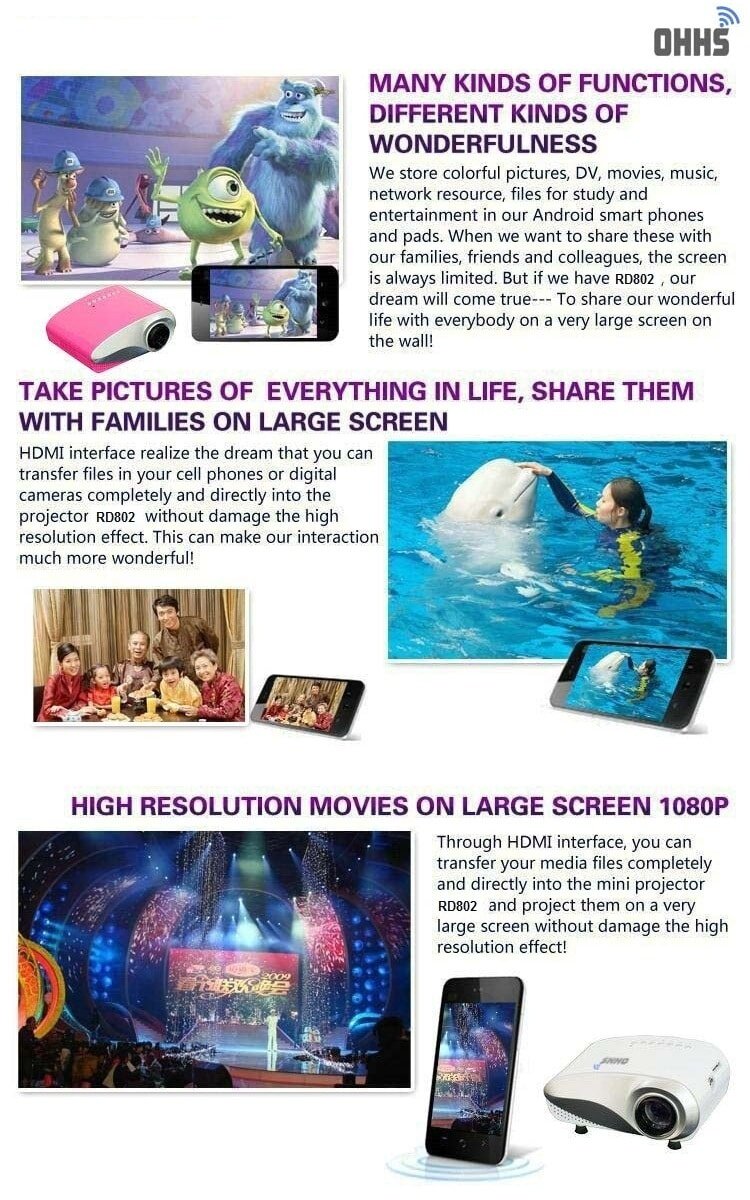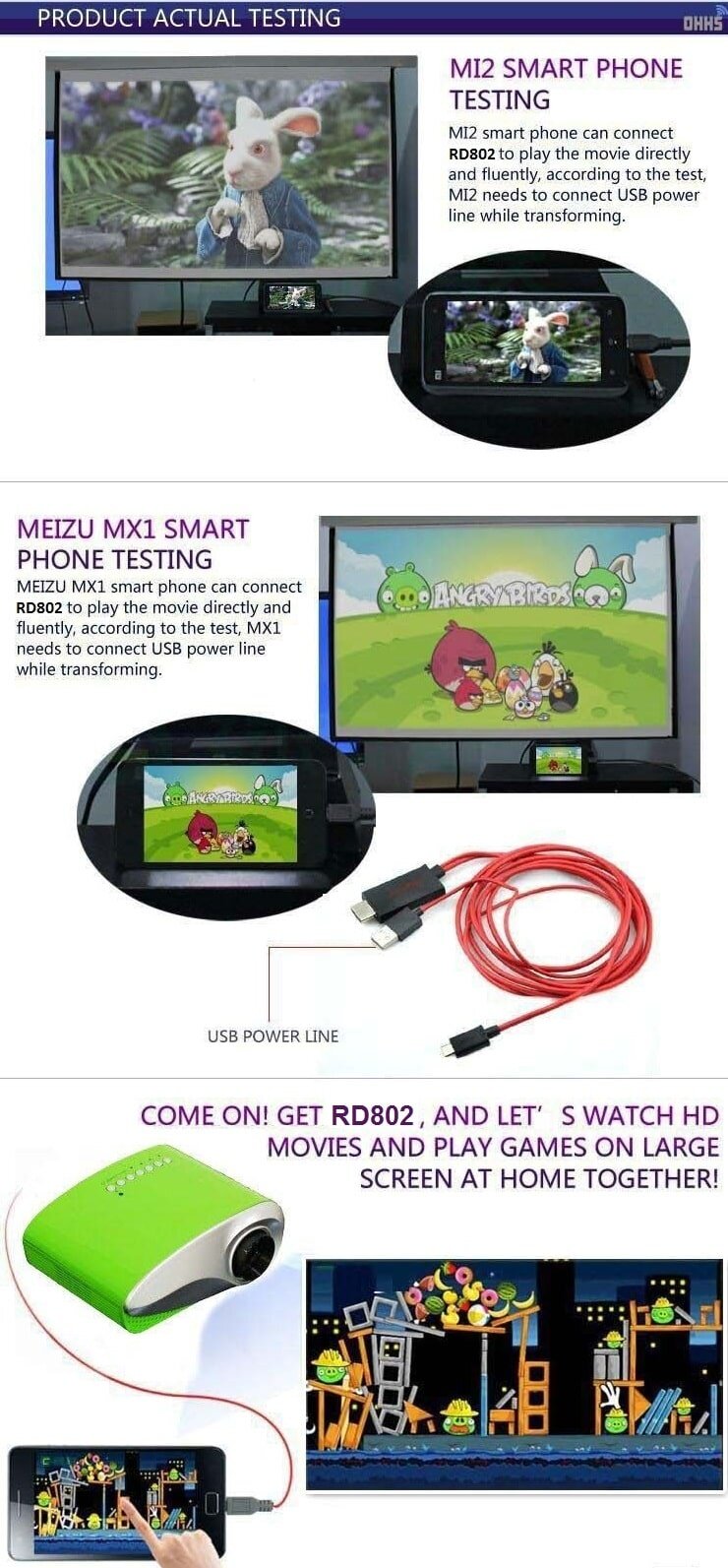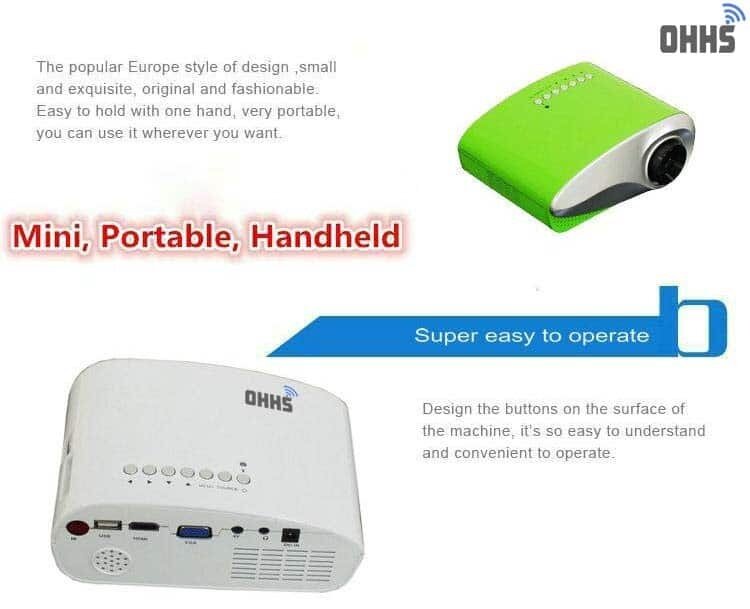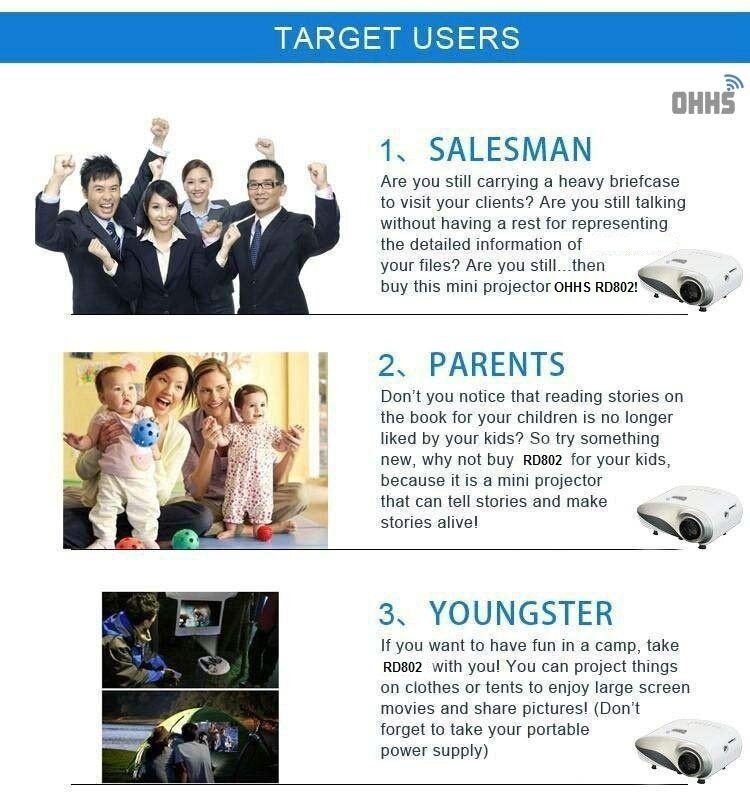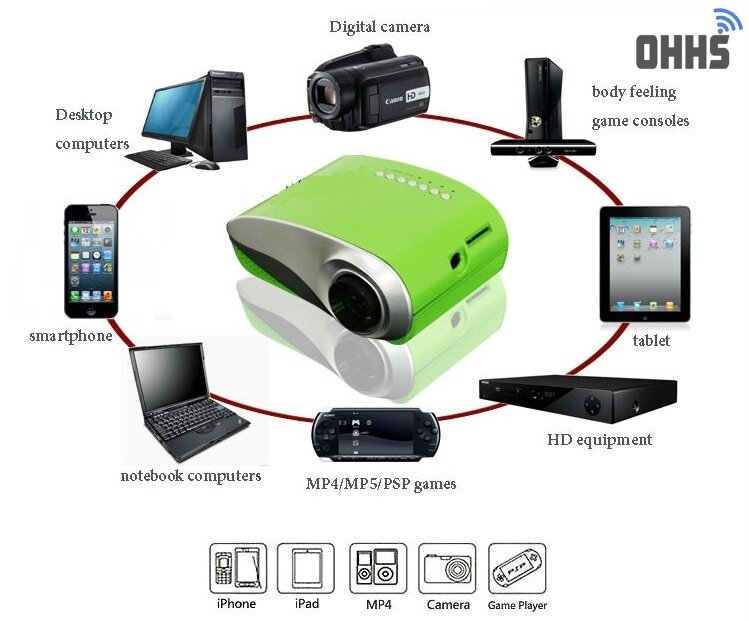 Colour Available: White, Black
Package Includes:
1 x RD802 Mini LED Projector
1 x UK Power adapter
1 x AV cable
1 x Remote control
1 x User Manual
1 x Tripod (FOC)
Warranty:
6 Months Local Supplier Warranty (1 to 1 exchange)
Already purchased this product? Write your review here.
Read more

Read less
/300
(this will only be visible between you and seller)
All your Q&A posts are available in My Page > My Shopping Talk > My Q&A History.
Once seller replies, you will be notified by email.
Your posts may be removed and 11street reserves the right to suspend your account if inappropriate contents are found;

Any implication of direct trade / discounts with your contact number, email address, or any offline contact point.
Any indication of libel/defamation, inappropriate price comparison, unrelated ads, etc.
Seller's Information
Seller
Ohhsome
Shipping from
Return/Exchange address
Notice on Return/exchange
*All items sold on Ohhsome Store are covered under the Ohhsome Buyer Protection Guarantee and/or 100% Satisfaction Guarantee.

You can return your item to us within 7 or 14 calendar days, depending on the policy. Countdown starts from the date you receive the item to the stamped date on the parcel you post back to us.

*Requirements for a Valid Return Within 14 Days:
-Include Purchase Invoice in each return package box.
-Reason for return has to be valid.
-No refund policy.
-The difference will not be returned if the price of the exchange item is lower than the original item.
-OHHSOME reserves the right for final decision.
-OHHSOME reserves the right to alter this policy at any time.


*ONE-to-ONE Exchange of Products Within 14 Days:
-Only certain products with a manufacturer's defect are entitled to a ONE-to-one exchange (subject to availability of stock) if:
a. The product has an actual 'Manufacturer's Defect'.
b. The packaging and all its original content (including any software and manuals) is complete, in good and re-sellable condition.
c. The product is accompanied with original receipt.
d. Customer needs to email us within 14 days of the date of Invoice.

*For exchange or warranty purposes, customer needs to email to [email protected] included the following details in the email – Order No, Invoice No, Contact No, Product to exchange, Faulty Reason.

*Kindly email us first before shipping anything back to us, so that we can provide you with complete return instructions.
11Street Return/Exchange Policy
Cancellation

Request for cancellation if product has not been dispatched after payment completion.
Strictly no cancellation for E-voucher after purchased.

Return

Request for return within 7 calendar days following delivery date.
Check seller's approval on buyer's request.
Buyer sends product in question to buyer.
Seller receives and checks returned product.
Seller approves return and return is completed.
Strictly no return or refund for E-voucher.

Exchange

Request for exchange within 7 calendar days following receipt of delivery.
Check seller's approval on buyer's request.
Buyer sends product in question to seller.
Seller receives and checks returned product
Seller send new product to buyer, and buyer receives it, and exchange is completed.
No exchange for E-voucher purchased.
How to Request for Cancellation/Return/Exchange
You can request for cancellation after completing payment and if product has not been dispatched by then, cancellation request is approved and you can receive refund.
But, in case seller has already dispatched product, cancellation request can be rejected.
You can request for return after obtaining product, you should send the product in question to seller.
After seller checks if returned product is flawed, and approves your request, return is completed and payment is refunded.
You can request for exchange if wrong product is shipped, you should send the product in question to seller.
After seller checks if returned product is flawed, seller approves your request, and re-sends new product.
Criteria for Return/Exchange
You can request for return/exchange within 7 calendar days following delivery date. But return/exchange request cannot be made in following cases:
When request due to change of mind is made after 7 calendar days following delivery date
When product is used, destroyed or damaged
When tag attached to product is removed or package of product is opened and product value is damaged
When sealed package is opened or packaging materials are lost
When too much time has passed and product value has so decreased that its re-sale is not possible
When return/exchange request is made for customized product such as hand-made shoes or accessories
When components of product (including free gift) have been used or lost
When buyer did not follow instructions included in product
As e-voucher products are immediately sent to your e-mail, returns/exchanges are not available. Please take note of this before purchase, and input your e-mail address correctly.
As Mobile Top-up products are directly reloaded on your cell phone number, returns/exchanges are not available. Please take note of this before purchase, and enter your cell phone number correctly.


For any inconvenience regarding Cancellation/Return/Exchange, please contact Customer Service at 03-2720-0000 and we will do our best to help you.
Notice
Please note that, direct transaction with the seller without using 11street payment service can cause problems such as; not receiving the product, receiving different product etc.
For sales products and contents registered by the seller, 11street run by Celcom Planet has no responsibility on any of the registered contents.