ZIIIRO 2-Eye High Accuracy Safety Reverse Parking Sensor System with Buzzer Siren Sound (Black)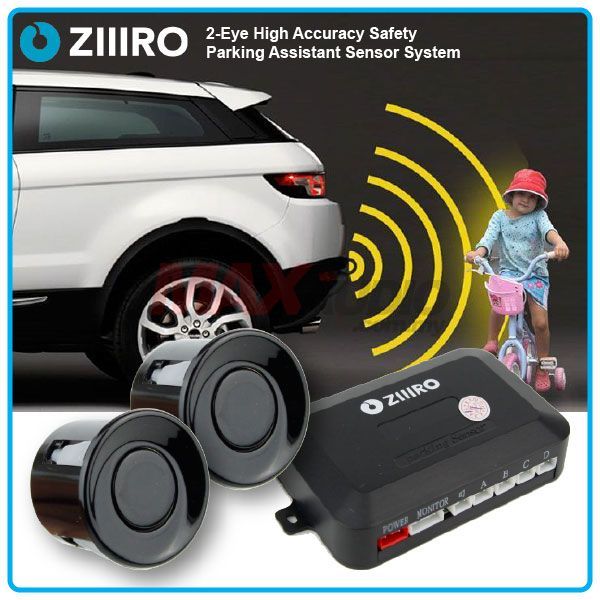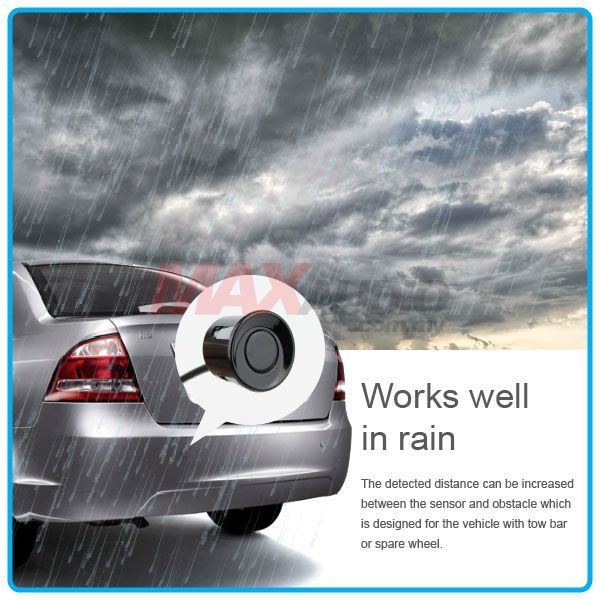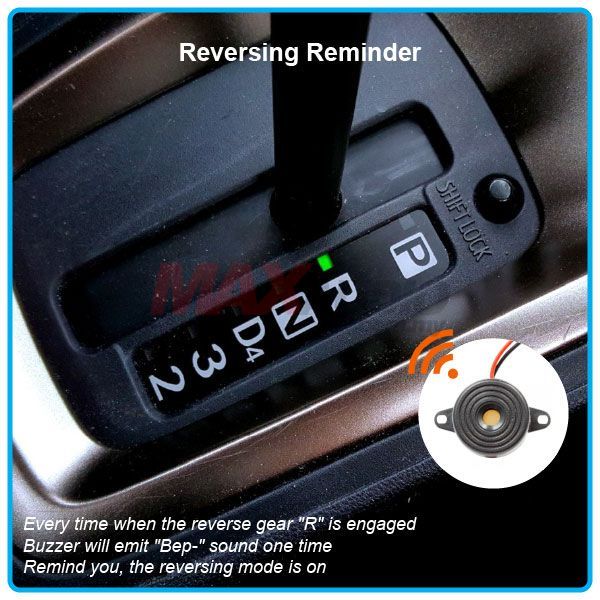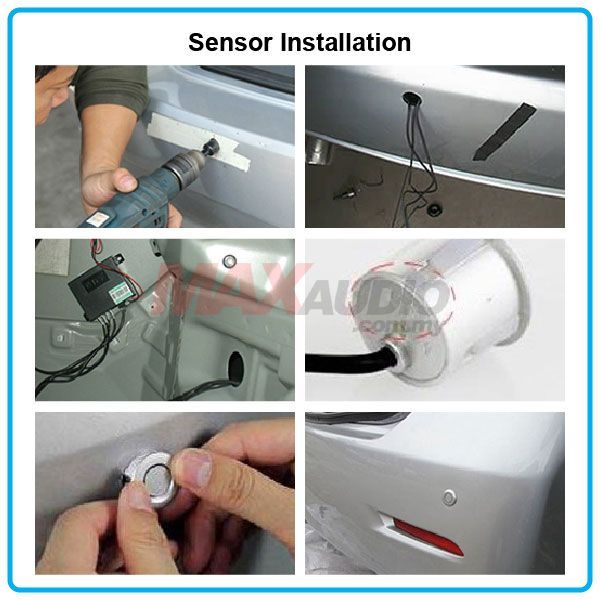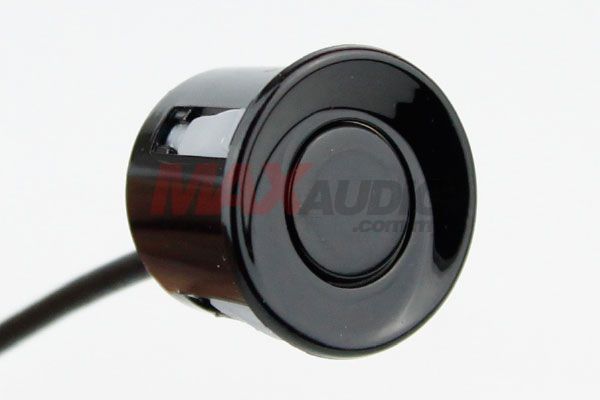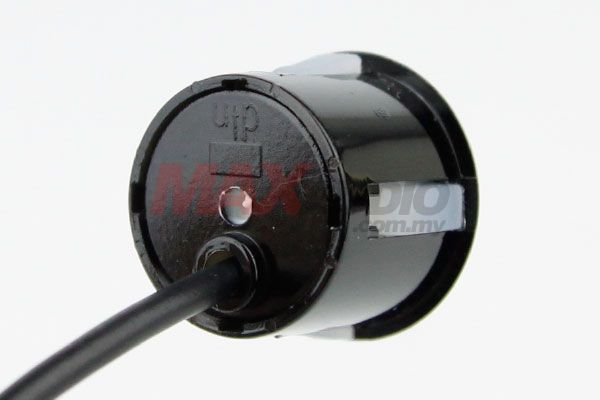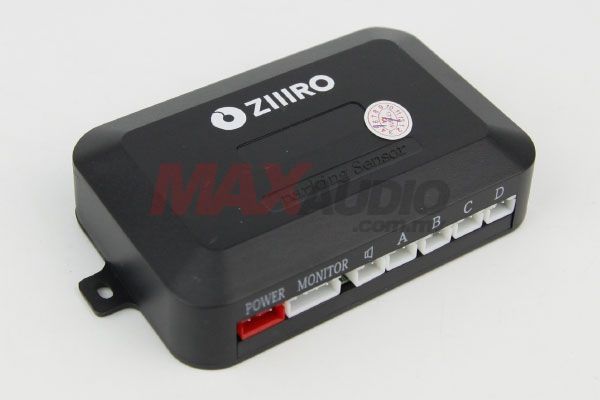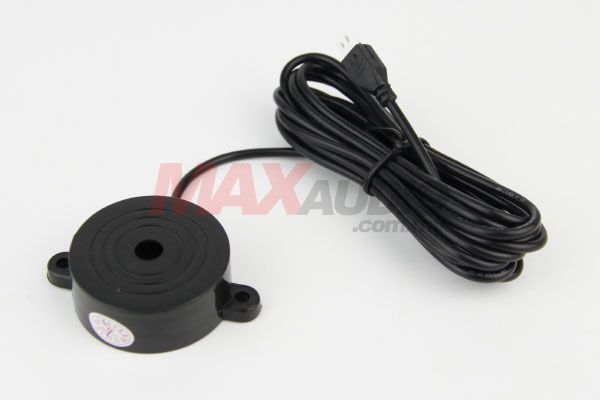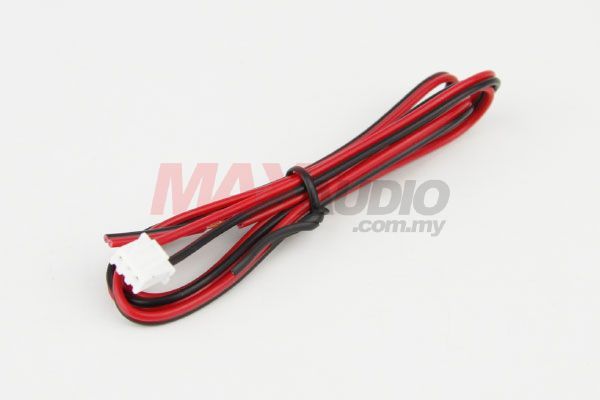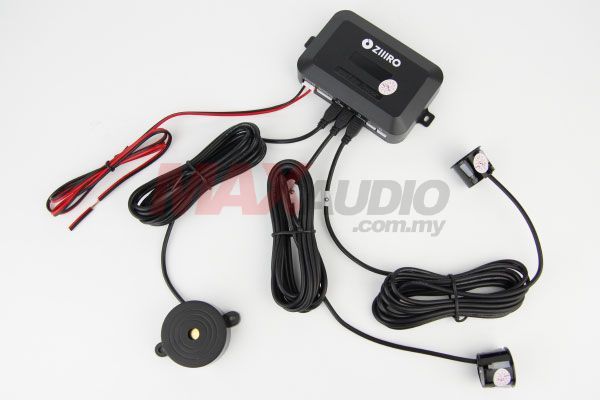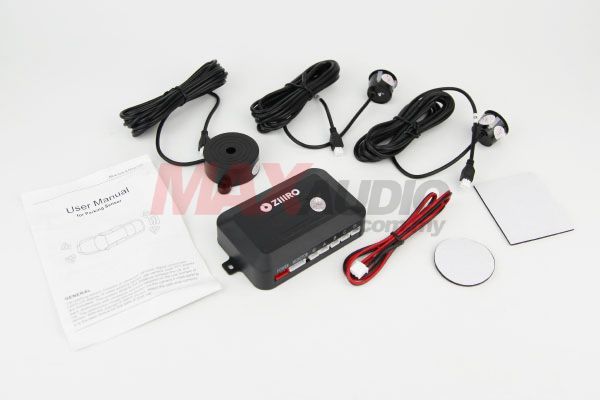 ZIIIRO 2-Eye High Accuracy Safety Reverse Parking Assistant Sensor System with Buzzer Siren Sound (Black)
This parking sensor notifies the driver of the distance and the position of obstacles by means of an acoustic beep and visual display, to make reverse manoeuvres safer. The system will work automatically, when reverse gear is engaged. The sensors work on cutting-edge ultrasonic detection technology and have been specially designed to blend in perfectly with your vehicle bumper.
Operations
The parking sensor emits ultrasonic waves that are reflected by the obstacle, to cause a visual-acoustic signal. The precise distance of the obstacle is detected to facilitate parking manoeuvres even in the most restricted spaces. The frequency of the ultrasonic waves has been chosen in-order-to minimise disturbance or damage to people and pets.

The system will come on and by simply standing or walking behind the vehicle at various distances, you should note that indication of your distance from the sensors and your position (left/right).

If the caution (100~50cm) or "Hazard" signal persist, the sensors are mounted too low or at an incorrect angle. Connect one sensor at a time to isolate the fault and then rotate the sensor through a maximum of 180º and repeat the check. Once the check has been completed, the sensor can be fixed permanently and the cables can be fastened with the bands provided and arranged in the most convenient and aesthetic way.
In the following situations malfunctions may occur or obstacles may not be detected:
In the case of obstacles with a complex or very irregular shape

In the case of very smooth, reflective obstacle (glass/mirror), in particular if almost parallel to the body of the vehicle
Technical Data:
Automatic activation when the reverse gear is chosen

Clearly visible display indicating the direction and distance of the obstacle

Super high response rate

Easy installation

Sensor with self-inspection function

Accurate detection 200~30cm

The unit will work automatically when reverse gear are engaged

2 eye sensor design, precisely detecting the obstacle

With buzzer sound reminder

Anti-freeze and rain proof

Buzzer siren voice alert

Does not run on battery power when the vehicle is parked and the engine switched off

Type approved in conformity with European regulations on electromagnetic compatibility

Provide increased safety for passengers, pedestrians and family members who happen to be around the moving vehicle.

Help to prevent dangerous and costly collisions
Specifications:
Fitting: Universal for all car vehicle type

Brand: ZIIIRO

Sensor Color: Black

Sensor Size Diameter: 2.5cm±

Cable Long: Sensor (2.5m±) ; Buzzer (2.5m±) ; Power Cable (0.8m±)

Supply Voltage: 10.5V ~ 15V (12V nominal)

Current Consumption: 20 ~ 200 mA max

Detecting distance: 0 ~ 2.5m

Ultrasonic Frequency: 40KHz

Buzzer Sound Pressure Level: 80dB at 10cm

Working Temperature: -20ºC ~ 65ºC

Storage Temperature: -35ºC ~ 85ºC

Detecting Angle: Approx. Horizontal 90º ; Vertical 90º

System Response: 0.2sec

Reliability Over Time: Satisfies the strictest automotive standards

Product Weight: 1Kg

1 Year Warranty

Made in Korea
Buzzer Sound Mode
Stage 1: 2.5~1.1m (Safety Area) Bi.....Bi.....

Stage 2: 1.0~0.5m (Alarm Area) Bi...Bi...Bi...

Stage 3: 0.4~0.0m (Danger Area) BiBiBi
Package Contains
1x Command Module

2x Ultrasonic Sensors

1x Power Supply Cable

1x Buzzer Siren

1x Hole Saw

1x Round Double Side Tape

1x Square Double Side Tape

1x Instruction Manual
Basic Information
Basic Information of Product
Product Status/Sales Type
New
Product No.
833202
Weight (KG)
1 kg
Country of Origin
N/A
Shipping Method
Courier Service
GST Applicable
SR 6%
After Sale Service
E-mail: maxaudio09@gmail.com
Phone: +603-92878259/ +6016-3375742

Official Website: www.maxaudio.com.my
Company Name: Max Audio Online Sdn. Bhd.

Address:
74, Jalan Jejaka,
Taman Maluri, Cheras, 55100,
Kuala Lumpur, Malaysia

Drive by Waze http://waze.to/hw283fcjst

GPS Coordinate:

- N3° 7.579'
- E101° 43.814'

Land Mark:

1. Behind Aeon (Jaya Jusco)
2. Same roll With pizza hut
3. Facing Main road
Brand
None
Already purchased this product? Write your review here.
Read more

Read less
/300
(this will only be visible between you and seller)
All your Q&A posts are available in My Page > My Shopping Talk > My Q&A History.
Once seller replies, you will be notified by email.
Your posts may be removed and 11street reserves the right to suspend your account if inappropriate contents are found;

Any implication of direct trade / discounts with your contact number, email address, or any offline contact point.
Any indication of libel/defamation, inappropriate price comparison, unrelated ads, etc.
Seller's Information
Seller
MaxAudio
Shipping from
Return/Exchange address
Notice on Return/exchange
We want you to love what you ordered, but if something isn't right, let us know. We'll give you a credit refund or send you another new set, or an entirely different style. Here are some points to note when you want to return the merchandise to us.

If you received your order items with any defect/ wrong item received or size related issue. Kindly inform us at maxaudio09@gmail.com within 24 hours after you received it. You should provided the information such as Order No., Your name, Contact number, Photo of the relevant products and reason of return for further processing. We will get back to you within 24 hours. Your exchange or return will be approved subject to size availability and stock availability. If we do not have the preferred size in stock, you will be given the same value credit to purchase for the item in our store.

You must send the item back to us within 7 days upon you received our reply. We will only bare the postage fees for the return items have defect or accidentally sent the wrong items to you. However, for exchange size request, Customer have to bear the postage fees. A RM5 administration fees will be charged per order/per transaction.
Additional information:
- All goods sold are not refundable.
- Sales item are not eligible for returns or exchanges. No exception will be made.
- Defective items are eligible for return shipping reimbursement at Skynet rate.
- Please ensure that all return items must NOT be worn, altered, or washed.
- The packaging should be in original condition in original shipping container as received.

The returned goods/products will be checked with the receipt together and the goods should be in the good condition. Returns received in damaged or used condition will not be processed.

If the goods/products has been used or damaged by the customer, there will not be any refund.
11Street Return/Exchange Policy
Cancellation

Request for cancellation if product has not been dispatched after payment completion.
Strictly no cancellation for E-voucher after purchased.

Return

Request for return within 7 calendar days following delivery date.
Check seller's approval on buyer's request.
Buyer sends product in question to buyer.
Seller receives and checks returned product.
Seller approves return and return is completed.
Strictly no return or refund for E-voucher.

Exchange

Request for exchange within 7 calendar days following receipt of delivery.
Check seller's approval on buyer's request.
Buyer sends product in question to seller.
Seller receives and checks returned product
Seller send new product to buyer, and buyer receives it, and exchange is completed.
No exchange for E-voucher purchased.
How to Request for Cancellation/Return/Exchange
You can request for cancellation after completing payment and if product has not been dispatched by then, cancellation request is approved and you can receive refund.
But, in case seller has already dispatched product, cancellation request can be rejected.
You can request for return after obtaining product, you should send the product in question to seller.
After seller checks if returned product is flawed, and approves your request, return is completed and payment is refunded.
You can request for exchange if wrong product is shipped, you should send the product in question to seller.
After seller checks if returned product is flawed, seller approves your request, and re-sends new product.
Criteria for Return/Exchange
You can request for return/exchange within 7 calendar days following delivery date. But return/exchange request cannot be made in following cases:
When request due to change of mind is made after 7 calendar days following delivery date
When product is used, destroyed or damaged
When tag attached to product is removed or package of product is opened and product value is damaged
When sealed package is opened or packaging materials are lost
When too much time has passed and product value has so decreased that its re-sale is not possible
When return/exchange request is made for customized product such as hand-made shoes or accessories
When components of product (including free gift) have been used or lost
When buyer did not follow instructions included in product
As e-voucher products are immediately sent to your e-mail, returns/exchanges are not available. Please take note of this before purchase, and input your e-mail address correctly.
As Mobile Top-up products are directly reloaded on your cell phone number, returns/exchanges are not available. Please take note of this before purchase, and enter your cell phone number correctly.


For any inconvenience regarding Cancellation/Return/Exchange, please contact Customer Service at 03-2720-0000 and we will do our best to help you.
Notice
Please note that, direct transaction with the seller without using 11street payment service can cause problems such as; not receiving the product, receiving different product etc.
For sales products and contents registered by the seller, 11street run by Celcom Planet has no responsibility on any of the registered contents.