ULTRA RACING 2-Point Rear Upper Bar:Perodua Kelisa [RU2-056]
Application
| | |
| --- | --- |
| Product | Suitable for Perodua Kelisa |
| Code | UR-RU2-056 |
| Specification | 2 Points |
Description:
Rear upper bar is designed for the car with high CG (Centre of Gravity) and high roof such as MPV's, mini MPV's, SUV's and Hatch Backs. The high roof or high CG cars have rear upper chassis weaker due to their wide opening rear door. That's why the rear upper bar is invented to correct the shortcoming of the car's swaying rear upper chassis.
Benefit after Installing:
Improve Car Stability at least 40% & above
Reduce Understeer
Improve Braking Performance
Improve Sharp Cornering
Improve Safety Aspect & Comfort
Improve Handling Stability
Highly Recommended for Street, Track, Drift, Rally, Autocross, Gymkhana, Drag Racing and etc
Official Color: Pure Solid White
Life Time Warranty
How does it work?
Understanding Between Chassis and Handling : : :
A car chassis is carry by 4 wheels and 4 shock absorbers. When driving on bumpy road, the shock of impact will be absorb by shock absorber, however if the chassis is not strong enough to support the shock absorber, the shock of impact will not all absorb by shock absorber but by chassis, causing chassis flex. Same thing happen when make a turn on corner, chassis will be twisted by the force of weight transfer. Therefore, the handling will be rough and hard to predict the movement of car.
To soft the chassis flex problem and improve the handling, the Ultra Racing's chassis strengthen parts is born, we will explain how this product works on you car. The stronger chassis, the better handling.
Strut Bar and Lower Arm Bar : : :
BEFORE :

Part of the shock of impact transfer to the chassis, causing wheel house and lower arm deforming.

AFTER :

Equip with the Ultra Racing's strut bar and lower arm bar, both side shock of impact will be neutralized.
< < < While entering at corner > > >
BEFORE :

The weight transfer and force gathering on one side, causing unstable handling and increasing body roll.

AFTER :

The force will spread out by Ultra Racing's strut bar and lower arm bar, stabilize the car and provide solid handling.
BEFORE :

The joint between A-pillar and front chassis will be push and twist by the greater shock of impact and drag force, causing damage on chassis.

AFTER :

Ultra Racing's Fender bar will spread out the force and strengthen the section, prevent further damage and offer stable handling. Recommend for user of sport absorber
BEFORE :

On uneven / bumpy road, center section chassis will have different level of body flex cause by the weight transfer between front and rear.




AFTER :

Ultra Racing's side lower bar will stabilize the weight transfer between front and rear, it can also minimize the damage from side impact.
BEFORE :

When turning in corner, the weight transfer will make the car sway a side, causing body roll and more difficult to turn in to a corner, weaken the steering respond.

AFTER :

The upgrade version of Ultra Racing's anti roll bar will be more effectively preventing the car sway a side at cornering, greatly reduce body roll and high stability in cornering
Material Specification and Design
Every materials used are carefully selected to ensure the best performance and safety. The brackets are made of 4mm to 5mm steel plates, while the hollow steel tubes and oval tubes are of 1.2mm to 1.6mm thickness. These materials are selected to ensure the bars are rigid and strong to maintain constant geometry at all times, yet safe enough to crumble during an impact for safety reason.
All raw materials has been made and tested with satisfactory result.

MILL / TEST CERTIFICATE (Chemical Composition)
Specification - JIS 3101 SS 400 (Japan International Standard)
- JIS G 3141 SPCC SD (Japan International Standard)
- ASTM A 500 Grade A (American Standard)
- BS 1387 ( British Standard)
Why we use Steel instead of Aluminum?
First, steel is stronger than aluminum for the same size and thickness. In order for aluminum alloys to be at least the same strength as steel, it has to be at least double the thickness (steel 4mm = aluminum 8mm). When that happens, weight saving is not so apparent anymore. Of course there are also exotic materials and alloys that can match the strengths of steel, but the cost are astronomically high and therefore not very cost effective to bring into mass production.
Beware of Imitations
Due to the success of Ultra Racing products, unavoidably there are imitations floating in the market. The management found out that there are more than 10 such companies in the market imitating Ultra Racing bars, namely,Utx, CTecx, 3Mxx, Advxx, Susxx, D2xx etc. These imitators besides using similar name or logo, had even copied our designs and colour – white!
Some of these unscrupulous merchants even copied Ultra Racing's product images from our website and pasted these images onto their own advertisement and webpage. Some have told their customers that their bad quality imitations are manufactured by Ultra Racing, mainly to deceive and thus gain the confidence of their customers. After all, their intention is to maximize profit from their bad quality and high risk products.
As such, we would like to inform the public that Ultra Racing has never OEM for any company in the country.
As an established company in chassis strengthening technology, Ultra Racing would not compromise safety in return for better profit, and as such consumers can rest assured that our products are of the highest of quality and will bring out the full performance, quality and reliability that you have paid for.
Comparison between genuine UR and Imitations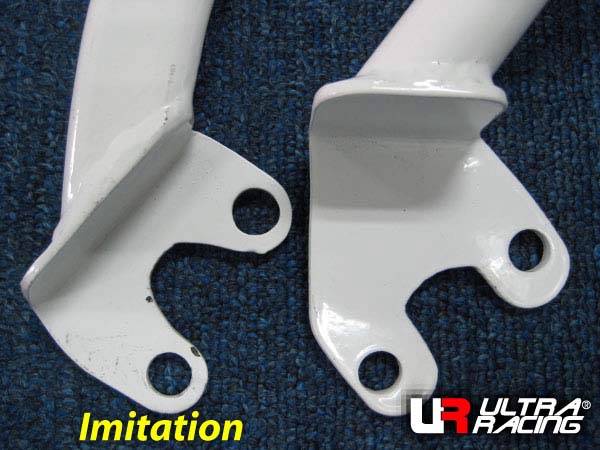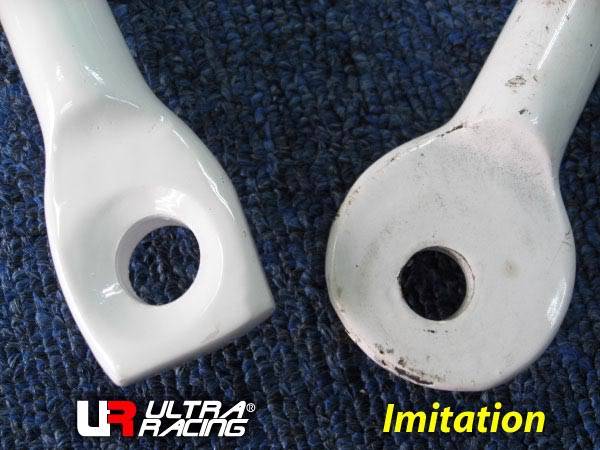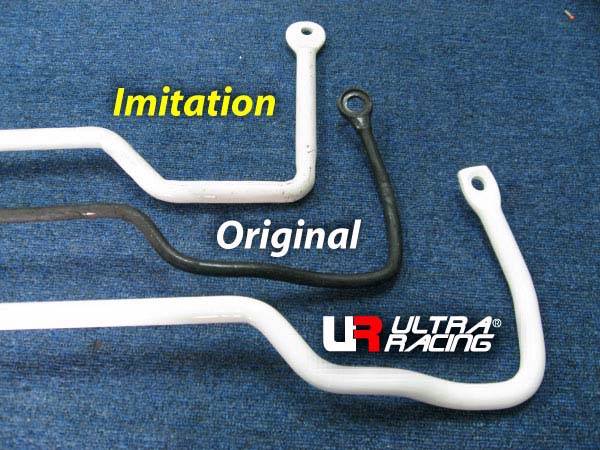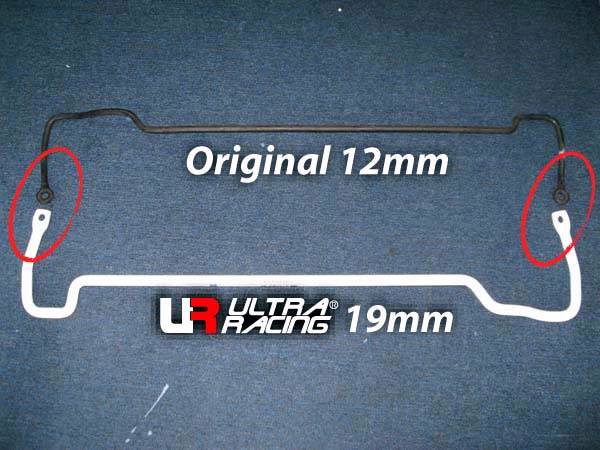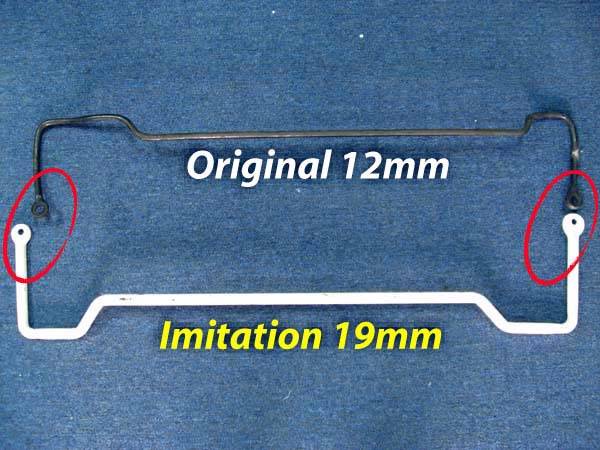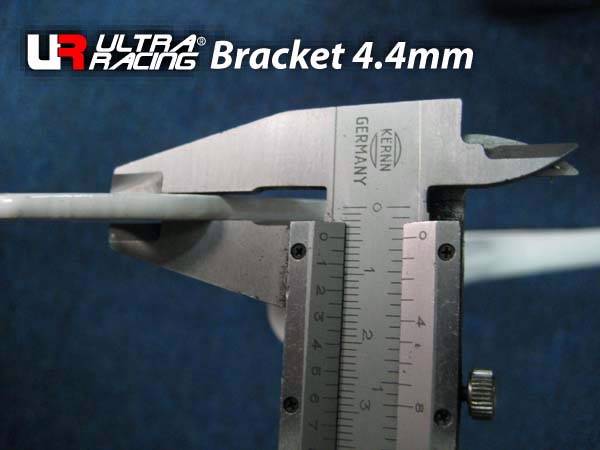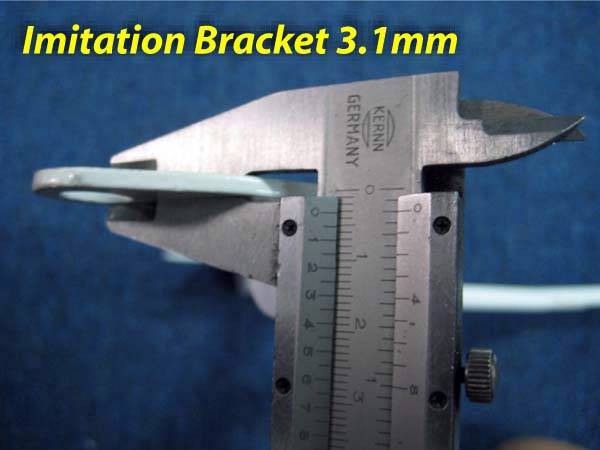 There are a few ways to identify that you have purchased orginal Ultra Racing bars:

Original Ultra Racing Sticker with serial number (UR S/N:XXXXX)
Original Ultra Racing car model and type of bar sticker

You can check and verify this serial number via email to UR on UR Malaysia website: Verify Product
Basic Information
Basic Information of Product
Product Status/Sales Type
New
Product No.
907227
Weight (KG)
5 kg
Country of Origin
N/A
Shipping Method
Courier Service
GST Applicable
SR 0%
After Sale Service
Contact Detail:
Yulico Accessories
203-1 Jalan Pasar
Parit Raja 86400
Batu Pahat Johor

Facebook:www.facebook.com/YulicoAccessories
Email:[email protected]
HP:0177235662
Brand
None
Already purchased this product? Write your review here.
Read more

Read less
/300
(this will only be visible between you and seller)
All your Q&A posts are available in My Page > My Shopping Talk > My Q&A History.
Once seller replies, you will be notified by email.
Your posts may be removed and 11street reserves the right to suspend your account if inappropriate contents are found;

Any implication of direct trade / discounts with your contact number, email address, or any offline contact point.
Any indication of libel/defamation, inappropriate price comparison, unrelated ads, etc.
Seller's Information
| | |
| --- | --- |
| Seller | Yulico Accessories |
| Shipping from | |
| Return/Exchange address | |
| Notice on Return/exchange | Lifetime warranty |
11Street Return/Exchange Policy
Cancellation

Request for cancellation if product has not been dispatched after payment completion.
Strictly no cancellation for E-voucher after purchased.

Return

Request for return within 7 calendar days following delivery date.
Check seller's approval on buyer's request.
Buyer sends product in question to buyer.
Seller receives and checks returned product.
Seller approves return and return is completed.
Strictly no return or refund for E-voucher.

Exchange

Request for exchange within 7 calendar days following receipt of delivery.
Check seller's approval on buyer's request.
Buyer sends product in question to seller.
Seller receives and checks returned product
Seller send new product to buyer, and buyer receives it, and exchange is completed.
No exchange for E-voucher purchased.
How to Request for Cancellation/Return/Exchange
You can request for cancellation after completing payment and if product has not been dispatched by then, cancellation request is approved and you can receive refund.
But, in case seller has already dispatched product, cancellation request can be rejected.
You can request for return after obtaining product, you should send the product in question to seller.
After seller checks if returned product is flawed, and approves your request, return is completed and payment is refunded.
You can request for exchange if wrong product is shipped, you should send the product in question to seller.
After seller checks if returned product is flawed, seller approves your request, and re-sends new product.
Criteria for Return/Exchange
You can request for return/exchange within 7 calendar days following delivery date. But return/exchange request cannot be made in following cases:
When request due to change of mind is made after 7 calendar days following delivery date
When product is used, destroyed or damaged
When tag attached to product is removed or package of product is opened and product value is damaged
When sealed package is opened or packaging materials are lost
When too much time has passed and product value has so decreased that its re-sale is not possible
When return/exchange request is made for customized product such as hand-made shoes or accessories
When components of product (including free gift) have been used or lost
When buyer did not follow instructions included in product
As e-voucher products are immediately sent to your e-mail, returns/exchanges are not available. Please take note of this before purchase, and input your e-mail address correctly.
As Mobile Top-up products are directly reloaded on your cell phone number, returns/exchanges are not available. Please take note of this before purchase, and enter your cell phone number correctly.


For any inconvenience regarding Cancellation/Return/Exchange, please contact Customer Service at 03-2720-0000 and we will do our best to help you.
Notice
Please note that, direct transaction with the seller without using 11street payment service can cause problems such as; not receiving the product, receiving different product etc.
For sales products and contents registered by the seller, 11street run by Celcom Planet has no responsibility on any of the registered contents.