Transcend MP350 MP3 Players 8GB (2 Year Warranty)
Special Deals
Transcend MP350 MP3 Players 8GB (2 Year Warranty)
BRIEF SUMMARY
Brand: Transcend
Model: MP350
Storage: 8GB
2 Year Warranty
100% Original
FEATURES
Set fitness goals and track progress
Meets U.S. military drop-test standards
Plays MP3, WMA and WAV files
Vivid white OLED screen displays clear text at any angle
Recordable FM radio with 20 station presets
Built-in microphone
Custom playlist builder
Karaoke-style synchronized lyrics display
A-B repeat
13 languages
Works like USB drive
8 Equalizer effects, including USER EQ
Power saving screen saver
Full screen time and date display
Transcend's MP350 digital music player is a stylish yet rugged MP3 player that boasts an impressive number of features including compact size and light weight, extra strong sport clip, shock and water resistance, long battery life, and a convenient built-in fitness tracker, making it the perfect workout companion.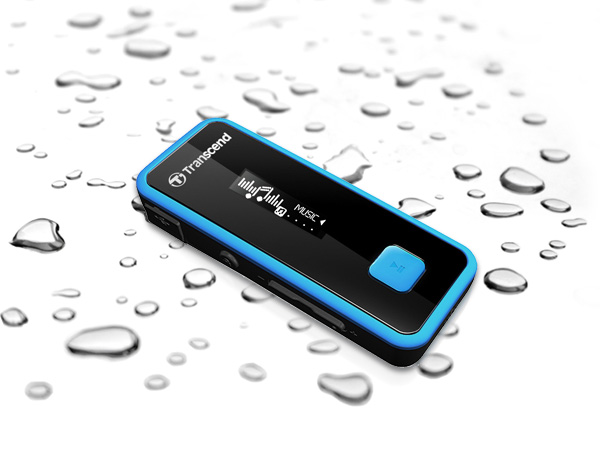 Water and shock resistant
The MP350 digital music player features a sleek, durable, and water-resistant outer shell that not only looks good but also lets you listen outdoors in all weather conditions.
The MP350 is water resistant to IPX2 standards, which means it can withstand the effects of sweat, rain, snow and other wet weather. However, it should NOT be submerged in water or left in a moist environment for an extended period of time in order to maintain its functionality. If your MP3 player comes into contact with dust or waters, simply wipe with a cloth and leave to air dry at room temperature.
*IPX2: Protected against falling water when tilted up to 15 degrees.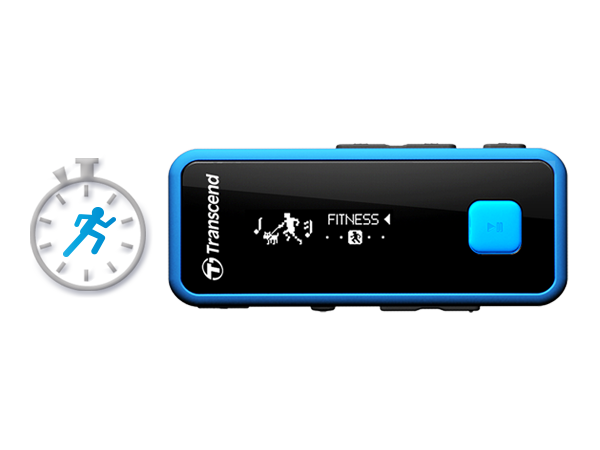 Fitness Tracker
Lead a healthy lifestyle with the MP350. Depending on your specific fitness goal, the MP350's practical fitness tracker allows you to preset the total exercise time or amount of calories you wish to burn, providing that extra incentive needed to complete your workout. Additionally, the MP350 saves a record of each fitness session, helping you monitor your progress and reach your peak.
Smart Recording
Besides offering superb portable entertainment, the MP350 features a voice recorder and a built-in FM radio that can be recorded at the click of a button whenever you hear something you like. In addition to other useful functions, such as A-B repeat, the MP350 provides excellent tools for both students and professionals, allowing careful review of important class lectures, business meetings or even foreign language lessons.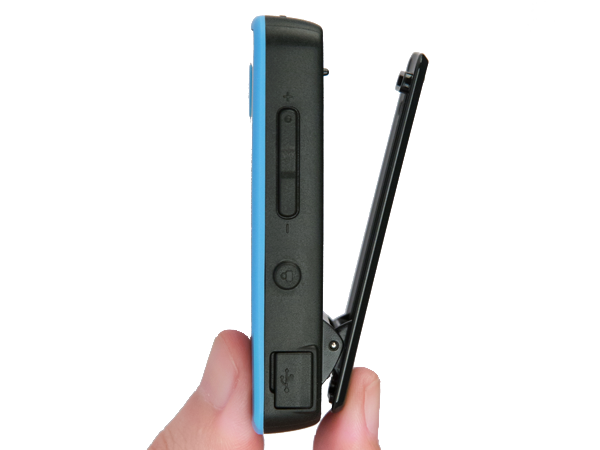 Stylish yet rugged design
The attached sport clip lets you freely connect to pockets, backpacks, jackets or sport suits, giving you convenient hands-free music whether you're working, exercising, or traveling.
Capacity
8GB
Color
Blue
Dimensions
67 x 26.5 x 11.7mm (26,38" x 10,43" x 4,61") (without clip)
67 x 26.5 x 18.3mm (26,38" x 10,43" x 7,2") (with clip)
Weight
22g (0.78oz)
Display Type and Size
1" White Monochrome OLED
Display Resolution
128x32
Music Formats
MP3, WMA, WAV (IMA_ADPCM)
Recording Format
IMA_ADPCM (WAV)
Video Formats
No
Photo Formats
No
E-Book Format
No
Line-in Recording
No
FM Function
Worldwide - 87.5~108 MHz
Japan - 76~90 MHz
Battery Life*
Music Playback Time: 16hr (Fully Charged)*
Max. Recording Hours: 20hr (Low Quality)
Battery Type
Li-Polymer
Certificates
CE, FCC, BSMI
Compression Rates
32Kbps to 320Kbps
S/N Ratio
≥ 90dB
Warranty
Two-year Limited
*Please access

here

for more information about Transcend Warranty Policy.
Note
*Max. playback time achieved with "screen saver" enabled and "Lyrics Sync" disabled.
Product Contents
MP350, Eearphones, Neck Strap, USB Cable
System Requirements
Desktop or notebook computer with USB port and supports the following operating systems:
Microsoft Windows XP
Microsoft Windows Vista
Microsoft Windows 7
Microsoft Windows 8
MAC OS X 10.0 or later
Linux Kernel 2.4 or later
Basic Information
Basic Information of Product
Product Status/Sales Type
New
Product No.
399299
Weight (KG)
0.3 kg
Country of Origin
N/A
Shipping Method
Courier Service
GST Applicable
SR 0%
After Sale Service
2 Year Warranty

Warranty Terms
Product(s) sold through IT HYPERSTORE are serviced and supported by their manufacturers in accordance with any terms and conditions packaged with the products.

If you need to return product(s) back to us for warranty, please contact the Customer Service Support [email protected] OR +603-7726 6831

Please ship back the product(s) to the respective shipping branch in the original packaging with any accessories as advised by the Customer Service Support. Failure to do so may invalidate the warranty.

We will not accept return of product(s) that are not compatible with your system configuration or damaged during shipment to and fro or misused by customer / shipping carrier or hold by custom.

1 to 1 Replacement
IT Hyperstore offers free "1 to 1 replacement" on all products items for the first 7 days upon receiving of goods (on manufacturer defects only).
Brand
None
Already purchased this product? Write your review here.
Read more

Read less
/300
(this will only be visible between you and seller)
All your Q&A posts are available in My Page > My Shopping Talk > My Q&A History.
Once seller replies, you will be notified by email.
Your posts may be removed and 11street reserves the right to suspend your account if inappropriate contents are found;

Any implication of direct trade / discounts with your contact number, email address, or any offline contact point.
Any indication of libel/defamation, inappropriate price comparison, unrelated ads, etc.
Seller's Information
Seller
IT Hyperstore
Shipping from
Return/Exchange address
Notice on Return/exchange
Return Policy (Applicable to Malaysia only)

Our return policy allows for item(s) return and your choice of a full refund or replacement item(s). However, we do have requirements for processing a return.

You may want to return your order due to any of the following reasons:

Reasons

Description

Damaged

The product is damaged upon arrival

Defect

The product does not function as described in its manufacturer specification

Incorrect/wrong item

Not the product the customer ordered.

Missing items/parts

Missing items/parts as indicated in the packaging

Does not fit

Customer receives the size that was ordered but it does not match with the website description

Website error

The product does not match website specifications, description, or image (this issue is attributable to a website error/misinformation)

Unless otherwise stated in the product description, the general requirements for returns are as follows:

Returned item must be shipped back to us within fourteen (14) calendar days or report to our customer service team within 2 days after the item is received. Countdown starts from the date you received the item to the post stamp stated on the parcel you return to us.
Your proof of purchase (order number)
The product must not fall into the non-returnable product list.
The goods must be in new condition and returned in the original packaging along with all accessories (including manuals, warranty cards, certificate of authenticity) and free gifts received with it.
The product must not have been used or installed or had any data inputted.
All sealed must not be opened / broken. In case you have opened the seal, please refer for assistance to the relevant service center indicated on your warranty card.
All the item label and bar code must be remain in original condition
11Street Return/Exchange Policy
Cancellation

Request for cancellation if product has not been dispatched after payment completion.
Strictly no cancellation for E-voucher after purchased.

Return

Request for return within 7 calendar days following delivery date.
Check seller's approval on buyer's request.
Buyer sends product in question to buyer.
Seller receives and checks returned product.
Seller approves return and return is completed.
Strictly no return or refund for E-voucher.

Exchange

Request for exchange within 7 calendar days following receipt of delivery.
Check seller's approval on buyer's request.
Buyer sends product in question to seller.
Seller receives and checks returned product
Seller send new product to buyer, and buyer receives it, and exchange is completed.
No exchange for E-voucher purchased.
How to Request for Cancellation/Return/Exchange
You can request for cancellation after completing payment and if product has not been dispatched by then, cancellation request is approved and you can receive refund.
But, in case seller has already dispatched product, cancellation request can be rejected.
You can request for return after obtaining product, you should send the product in question to seller.
After seller checks if returned product is flawed, and approves your request, return is completed and payment is refunded.
You can request for exchange if wrong product is shipped, you should send the product in question to seller.
After seller checks if returned product is flawed, seller approves your request, and re-sends new product.
Criteria for Return/Exchange
You can request for return/exchange within 7 calendar days following delivery date. But return/exchange request cannot be made in following cases:
When request due to change of mind is made after 7 calendar days following delivery date
When product is used, destroyed or damaged
When tag attached to product is removed or package of product is opened and product value is damaged
When sealed package is opened or packaging materials are lost
When too much time has passed and product value has so decreased that its re-sale is not possible
When return/exchange request is made for customized product such as hand-made shoes or accessories
When components of product (including free gift) have been used or lost
When buyer did not follow instructions included in product
As e-voucher products are immediately sent to your e-mail, returns/exchanges are not available. Please take note of this before purchase, and input your e-mail address correctly.
As Mobile Top-up products are directly reloaded on your cell phone number, returns/exchanges are not available. Please take note of this before purchase, and enter your cell phone number correctly.


For any inconvenience regarding Cancellation/Return/Exchange, please contact Customer Service at 03-2720-0000 and we will do our best to help you.
Notice
Please note that, direct transaction with the seller without using 11street payment service can cause problems such as; not receiving the product, receiving different product etc.
For sales products and contents registered by the seller, 11street run by Celcom Planet has no responsibility on any of the registered contents.