TP-LINK M7350 4G LTE Advanced 150MB/s Dual Band Wireless Router
LTE-Advanced Mobile Wi-Fi
M7350 (2 Year Warranty)
4G LTE supported with up to 150Mbps download and 50Mbps upload speeds

Supports up to 10 devices simultaneously

All useful information at a glance with screen display

2550mAh battery for up to 10 hours of working

Selectable 2.4GHz or 5GHz dual band Wi-Fi

Equipped with a micro SD card slot for up to 32GB of optional storage
The faster connections, the more you can do
Supporting the latest generation 4G LTE network, the M7350 can reach up to 150Mbps download speeds, to enjoy HD movies without interruption, download files in seconds, and hold a video chat without dropouts.
4G

150

Mbps

50

Mbps
3G

42

Mbps

7.2

Mbps
Easily Share Wi-Fi with up to 10 devices
Plug and play, just insert a 4G SIM card to create your reliable personal dual-band Wi-Fi hotspot on the move. Instantly share 4G/3G connectivity with up to 10 Wi-Fi enabled devices – Tablets, mobile phones, laptops, game consoles and more.
5GHz

2.4GHz
Selectable Dual Band Wi-Fi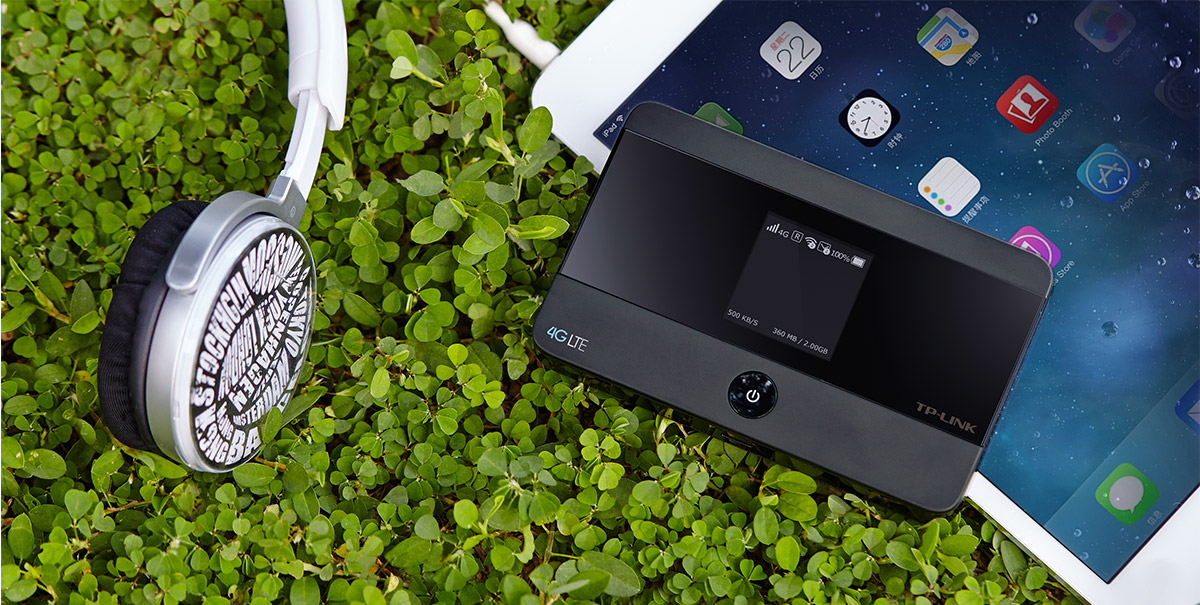 Artful little gadget for life on the go
The M7350 features a compact, elegant design very suitable for travel, business trips, outdoor activities or wherever you may be.
On business trips

On the road

Outdoor activities
10 Hours of 4G Sharing - Made to Move
With its powerful 2550mAh battery, the M7350 is able to operate for 10 hours at full capacity and 600 hours of standby. For added flexibility, the device can be recharged via a micro USB cable connected to a laptop, portable charger or using its included adapter for endless hours of 4G sharing.
* Service duration may vary due to different user environments.
All useful info at a glance
The intuitive screen display makes it easy to stay within your data budget and avoids going over the monthly data cap. The device also displays other much more intuitive information of the device's operating status, such as battery life, signal strength, Wi-Fi status, connected users and more. With the menu button you can quickly change network type, data roaming and frequency band, view password and network name — directly on the device.
Easy Management with the tpMiFi App
With the tpMiFi App, you can easily access and manage your M7350 from any connected iOS device. The tpMiFi app allows you to establish data limits, control which devices can access your Wi-Fi, send messages, and share media files to/from a removable Micro SD card.
Scan to download tpMiFi for iOS
Micro SD Card Wireless Sharing
You can easily share photos, music, videos and more wirelessly across your network from a micro SD card through the micro SD Storage Slot - providing storage of up to 32G*.
* Micro SD card sold separately.
* You can access and share files using tpMiFi App for iOS or
third-party samba Apps like ES File Explorer on Android.
Basic Information
Basic Information of Product
Product Status/Sales Type
New
Product No.
1408698
Weight (KG)
0.4 kg
Country of Origin
N/A
Shipping Method
Courier Service
GST Applicable
SR 6%
After Sale Service
2 Year Warranty

TPLINK DISTRIBUTION MALAYSIA SDN BHD
Hotline (24 hours - 7 days):
1300 8887 5465
Local Service:
+60 3 2141 4358

E-mail:
support.my@tp-link.com
11street.my@tp-link.com

Website:
www.tp-link.com.my

Service Center Address:
4-20, 4th Floor, Plaza Low Yat, off Jalan Bukit Bintang, 55100 Kuala Lumpur.

Warranty Terms
Product(s) sold through IT HYPERSTORE are serviced and supported by their manufacturers in accordance with any terms and conditions packaged with the products.

If you need to return product(s) back to us for warranty, please contact the Customer Service Support atsupport@ithyperstore.com OR +603-7726 6831

Please ship back the product(s) to the respective shipping branch in the original packaging with any accessories as advised by the Customer Service Support. Failure to do so may invalidate the warranty.

We will not accept return of product(s) that are not compatible with your system configuration or damaged during shipment to and fro or misused by customer / shipping carrier or hold by custom.

1 to 1 Replacement
IT Hyperstore offers free "1 to 1 replacement" on all products items for the first 7 days upon receiving of goods (on manufacturer defects only).
Brand
TP-link
Already purchased this product? Write your review here.
Read more

Read less
/300
(this will only be visible between you and seller)
All your Q&A posts are available in My Page > My Shopping Talk > My Q&A History.
Once seller replies, you will be notified by email.
Your posts may be removed and 11street reserves the right to suspend your account if inappropriate contents are found;

Any implication of direct trade / discounts with your contact number, email address, or any offline contact point.
Any indication of libel/defamation, inappropriate price comparison, unrelated ads, etc.
Seller's Information
Seller
IT Hyperstore
Shipping from
Return/Exchange address
Notice on Return/exchange
Our return policy allows for item(s) return and your choice of a full refund or replacement item(s). However, we do have requirements for processing a return.

You may want to return your order due to any of the following reasons:

Damaged - The product is damaged upon arrival
Defect - The product does not function as described in its manufacturer specification
Incorrect/wrong item - Not the product the customer ordered.
Missing items/parts - Missing items/parts as indicated in the packaging
Does not fit - Customer receives the size that was ordered but it does not match with the website description
Website error - The product does not match website specifications, description, or image (this issue is attributable to a website error/misinformation)

Unless otherwise stated in the product description, the general requirements for returns are as follows:

• Returned item must be shipped back to us within fourteen (14) calendar days or report to our customer service team within 2 days after the item is received. Countdown starts from the date you received the item to the post stamp stated on the parcel you return to us.
• Your proof of purchase (order number)
• The product must not fall into the non-returnable product list.
• The goods must be in new condition and returned in the original packaging along with all accessories (including manuals, warranty cards, certificate of authenticity) and free gifts received with it.
• The product must not have been used or installed or had any data inputted.
• All sealed must not be opened / broken. In case you have opened the seal, please refer for assistance to the relevant service center indicated on your warranty card.
• All the item label and bar code must be remain in original condition
11Street Return/Exchange Policy
Cancellation

Request for cancellation if product has not been dispatched after payment completion.
Strictly no cancellation for E-voucher after purchased.

Return

Request for return within 7 calendar days following delivery date.
Check seller's approval on buyer's request.
Buyer sends product in question to buyer.
Seller receives and checks returned product.
Seller approves return and return is completed.
Strictly no return or refund for E-voucher.

Exchange

Request for exchange within 7 calendar days following receipt of delivery.
Check seller's approval on buyer's request.
Buyer sends product in question to seller.
Seller receives and checks returned product
Seller send new product to buyer, and buyer receives it, and exchange is completed.
No exchange for E-voucher purchased.
How to Request for Cancellation/Return/Exchange
You can request for cancellation after completing payment and if product has not been dispatched by then, cancellation request is approved and you can receive refund.
But, in case seller has already dispatched product, cancellation request can be rejected.
You can request for return after obtaining product, you should send the product in question to seller.
After seller checks if returned product is flawed, and approves your request, return is completed and payment is refunded.
You can request for exchange if wrong product is shipped, you should send the product in question to seller.
After seller checks if returned product is flawed, seller approves your request, and re-sends new product.
Criteria for Return/Exchange
You can request for return/exchange within 7 calendar days following delivery date. But return/exchange request cannot be made in following cases:
When request due to change of mind is made after 7 calendar days following delivery date
When product is used, destroyed or damaged
When tag attached to product is removed or package of product is opened and product value is damaged
When sealed package is opened or packaging materials are lost
When too much time has passed and product value has so decreased that its re-sale is not possible
When return/exchange request is made for customized product such as hand-made shoes or accessories
When components of product (including free gift) have been used or lost
When buyer did not follow instructions included in product
As e-voucher products are immediately sent to your e-mail, returns/exchanges are not available. Please take note of this before purchase, and input your e-mail address correctly.
As Mobile Top-up products are directly reloaded on your cell phone number, returns/exchanges are not available. Please take note of this before purchase, and enter your cell phone number correctly.


For any inconvenience regarding Cancellation/Return/Exchange, please contact Customer Service at 03-2720-0000 and we will do our best to help you.
Notice
Please note that, direct transaction with the seller without using 11street payment service can cause problems such as; not receiving the product, receiving different product etc.
For sales products and contents registered by the seller, 11street run by Celcom Planet has no responsibility on any of the registered contents.