TongTai Bamboo Buckwheat Husk Pillow Y20090G Green
Pamper and comfort your beloved baby with Tong Tai Buck Wheat Hush Pillow !
Note : Baby is 2 weeks old while taken the picture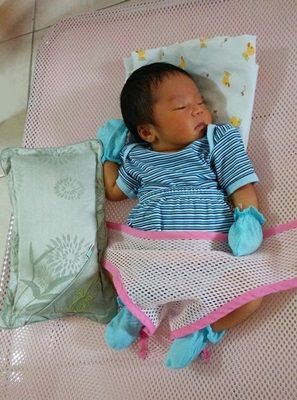 This premium quality pillow not only stuffed with Buckwheat Husk, but also comes with beautiful Bamboo Fabric cover. It is specially made for baby calming purpose. Baby would feel safe and peaceful when hugging or resting on the Pillow.
Buckwheat husk are considered desirable stuffing materia for pillows because there is less risk of exposure to allergens than pillows that contain down (feathers) or synthetic fibers. Pillows filled with buckwheat hulls also conduct and reflect less heat than those filled with synthetic materials. Used alone or combined with rice or dried herbs, buckwheat hulls are ideal for making eye and neck pillows to help ease fatigue and tense muscles.
Fabric made from bamboo is incredibly soft, smooth and luxuriously comfortable. The benefits of bamboo fabric includes,
'Bamboo Dry' – absorbs and evaporates sweat in a split second: Moisture wicking.
'Bamboo Thermo-control' – bamboo fabric is highly breathable in hot weather and also keeps you significantly warmer in the cold than traditional fabrics.
'Bamboo Antibacterial' - bacteria don't live well in this fabric. So it doesn't get smelly even after many days.
'Bamboo Anti-static' - so it sits very well next to your skin, not clinging to it.
'Bamboo UV protection' - it cuts out 98% of harmful UV rays, so perfect for holiday / travelling cover-ups.
'Bamboo Sensitive' - For sensitive or allergy prone skin, bamboo is perfect; it's also anti-fungal.
Bamboo thrives naturally without using any pesticides or fertilizers.Because bamboo is the fastest growing plant in the world. It spreads rapidly across large areas. The yield you get from an acre of bamboo is 10 times greater than the yield you get from cotton.
Size

HIGHLIGHTS:-
Bamboo Fabric
Buckwheat Husks Stuffed
Baby Calming Effect
Anti-Bacteria, Anti-Heat, Anti UV
Sensitive Skin Friendly
Soft an Tender Surface
Basic Information
Basic Information of Product
Product Status/Sales Type
New
Product No.
1419400
Weight (KG)
0.2 kg
Country of Origin
N/A
Shipping Method
Courier Service
GST Applicable
Not Applicable (Non-GST seller)
After Sale Service
Brand
TONGTAI INFANT
Already purchased this product? Write your review here.
Read more

Read less
/300
(this will only be visible between you and seller)
All your Q&A posts are available in My Page > My Shopping Talk > My Q&A History.
Once seller replies, you will be notified by email.
Your posts may be removed and 11street reserves the right to suspend your account if inappropriate contents are found;

Any implication of direct trade / discounts with your contact number, email address, or any offline contact point.
Any indication of libel/defamation, inappropriate price comparison, unrelated ads, etc.
Seller's Information
Seller
DPOKETTO MALAYSIA
Shipping from
Return/Exchange address
Notice on Return/exchange
We guarantee that all outgoing products are inspected by quality control personnel in our organisation. However, we are accepting returns for exchange for similar items or an item with equivalent values in the following circumstances,
1) Items are damaged during the transportation process.
2) Items do not fit as expected.

Return and Reimbursement Process:-

1) Customer should initiate the communication with us by emails or text messages regarding the situation within 3 days after the items is received by customer.

2) Customer returns the related items carefully after the official confirmation email is received. The returning shipping fee is paid by customer. There are different options for reimbursement,
i) Replace with the same items
ii) Replace with items with the same model but different size
iii) Replace with items with different model and with equivalent value
iv) Exchange for credit voucher with equivalent value after 20% deduction and with expiry date.

3) Once the item has arrived at our warehouse, subsequent inspection is performed by the quality control personnel in our organization within 3 working days.

4) Customers would be informed by us once the reimbursement process is started.

Exception Case :
Return of items that without official confirmation would not be recognized.

Dpoketto Trading reserves the rights to amend this return policy without prior notice.
11Street Return/Exchange Policy
Cancellation

Request for cancellation if product has not been dispatched after payment completion.
Strictly no cancellation for E-voucher after purchased.

Return

Request for return within 7 calendar days following delivery date.
Check seller's approval on buyer's request.
Buyer sends product in question to buyer.
Seller receives and checks returned product.
Seller approves return and return is completed.
Strictly no return or refund for E-voucher.

Exchange

Request for exchange within 7 calendar days following receipt of delivery.
Check seller's approval on buyer's request.
Buyer sends product in question to seller.
Seller receives and checks returned product
Seller send new product to buyer, and buyer receives it, and exchange is completed.
No exchange for E-voucher purchased.
How to Request for Cancellation/Return/Exchange
You can request for cancellation after completing payment and if product has not been dispatched by then, cancellation request is approved and you can receive refund.
But, in case seller has already dispatched product, cancellation request can be rejected.
You can request for return after obtaining product, you should send the product in question to seller.
After seller checks if returned product is flawed, and approves your request, return is completed and payment is refunded.
You can request for exchange if wrong product is shipped, you should send the product in question to seller.
After seller checks if returned product is flawed, seller approves your request, and re-sends new product.
Criteria for Return/Exchange
You can request for return/exchange within 7 calendar days following delivery date. But return/exchange request cannot be made in following cases:
When request due to change of mind is made after 7 calendar days following delivery date
When product is used, destroyed or damaged
When tag attached to product is removed or package of product is opened and product value is damaged
When sealed package is opened or packaging materials are lost
When too much time has passed and product value has so decreased that its re-sale is not possible
When return/exchange request is made for customized product such as hand-made shoes or accessories
When components of product (including free gift) have been used or lost
When buyer did not follow instructions included in product
As e-voucher products are immediately sent to your e-mail, returns/exchanges are not available. Please take note of this before purchase, and input your e-mail address correctly.
As Mobile Top-up products are directly reloaded on your cell phone number, returns/exchanges are not available. Please take note of this before purchase, and enter your cell phone number correctly.


For any inconvenience regarding Cancellation/Return/Exchange, please contact Customer Service at 03-2720-0000 and we will do our best to help you.
Notice
Please note that, direct transaction with the seller without using 11street payment service can cause problems such as; not receiving the product, receiving different product etc.
For sales products and contents registered by the seller, 11street run by Celcom Planet has no responsibility on any of the registered contents.