Takada TK-350 Personal Mini Compact Food/Juice/Smoothies Blender-750ml (300W)
1 Year Warranty by TAKADA Malaysia
Takada TK-350 Personal Mini Compact Food Blender 750ml (White)
This revolutionary food and drink maker rules the kitchen with the power to transform ice into perfect frozen drinks and desserts and vegetables into tasty appetizers & salads. It's the ultimate kitchen appliance!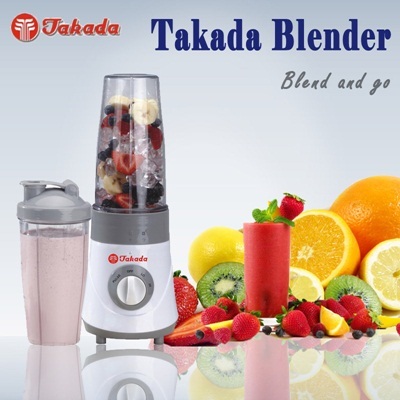 Prepping for cooking can be a hassle and is incredibly time consuming, especially if you don't have the right tools and appliances. When you are preparing a meal or a beverage, especially in a large scale, it sure can get a little challenging when the prepared liquids are not as smooth as expected just because there are still little chunks of some of the ingredients left that did not get blended thoroughly. It is essential that you have a proper blender. Introducing Takada TK-350 Blender!
HIGHLIGHTS
Easy to open drink spouts which allows you to blend and drink on the go

Powerful motor and durable stainless steel blade to smash ice and frozen fruits

Compact design with easy to use rotary control makes it portable and convenient to carry around

Includes 2 large capacity cups with lids

2 speed control

Safety lock - Will not work if unit is not correctly installed or cup is not properly secured in place

750ml

1 Year Warranty by Takada Malaysia
Quality Features
With the Takada-350 Blender, you can now have more fun while preparing your beverage or sauce. Its user-friendly rotary control and portable, compact design makes it convenient to carry around. Do not underestimate this little fellow as it is equipped with a powerful motor and durable stainless steel blade that can smash ice and frozen fruit to turn them into delicious healthy smoothie. With 2 speed controls, and 2 large capacity cups with lids this product comes with full warranty by the manufacturer.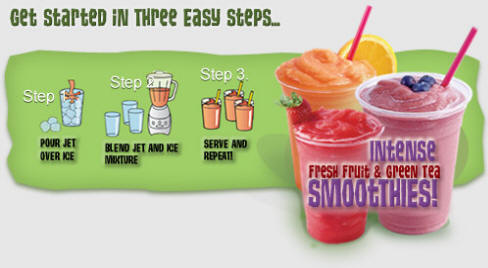 Easy-to-open drink/pour spout
This mini blender allows you to blend and drink on the go. The easy-to-open drink spout turns the cup into a drinking bottle, so you can bring your freshly prepared juice or smoothie to the office or anywhere you like. In other words, you don't have to switch it to a different beverage container because it already is one on the spot. The package also contains 2 cups with lids so your food processor or juicer can still be used by your loved ones at home when you take one out and about. There's plenty for everyone. Or if you make sauces, the spout enables you to easily pour it out to your cooking pot or bowl without any spill. Practical? Most definitely!
Speed Control
Speed control allows for total control of the user. With this appliance, you have the choice of processing your food the way you want. This Takada blender comes with 2 speed controls. You can simply select your preferred speed and prepare your ice blended chocolate any way you like.
Double safety lock
This lightweight 750ml food processor or juicer, being very efficient and powerful, is secured by a double safety lock. The motor of the blender will not work if the lid or base not secured properly, so it spares you of worrying about spillage and safety especially if you have kids. It's safe for you and for everyone around you! There is no reason for you to hesitate, get this Takada-350 Blender today!
What's in the Box?
1 x Takada TK-350 Personal Mini Compact Food Blender
2 x Large Capacity Cups (300ml)
Basic Information
Basic Information of Product
Product Status/Sales Type
New
Product No.
430668
Weight (KG)
3.6 kg
Country of Origin
Domestic
Shipping Method
Courier Service
GST Applicable
SR 6%
After Sale Service
At Nuovo, YOU are at the heart of our brand and quality and customer service is our guiding philosophy. We take all products through standard rigorous testing and certification procedures to eliminate poor quality product & substandard/fake products.

All TAKADA products purchased from Nuovo comes with a 1 YEAR Warranty Period.

After Sales Service :: Nuovo
All NUOVO consultants will answer all your questions about the operation and use of TAKADA Products as per below information.

Nuovo Commerce Sdn Bhd (1195982-H)
Suite 11.01, Level 11, South Wing,
Menara OBYU, No.4 Jalan PJU 8/8A,
Damansara Perdana, 47820 Petaling Jaya, Selangor, Malaysia
Customer Care Line: 016-702 6497
email: sales@nuovosite.com
Operational Hours: 9.00am - 5.00pm (Monday - Friday)
Close on Public Holiday
Brand
None
Already purchased this product? Write your review here.
Read more

Read less
/300
(this will only be visible between you and seller)
All your Q&A posts are available in My Page > My Shopping Talk > My Q&A History.
Once seller replies, you will be notified by email.
Your posts may be removed and 11street reserves the right to suspend your account if inappropriate contents are found;

Any implication of direct trade / discounts with your contact number, email address, or any offline contact point.
Any indication of libel/defamation, inappropriate price comparison, unrelated ads, etc.
Seller's Information
Seller
ALMAXPRESS
Shipping from
Return/Exchange address
Notice on Return/exchange
At Nuovo, we strives to provide an amazing shopping experience and superior customer service. If for any reason you are not contented with your order, we gladly accept returns within 14 days after receiving the item from the date of shipment and in new, unused condition with original packaging. You must contact us at prior to return/exchange products to us. We will not process your refund or exchange request without early notification.

Please refer to Return & Exchange for the terms as following: 1.) Returned- Items must be unopened and in unused condition. The customer agrees to and is responsible for paying all shipping charges and incurring all fees associated with the return of merchandise purchased through Nuovo. Returns for adhesive merchandise that have had their backing removed, as well as items designed for one time-use, are not accepted. Nuovo makes no refunds on shipping costs for any reason. Returns are subject to validation by Nuovo. Nuovo reserves the right to limit and refuse refunds.
11Street Return/Exchange Policy
Cancellation

Request for cancellation if product has not been dispatched after payment completion.
Strictly no cancellation for E-voucher after purchased.

Return

Request for return within 7 calendar days following delivery date.
Check seller's approval on buyer's request.
Buyer sends product in question to buyer.
Seller receives and checks returned product.
Seller approves return and return is completed.
Strictly no return or refund for E-voucher.

Exchange

Request for exchange within 7 calendar days following receipt of delivery.
Check seller's approval on buyer's request.
Buyer sends product in question to seller.
Seller receives and checks returned product
Seller send new product to buyer, and buyer receives it, and exchange is completed.
No exchange for E-voucher purchased.
How to Request for Cancellation/Return/Exchange
You can request for cancellation after completing payment and if product has not been dispatched by then, cancellation request is approved and you can receive refund.
But, in case seller has already dispatched product, cancellation request can be rejected.
You can request for return after obtaining product, you should send the product in question to seller.
After seller checks if returned product is flawed, and approves your request, return is completed and payment is refunded.
You can request for exchange if wrong product is shipped, you should send the product in question to seller.
After seller checks if returned product is flawed, seller approves your request, and re-sends new product.
Criteria for Return/Exchange
You can request for return/exchange within 7 calendar days following delivery date. But return/exchange request cannot be made in following cases:
When request due to change of mind is made after 7 calendar days following delivery date
When product is used, destroyed or damaged
When tag attached to product is removed or package of product is opened and product value is damaged
When sealed package is opened or packaging materials are lost
When too much time has passed and product value has so decreased that its re-sale is not possible
When return/exchange request is made for customized product such as hand-made shoes or accessories
When components of product (including free gift) have been used or lost
When buyer did not follow instructions included in product
As e-voucher products are immediately sent to your e-mail, returns/exchanges are not available. Please take note of this before purchase, and input your e-mail address correctly.
As Mobile Top-up products are directly reloaded on your cell phone number, returns/exchanges are not available. Please take note of this before purchase, and enter your cell phone number correctly.


For any inconvenience regarding Cancellation/Return/Exchange, please contact Customer Service at 03-2720-0000 and we will do our best to help you.
Notice
Please note that, direct transaction with the seller without using 11street payment service can cause problems such as; not receiving the product, receiving different product etc.
For sales products and contents registered by the seller, 11street run by Celcom Planet has no responsibility on any of the registered contents.