[Stemtech DermaStem® Renewal Serum] Stem Cell Nutrition Products
DermaStem® Renewal Serum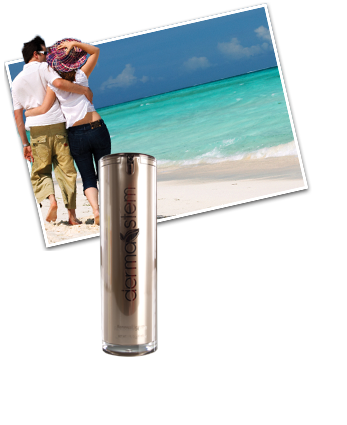 | | | |
| --- | --- | --- |
| Click here to Enlarge | Click here to Enlarge | "Within just 30 days with DermaStem, the skin on my face showed remarkably fewer wrinkles and increased softness, so DermaStem has replaced the organic product I have used for over two years. Now I notice that the areas around my eyes have fewer wrinkles, and that the 'problem areas' around my lips and on my neck are much smoother. Several of my friends have actually suggested that I must have had a 'mini-facelift' or that I had a facial laser treatment! But it's all because of this amazing product. I am a true believer in the power of DermaStem." |
THE VERY BEST INGREDIENTS, EITHER CERTIFIED ORGANIC OR WILD-HARVESTED ARE BLENDED WITH INNOVATIVE PROCESSING TO PRESERVE EACH INGREDIENT'S DELICATE ESSENCE.

DermaStem contains absolutely nothing artificial. It is an emulsion of dozens of ingredients gathered from around the world that work individually and in concert to regenerate the skin, while also fighting the effects of oxidative stress and other harmful internal and external triggers that cause premature aging of the skin. Sound-wave sanitizing technology called SoniPure™ and cold processing preserves the very fabric of each plant for unprecedented effect.

Early clinical tests have demonstrated dramatic results:
| | | |
| --- | --- | --- |
| | 7 Days | 28 Days |
| Decreased fine lines & coarse wrinkles | 10% | 25% |
| Increased moisture retention | 10% | 30% |
| Increased elasticity | 3% | 10% |


In some cases a decrease in wrinkles reached more than 75% in 28 days, with significant results in as few as 7 days!

*Results may not be typical and not all users will experience the same benefits.


DermaStem is a mocha-hued fusion of natural oils that blends invisibly into the skin. All-natural DermaStem contains a velvety emulsion of the world's most restorative ingredients, including:

Genestein and Samambaia, along with 14 berry concentrates which are packed with antioxidants.

Black Mamaku, Moringa, Shea, Rosa Mosqueta and Sangre de Drago which are used on the skin by natives of various parts of the world and improve the appearance of the skin.

Our natural Stem Cell Complex (a proprietary blend of AFA, aloe, fucoidan, cehami, cacao and vanilla).

Our blend of six Cytokines to support the skin's own renewal process.

RejuvHyal™, a glucosamine-based ingredient

No mineral oils, preservatives, or petro-chemicals are part of either the formula or the processing.

Stemtech's President Ray C. Carter, Jr., commented, "DermaStem is a natural extension to our stem cell nutrition products. We are pioneers in the field of stem cell nutrition and have mastered the support of the body's natural renewal system. Now we are extending stem cell science for the benefit of the skin's appearance".


FOR YOUR INFORMATION
DERMASTEM FEATURES & BENEFITS

Our clinical results demonstrate that dramatic and visible improvements occur rapidly with only a twice-daily application of DermaStem. This revolutionary product works to reduce the signs of premature aging.


| | |
| --- | --- |
| FEATURE | BENEFIT |
| Dozens of organic or wild-harvested plants with individual properties to fight the signs of premature aging have been assembled from around the world | The DermaStem formula is the result of generations of proven results, all tested in the laboratory. |
| Plants are extracted using a cold infusion process directly in black mamaku, aloe and berry juices: The delicate essence of all plants is preserved | Each anti-aging ingredient is delivered in its most powerful, effective form for greatest benefit. |
| No petroleum derivatives, preservatives or chemicals | The all-natural emulsion of natural oils disappears instantly into the skin for immediate effect and no residue, without potential toxicity. |
| Exclusive to DermaStem: RejuvHyal™, a proprietary form of glucosamine for a smoother, younger-looking appearance | Your face appears more radiant. |
| Exclusive to DermaStem: A blend of six Cytokines that stimulate the proliferation and migration of the skin's adult stem cells | Outer vibrance comes from renewal and rejuvenation of the surface of the skin, producing a more youthful appearance. |

The blend of all these features gives a product second to none, which was shown in clinical trials to reduce wrinkles by 25%, increase elasticity by 10% and increase moisture by 30% in 28 days!


| | |
| --- | --- |
| Click here to Enlarge | "I am 80 years old, and the skin on my hands was showing a lot of age. So I decided to see what DermaStem could do. I used DermaStem on my left hand and wrist for six months. You can see that there is a very dramatic difference between my right hand and wrist and the left, where I used DermaStem." |


STEMTECH and STEM CELL SCIENCE AND NUTRITION

Since 2005, Stemtech has been the pioneer in the science of adult stem cells. Our line of nutritional supplements work together to support the body's natural renewal system inside the body.

Stemtech AFA Extract™ supports the release of stem cells from the bone marrow into the bloodstream. Within an hour of ingestion, studies have shown a substantial increase in the number of stem cells released into the bloodstream.
Now DermaStem® Renewal Serum fights the signs of premature aging by restoring firmness, elasticity and tone to the appearance of the epidermis. Working in partnership with the adult stem cells that are delivered to the dermis by Stemtech's nutritional supplements, DermaStem restores the healthy appearance of the skin.

OPTIMAL HEALTH… INSIDE AND OUT

Stemtech's science now supports the achievement of vibrant health and vitality from the inside with our nutritional supplement line and from the outside with our all-natural, patented skin care product, DermaStem. We continue our dedication to Our Mission: We empower individuals to enhance their quality of life by increasing their level of wellness and prosperity through sharing the Stemtech products and opportunity.

THE SCIENTISTS

Christian Drapeau, MSc
Stemtech Chief Science Officer

As the global healthcare community has grown to accept the solid science behind the stem cell theory of renewal, Christian has become a sought-after expert on the subject of adult stem cells on the world stage. Along with the development of groundbreaking nutritional supplements that support the work of the body's adult stem cells, Christian began a quest for just the right ingredients to support the natural renewal of the body's largest organ, the skin. Ten years ago, he began working in earnest with "a kindred soul," Shakahn Kukulcan, whose dedication to bringing the benefits of Nature to the people of the world matched Christian's own dedication. DermaStem is the result of this transcendent collaboration.
Shakahn Kukulcan
Self-described as "tenaciously iconoclastic" and haunted by the proliferation of the use of synthetics and toxic chemicals in many "natural and organic" skin care products, Shakahn traveled the world for years in search of the best ingredients from Nature that could be developed into a truly organic, chemical-free skin care product that would be healthy and nutritious enough that you could "feed them to a baby."

Years of Shakahn's solitary research and a fortunate collaboration with Christian Drapeau led to the discovery that one "secret" of achieving an all-natural, innovative skin care product was that each plant had to be cold-water infused. No heat or preservatives, no alcohol, no chemicals could have any part of the process. In 2010, Christian and Shakahn presented the results of their work: an all-natural blend of Nature's most effective ingredients that restructure the skin at the cellular level and restore youthful vitality to the surface of the skin. From Nature and two very dedicated scientists comes DermaStem.
Product Ingrediant
Basic Information
Basic Information of Product
Product Status/Sales Type
New
Product No.
662579
Weight (KG)
0.1 kg
Country of Origin
N/A
Shipping Method
Courier Service
GST Applicable
Not Applicable (Non-GST seller)
After Sale Service
Join & Save Get Started Now!
The Stemtech opportunity will provide you with the chance to create a future with more choices,
more freedoms and more of the things you desire!
There are a variety of packages available to help get you started. Review the sign-up options below
and decide what is right for you.

Any interest to join can register at : http://joycetho.stemtech.com
ID no. : 6505746
Brand
None
Already purchased this product? Write your review here.
Read more

Read less
/300
(this will only be visible between you and seller)
All your Q&A posts are available in My Page > My Shopping Talk > My Q&A History.
Once seller replies, you will be notified by email.
Your posts may be removed and 11street reserves the right to suspend your account if inappropriate contents are found;

Any implication of direct trade / discounts with your contact number, email address, or any offline contact point.
Any indication of libel/defamation, inappropriate price comparison, unrelated ads, etc.
Seller's Information
Seller
Aquamarine Beauty Lady
Shipping from
Return/Exchange address
Notice on Return/exchange
RETURN/EXCHANGE PRODUCTS POLICY
*Once the item has been shipped, return/refund will not be accepted unless the item that you receive is a discrepancy or a defect.
*You can cancel your order before the item is shipped for delivery.
*After the item has been shipped, you can demand a return, refund or item exchange in accordance with the 11street Return and Exchange policies below.
*You can apply for a return or exchange within 7days upon receiving item, by clicking the return/exchange button at "My page". You are entitled to a replacement or refund for a defective items according to our company or manufacturer policy. In this case, you are required to contact our customer service centre within 3 days of receipt. (Email us at joycetho60@hotmail.com).
*Return & Exchange may not be accepted in the following circumstances.
-The item has been damaged by the customer.
-The item's has been used by the customer or Breaking the warranty Seal of the devices/items.
-The items is unrecoverable due to customization done by customers.
-Any Free gifts, package items or items bundle with your purchased item should be included in your return/exchange package otherwise no refund will be given.
11Street Return/Exchange Policy
Cancellation

Request for cancellation if product has not been dispatched after payment completion.
Strictly no cancellation for E-voucher after purchased.

Return

Request for return within 7 calendar days following delivery date.
Check seller's approval on buyer's request.
Buyer sends product in question to buyer.
Seller receives and checks returned product.
Seller approves return and return is completed.
Strictly no return or refund for E-voucher.

Exchange

Request for exchange within 7 calendar days following receipt of delivery.
Check seller's approval on buyer's request.
Buyer sends product in question to seller.
Seller receives and checks returned product
Seller send new product to buyer, and buyer receives it, and exchange is completed.
No exchange for E-voucher purchased.
How to Request for Cancellation/Return/Exchange
You can request for cancellation after completing payment and if product has not been dispatched by then, cancellation request is approved and you can receive refund.
But, in case seller has already dispatched product, cancellation request can be rejected.
You can request for return after obtaining product, you should send the product in question to seller.
After seller checks if returned product is flawed, and approves your request, return is completed and payment is refunded.
You can request for exchange if wrong product is shipped, you should send the product in question to seller.
After seller checks if returned product is flawed, seller approves your request, and re-sends new product.
Criteria for Return/Exchange
You can request for return/exchange within 7 calendar days following delivery date. But return/exchange request cannot be made in following cases:
When request due to change of mind is made after 7 calendar days following delivery date
When product is used, destroyed or damaged
When tag attached to product is removed or package of product is opened and product value is damaged
When sealed package is opened or packaging materials are lost
When too much time has passed and product value has so decreased that its re-sale is not possible
When return/exchange request is made for customized product such as hand-made shoes or accessories
When components of product (including free gift) have been used or lost
When buyer did not follow instructions included in product
As e-voucher products are immediately sent to your e-mail, returns/exchanges are not available. Please take note of this before purchase, and input your e-mail address correctly.
As Mobile Top-up products are directly reloaded on your cell phone number, returns/exchanges are not available. Please take note of this before purchase, and enter your cell phone number correctly.


For any inconvenience regarding Cancellation/Return/Exchange, please contact Customer Service at 03-2720-0000 and we will do our best to help you.
Notice
Please note that, direct transaction with the seller without using 11street payment service can cause problems such as; not receiving the product, receiving different product etc.
For sales products and contents registered by the seller, 11street run by Celcom Planet has no responsibility on any of the registered contents.