STEELSERIES SIBERIA V3 PRISM GAMING HEADSET for PC LAPTOP PS4 PS3 MP3
SteelSeries Siberia V3 Prism Gaming Headset
Product highlights:
SteelSeries redesigned the Siberia v3 Prism's acoustics and added newly-designed SteelSeries speaker drivers that push fantastic, detailed audio.Using vast knowledge and experience we reduced the number of parts, hand-picked the components, and redesigned how it all came together for an enhanced acoustic space.Siberia v3 Prism delivers audio that is in a class of its own thanks its clear details, rich soundscape, and crisp bass.
Gamers having first-hand experience with the Siberia series know the bar was set high for accurate and detailed sound. The v3 Prism perfectly reproduces in-game audio so you hear the sound just as the game developers intended.The soundscape has been fine-tuned, producing exceptional detail and deep, resounding audio. Hearing the key in-game details will improve your situational awareness helping you to react faster than your competition.
When using the built-in USB connection on PC or Mac you can dive in to modify the options with our powerful SteelSeries Engine 3 configuration software.Use the software to customize the audio settings with a 5-band equalizer for a uniquely individual experience. If you want to hear the finer in-game details, bump up the highs and mids. If you are looking to add some thump to the soundtrack simply increase the lows.You can also choose among various presets and set specific options for different games and profiles. Simply download SteelSeries Engine 3 and begin customizing.
Siberia v3 Prism features our classic retractable microphone with a new, slimmer design and a quick mute button on the earcup. It can be positioned infinitely for ideal voice pick up. Pull it out when you need it for gaming, streaming or talking. Tuck it out of the way when you don't need it.It's been engineered to deliver crystal-clear audio, highlighted by our SteelSeries DSP technology. This includes Mic Noise Suppression and Mic Auto Compression for tremendously clear communication.
Competitive gamers from around the world rely on Siberia headsets because of their exceptional comfort.SteelSeries' continuing goal is to ensure you stay comfortable no matter how long you play. The Siberia v3 Prism improves on this tradition with upgraded memory-foam ear cushions and the classic Siberia suspension system.
Siberia v3 Prism features newly designed earcups that comfortably wrap around your ears. You can game for hours on end in luxurious comfort thanks to the deluxe, padded design.Memory foam provides the additional benefit of an even better seal around the ears offering greater noise isolation for an enriched audio experience.
Siberia v3 Prism steps up the popular illumination feature of previous Siberia headsets, with a fully customizable lighting scheme.
The right color is the color you want at the time - so all SteelSeries illuminated headsets give you full control. Choose from 16.8 million colors, and your own style with our ColorShift effect, which has a range of lighting modes.Whatever your mood for the day, your custom lighting effect is a mouse click away. With SteelSeries Engine 3, it's easy and completely in your control.
Package includes:
1 x SteelSeries Siberia V3 Prism Gaming Headset
Product condition:
Warranty:
1 year warranty by SteelSeries
Product images: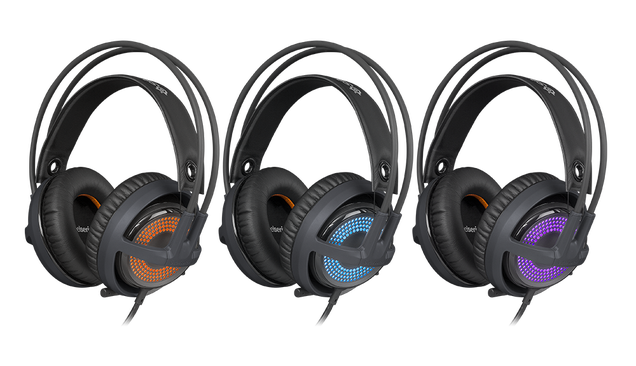 Basic Information
Basic Information of Product
Product Status/Sales Type
New
Product No.
1337696
Weight (KG)
1.5 kg
Country of Origin
N/A
Shipping Method
Courier Service
GST Applicable
SR 6%
After Sale Service
Brand
None
Already purchased this product? Write your review here.
Read more

Read less
/300
(this will only be visible between you and seller)
All your Q&A posts are available in My Page > My Shopping Talk > My Q&A History.
Once seller replies, you will be notified by email.
Your posts may be removed and 11street reserves the right to suspend your account if inappropriate contents are found;

Any implication of direct trade / discounts with your contact number, email address, or any offline contact point.
Any indication of libel/defamation, inappropriate price comparison, unrelated ads, etc.
Seller's Information
Seller
Game Hypermart
Shipping from
Return/Exchange address
Notice on Return/exchange
We do not accept any return or exchange of goods unless product is defective.
If this do happen, all we ask is that the product is:
- not used
- in the same condition you received it
- in the original box and / or packaging (sealed packaging)

Procedures
Please request for return or exchange by emailing us at marketplace@gamehypermart.com within 48 hours after receiving your product. You have to include the following details in the email:
- Order no:
- Contact no:
- Product to return:
- Reason for return:

Once we receive your request for return, we shall contact you within 3 business days for further instructions.

Once your return product is received and inspected by us (usually within 72 hours of receipt), your refund will be processed and we will contact you to arrange the refund.
11Street Return/Exchange Policy
Cancellation

Request for cancellation if product has not been dispatched after payment completion.
Strictly no cancellation for E-voucher after purchased.

Return

Request for return within 7 calendar days following delivery date.
Check seller's approval on buyer's request.
Buyer sends product in question to buyer.
Seller receives and checks returned product.
Seller approves return and return is completed.
Strictly no return or refund for E-voucher.

Exchange

Request for exchange within 7 calendar days following receipt of delivery.
Check seller's approval on buyer's request.
Buyer sends product in question to seller.
Seller receives and checks returned product
Seller send new product to buyer, and buyer receives it, and exchange is completed.
No exchange for E-voucher purchased.
How to Request for Cancellation/Return/Exchange
You can request for cancellation after completing payment and if product has not been dispatched by then, cancellation request is approved and you can receive refund.
But, in case seller has already dispatched product, cancellation request can be rejected.
You can request for return after obtaining product, you should send the product in question to seller.
After seller checks if returned product is flawed, and approves your request, return is completed and payment is refunded.
You can request for exchange if wrong product is shipped, you should send the product in question to seller.
After seller checks if returned product is flawed, seller approves your request, and re-sends new product.
Criteria for Return/Exchange
You can request for return/exchange within 7 calendar days following delivery date. But return/exchange request cannot be made in following cases:
When request due to change of mind is made after 7 calendar days following delivery date
When product is used, destroyed or damaged
When tag attached to product is removed or package of product is opened and product value is damaged
When sealed package is opened or packaging materials are lost
When too much time has passed and product value has so decreased that its re-sale is not possible
When return/exchange request is made for customized product such as hand-made shoes or accessories
When components of product (including free gift) have been used or lost
When buyer did not follow instructions included in product
As e-voucher products are immediately sent to your e-mail, returns/exchanges are not available. Please take note of this before purchase, and input your e-mail address correctly.
As Mobile Top-up products are directly reloaded on your cell phone number, returns/exchanges are not available. Please take note of this before purchase, and enter your cell phone number correctly.


For any inconvenience regarding Cancellation/Return/Exchange, please contact Customer Service at 03-2720-0000 and we will do our best to help you.
Notice
Please note that, direct transaction with the seller without using 11street payment service can cause problems such as; not receiving the product, receiving different product etc.
For sales products and contents registered by the seller, 11street run by Celcom Planet has no responsibility on any of the registered contents.