STEELSERIES APEX ILLUMINATED GAMING KEYBOARD for PC LAPTOP
Selling Price

RM

459.00

Original Price

RM

559.00

Discount Rate

18% OFF
STEELSERIES APEX ILLUMINATED GAMING KEYBOARD for PC LAPTOP

Product highlights:
Introducing the SteelSeries Apex, a gaming keyboard designed with low-profile, fast-action keys which allow owners to react quickly, move strategically and gain the competitive edge.
The SteelSeries Apex gaming keyboard supports anti-ghosting for 20 keys located in the most-used gaming areas on the keyboard. Out of these 20 capable keys, 6 can be used simultaneously, allowing those key presses to register and without locking the keyboard. These keys are: 1, 2, 3, 4, 5, Q, W, E, R, A, S, D, F, L-Ctrl, L-Shift, Space, and the four arrow keys.
The Apex gives you 88 more ways to win. 22 independent macro keys are each capable of up to 4 layers (via layer select keys), for a total of 88 potential macros. Of course, much of the keyboard is also programmable making for an enormous total of 504 programmable keys. And to top it off the macro keys above the F-keys are raised up for easy access and combinations.
Small bumps on the W-key provide a faster return to WASD. When you quickly have to type a message or execute a command, we want to make sure that you find your way back to WASD as quickly as possible without having to look.
We wanted to give you even more control with Apex so we added an array of other keys. Independent media and volume keys provide instant access to media control and more. Two more arrow keys give extra directional convenience. The SteelSeries key allows you to access special functions like disabling the Windows key.
The combination of 16.8 million color illumination, low-profile keys and sleek lines come together giving Apex beautiful form and optimized function. We even built in a few more features to make Apex the complete solution.
The Apex features 5 independent color zones that are each capable of 16.8 million colors. These can be customized to create a unique color scheme for each of your macro layers. This allows you to quickly determine which macro layer is enabled and helps finding groups of your macros according to their color. Imagine a yellow theme for harvest macros, blue theme for defend macros, red for attack macros and more. The possibilities are limitless.
Package includes:
1 x Steelseries apex illuminated gaming keyboard
Product condition:
Product images: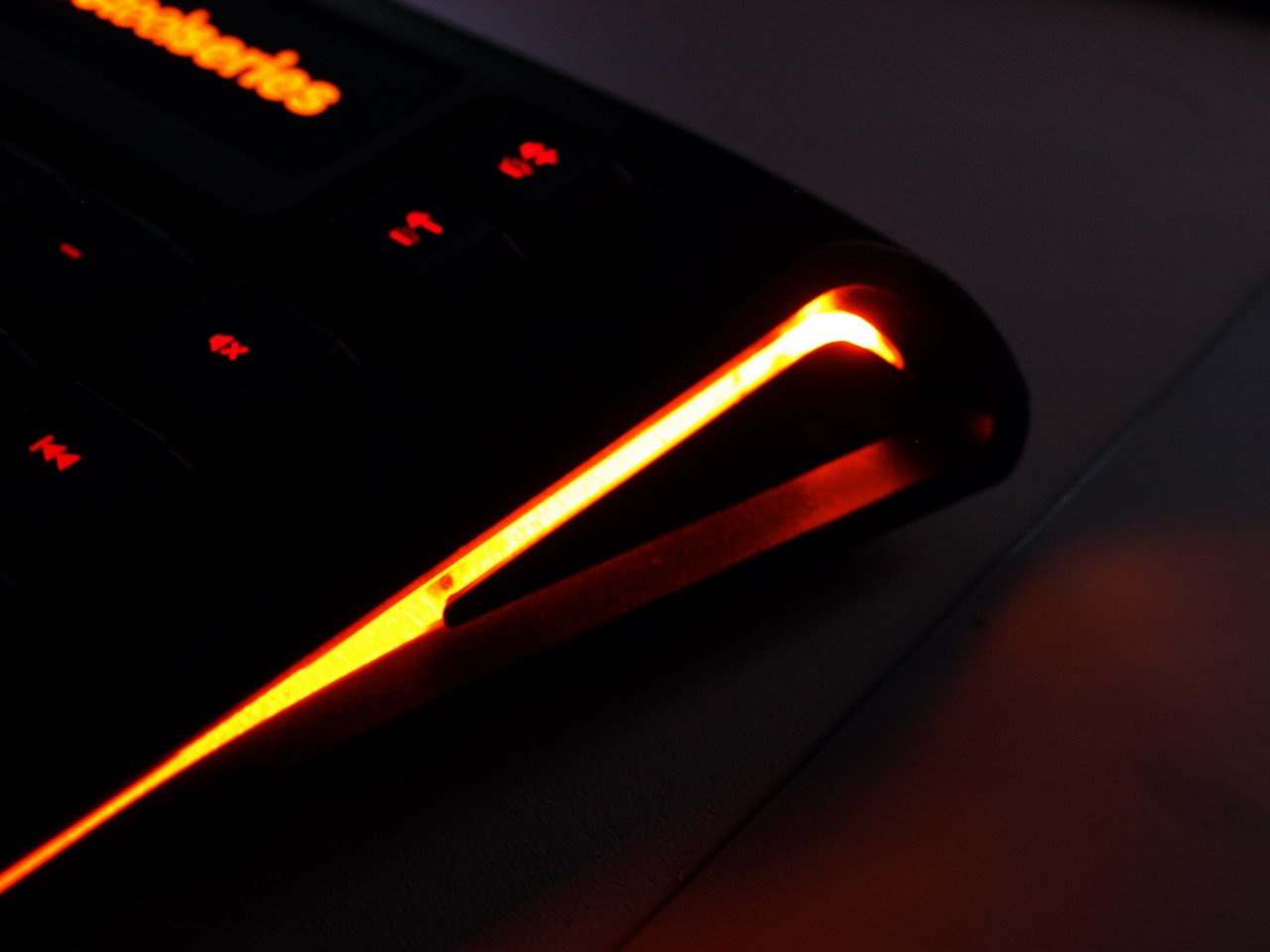 Basic Information
Basic Information of Product
Product Status/Sales Type
New
Product No.
621825
Weight (KG)
1.5 kg
Country of Origin
N/A
Shipping Method
Courier Service
GST Applicable
SR 6%
After Sale Service
Brand
None
Already purchased this product? Write your review here.
Read more

Read less
/300
(this will only be visible between you and seller)
All your Q&A posts are available in My Page > My Shopping Talk > My Q&A History.
Once seller replies, you will be notified by email.
Your posts may be removed and 11street reserves the right to suspend your account if inappropriate contents are found;

Any implication of direct trade / discounts with your contact number, email address, or any offline contact point.
Any indication of libel/defamation, inappropriate price comparison, unrelated ads, etc.
Seller's Information
Seller
Game Hypermart
Shipping from
Return/Exchange address
Notice on Return/exchange
We do not accept any return or exchange of goods unless product is defective.
If this do happen, all we ask is that the product is:
- not used
- in the same condition you received it
- in the original box and / or packaging (sealed packaging)

Procedures
Please request for return or exchange by emailing us at marketplace@gamehypermart.com within 48 hours after receiving your product. You have to include the following details in the email:
- Order no:
- Contact no:
- Product to return:
- Reason for return:

Once we receive your request for return, we shall contact you within 3 business days for further instructions.

Once your return product is received and inspected by us (usually within 72 hours of receipt), your refund will be processed and we will contact you to arrange the refund.
11Street Return/Exchange Policy
Cancellation

Request for cancellation if product has not been dispatched after payment completion.
Strictly no cancellation for E-voucher after purchased.

Return

Request for return within 7 calendar days following delivery date.
Check seller's approval on buyer's request.
Buyer sends product in question to buyer.
Seller receives and checks returned product.
Seller approves return and return is completed.
Strictly no return or refund for E-voucher.

Exchange

Request for exchange within 7 calendar days following receipt of delivery.
Check seller's approval on buyer's request.
Buyer sends product in question to seller.
Seller receives and checks returned product
Seller send new product to buyer, and buyer receives it, and exchange is completed.
No exchange for E-voucher purchased.
How to Request for Cancellation/Return/Exchange
You can request for cancellation after completing payment and if product has not been dispatched by then, cancellation request is approved and you can receive refund.
But, in case seller has already dispatched product, cancellation request can be rejected.
You can request for return after obtaining product, you should send the product in question to seller.
After seller checks if returned product is flawed, and approves your request, return is completed and payment is refunded.
You can request for exchange if wrong product is shipped, you should send the product in question to seller.
After seller checks if returned product is flawed, seller approves your request, and re-sends new product.
Criteria for Return/Exchange
You can request for return/exchange within 7 calendar days following delivery date. But return/exchange request cannot be made in following cases:
When request due to change of mind is made after 7 calendar days following delivery date
When product is used, destroyed or damaged
When tag attached to product is removed or package of product is opened and product value is damaged
When sealed package is opened or packaging materials are lost
When too much time has passed and product value has so decreased that its re-sale is not possible
When return/exchange request is made for customized product such as hand-made shoes or accessories
When components of product (including free gift) have been used or lost
When buyer did not follow instructions included in product
As e-voucher products are immediately sent to your e-mail, returns/exchanges are not available. Please take note of this before purchase, and input your e-mail address correctly.
As Mobile Top-up products are directly reloaded on your cell phone number, returns/exchanges are not available. Please take note of this before purchase, and enter your cell phone number correctly.


For any inconvenience regarding Cancellation/Return/Exchange, please contact Customer Service at 03-2720-0000 and we will do our best to help you.
Notice
Please note that, direct transaction with the seller without using 11street payment service can cause problems such as; not receiving the product, receiving different product etc.
For sales products and contents registered by the seller, 11street run by Celcom Planet has no responsibility on any of the registered contents.