Sony 5.1ch 3D Blu-ray Home Cinema System with Bluetooth 1200W BDV-N9200 (black)
Product details of Sony BDV-N9200W 9.1 Cinema Studio 3D Blu-Ray Disc home Theatre System

Whether you enjoy movies, or sports, or listening to song on a grand scale, this superb home solution by Sony is definitely worth your attention. This Blu-Ray Home Theater system by Sony will take you away from your living room. Its 9.1 channel will stream high definition audio from all angles, including from the top. It will also mute the commentators as you watch your favorites teams play, making you feels as though you're in the stadium yourself. The Sony BDV-N9200W is here to impress.
Sony audio
This Sony BDV-N9200W system will resonate high definition audio that will cater to your listening preference, taking your senses to greater levels. Compared to previous CD-quality, this superior solution provides subtle details that were once hidden away. Listen to greater detail and appreciate music in its purest form.
Your very own bubble
Audio makes things so much better, listen to explosions, the sound of cars passing by and bullets hissing through on the Sony BDV-N9200W's 9.1 channel surround sound system. Sony added a "front-high" sound effect where the speakers are elevated to provide sound from the top, encasing the listener from all angles.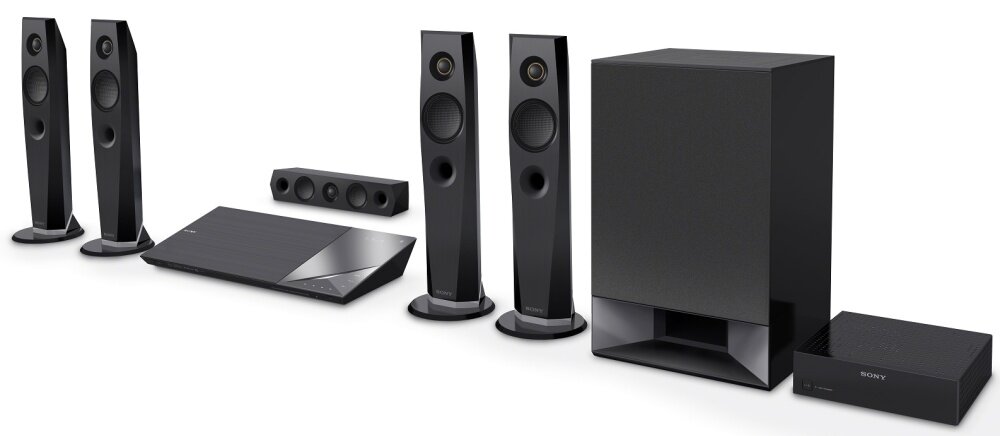 Listen to the crowd
When sports are on the screen, be apart of the crowd with the Sony BDV-N9200W system. It has a "Football Mode", that will improve your viewing experience, encasing viewers with a wall of sound. Thanks to the data captured within the Brazillian Morumbi stadium, you'll feel as though you're apart of the crowd. Turn off the commentary too, and simply listen to the crowd cheer on you favourite teams.
Plenty of connectivity options
Sony BDV-N9200W also comes with NFC capabilities, simply tap a compatible device to this Home Theater player and users are able to stream and vide content from their smartphone on the fly. Let it be videos, photos, apps or games, enjoy superb quality on your TV screen instead. Furthermore, it also allow audio files to be streamed via Bluetooth.
Install the free app
Load your smartphone with the free Sony SongPal app, and enjoy the music streamed through the Blu-Ray Home Theatre System speakers instead of your device. Whatever your preference in connectivity may be, NFC, Bluetooth or Wi-Fi, songs from your favourite artists can be streamed directly via such as Spotify too.
Basic Information
Basic Information of Product
Product Status/Sales Type
New
Product No.
63370326
Weight (KG)
25 kg
Country of Origin
N/A
Shipping Method
Courier Service
GST Applicable
SR 6%
After Sale Service
Anything regarding on Warranty claims and product information,

we would prefer you can contact us via whatsapps or wechat,

at 0143018895 or

Email us on homeaudioonline@gmail.com

(we might not answer call because mainly doing packaging, so anything we will refer back with whatsapp or wechat)

or Find us in facebook page

https://www.facebook.com/homeaudioonline/
Brand
Sony
Already purchased this product? Write your review here.
Read more

Read less
/300
(this will only be visible between you and seller)
All your Q&A posts are available in My Page > My Shopping Talk > My Q&A History.
Once seller replies, you will be notified by email.
Your posts may be removed and 11street reserves the right to suspend your account if inappropriate contents are found;

Any implication of direct trade / discounts with your contact number, email address, or any offline contact point.
Any indication of libel/defamation, inappropriate price comparison, unrelated ads, etc.
Seller's Information
Seller
Home Audio Online
Shipping from
Return/Exchange address
Notice on Return/exchange
As in for return policy for good/goods being purchase with us, we do not accept item which return back as the box condition have been opened or used. Please bare in mind that if when you receive the parcel, if the condition of the parcel does not met your requirement, please reject the receive.

However you may return the item under this few condition:-
1. Product is Damaged during delivery
2. Defective Product
3. Wrong Item

We will act accordingly on the reason of the return as in 3 to 5 working days depends on customer manage to provide full detail of the information such as:-
1. Picture of damage (front, back , and side picture)
2. Serial number of the product
3. Order Number from 11street

And then please either send the information towards to our email: homeaudioonline@gmail.com or
to our whatsapp phone number : 0143018895


We are very strictly reject on item which purchase wrongly by customer, please do understand our situation.

Therefore, Happy buying and give us comment on our product as we will keep improving our online service.
11Street Return/Exchange Policy
Cancellation

Request for cancellation if product has not been dispatched after payment completion.
Strictly no cancellation for E-voucher after purchased.

Return

Request for return within 7 calendar days following delivery date.
Check seller's approval on buyer's request.
Buyer sends product in question to buyer.
Seller receives and checks returned product.
Seller approves return and return is completed.
Strictly no return or refund for E-voucher.

Exchange

Request for exchange within 7 calendar days following receipt of delivery.
Check seller's approval on buyer's request.
Buyer sends product in question to seller.
Seller receives and checks returned product
Seller send new product to buyer, and buyer receives it, and exchange is completed.
No exchange for E-voucher purchased.
How to Request for Cancellation/Return/Exchange
You can request for cancellation after completing payment and if product has not been dispatched by then, cancellation request is approved and you can receive refund.
But, in case seller has already dispatched product, cancellation request can be rejected.
You can request for return after obtaining product, you should send the product in question to seller.
After seller checks if returned product is flawed, and approves your request, return is completed and payment is refunded.
You can request for exchange if wrong product is shipped, you should send the product in question to seller.
After seller checks if returned product is flawed, seller approves your request, and re-sends new product.
Criteria for Return/Exchange
You can request for return/exchange within 7 calendar days following delivery date. But return/exchange request cannot be made in following cases:
When request due to change of mind is made after 7 calendar days following delivery date
When product is used, destroyed or damaged
When tag attached to product is removed or package of product is opened and product value is damaged
When sealed package is opened or packaging materials are lost
When too much time has passed and product value has so decreased that its re-sale is not possible
When return/exchange request is made for customized product such as hand-made shoes or accessories
When components of product (including free gift) have been used or lost
When buyer did not follow instructions included in product
As e-voucher products are immediately sent to your e-mail, returns/exchanges are not available. Please take note of this before purchase, and input your e-mail address correctly.
As Mobile Top-up products are directly reloaded on your cell phone number, returns/exchanges are not available. Please take note of this before purchase, and enter your cell phone number correctly.


For any inconvenience regarding Cancellation/Return/Exchange, please contact Customer Service at 03-2720-0000 and we will do our best to help you.
Notice
Please note that, direct transaction with the seller without using 11street payment service can cause problems such as; not receiving the product, receiving different product etc.
For sales products and contents registered by the seller, 11street run by Celcom Planet has no responsibility on any of the registered contents.