Simplicite Great Outdoors Sunscreen (125ml)
Skin care results from plants.
Simplicite Great Outdoors Sunscreen (125ml)

SPF15 - Moisturising Protection for Face & Body
Beneficial for: All Skin Types and Ages
Effective sunscreening plus moisturising benefits.
Light, non-greasy - will not congest the pores.

Beneficial

for Acne Breakouts, Anti-Ageing, Combination/Dry (has/had oiliness), Dry Skin (Body), Hyper-Pigmentation.

Moisturising

sun protection for both face and body.

Highly effective & absolutely beautiful to use.

Also ideal for babies and children.

A

synergistic, powerful combination of 17 freshly extracted, medicinal grade plant extracts.

The

only sunscreen that contains important skin nutrients to aid in the prevention of sun damage.

"Buffered"

' formula won't cause hyper-pigmentation and sensitivity as so many other sunscreens do.

Water

resistant, broad spectrum protection.

SPF30 is NOT double the protection of SPF15
Contains 17 concentrated 'medicinal grade' plant, flower and herb extracts 'buffer' the three TGA-approved sunscreening ingredients.
Sunscreen and SPF Facts
• SPF 30 is NOT double the protection of SPF 15 Neither is SPF 50 three times the protection of SPF 15.
• SPF 30, for example, gives only 4% more protection than an SPF 15 – 97% compared to 94%.
• This equates to an extra 7 minutes – but with a significant increase in the chemicals in the product.
• Every sunscreen, no matter what the SPF rating, MUST be reapplied every TWO hours when necessary.
Does not contain PABA, mineral oil - or nano particles.

How to use:
• At least 15 minutes before going in the sun apply liberally to exposed areas.
• Apply again after swimming.
• Absolutely perfect to apply to infants and children.


Ingredients: Pure Water, Octyl Methoxycinnamate(organic compound UVB absorber), Isopropyl Myristate, Glycerin Benzophenone-3 (organic UVA & UVB absorber), Glyceryl stearate (sustainable palm source) Oxybenzone, freshly extracted organic Aloe Vera juice* (not the lifeless dried powder from China), Potassium, cetyl phosphate, Eicosene copolymer (water resistant) Cetostearyl alcohol (white of coconut source) fresh, medicinal-grade herbal extract of Calendula Flowers*, Chickweed* Marshmallow*, Extracts of Australian bushflowers (Southern Cross*, Wattle* Paw Paw* Kapok bush*, Banksia*, Mulla mulla*), Calendula infused oil* Sesame oil*, Avocado oil* Jojoba oil*, Radish root ferment filtrate Avobenzone (UVA absorber) essential oils of (Rose Geranium, Chamomile, Lemongrass), Sambucus nigra fruit ext D-Panthenol Gluconolactone (found naturally in fruit and honey), Carbopol thickener Dimethicone Sodium hydroxide (used in ramennoodles) and made from sea salt. *denotes certified organic or wild grown.
Testimonial
Refer below picture for sunscreen test where everyone should see (as shared by Robyn Rumbold).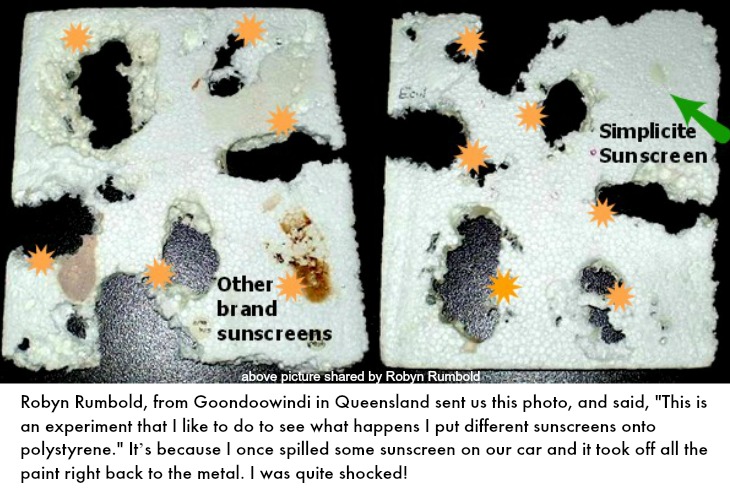 Robyn Rumbold, from Goondoowindi in Queensland sent us this photo, and said,"This is an experiment that I like to do to see what happens I put different sunscreens onto polystyrene. It's because I once spilled some sunscreen on our car and it took off all the paint right back to the metal. I was quite shocked!
Anyway, the big hole in the top left hand corner is a Cancer Council approved sunscreen that they were slathering on all the small children at the local kindergarten. Needless to say, I told them to not ever put it on my little girl, nor the harsh detergent that they were making the poor little darlings wash their hands with several times a day. (My daughter's hands were red raw at the end of the day from doing this.)
Your Simplicité Great Outdoor Sunscreen
is in the top right hand corner. As you can see this is excellent, it hasn't even made the slightest indentation at all. So I'll be using your product on my daughter and will also be telling my friends about your products – both for them and their children too.
I'm not sure what all this really means other than there must be harsh ingredients in these products and it makes sense to me that they shouldn't be used on our skin. I thought I would share this with you so you could get people thinking about what they are using on their skin.
PS – I love all your products, it's a real treat using them everyday and they smell divine.
Basic Information
Basic Information of Product
Product Status/Sales Type
New
Product No.
1352848
Weight (KG)
0.4 kg
Country of Origin
N/A
Shipping Method
Courier Service
GST Applicable
Not Applicable (Non-GST seller)
After Sale Service
Brand
Simplicite
Already purchased this product? Write your review here.
Read more

Read less
/300
(this will only be visible between you and seller)
All your Q&A posts are available in My Page > My Shopping Talk > My Q&A History.
Once seller replies, you will be notified by email.
Your posts may be removed and 11street reserves the right to suspend your account if inappropriate contents are found;

Any implication of direct trade / discounts with your contact number, email address, or any offline contact point.
Any indication of libel/defamation, inappropriate price comparison, unrelated ads, etc.
Seller's Information
Seller
Organic Oasis
Shipping from
Return/Exchange address
Notice on Return/exchange
Return Policy

Goods sold are not returnable except manufacturer's defects.
11Street Return/Exchange Policy
Cancellation

Request for cancellation if product has not been dispatched after payment completion.
Strictly no cancellation for E-voucher after purchased.

Return

Request for return within 7 calendar days following delivery date.
Check seller's approval on buyer's request.
Buyer sends product in question to buyer.
Seller receives and checks returned product.
Seller approves return and return is completed.
Strictly no return or refund for E-voucher.

Exchange

Request for exchange within 7 calendar days following receipt of delivery.
Check seller's approval on buyer's request.
Buyer sends product in question to seller.
Seller receives and checks returned product
Seller send new product to buyer, and buyer receives it, and exchange is completed.
No exchange for E-voucher purchased.
How to Request for Cancellation/Return/Exchange
You can request for cancellation after completing payment and if product has not been dispatched by then, cancellation request is approved and you can receive refund.
But, in case seller has already dispatched product, cancellation request can be rejected.
You can request for return after obtaining product, you should send the product in question to seller.
After seller checks if returned product is flawed, and approves your request, return is completed and payment is refunded.
You can request for exchange if wrong product is shipped, you should send the product in question to seller.
After seller checks if returned product is flawed, seller approves your request, and re-sends new product.
Criteria for Return/Exchange
You can request for return/exchange within 7 calendar days following delivery date. But return/exchange request cannot be made in following cases:
When request due to change of mind is made after 7 calendar days following delivery date
When product is used, destroyed or damaged
When tag attached to product is removed or package of product is opened and product value is damaged
When sealed package is opened or packaging materials are lost
When too much time has passed and product value has so decreased that its re-sale is not possible
When return/exchange request is made for customized product such as hand-made shoes or accessories
When components of product (including free gift) have been used or lost
When buyer did not follow instructions included in product
As e-voucher products are immediately sent to your e-mail, returns/exchanges are not available. Please take note of this before purchase, and input your e-mail address correctly.
As Mobile Top-up products are directly reloaded on your cell phone number, returns/exchanges are not available. Please take note of this before purchase, and enter your cell phone number correctly.


For any inconvenience regarding Cancellation/Return/Exchange, please contact Customer Service at 03-2720-0000 and we will do our best to help you.
Notice
Please note that, direct transaction with the seller without using 11street payment service can cause problems such as; not receiving the product, receiving different product etc.
For sales products and contents registered by the seller, 11street run by Celcom Planet has no responsibility on any of the registered contents.