Samsung Mono Laser Printer - ML-5010ND
Toner Cartridge Offer:
Description
A4 size

Up to 1,200 x 1,200dpi effective output

48ppm

built in 256MB (Max 768MB)

High speed USB 2.0

Network & Duplex ready

ECO button

Monthly duty cycles: Up to 200,000 pages
Free your day with a reliable printing
Set your workday free from time-consuming and stress-causing printer blocks with Samsung's anti-jam technology. Utilising a retard roller, which provides a backward friction during the paper pickup process, your operation will see increases in productivity and even bigger reductions in work frustration. Common problems that often add to stress-levels, such as miss-feeding and multiple paper feeding from the cassette tray, will become things of the past. An impressive high monthly duty is one of the clear-cut and measurable benefits found with anti-jam technology, and will add to a more streamlined and reliable workflow. So, with Samsung anti-jam technology your printing operation can finally be hassle-free, efficient and reliable.
Streamline work with easy-to-use printers
Settle for nothing less than brilliant printing solutions that are trouble-free. The simple OP panel, which features a new compass dial, a 4-line LCD display and a numeric keypad, provides a simple and easy way to take full control of your printing operation. Featuring a new one-touch convenience eco button, which is easily found on the front panel and acts as a default setting once turned on, you can now combine two pages into one document. This helps you cut-back on costs by reducing paper and toner use, and therefore also lessens your impact on the environment. The OP panel also simplifies your workflow, with fewer buttons and unnecessary options to worry about. You can really produce amazing results in no time at all.
A top printer that's low on noise
From a company that knows its business, the new Samsung ML-5010ND printer can work flat out at a mere 54 decibels, an office-friendly volume you won't be hearing our competitors shout about. With a standby volume of 30dBA, it signals an end to colleagues having to scream to be heard, even before their printing has begun. Doors can stay open along corridors as the ML-5010ND outperforms the other leading printers copy after copy.
Being eco-friendly just got easier
Make hitting your environmental goals a whole lot easier with Samsung's new Eco Mode, which also includes a Results Simulator to check how well you are doing. The Eco Mode features a one touch Eco Button, which conveniently serves as your default setting once activated, and reduces paper consumption with Duplex printing, 2-up printing and a Toner Save setting. Thanks to the Results Simulator, you can really appreciate how much good work you are doing. The simulation shows levels of carbon dioxide emissions, electricity and paper usage. The Eco Mode is an easy and effective way of keeping track of your printer consumption – which is better for you and the planet!
Low cost per page, saving you money.-selected
Whether your office is big or small, the Samsung ML-5010ND printer will continue to deliver the best copy at a budget price. Save on money due to the separated toner and drum. Also, utilising a polymerised toner, the Samsung ML-5010ND printer lowers power consumption; its thin and uniform toner layer wastes less toner while operating with a lower fusing temperature and thus requires less power. So, the Samsung ML-5010ND printer delivers the perfect combination of professional printing that also saves you money, which is very business smart.
Get more from every page with Duplex printing
Double your print output. Or, halve your paper costs. Either way you look at it; there is no denying that Duplex printing is an essential feature for both business and personal printing. It provides loads of cool and creative ways to fulfill print jobs, from single-sided formats to double-sided booklet formats, and really delivers a professional look and feel every time. The double-sided printing capabilities will also massively reduce costs and ensure that your paper supplies last longer. This then helps reduce waste, and minimises your impact on the environment. So, it is definitely a win-win situation with Duplex printing.
Work better with Fast Speed printing performance
Print documents (small or large) quickly thanks to Samsung's Fast Speed printing. Perfect for getting important work documents printed with high quality and zero fuss, the faster printing speeds will also help boost office productivity and enhance workflows. It features a fast 'First Page Out Time' of 7 seconds from Ready, which is the fastest print speed amongst competing printers. A reliable and superior printer like this will quickly become a must-have business tool - you'll wonder how your business ever functioned without one.
Meet work demands easily with heavier media handling
From everyday documents to important presentations, you always need to give your printing the handling it deserves. If you want to impress with not only high-quality results but also with the professional manner in which you complete the task, then your printer will need heavy media handling. When you combine the Main Tray (supports 163sm), and the Multi-purpose Tray(supports 220gsm*), your printing operation will easily handle even the heaviest of jobs. From specialty paper and thick stock to envelopes, which no longer requires its own special feeder and now feeds through the Main Tray…your printing will be trouble-free, cost-effective and a pure breeze. *Grams per square metre.
Cut out print queues and increase productivity
Boost your print setup with a powerful 1 Gigabit network LAN connection. The enhanced connectivity will ensure that even the larger printing jobs from multiple users can be completed with amazing speed and without any compromise in quality. When combined with the 600MHz Dual-core processor, the result is simply brilliant. During the busiest of times when important work documents, like big presentations, need to be looking perfect and ready on cue, the 1 Gigabit network will keep everyone happy. So, now a truly professional operation is easily achieved and just waiting to show off its full capabilities.
Run a professional operation with a full range of options
With a full range of options for high volume printing, your Samsung printer is ready to make very light work of heavier jobs. Utilising a massive input capacity of 2,700 sheets of paper, four additional loading trays for extra support, preparing for those bigger print-runs is all too easy. And thanks to a finisher and 4 bin mailbox option, you can be sure that your work will be delivered safely and looking utterly professional. So, if printing is an important part of your job, then trust Samsung's full range of print options to get it done right.
Take control of office documents with Secure Printing
Important documents can easily end up in the wrong hands, especially when work printers are shared among many users. With Secure Printing you can now keep your documents safe from prying eyes using a pin code, which prevents your documents from being printed until it has been entered. Once you have sent the job to the printer, you simply go to the printer, scroll down the user interface to find your particular file, and then authorise the print by entering in the pin code. This is a simple and effective way of keeping tight control over the circulation of important documents, while also minimising unnecessary printing.

Barcode printing
Keep track of operations with Samsung Barcode Solutions. From stock levels and product movements to membership cards and filing systems, you will increase productivity and reduce costly errors.

CounThru™ 2 Pro/Enterprise
Get printer status without leaving your seat. Receive low toner level warnings, system error notifications and even usage and customer billing summaries with Samsung's proprietary CounThru™ 2 Pro/Enterprise interface.

SyncThru™ Admin 5
Who says you can't do it all? SyncThru™ Admin 5 lets you easily install, manage and monitor all your networked digital print devices on an accessible interface. You also have the ability to analyze data in greater detail with easy-to-read reports.

SyncThru™ Web Service
Tired of having to install software just to manage your printer? Now you can change printer settings, upgrade firmware and check your printer's status easily with just a web browser and the innovative SyncThru™ Web Service.

Easy Print Manager
Run a smooth print operation with Samsung's Easy Print Manager. Every detail, from toner levels and job accounting to device settings and online ordering, is channeled into one easy-to-use programme.

Universal Print Driver
Save time and money with Samsung's Universal Print Driver. One print driver, which handles all of your Samsung printers, eliminates unnecessary installations and integrates your print operation.
TECH SPECS
Overview

Print

Paper Handling

General Feature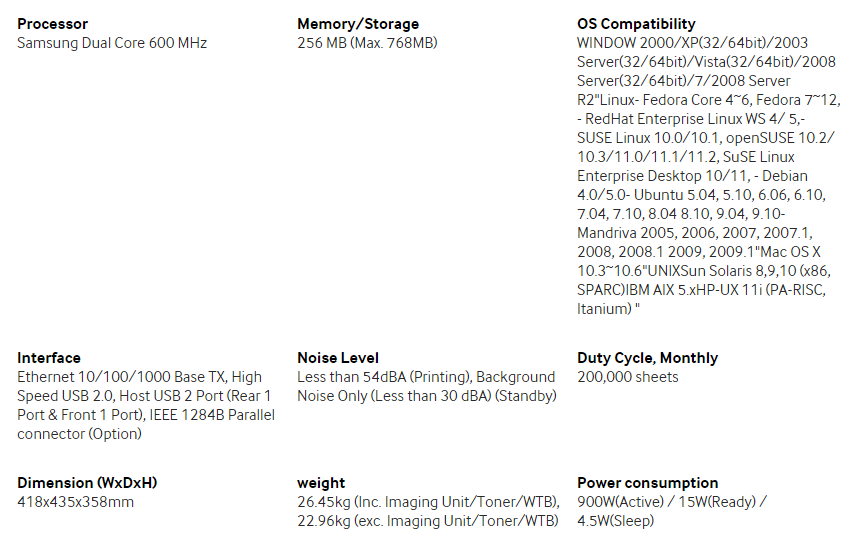 Consumables
Option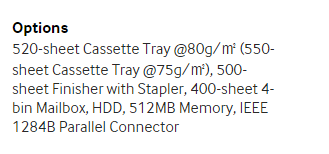 Basic Information
Basic Information of Product
Product Status/Sales Type
New
Product No.
358142
Weight (KG)
26.45 kg
Country of Origin
N/A
Shipping Method
Courier Service
GST Applicable
SR 6%
After Sale Service
NOTE : invoice / DO given by registered Samsung dealer is the prove of warranty, it will be email to customer by dealer within 24hrs after payment done.

Claim Warranty / something wrong with the printer or toner :
You may call Samsung Free Toll Customer Service Center ( 1800 88 9999 / 1800 88 3399 )
Or you may contact me ( Jovita, 017-4298316 ) to request a technician service
Brand
Samsung
Already purchased this product? Write your review here.
Read more

Read less
/300
(this will only be visible between you and seller)
All your Q&A posts are available in My Page > My Shopping Talk > My Q&A History.
Once seller replies, you will be notified by email.
Your posts may be removed and 11street reserves the right to suspend your account if inappropriate contents are found;

Any implication of direct trade / discounts with your contact number, email address, or any offline contact point.
Any indication of libel/defamation, inappropriate price comparison, unrelated ads, etc.
Seller's Information
Seller
PrinterandToner
Shipping from
Return/Exchange address
Notice on Return/exchange
Replace Policy ( 1-To-1 Warranty)

Scenario: Toner leakage, Printer unable to detect toner cartridge, Faulty, Damaged, Printing quality issues

Conditions:
Within three 365 days or 1 year from the purchase date
Provided the proof of purchase (order number, delivery note)
Returned in the ORIGINAL packaging
Toner weight must not be less than 50% from original condition
Please attached 3 printout copies ( from supplies info modules in the printer ) if there is printing quality issues.

Solutions:
Replace with same model of product, both way delivery cost covered. Or you can replace at the manufacture service center near by your place.


Return Policy:

Customer is RESPONSIBLE for return it to the authorized brand service center.
We will not ship replacement merchandise until receipt of damaged or defective item.
One for one replacement for the ones you have already used and are at least 50% full in toner weight.
Defective products that you have already used and are less than 50% full in toner weight; you will be charged 50% of original purchase price for one for one replacement.
All defective or damaged returns are subject to verification by our technical staff.
We recommend a shipping method that is traceable so that your shipment will not be lost in the mail.
Failure to return a product within the return period will be deemed to be an acceptance of the product.


Refund Policy:

Not refundable when goods is shipped out.
11Street Return/Exchange Policy
Cancellation

Request for cancellation if product has not been dispatched after payment completion.
Strictly no cancellation for E-voucher after purchased.

Return

Request for return within 7 calendar days following delivery date.
Check seller's approval on buyer's request.
Buyer sends product in question to buyer.
Seller receives and checks returned product.
Seller approves return and return is completed.
Strictly no return or refund for E-voucher.

Exchange

Request for exchange within 7 calendar days following receipt of delivery.
Check seller's approval on buyer's request.
Buyer sends product in question to seller.
Seller receives and checks returned product
Seller send new product to buyer, and buyer receives it, and exchange is completed.
No exchange for E-voucher purchased.
How to Request for Cancellation/Return/Exchange
You can request for cancellation after completing payment and if product has not been dispatched by then, cancellation request is approved and you can receive refund.
But, in case seller has already dispatched product, cancellation request can be rejected.
You can request for return after obtaining product, you should send the product in question to seller.
After seller checks if returned product is flawed, and approves your request, return is completed and payment is refunded.
You can request for exchange if wrong product is shipped, you should send the product in question to seller.
After seller checks if returned product is flawed, seller approves your request, and re-sends new product.
Criteria for Return/Exchange
You can request for return/exchange within 7 calendar days following delivery date. But return/exchange request cannot be made in following cases:
When request due to change of mind is made after 7 calendar days following delivery date
When product is used, destroyed or damaged
When tag attached to product is removed or package of product is opened and product value is damaged
When sealed package is opened or packaging materials are lost
When too much time has passed and product value has so decreased that its re-sale is not possible
When return/exchange request is made for customized product such as hand-made shoes or accessories
When components of product (including free gift) have been used or lost
When buyer did not follow instructions included in product
As e-voucher products are immediately sent to your e-mail, returns/exchanges are not available. Please take note of this before purchase, and input your e-mail address correctly.
As Mobile Top-up products are directly reloaded on your cell phone number, returns/exchanges are not available. Please take note of this before purchase, and enter your cell phone number correctly.


For any inconvenience regarding Cancellation/Return/Exchange, please contact Customer Service at 03-2720-0000 and we will do our best to help you.
Notice
Please note that, direct transaction with the seller without using 11street payment service can cause problems such as; not receiving the product, receiving different product etc.
For sales products and contents registered by the seller, 11street run by Celcom Planet has no responsibility on any of the registered contents.