CounThru™ 2.5 Pro / Enterprise
Save your organisation time with our superior CounThruTM 2.5 Pro / Enterprise interface. This feature means there is no need for business users to leave their desk. The printer delivers status reports, low toner warnings, error notifications, and even usage and customer billing summaries to your desktop.
SyncThru™ Web Service
Our innovative SyncThru™ Web Service saves you the time and hassle of having to install and manage extra software. It allows you to change printer settings, upgrade firmware and check your printer's status quickly and easily.

Easy Print Manager
Run a smooth print operation with Samsung's Easy Print Manager. Every detail, from toner levels and job accounting to device settings and online ordering, is channeled into one easy-to-use programme.
Barcode Printing
Keep track of operations with Samsung Barcode Solutions. From stock levels and product movements to membership cards and filing systems, you will increase productivity and reduce costly errors.
SyncThru™ Admin 6
SyncThruTM Admin 6's accessible interface allows businesses to install, manage and monitor all networked digital printers easily from a convenient central location, saving valuable time for your organisation. Our easy-to-read reports enable business users to analyse data in more detail.
Universal Print Driver
Save time and money with Samsung's Universal Print Driver. One print driver, which handles all of your Samsung printers, eliminates unnecessary installations and integrates your print operation.
Overview

Print

Paper Handling

General Feature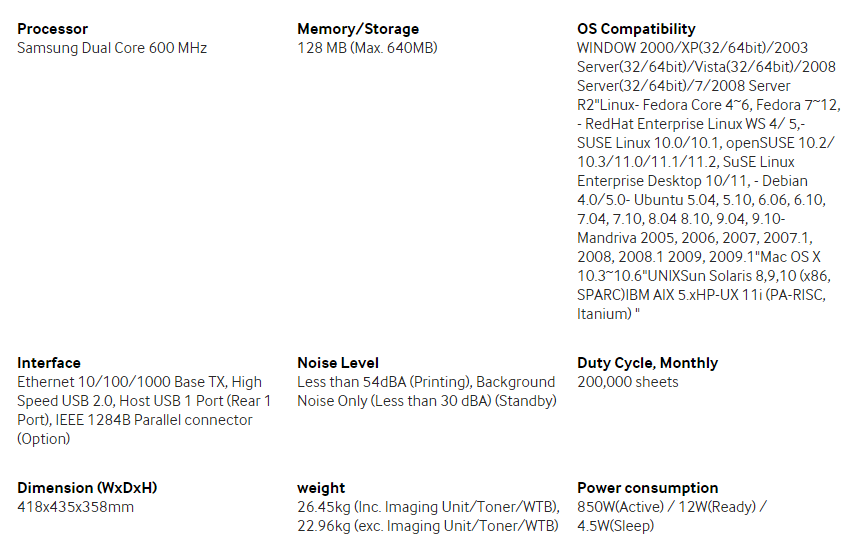 Consumables

Option