Samsung Mono Laser MFP - SL-M3870FD
Description
4-in-1 (Print, Scan, Copy, Fax)
A4 size
Up to 1,200 x 1,200dpi effective output
38ppm
built in 256MB (Max 512MB)
Fax 6MB
High speed USB 2.0
Duplex & Network Ready
Direct USB Print
Fax ready
Secure Print
ECO Button
Monthly duty cycles: Up to 80,000 pages
(One year on-site warranty)
Consumable
FEATURES
Fast, professional-quality printers
High speed printing & image processing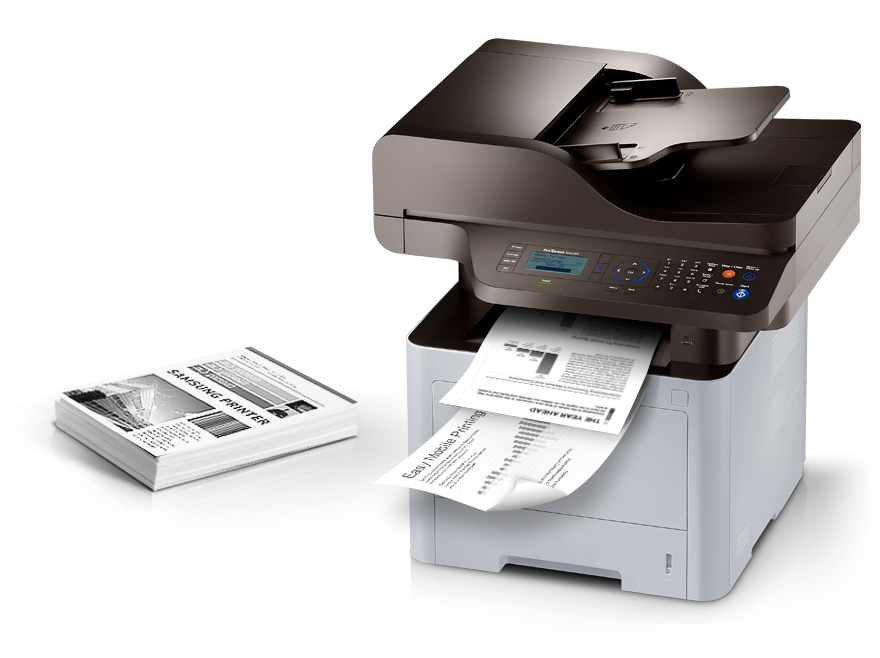 Robust ProXpress M4070 | 3870 series feature print speeds of up to 40ppm*, powered by a Cortex™-A5 core processor and up to 256MB of memory*. High speed and performance helps businesses to accelerate document and image processing to help promote for maximum efficiency. * 40ppm is available on M4070FR model only. 38ppm is available on M3870FW and M3870FD models only.
High quality print output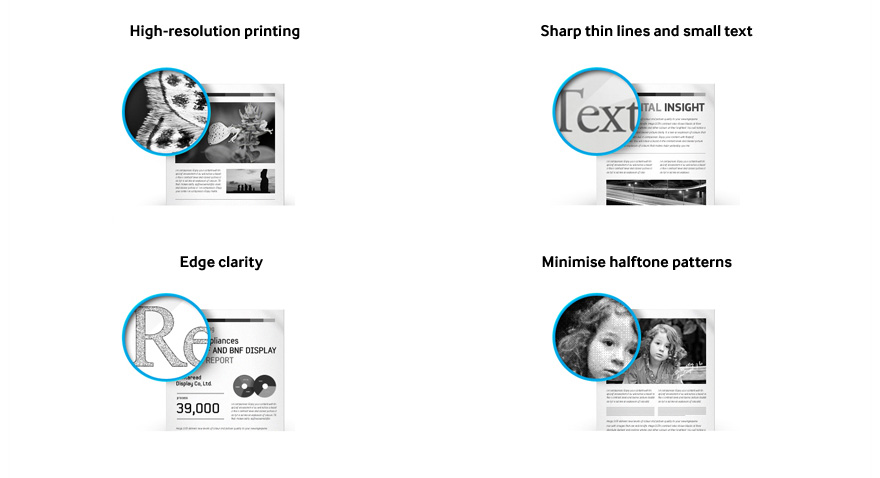 ReCP technology promotes readability of printed documents by sharpening thin lines and the edges of negative text. Small text is sharpened through edge resolution maximisation. The ProXpress M4070 | 3870 series is designed to deliver sharp, solid prints and scans with effective output print resolutions of up to 1200 x 1200dpi.
Additional printing choices for professional documents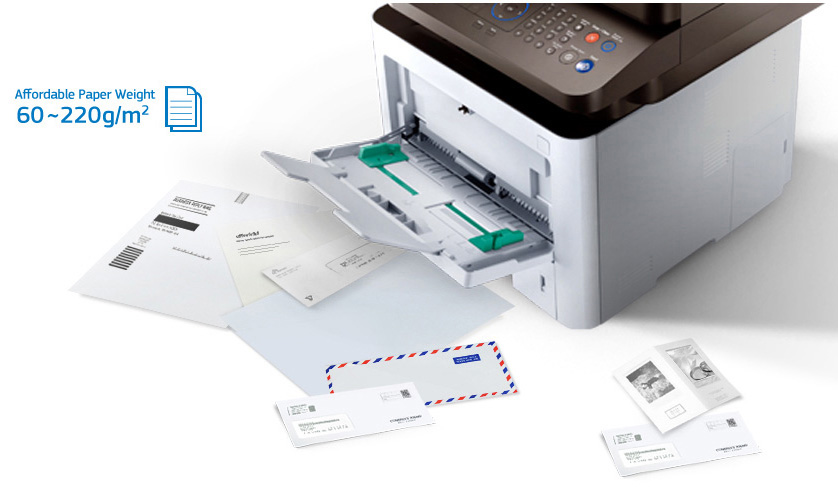 The printers' multipurpose tray supports media of up to 220 gsm (grams per square meter) in weight, which offers a number of printing choices for professional documents. Numerous labels, cards and envelopes can be printed using the multi-purpose tray with ease. This ability virtually eliminates the time it takes to feed sheets one at a time.
Central print usage control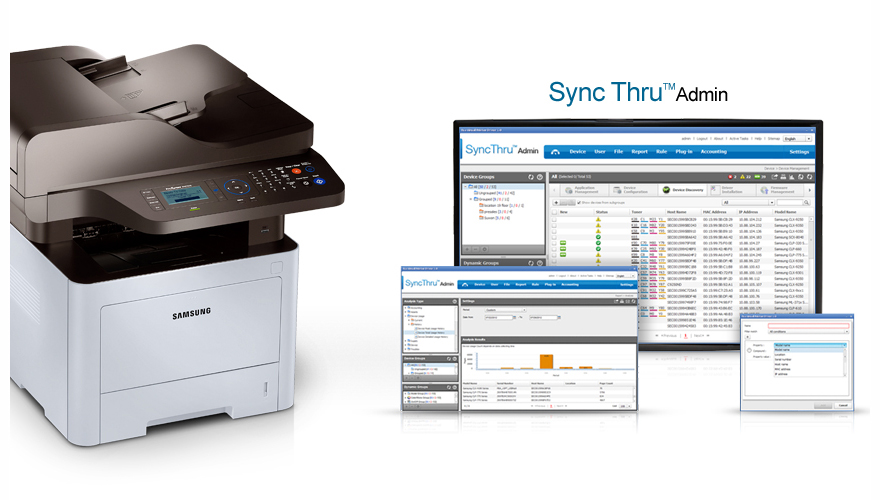 Central print usage control, activated through the SyncThru™ Admin job accounting feature, enables managers to assign users to specific printers. Users can also be assigned quotas for the number of pages or copies they can make per printer.
4-in1 Multifunction & built-in duplex printing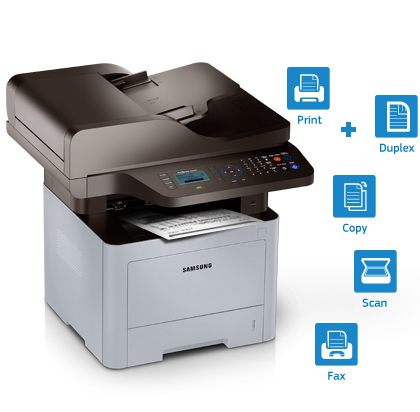 4-in-1 multifunctional (print, copy, scan and fax) capabilities and built-in duplex printing help provide the versatility and convenience that businesses need to stay competitive.
Laser toner cartridge options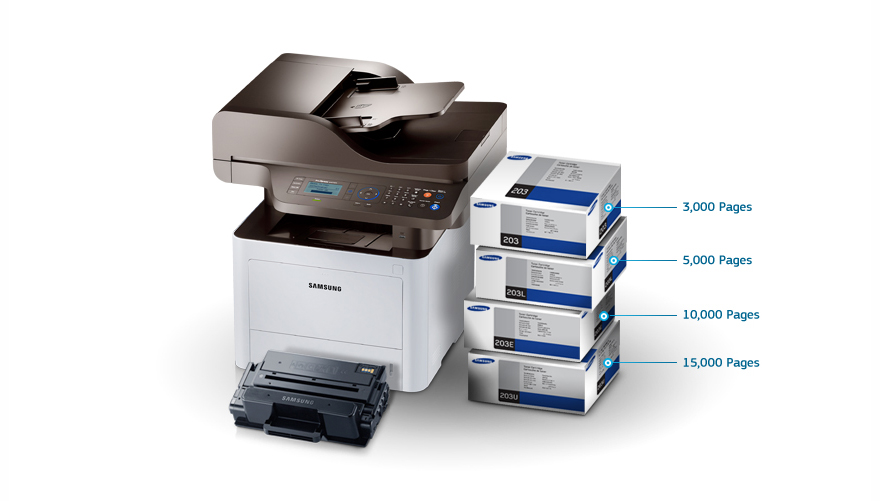 ProXpress M4025 | 3825 | 3325 series offers diverse toner cartridge options from standard-yield toner cartridges that typically yield 3,000 standard pages. A separated toner system features an imaging unit and toner cartridge that are sold as separate units, enabling either part to be replaced when necessary. This separated toner system is an ideal choice for businesses with low printing volumes.
Enterprise-level document security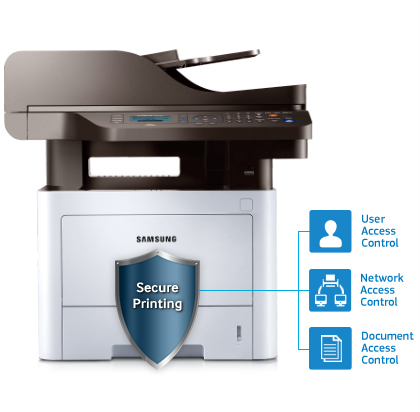 Businesses produce and print numerous official documents including confidential information, which requires high security on the printing jobs. ProXpress M4070 | 3870 series offer great control of user, document and network access with Samsung SyncThru™ Admin at the enterprise security level.
Easy Printer Manager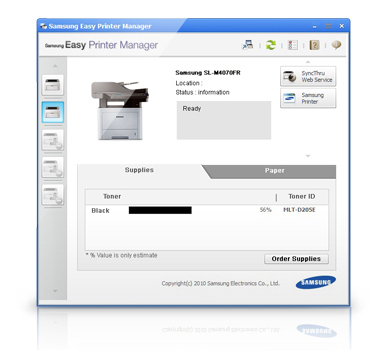 Easy Printer Manager helps companies remotely control settings and copy, scan and fax settings. Multiple devices can be monitored and managed using Easy Printer Manager. Businesses can also monitor printer status, such as error messages, including paper empty, toner empty and paper jam alerts.
Easy secure printing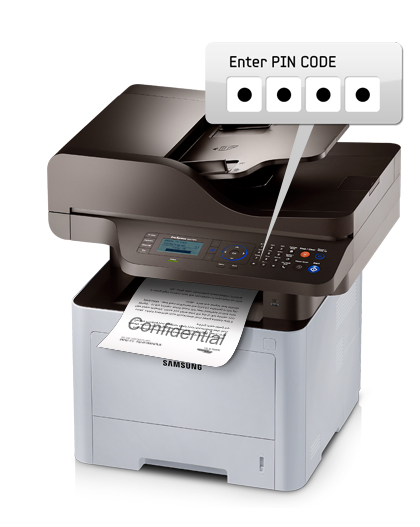 ProXpress M4070 | 3870 series features easy secure printing withbuilt-in numeric key pad, which is designed to help users to protect personal or confidential documents. When the feature is on, users are required to enter password in order to proceed the print job.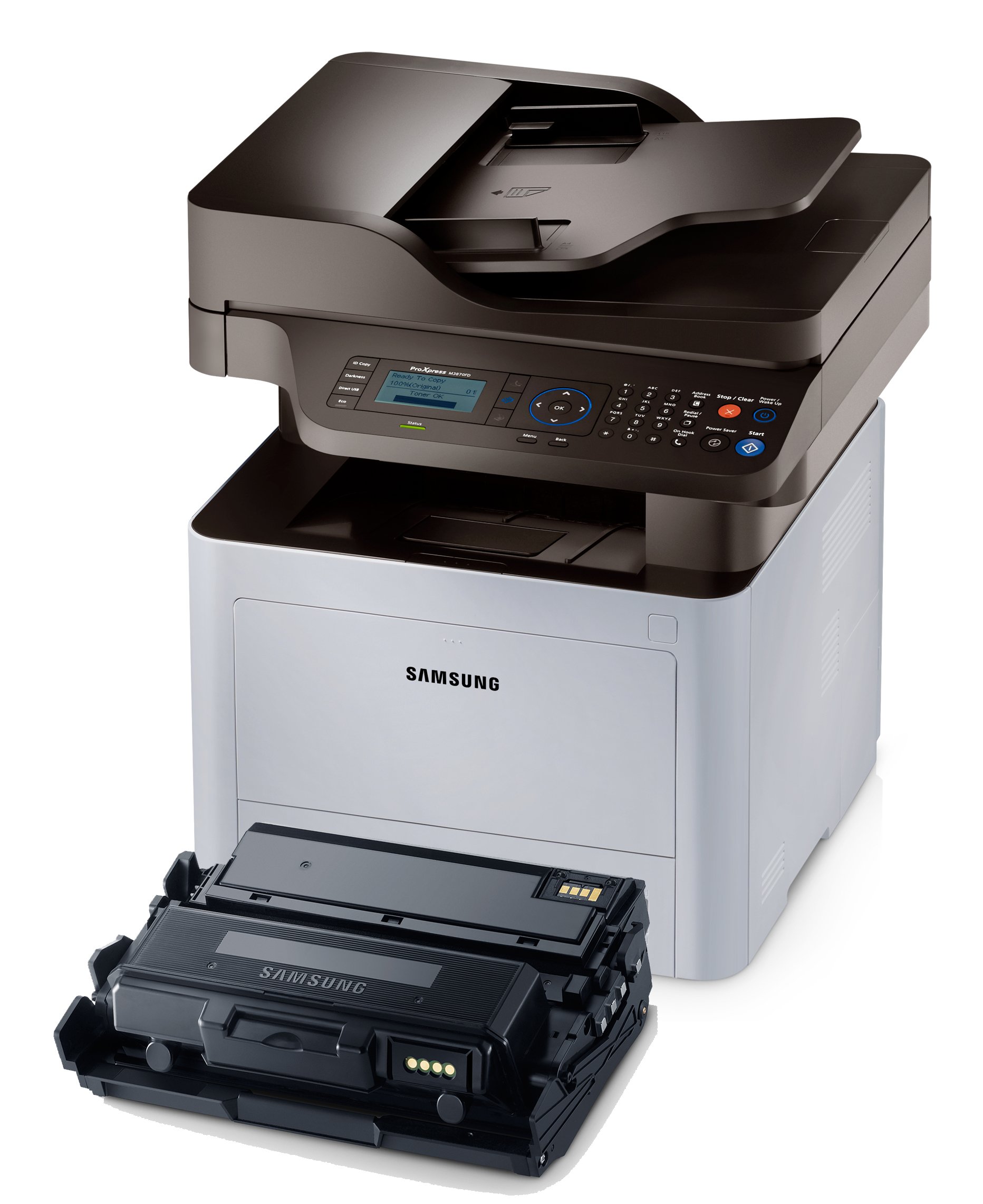 Convenient mobile printing optimised for various business environment
Samsung MobilePrint application helps employees wirelessly print from their compatible mobile devices. Users do not need to install a new driver or configure network settings. Office workers can simply download the MobilePrint application from the Google Play™ store for Android™ and the Apple Store for iOS. After downloading the application, the compatible mobile device should automatically detect nearby, compatible Samsung printers. The ProXpress M4070 | 3870 series can handle almost any type of file, including text documents, images and web pages. Users can also access printers from a Google account using the Google Cloud Print™.Emails, photos, PDF files and SNS messages, such as Facebook and Twitter posts, can be printed, faxed or shared.Google Cloud Print works on compatible smartphones, tablets, notebooks, PCs and other web-connected devices (each sold separately).
TECH SPECS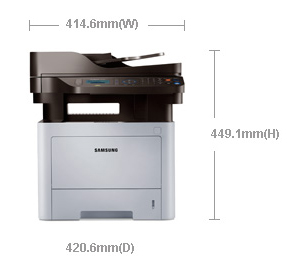 General---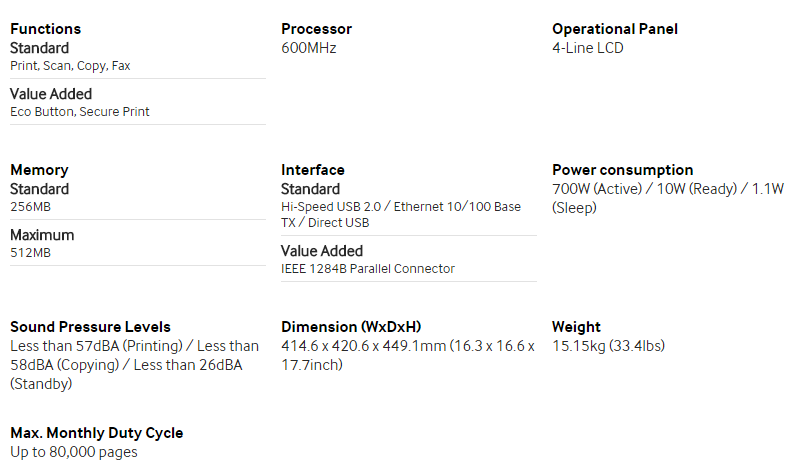 Print---

Copy---

Scan---

Fax---

Paper Handling---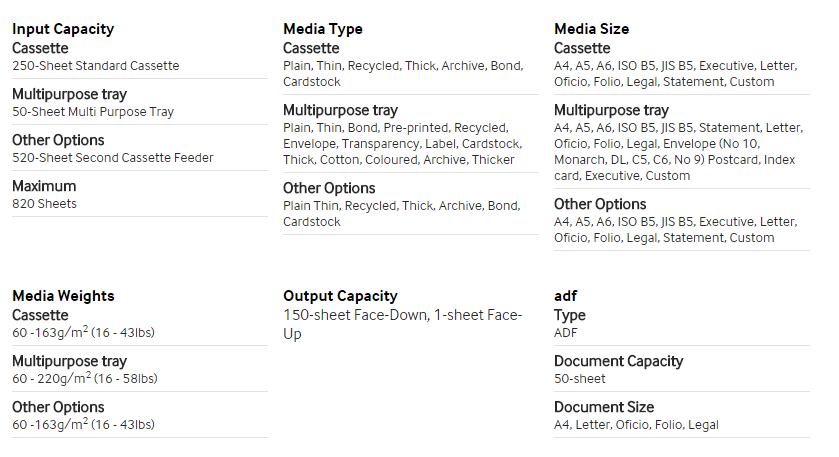 Consumables---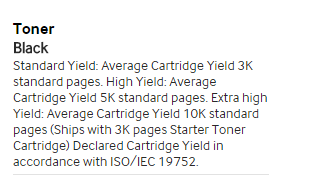 Options---

Solution---

Basic Information
Basic Information of Product
Product Status/Sales Type
New
Product No.
358152
Weight (KG)
15.2 kg
Country of Origin
N/A
Shipping Method
Courier Service
GST Applicable
SR 0%
After Sale Service
NOTE : invoice / DO given by registered Samsung dealer is the prove of warranty, it will be email to customer by dealer within 24hrs after payment done. ( please text your email to +6017-4298316 or put your email address in note when purchase )

Claim Warranty / something wrong with the printer or toner :
You may call Samsung Free Toll Customer Service Center ( 1800 88 9999 / 1800 88 3399 )
Or you may contact me ( Jovita, 017-4298316 ) to request a technician service
Brand
Samsung
Already purchased this product? Write your review here.
Read more

Read less
/300
(this will only be visible between you and seller)
All your Q&A posts are available in My Page > My Shopping Talk > My Q&A History.
Once seller replies, you will be notified by email.
Your posts may be removed and 11street reserves the right to suspend your account if inappropriate contents are found;

Any implication of direct trade / discounts with your contact number, email address, or any offline contact point.
Any indication of libel/defamation, inappropriate price comparison, unrelated ads, etc.
Seller's Information
Seller
PrinterandToner
Shipping from
Return/Exchange address
Notice on Return/exchange
Replace Policy ( 1-To-1 Warranty)

Scenario: Toner leakage, Printer unable to detect toner cartridge, Faulty, Damaged, Printing quality issues

Conditions:
Within three 365 days or 1 year from the purchase date
Provided the proof of purchase (order number, delivery note)
Returned in the ORIGINAL packaging
Toner weight must not be less than 50% from original condition
Please attached 3 printout copies ( from supplies info modules in the printer ) if there is printing quality issues.

Solutions:
Replace with same model of product, both way delivery cost covered. Or you can replace at the manufacture service center near by your place.


Return Policy:

Customer is RESPONSIBLE for return it to the authorized brand service center.
We will not ship replacement merchandise until receipt of damaged or defective item.
One for one replacement for the ones you have already used and are at least 50% full in toner weight.
Defective products that you have already used and are less than 50% full in toner weight; you will be charged 50% of original purchase price for one for one replacement.
All defective or damaged returns are subject to verification by our technical staff.
We recommend a shipping method that is traceable so that your shipment will not be lost in the mail.
Failure to return a product within the return period will be deemed to be an acceptance of the product.


Refund Policy:

Not refundable when goods is shipped out.
11Street Return/Exchange Policy
Cancellation

Request for cancellation if product has not been dispatched after payment completion.
Strictly no cancellation for E-voucher after purchased.

Return

Request for return within 7 calendar days following delivery date.
Check seller's approval on buyer's request.
Buyer sends product in question to buyer.
Seller receives and checks returned product.
Seller approves return and return is completed.
Strictly no return or refund for E-voucher.

Exchange

Request for exchange within 7 calendar days following receipt of delivery.
Check seller's approval on buyer's request.
Buyer sends product in question to seller.
Seller receives and checks returned product
Seller send new product to buyer, and buyer receives it, and exchange is completed.
No exchange for E-voucher purchased.
How to Request for Cancellation/Return/Exchange
You can request for cancellation after completing payment and if product has not been dispatched by then, cancellation request is approved and you can receive refund.
But, in case seller has already dispatched product, cancellation request can be rejected.
You can request for return after obtaining product, you should send the product in question to seller.
After seller checks if returned product is flawed, and approves your request, return is completed and payment is refunded.
You can request for exchange if wrong product is shipped, you should send the product in question to seller.
After seller checks if returned product is flawed, seller approves your request, and re-sends new product.
Criteria for Return/Exchange
You can request for return/exchange within 7 calendar days following delivery date. But return/exchange request cannot be made in following cases:
When request due to change of mind is made after 7 calendar days following delivery date
When product is used, destroyed or damaged
When tag attached to product is removed or package of product is opened and product value is damaged
When sealed package is opened or packaging materials are lost
When too much time has passed and product value has so decreased that its re-sale is not possible
When return/exchange request is made for customized product such as hand-made shoes or accessories
When components of product (including free gift) have been used or lost
When buyer did not follow instructions included in product
As e-voucher products are immediately sent to your e-mail, returns/exchanges are not available. Please take note of this before purchase, and input your e-mail address correctly.
As Mobile Top-up products are directly reloaded on your cell phone number, returns/exchanges are not available. Please take note of this before purchase, and enter your cell phone number correctly.


For any inconvenience regarding Cancellation/Return/Exchange, please contact Customer Service at 03-2720-0000 and we will do our best to help you.
Notice
Please note that, direct transaction with the seller without using 11street payment service can cause problems such as; not receiving the product, receiving different product etc.
For sales products and contents registered by the seller, 11street run by Celcom Planet has no responsibility on any of the registered contents.