Samsung Mono Laser MFP - SL-M2885FW
Description
4-in-1 (Print, Scan, Copy & Fax)
A4 size
4,800 x 600dpi
Up to 29ppm
High speed USB 2.0
Built in 128MB
Wireless & Duplex ready
NFC Frint features
Monthly Duty Cycle: Up to 12,000 pages
(One year carry in Warranty)
Consumable
FEATURES
Samsung Multifunction Xpress SL-M2885FW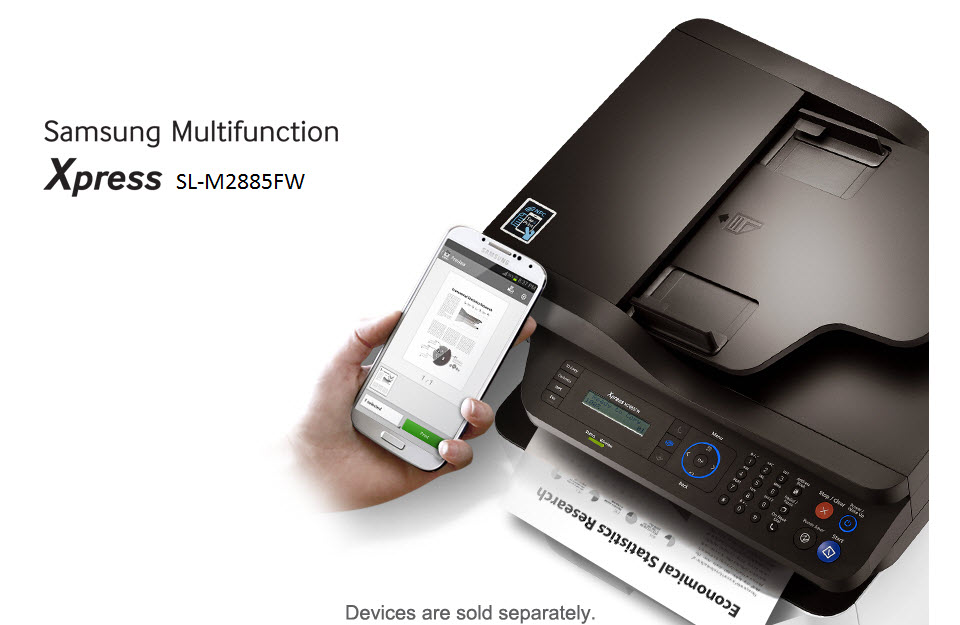 Powerful, and simple to useA multifunction printer that helps deliver great results fast.
Print on tap with Samsung NFC technology1

The efficient Samsung Xpress SL-M2885FW multifunction printer helps give you the speed you need to be productive without compromising on quality. What's more, thanks to NFC technology1, mobile printing and Easy Printer Manager software, this printer is designed to be easy to use.
A printer that helps make your compatible smartphone smart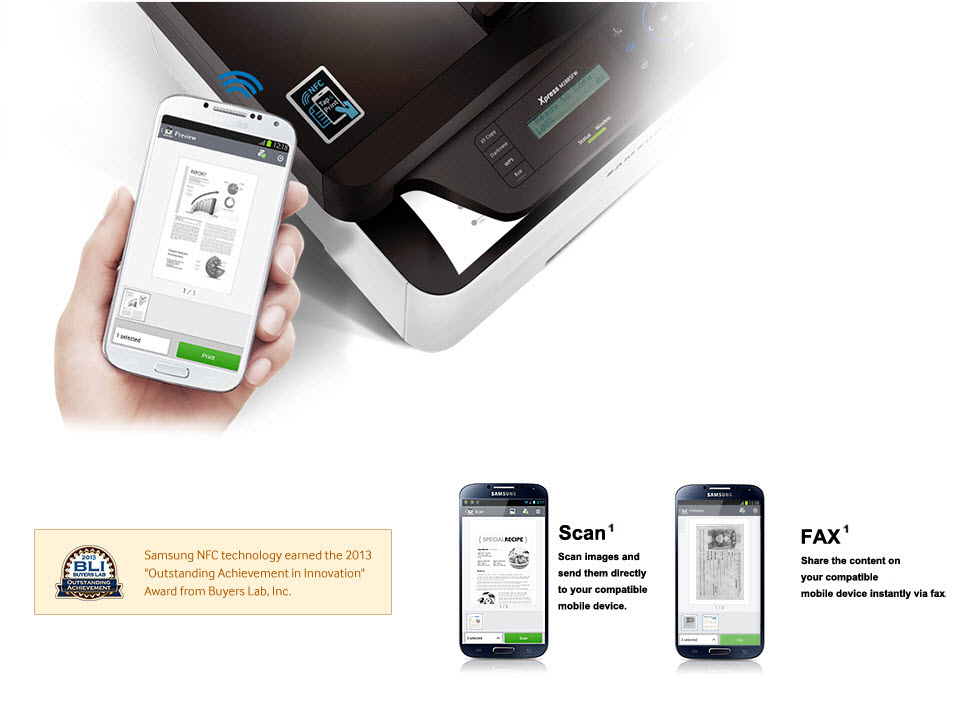 Get Print On Tap!Simply tap your compatible mobile device to the Samsung Xpress M2885FW to print virtually any content.
Print Wirelessly Share Practically Anytime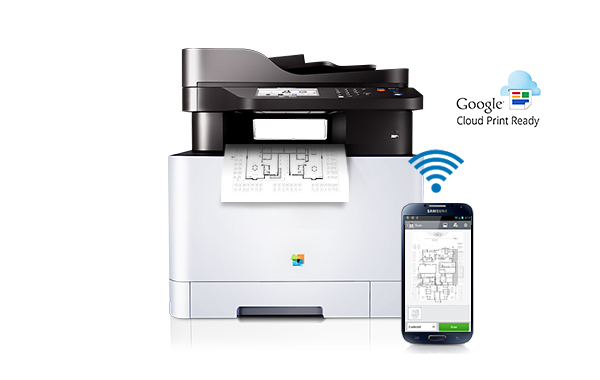 Convenient mobile printing with impressive compatibility, optimized for a variety of tasks and occasions.
Google Cloud Print works on compatible devices including compatible smartphones, tablet PCs, Google Chrome books, PCs and other web connected devices.
Don't wait for the service guy to fix simple print errors

Dealing with a frustrating printer error? There's no need to call for help when you have a compatible NFC-enabled smartphone. Enable NFC communication and just tap your compatible smartphone to the Samsung SL-M2885FW printer and you'll be guided through a series of troubleshooting tips and clips.
Print fast, don't wait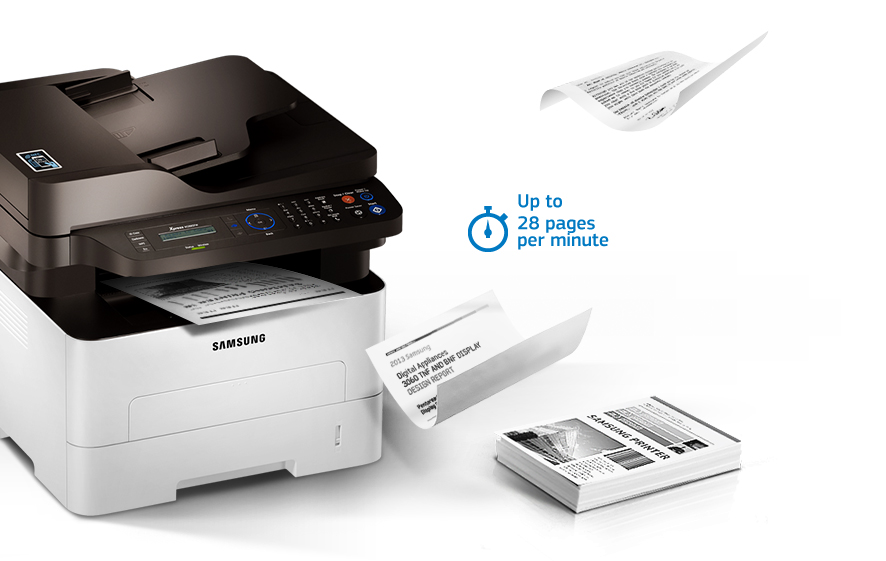 However demanding your professional printing needs, the Samsung Xpress SL-M2885FW printer gives you great results – fast. Save time by printing complex documents at speeds of up to 28 pages per minute (PPM) thanks to a powerful 600 MHz processor and 128 MB of memory.
Give a good impression with great print quality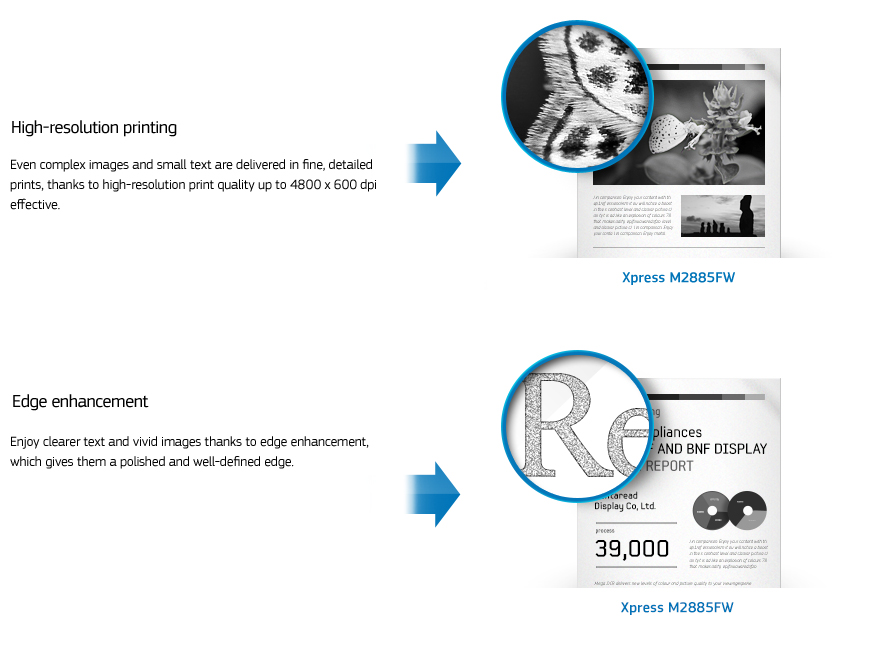 Impressive professional-quality prints are possible. Your Samsung Xpress SL-M2885FW printer delivers sharp, clear prints that help make a big impact. Thanks to its 4800 x 600 dpi effective resolution and Rendering Engine for Clean Page (ReCP) technology, you can enjoy high performance and quality without the need for a bulky large printer. Quality-boosting features give you detail, smooth images and clear text.
Great copying and clear, colourful scanning
Helps make fine lines and small text sharp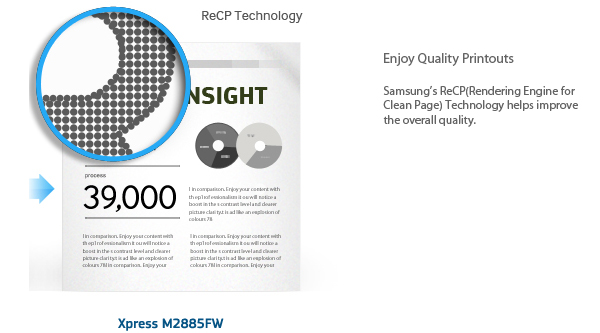 The Samsung Xpress SL-M2885FW printer helps ensure thin lines and small text are captured when scanning or copying. De-Integrated Cavity Effect (De-ICE) technology helps maximise the amount of text that is captured, delivering high quality prints and scans.
With your Samsung Xpress SL-M2885FW printer, high quality copies and scans are a reality. Great performance means fine text and images are sharp, delivering legible text and vibrant, smooth images.
No halftone patterns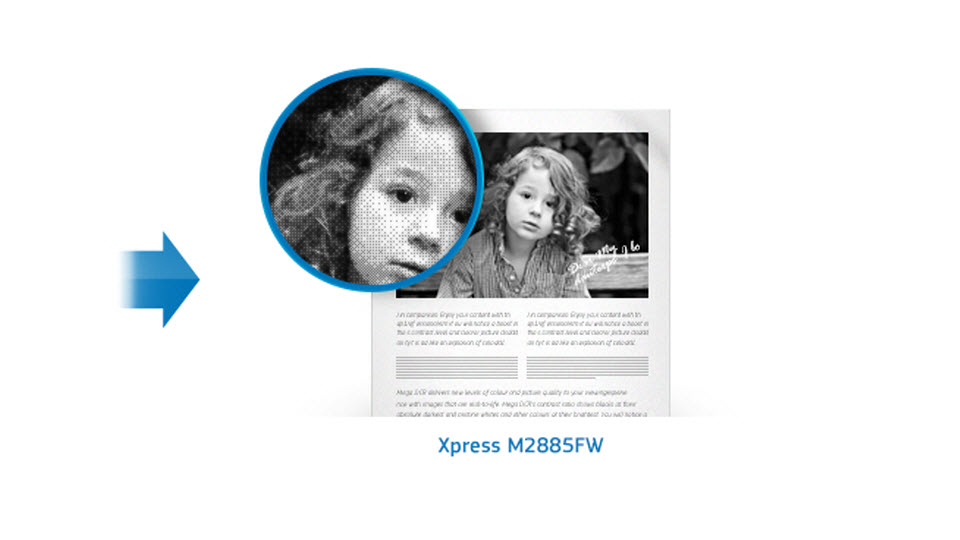 The Samsung Xpress SL-M2885FW helps you minimise halftone patterns on images and enjoy the clear and smooth images you need for professional print results.
Print with various paper types for lots of uses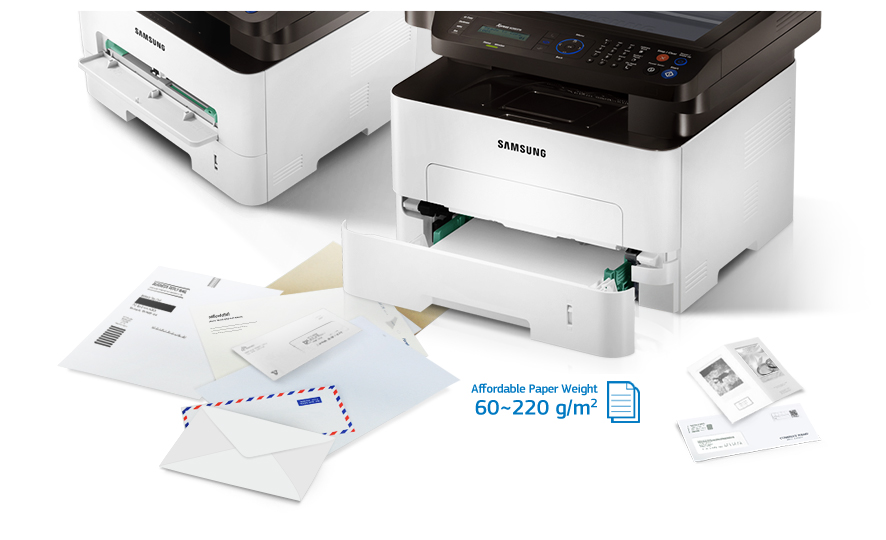 Your Samsung Xpress M2835DW printer can handle almost anything you need to print. The small but robust printer can use a range of media up to 220 grams per square meter (gsm), including paper, labels, cards, envelopes and overhead projector (OHP) transparencies. You can select the paper type you need from the multipurpose (MP) tray, so it's convenient as well as flexible.
One Touch Eco Button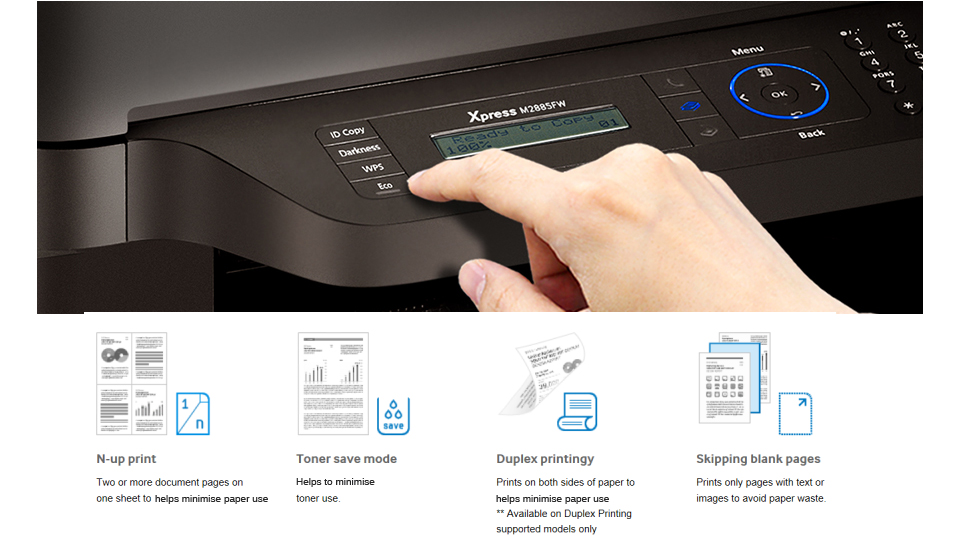 Help optimise your printing in one simple step with Samsung's One touch Eco Button. One touch is all you need to configure your printer to deliver economical results. Print multiple pages on one sheet, change colour to greyscale or skip blank pages.
Help optimise your printing with Eco Driver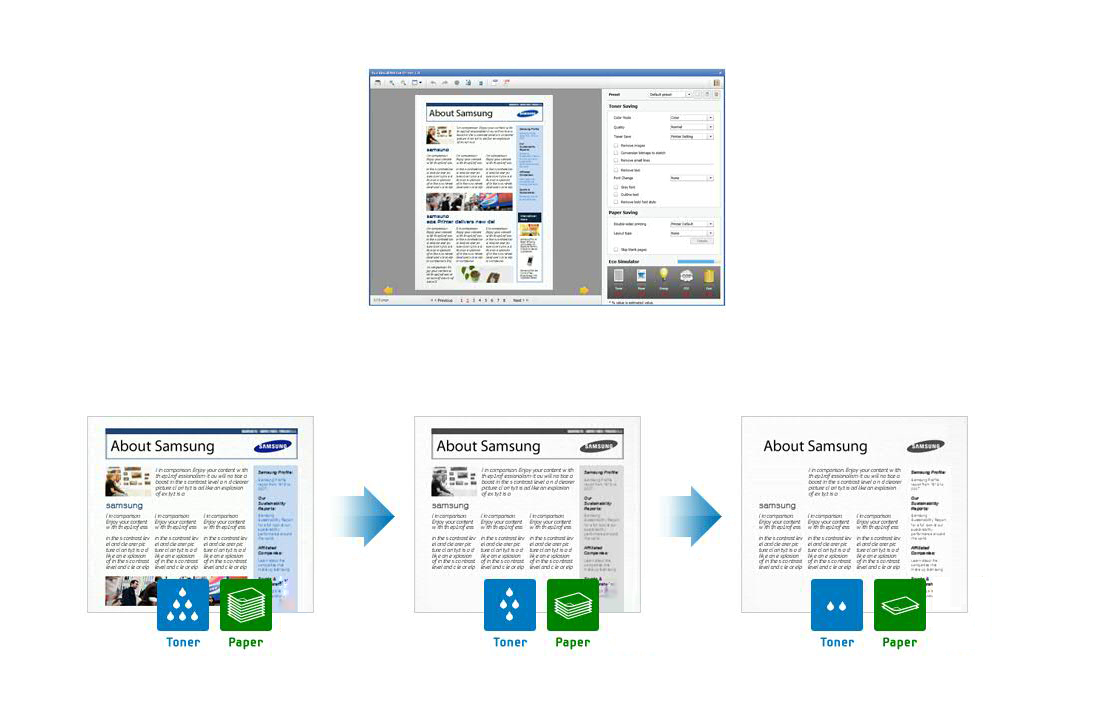 Enjoy optimised results when you print thanks to Samsung's Eco Driver. With this useful software, you'll be able to accurately preview your document before printing and adjust quality, colour and other settings to meet your requirements, as well as removing unnecessary text, images and other elements. You can monitor your savings, including paper, toner and overall cost.
Product Configuration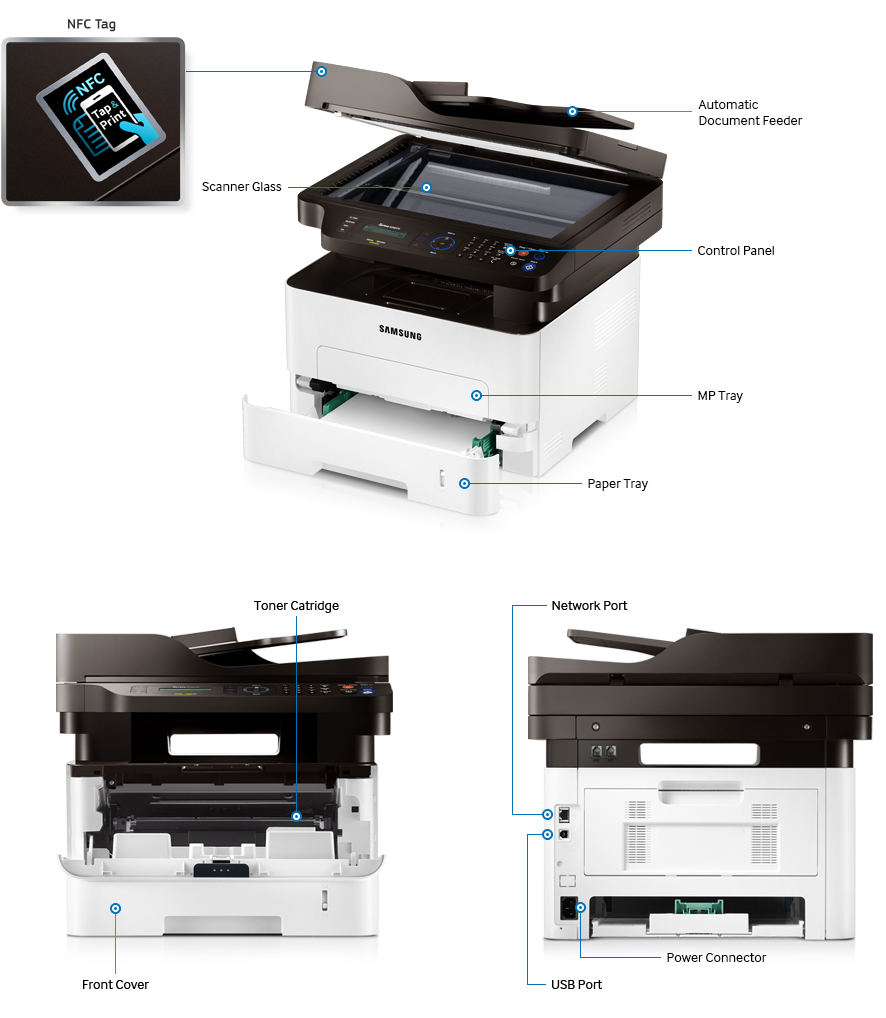 TECH SPECS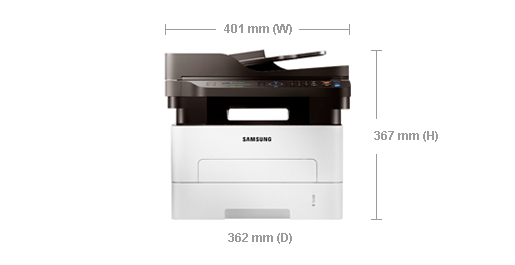 General---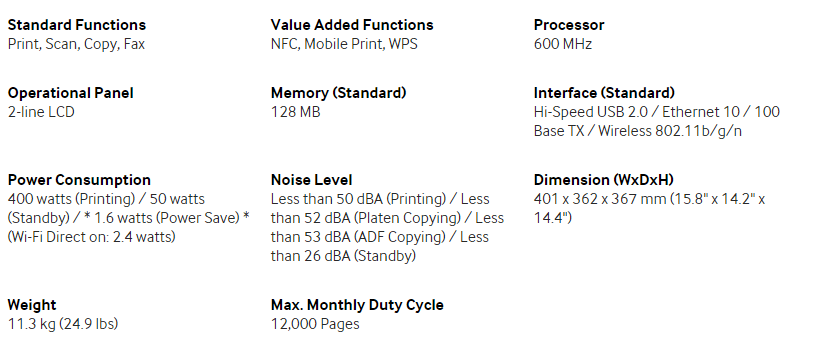 Print---

Copy---

Scan---

Fax---

Paper Handling---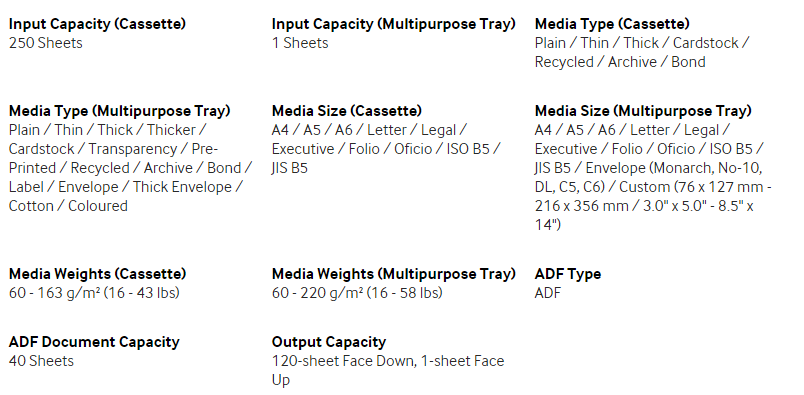 Supplies---

Basic Information
Basic Information of Product
Product Status/Sales Type
New
Product No.
358151
Weight (KG)
11.3 kg
Country of Origin
N/A
Shipping Method
Courier Service
GST Applicable
SR 0%
After Sale Service
NOTE : invoice / DO given by registered Samsung dealer is the prove of warranty, it will be email to customer by dealer within 24hrs after payment done. ( please text your email to +6017-4298316 or put your email address in note when purchase )

Claim Warranty / something wrong with the printer or toner :
You may call Samsung Free Toll Customer Service Center ( 1800 88 9999 / 1800 88 3399 )
Or you may contact me ( Jovita, 017-4298316 ) to request a technician service
Brand
Samsung
Already purchased this product? Write your review here.
Read more

Read less
/300
(this will only be visible between you and seller)
All your Q&A posts are available in My Page > My Shopping Talk > My Q&A History.
Once seller replies, you will be notified by email.
Your posts may be removed and 11street reserves the right to suspend your account if inappropriate contents are found;

Any implication of direct trade / discounts with your contact number, email address, or any offline contact point.
Any indication of libel/defamation, inappropriate price comparison, unrelated ads, etc.
Seller's Information
Seller
PrinterandToner
Shipping from
Return/Exchange address
Notice on Return/exchange
Replace Policy ( 1-To-1 Warranty)

Scenario: Toner leakage, Printer unable to detect toner cartridge, Faulty, Damaged, Printing quality issues

Conditions:
Within three 365 days or 1 year from the purchase date
Provided the proof of purchase (order number, delivery note)
Returned in the ORIGINAL packaging
Toner weight must not be less than 50% from original condition
Please attached 3 printout copies ( from supplies info modules in the printer ) if there is printing quality issues.

Solutions:
Replace with same model of product, both way delivery cost covered. Or you can replace at the manufacture service center near by your place.


Return Policy:

Customer is RESPONSIBLE for return it to the authorized brand service center.
We will not ship replacement merchandise until receipt of damaged or defective item.
One for one replacement for the ones you have already used and are at least 50% full in toner weight.
Defective products that you have already used and are less than 50% full in toner weight; you will be charged 50% of original purchase price for one for one replacement.
All defective or damaged returns are subject to verification by our technical staff.
We recommend a shipping method that is traceable so that your shipment will not be lost in the mail.
Failure to return a product within the return period will be deemed to be an acceptance of the product.


Refund Policy:

Not refundable when goods is shipped out.
11Street Return/Exchange Policy
Cancellation

Request for cancellation if product has not been dispatched after payment completion.
Strictly no cancellation for E-voucher after purchased.

Return

Request for return within 7 calendar days following delivery date.
Check seller's approval on buyer's request.
Buyer sends product in question to buyer.
Seller receives and checks returned product.
Seller approves return and return is completed.
Strictly no return or refund for E-voucher.

Exchange

Request for exchange within 7 calendar days following receipt of delivery.
Check seller's approval on buyer's request.
Buyer sends product in question to seller.
Seller receives and checks returned product
Seller send new product to buyer, and buyer receives it, and exchange is completed.
No exchange for E-voucher purchased.
How to Request for Cancellation/Return/Exchange
You can request for cancellation after completing payment and if product has not been dispatched by then, cancellation request is approved and you can receive refund.
But, in case seller has already dispatched product, cancellation request can be rejected.
You can request for return after obtaining product, you should send the product in question to seller.
After seller checks if returned product is flawed, and approves your request, return is completed and payment is refunded.
You can request for exchange if wrong product is shipped, you should send the product in question to seller.
After seller checks if returned product is flawed, seller approves your request, and re-sends new product.
Criteria for Return/Exchange
You can request for return/exchange within 7 calendar days following delivery date. But return/exchange request cannot be made in following cases:
When request due to change of mind is made after 7 calendar days following delivery date
When product is used, destroyed or damaged
When tag attached to product is removed or package of product is opened and product value is damaged
When sealed package is opened or packaging materials are lost
When too much time has passed and product value has so decreased that its re-sale is not possible
When return/exchange request is made for customized product such as hand-made shoes or accessories
When components of product (including free gift) have been used or lost
When buyer did not follow instructions included in product
As e-voucher products are immediately sent to your e-mail, returns/exchanges are not available. Please take note of this before purchase, and input your e-mail address correctly.
As Mobile Top-up products are directly reloaded on your cell phone number, returns/exchanges are not available. Please take note of this before purchase, and enter your cell phone number correctly.


For any inconvenience regarding Cancellation/Return/Exchange, please contact Customer Service at 03-2720-0000 and we will do our best to help you.
Notice
Please note that, direct transaction with the seller without using 11street payment service can cause problems such as; not receiving the product, receiving different product etc.
For sales products and contents registered by the seller, 11street run by Celcom Planet has no responsibility on any of the registered contents.