Samsung Galaxy J7 Plus C710 Original Msia Set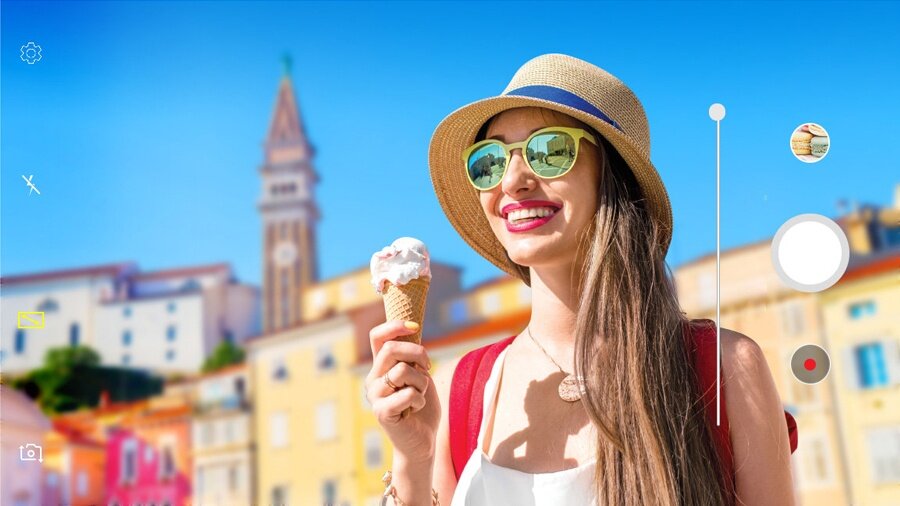 Photography-centric Device
Take beautiful and outstanding images with various modes of shooting found in both front and rear dual cameras.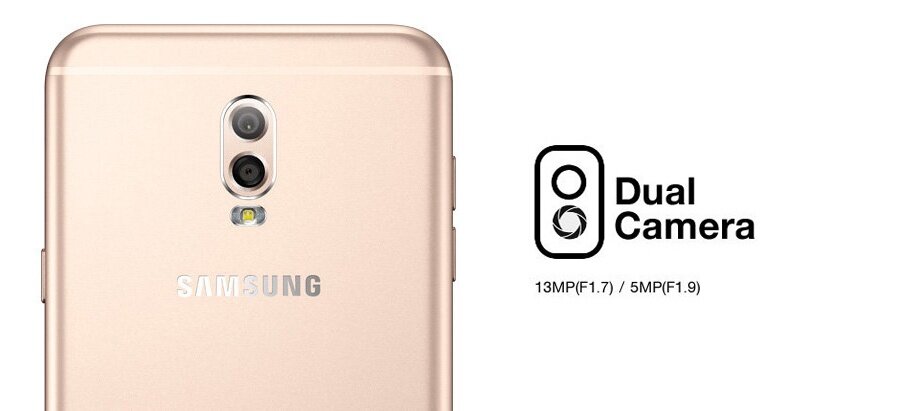 Next Level Photography with Dual Camera
The Samsung Galaxy J7+ comes with a pair of 13-megapixel and 5-megapixel cameras. The F1.7 aperture lens of the 5MP camera gives you clearer images and better depth of field.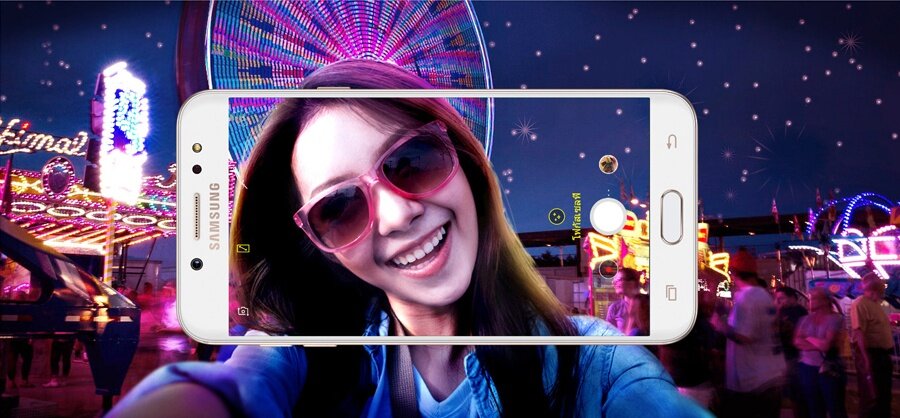 Bright & Clear Selfies in Every Shot
The 16MP with F1.9 wide aperture front facing camera comes with LED and screen flash so your selfies come out bright and clear, even in low lighting conditions.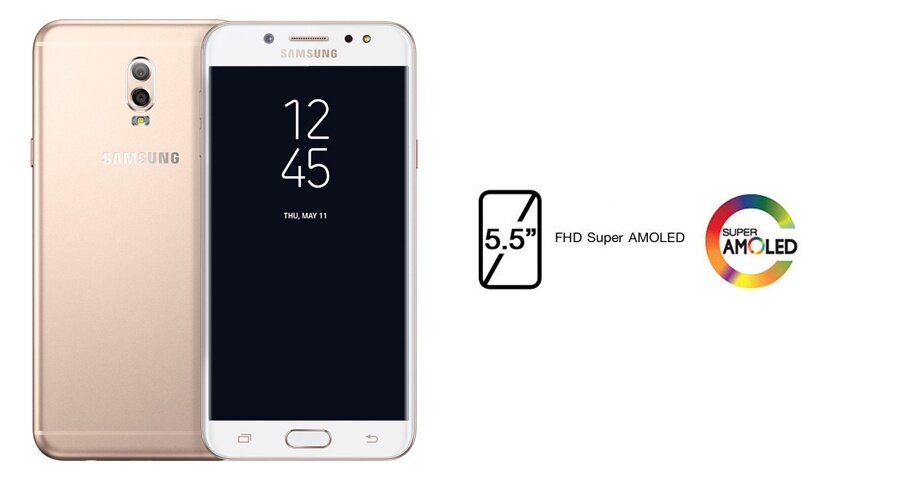 Thin yet Durable Design
The Samsung Galaxy J7+ is crafted out of metal for a premium outlook and durable design. The dual-camera is sitting flush to the rear chassis to give it a seamless and disrupted look and feel while the 5.5-inch FHD Super AMOLED display with rounded edges pushes out bright and true-to-life colours for better viewing experience.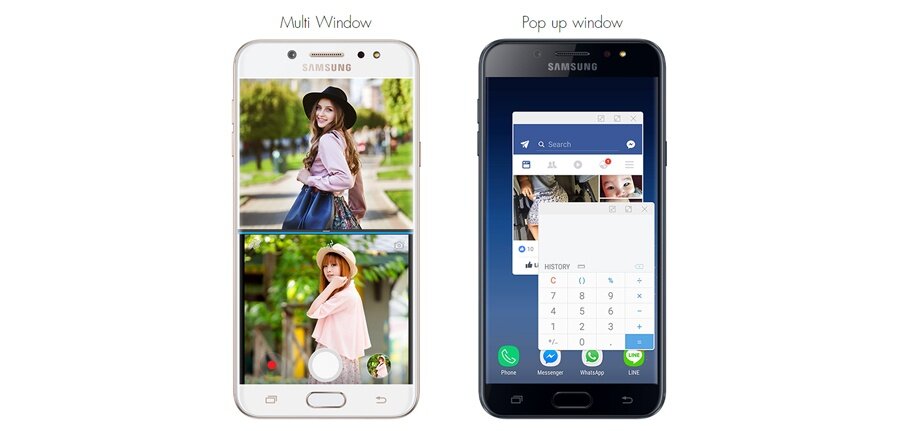 Play & Work Together Simultaneously
The Multi Window feature allows you to do two things at the same time, so you can chat and watch your favorite video without having to switch them back and forth. Save your time from switching between multiple screens and enjoy two times more of fun with Pop up window feature that allows you to open up to 5 apps simultaneously.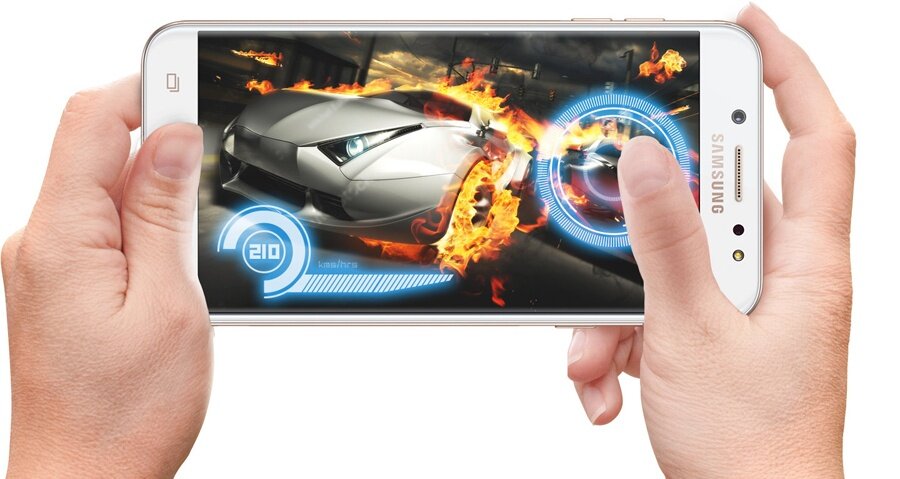 Fast & Responsive Performance
Quickly switch between apps with the built-in 4GB of RAM and 32GB of internal storage. You can also expand the storage with a microSD card up to 256GB. The octa-core processor clocked at 2.39GHz will give you impressive speed and responsive experience.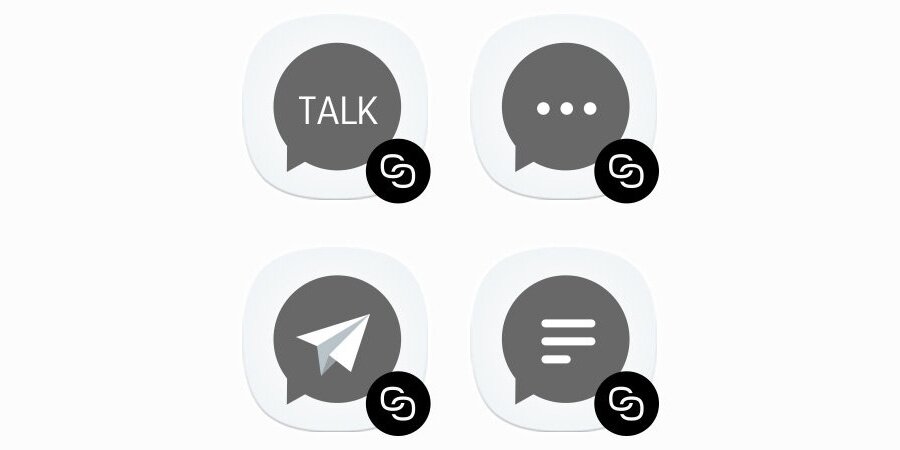 2 Accounts on a Single Device
You can now have 2 of the same applications for different accounts in just a single device, like Facebook, Instagram, WhatsApp, Messenger or Line, etc.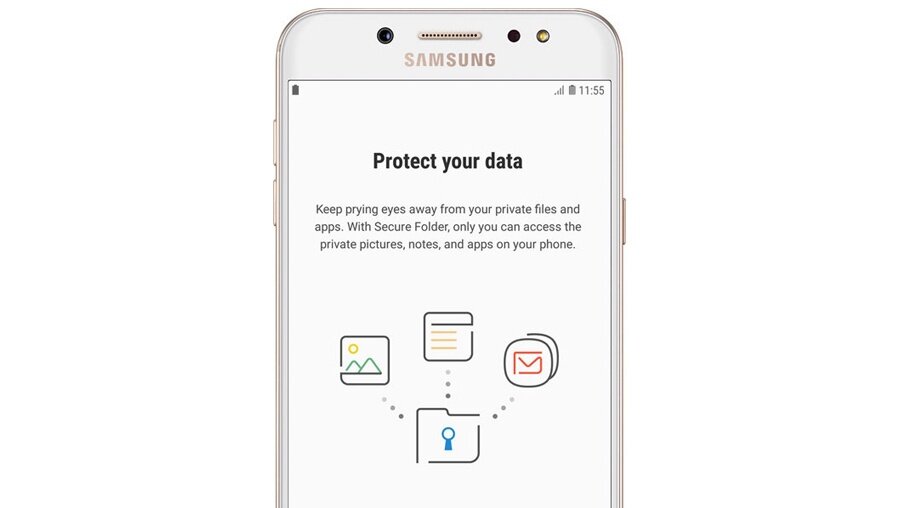 Keeps Your Personal Information Safe
If you have files and apps that you want to keep them private, then keep them in a Secure Folder. You can then set the Secure Folders to only appear to you.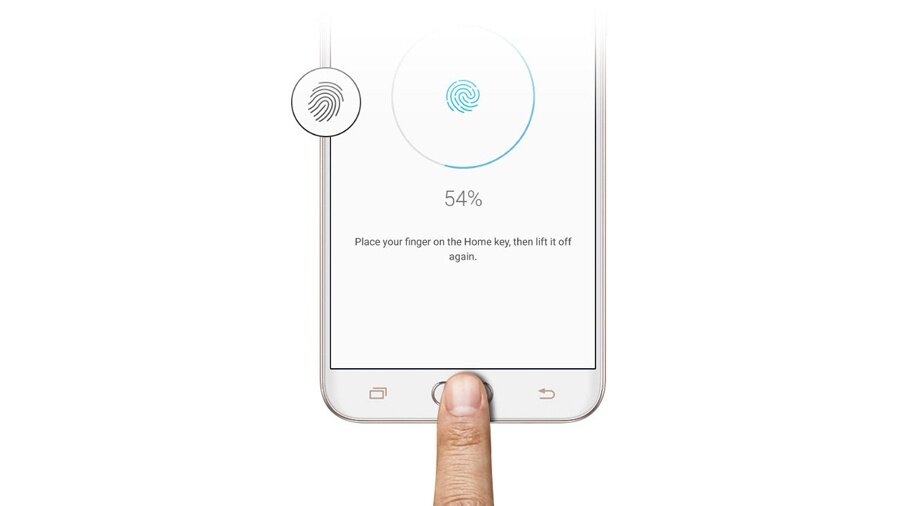 Fingerprint Sensor
Unlock your Samsung Galaxy J7+ within seconds with the fast and highly-accurate fingerprint sensor.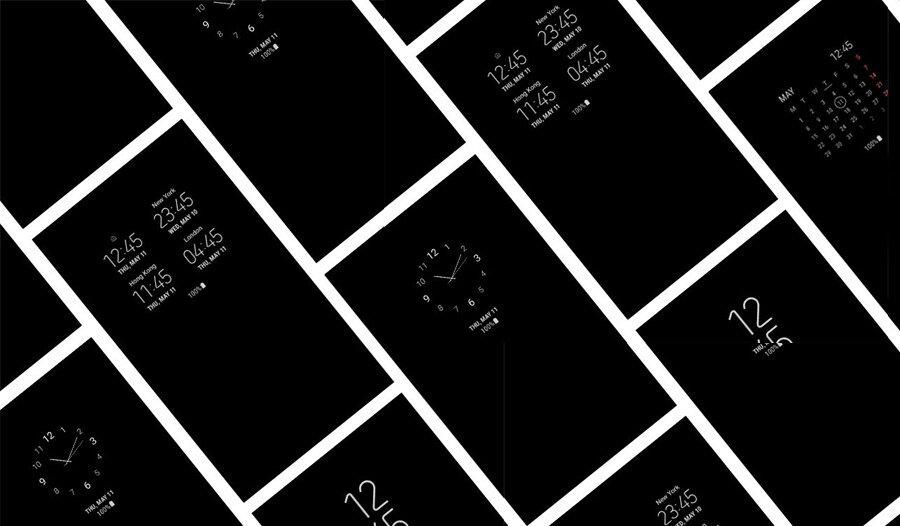 Always On Display
You can view your time, calendars and notifications whenever you want without having to turn on the screen which makes it an intelligent, time-saving and energy- efficient approach.
Basic Information
Basic Information of Product
Product Status/Sales Type
New
Product No.
53403541
Weight (KG)
0.6 kg
Country of Origin
N/A
Shipping Method
Courier Service
GST Applicable
SR 6%
After Sale Service
-The box is opened during the packing process for the following reasons:
a. Register and activate product warranty.
b. Ensure product integrity. We check if the phone and its accessories are in the box.
c. Check if the phone can be switched on to make sure that you will not receive a faulty product.

-We will register the e-warranty for customers and the date of warranty will be the date of shipment update or more.
- We will no provide tax invoice, but you may collect tax invoice from 11 street after clicking purchase confirm.
Brand
Samsung
Already purchased this product? Write your review here.
Read more

Read less
/300
(this will only be visible between you and seller)
All your Q&A posts are available in My Page > My Shopping Talk > My Q&A History.
Once seller replies, you will be notified by email.
Your posts may be removed and 11street reserves the right to suspend your account if inappropriate contents are found;

Any implication of direct trade / discounts with your contact number, email address, or any offline contact point.
Any indication of libel/defamation, inappropriate price comparison, unrelated ads, etc.
Seller's Information
Seller
GetFones
Shipping from
Return/Exchange address
Notice on Return/exchange
Return Policy
Good sold are not returnable. However, in the unlikely event that we deliver the wrong product or that the product is damage or defective, please email your intent for a product return to sales@getfones.my within twenty four (24) hours after you receive the product. We will not be liable for any claims after the given 24 hours. Once we've confirmed the defect and approved your return request, please ship the product back to us on your own cost and we'll deliver you the replacement product(s) within 3 – 6 working days.

In any case if product return is necessary after the given 24 hours, please inform our customer support team within 7 days from the received date. We will charge processing fee of 10% or more, subject to product and/or package condition verified by our technician.
11Street Return/Exchange Policy
Cancellation

Request for cancellation if product has not been dispatched after payment completion.
Strictly no cancellation for E-voucher after purchased.

Return

Request for return within 7 calendar days following delivery date.
Check seller's approval on buyer's request.
Buyer sends product in question to buyer.
Seller receives and checks returned product.
Seller approves return and return is completed.
Strictly no return or refund for E-voucher.

Exchange

Request for exchange within 7 calendar days following receipt of delivery.
Check seller's approval on buyer's request.
Buyer sends product in question to seller.
Seller receives and checks returned product
Seller send new product to buyer, and buyer receives it, and exchange is completed.
No exchange for E-voucher purchased.
How to Request for Cancellation/Return/Exchange
You can request for cancellation after completing payment and if product has not been dispatched by then, cancellation request is approved and you can receive refund.
But, in case seller has already dispatched product, cancellation request can be rejected.
You can request for return after obtaining product, you should send the product in question to seller.
After seller checks if returned product is flawed, and approves your request, return is completed and payment is refunded.
You can request for exchange if wrong product is shipped, you should send the product in question to seller.
After seller checks if returned product is flawed, seller approves your request, and re-sends new product.
Criteria for Return/Exchange
You can request for return/exchange within 7 calendar days following delivery date. But return/exchange request cannot be made in following cases:
When request due to change of mind is made after 7 calendar days following delivery date
When product is used, destroyed or damaged
When tag attached to product is removed or package of product is opened and product value is damaged
When sealed package is opened or packaging materials are lost
When too much time has passed and product value has so decreased that its re-sale is not possible
When return/exchange request is made for customized product such as hand-made shoes or accessories
When components of product (including free gift) have been used or lost
When buyer did not follow instructions included in product
As e-voucher products are immediately sent to your e-mail, returns/exchanges are not available. Please take note of this before purchase, and input your e-mail address correctly.
As Mobile Top-up products are directly reloaded on your cell phone number, returns/exchanges are not available. Please take note of this before purchase, and enter your cell phone number correctly.


For any inconvenience regarding Cancellation/Return/Exchange, please contact Customer Service at 03-2720-0000 and we will do our best to help you.
Notice
Please note that, direct transaction with the seller without using 11street payment service can cause problems such as; not receiving the product, receiving different product etc.
For sales products and contents registered by the seller, 11street run by Celcom Planet has no responsibility on any of the registered contents.