PEDIASURE COMPLETE VANILLA 850G TWIN PACK (2 TINS)
PediaSure® is a nutritional supplement that provides complete, balanced nutrition for children from age 1 to 10 – those special years of rapid growth and mind development. When consumed in proper amounts, PediaSure® is scientifically formulated to provide 100% or more of US Dietary Reference Intakes for proteins and 25 vitamins & minerals that are required for growth and development.2 PediaSure® also contains FOS, probiotics and MCT oil. Formulated with more than 25 essential nutrients, PediaSure® is scientifically formulated to help increase height and weight1 and reduce number of sick days2. It is also Lactose free. PediaSure® also contains nutrients such as Taurine, Choline and Omega 3 & 6 to support mind development.
Usage
With the Sure3 System, PediaSure® Complete provides complete and balanced nutrition for children ages 1 to 10 years old with feeding concerns. Some common examples of children who are hard to feed include:
Eats very little.
Very active but eats little
Accepts only a few types of food.
Highly selective in food intake
Eats few fruits and vegetables.
Refuses to try new foods.
Disrupts or prolongs mealtimes.
Poor appetite.
PediaSure® Complete is also suitable for children who:
need a nutritious snack or supplement.
are lactose intolerant.
are recovering or have recovered from medical conditions.
Features
New Triple Protein Complex
3 protein sources – milk protein concentrate, whey protein concentrate and soy protein isolate provide a scientifically balanced blend of all essential amino acids to support growth and development.
Advanced Carbohydrate Blend
Blend of 3 carbohydrates sources to promote maximum digestion and absorption for balance energy release.
Unique Lipid Profile & Medium Chain Triglycerides (MCTs) (with AA & DHA)
Supports nutrients absorption and mind development.
PediaSure® Complete meets or exceeds 100% of the US Dietary Reference Intakes (DRIs) for protein, 25 essential vitamins and minerals in approximately 1000ml for children aged between 1- 8 years and 1500ml for children aged 9-13 years.
Contains FOS, a non-digestible dietary fibre that is the preferred food of good bacteria.
Contains live cultures of Bifidobacterium lactis and Lactobacillus acidophillus which are good bacteria.
Contains 50% more calories to provide extra energy for growing children. (Calorie Density- 1 kcal per 1 ml)
Lactose and gluten-free (not for children with galactosemia).
Alarcon O.et.al.Peadiatr 2003; 42:209-217
Fisberg M.et.al.Int.Pediatr 2002; 17(4)
Children at nutritional risk. Children in both groups received nutritional counseling.
In children aged 3-5 years of age who had at least one episode of illness and were fed PediaSure® Complete with synbiotics. Results in other age groups varied.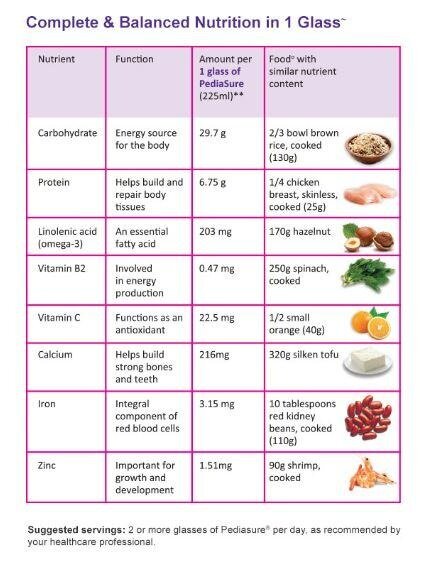 Halal Certification
Abbott Nutrition produces Halal products at various locations under the supervision of the Islamic Food and Nutrition Council of America (IFANCA) or the Islamic Religious Council of Singapore (MUIS) or the Halal Food Council of Europe (HFCE). The following products sold in the Malaysian retail market, are free from Haram and doubtful ingredients, hence Halal and suitable for consumption by Muslims.
Certification
Basic Information
Basic Information of Product
Product Status/Sales Type
New
Product No.
40247082
Weight (KG)
3 kg
Country of Origin
N/A
Shipping Method
Courier Service
GST Applicable
SR 6%
After Sale Service
Brand
None
Already purchased this product? Write your review here.
Read more

Read less
/300
(this will only be visible between you and seller)
All your Q&A posts are available in My Page > My Shopping Talk > My Q&A History.
Once seller replies, you will be notified by email.
Your posts may be removed and 11street reserves the right to suspend your account if inappropriate contents are found;

Any implication of direct trade / discounts with your contact number, email address, or any offline contact point.
Any indication of libel/defamation, inappropriate price comparison, unrelated ads, etc.
Seller's Information
Seller
Icare
Shipping from
Return/Exchange address
Notice on Return/exchange
Return Policy - 7 days return or exchange policy

If you are not satisfied with the goods with valid reason, please contact us to make the refund or exchange at 0194991298 or email us at pharmacy.icare@yahoo.com . Please contact us for any further detail, if any. We will recommend you the best product that suits your need.

Please do not hesitate to contact us via facebook pm as well. www.facebook.com/icarepharmacytaiping

However, the item need to be:
1. not used
2. in the same condition you received it
3. in the original box received.

In most of the cases, you will need to bear the shipping charges for returning the item to us or any arrangement made for us to deliver you the item, unless the goods is not in good condition due to the manufacturing defect/ mistake from our side. However, we will check the item before delivery to ensure that it is in a good shape for your usage.
11Street Return/Exchange Policy
Cancellation

Request for cancellation if product has not been dispatched after payment completion.
Strictly no cancellation for E-voucher after purchased.

Return

Request for return within 7 calendar days following delivery date.
Check seller's approval on buyer's request.
Buyer sends product in question to buyer.
Seller receives and checks returned product.
Seller approves return and return is completed.
Strictly no return or refund for E-voucher.

Exchange

Request for exchange within 7 calendar days following receipt of delivery.
Check seller's approval on buyer's request.
Buyer sends product in question to seller.
Seller receives and checks returned product
Seller send new product to buyer, and buyer receives it, and exchange is completed.
No exchange for E-voucher purchased.
How to Request for Cancellation/Return/Exchange
You can request for cancellation after completing payment and if product has not been dispatched by then, cancellation request is approved and you can receive refund.
But, in case seller has already dispatched product, cancellation request can be rejected.
You can request for return after obtaining product, you should send the product in question to seller.
After seller checks if returned product is flawed, and approves your request, return is completed and payment is refunded.
You can request for exchange if wrong product is shipped, you should send the product in question to seller.
After seller checks if returned product is flawed, seller approves your request, and re-sends new product.
Criteria for Return/Exchange
You can request for return/exchange within 7 calendar days following delivery date. But return/exchange request cannot be made in following cases:
When request due to change of mind is made after 7 calendar days following delivery date
When product is used, destroyed or damaged
When tag attached to product is removed or package of product is opened and product value is damaged
When sealed package is opened or packaging materials are lost
When too much time has passed and product value has so decreased that its re-sale is not possible
When return/exchange request is made for customized product such as hand-made shoes or accessories
When components of product (including free gift) have been used or lost
When buyer did not follow instructions included in product
As e-voucher products are immediately sent to your e-mail, returns/exchanges are not available. Please take note of this before purchase, and input your e-mail address correctly.
As Mobile Top-up products are directly reloaded on your cell phone number, returns/exchanges are not available. Please take note of this before purchase, and enter your cell phone number correctly.


For any inconvenience regarding Cancellation/Return/Exchange, please contact Customer Service at 03-2720-0000 and we will do our best to help you.
Notice
Please note that, direct transaction with the seller without using 11street payment service can cause problems such as; not receiving the product, receiving different product etc.
For sales products and contents registered by the seller, 11street run by Celcom Planet has no responsibility on any of the registered contents.