Multi-functional Window Solar Powerbank Dual USB Port
Product Description
5600mAh SC002 Five Proofs Solar Power Bank Portable Dual USB 8LEDLights For iPhone Samsung Phone
This Solar Power Bank is designed for smart phones,
PDA such as iPhone, iPad and Tablet PC MID sections,which provides adequate back-up energy.It also applies to other mobile phones, digital
cameras, MP3, MP4, PSP, GPS and supply energy for other
electronic products.This machine model is luxurious and elegant, portable, stylish and elegant!
Features:
Dustproof: the first closed-port, total defensive
Waterproof: the combination of silicone and PC material, effective rain
Slipproof: exquisite outlook, feel good
Fireproof: PC + fire-retardant materials, PBT soft, using one double injection molding process
Shatter-resistant:compressive strength side using a special silicone, effective damping
Ultra-thin design, a unique feature with a suction cup, full fitting windows
American MPC chip, high conversion rate; high brightness 8 LED lights
Product Specification:
Solar Power: 2.5W
Power Capacity: 5600mAh
Output parameters: 5V 1A / 5V 2.1A
Input voltage: 4.5V-6V 1.5A
Material: PC and fire-retardant materials
LED lights: 8PCS
Protection: Intelligent charging protection
Weight: 290g
Dimensions: 160 * 160 * 9.8mm
Color: Orange
Notes:
1. Before using this product, in order to fully activate the
lithium battery, the first three best charging it more than 12 hours with a computer
2. Before you use this product to power electrical equipment,
make sure your operating voltage electrical equipment, do not
go beyond the charging voltage range; avoid placing in hot
temperature (over 80 ℃), wet and corrosive environments ;
do not use near fire place; and do not scratch the surface of
the product with a sharp object; do not disassemble this product
and its transformation battery.
3. If the product is no short-circuit fault protection voltage output, only to re-charge for the product once and the power will be restored.
4. After the completion of your phone / digital products charging
work, please unplug the cable, in order to avoid power
consumption of this product.
5. If you can not properly charging for digital products,
may be built-in low battery voltage. Due to the built-in
battery protection circuit, it will stop working to protect
themselves, must be able to work properly only after the built-in battery.
When the solar power bank is in the short circuit protection,
just plug the USB cable with computer to reset it. In this way, it can be used normally.
Package list:
1* Output Portable Solar Charger Power Bank
1* USB Cable
1* Pothook
4* Adhesive disc
1*User manual
Solar Mobile Charger, Top Quality Multi-functional Window Solar Powerbank with dual USB Ports
5600mah Li-polymer solar charger
Super waterproof,shockproof and dustproof

Battery type: 5600mah Lithium polymer battery

Material:silica gel and PC+ABS material
Outputs: DC 5 V /2*1A

Input: DC 5V/1A
Emergency LED torch,Comes with a carabiner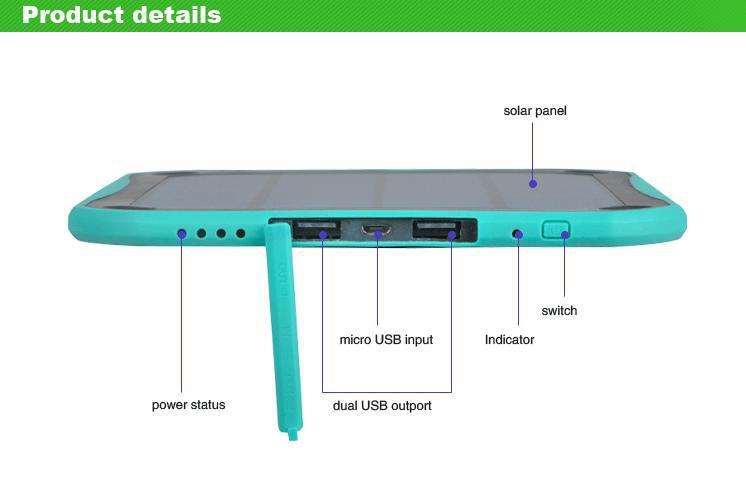 Battery span life:>500 times

Working temperature:-10℃-60℃
2015 new rugged solar power pack dual charger with 2.5W solar panel
Size: 160*160*9mm

Net Weight: 150g

Material:ABS+PC
Basic Information
Basic Information of Product
Product Status/Sales Type
New
Product No.
917041
Weight (KG)
0.5 kg
Country of Origin
N/A
Shipping Method
Courier Service
GST Applicable
Not Applicable (Non-GST seller)
After Sale Service
Need to Talk to Us??
Kindly contact us at following methods:
[email protected]
Whatsapp/ WeChat/ LINE/ SMS +60102105535
Brand
None
Already purchased this product? Write your review here.
Read more

Read less
/300
(this will only be visible between you and seller)
All your Q&A posts are available in My Page > My Shopping Talk > My Q&A History.
Once seller replies, you will be notified by email.
Your posts may be removed and 11street reserves the right to suspend your account if inappropriate contents are found;

Any implication of direct trade / discounts with your contact number, email address, or any offline contact point.
Any indication of libel/defamation, inappropriate price comparison, unrelated ads, etc.
Seller's Information
Seller
Payavalue
Shipping from
Return/Exchange address
Notice on Return/exchange
TERMS CONDITIONS YOU NEED TO KNOW

1. Photos shown on product page actual size are served as reference purpose only. Due to the fact that actual product size and colours may be different based on the lighting and background colour and different devices used while viewing the website, we will try our best in showing the product photos that is the closet to the actual item. Therefore, we will not accept the reason of product discrepancies on our website.

2. Goods sold are all brand new. We are not held responsible for any items that are damaged or missing during delivery or postage.

3. We will not accept any return or refund of product unless:

* Wrong items delivered.
* Products are not functioning upon receipt.

4. You are responsible to report us if any of the above mentioned discrepancies within 3 days of receipt.

5. Return postage fees shall be borne by customer while bear the postage of the replacements via Pos Laju. Please
ensure that the affected items are returned together with their original packaging.
11Street Return/Exchange Policy
Cancellation

Request for cancellation if product has not been dispatched after payment completion.
Strictly no cancellation for E-voucher after purchased.

Return

Request for return within 7 calendar days following delivery date.
Check seller's approval on buyer's request.
Buyer sends product in question to buyer.
Seller receives and checks returned product.
Seller approves return and return is completed.
Strictly no return or refund for E-voucher.

Exchange

Request for exchange within 7 calendar days following receipt of delivery.
Check seller's approval on buyer's request.
Buyer sends product in question to seller.
Seller receives and checks returned product
Seller send new product to buyer, and buyer receives it, and exchange is completed.
No exchange for E-voucher purchased.
How to Request for Cancellation/Return/Exchange
You can request for cancellation after completing payment and if product has not been dispatched by then, cancellation request is approved and you can receive refund.
But, in case seller has already dispatched product, cancellation request can be rejected.
You can request for return after obtaining product, you should send the product in question to seller.
After seller checks if returned product is flawed, and approves your request, return is completed and payment is refunded.
You can request for exchange if wrong product is shipped, you should send the product in question to seller.
After seller checks if returned product is flawed, seller approves your request, and re-sends new product.
Criteria for Return/Exchange
You can request for return/exchange within 7 calendar days following delivery date. But return/exchange request cannot be made in following cases:
When request due to change of mind is made after 7 calendar days following delivery date
When product is used, destroyed or damaged
When tag attached to product is removed or package of product is opened and product value is damaged
When sealed package is opened or packaging materials are lost
When too much time has passed and product value has so decreased that its re-sale is not possible
When return/exchange request is made for customized product such as hand-made shoes or accessories
When components of product (including free gift) have been used or lost
When buyer did not follow instructions included in product
As e-voucher products are immediately sent to your e-mail, returns/exchanges are not available. Please take note of this before purchase, and input your e-mail address correctly.
As Mobile Top-up products are directly reloaded on your cell phone number, returns/exchanges are not available. Please take note of this before purchase, and enter your cell phone number correctly.


For any inconvenience regarding Cancellation/Return/Exchange, please contact Customer Service at 03-2720-0000 and we will do our best to help you.
Notice
Please note that, direct transaction with the seller without using 11street payment service can cause problems such as; not receiving the product, receiving different product etc.
For sales products and contents registered by the seller, 11street run by Celcom Planet has no responsibility on any of the registered contents.