Store's Best Items
ClickAsia
Satisfaction Rating 99%
Grade Power Seller
Seller Information
Seller Information
Seller
ClickAsia
Seller's Address

Ship-From Address

Petaling Jaya, Selangor

Return/Exchange Address

Petaling Jaya, Selangor
Close
Basic Information of Product
Basic Information of Product
Product Status/Sales Type
New
Product No.
1354406
Weight (kg)
0.2 kg
Country of Origin
N/A
Shipping Method

Courier Service

GST Applicable
SR 6%
Tax Invoice
Yes (available in My Page)
After Sale Service
talk2us@clickasia.my
Brand

Microsoft
11street receives report on products to protect buyers' right. For further information on safe trade, please contact us.
Reportgo
For order related and other issues, kindly click on E-mail Enquiry here.
E-mail Enquiry
Product Highlights
Familiar to most Windows 7 or Windows 8 users including the Start Menu
More Built-in Security
Designed to work with Software and Hardware you already have today
Microsoft Edge - a new web work the way you do
Windows Store - a new unified shopping expereince across all Windows Devices
Multiple Interaction options with your Devices - Touch, Type, Write or Speak
Experience Windows 10
It's the Windows you know, only better
Familiar and better than ever
Windows 10 is familiar and easy to use, with lots of similarities to Windows 7 including the Start menu. It starts up and resumes fast, has more built-in security to help keep you safe, and is designed to work with software and hardware you already have.
"This combines the strengths of Windows 8 with Windows 7." - Windows Insider
Do things confidently.
Windows 10 was developed using feedback from millions of people, so you can feel confident that Windows 10 works the way you want it to. Additionally, Windows 10 helps you stay current for a worry-free experience with the greatest features and our latest protection against, viruses, phishing and malware.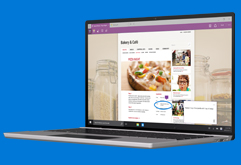 A web that works the way you do.
The all-new browser is great for getting things done online. Write or type directly on webpages and easily share the mark-ups; you'll also like reading online articles free of distractions. The address bar gives you personalized recommendations to get you quickly to your online destination.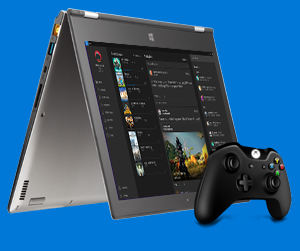 Take your gaming further.
Great Xbox titles, the best of Xbox Live, and your Xbox community, achievements, and game collection via the Xbox app. You can even use your Xbox Controller and stream Xbox One games on your home Windows 10 PC, laptop, or tablet.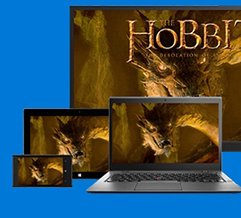 Do things across your devices.
Take your movies, music, and photos with you across all your devices with OneDrive. Plus, with OneDrive, you get 15GB of free storage space included.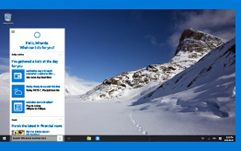 Do things magically.
Cortana is your truly personal digital assistant who learns more about you over time. Cortana works across all your devices, from phone to tablet to PC, to help you do more and forget less.
Interact with your device however you want
Touch, type, write, or speak: the choice is yours so you can use whatever works best for what you're doing.
Touch - Do things like write on a webpage, swipe through your photos, and snap apps into place.
Type - When you need to get more done, use your keyboard or the touch keyboard on devices with touch.
Write - Use a pen to draw naturally, or add notes to files, sign documents, or play around with art apps.
Speak - Just by talking, you can ask Cortana to set a reminder or write an email, and chat with friends and family on Skype.
*Features only available in supported games in Xbox Live-supported countries, see xbox.com/live/countries. Limited number of games available in 2015 support cross-device play; additional games to follow. Stream to one device at a time; Streaming with multiplayer from Xbox One requires home network connection and Xbox Live Gold membership (sold separately); Gold also required for multiplayer play on Xbox One. DirectX 12 only available with supported games and graphics chips.
**Cortana available in select global markets at launch. Cortana experience may vary by region and device.
Pre-release product shown, subject to change. Apps sold separately.
Seller Information
Seller Information
Seller
ClickAsia
Ship-From Address
Petaling Jaya, Selangor
Return/Exchange Address
Petaling Jaya, Selangor
Notice on Return/Exchange
Products Warranty
All new products warranty is subject to the warranty policy of the individual vendor.
Please refer to individual product for warranty period.

Dead on Arrival (DOA)
Meaning : Item shows symptoms of a hardware failure, preventing basic operation upon its first use out of the box, and then it may be deemed DOA.

Reporting DOA & Resolution.
If you believe product to be DOA, you may initiate your return via email or phone within 7 days of your receipt and must be returned to ClickAsia within 14 days of your receipt of the products.
Phone: +603 78901118 (Customer Service), or
Email : customerservice@clickasia.my

Step 1: Request a Return Authorization Number (RMA). An RMA is required for all returns.

Step 2: Prepare and return the product.
Ensure all products item in their original packaging. Write in bold letters on the outside of the package "RMA < RMA number you were provided> "

Step 3: Return the product to ClickAsia Sdn Bhd

A-10-08, Level 10, Office Tower, Tropicana Avenue
Persiaran Tropicana PJU 3, Tropicana Golf & Country Resort,
47800 Petaling Jaya, Selangor

Please note that original manufacturers' packaging is part of the goods please ensure you return the DOA product to us in their original packaging.
The goods are second hand without the packaging and we may not therefore be able to process your return.

Any free promotional gift issued with an order must also be returned ifyou are returning those goods.

If the customer misrepresents the condition of the product, ClickAsia may imposed a RM100 handling fee and the product will be returned to you at your expense.

Any returned product that is damaged through customer misuse or is missing parts due to customer tampering will not be accepted.

Product must be deemed DOA by the respective vendor in order to receive a replacement unit.

If product is reported as DOA to ClickAsia more than 7 days after you receive it, standard warranty shall apply.
Return / Exchange Policy
Cancellation

Request for cancellation if product has not been dispatched after payment completion.

Return

Request for return within 7 calendar days following delivery date.
Check seller's approval on buyer's request.
Buyer sends product in question to seller.
Seller receives and checks returned product
Seller approves return and return is completed.

Exchange

Request for exchange within 7 calendar days following receipt of delivery.
Check seller's approval on buyer's request.
Buyer sends product in question to seller.
Seller receives and checks returned product
Seller send new product to buyer, and buyer receives it, and exchange is completed.
How to Request for Cancellation/Return/Exchange

You can request for cancellation after completing payment and if product has not been dispatched by then, cancellation request is approved and you can receive refund.
But, in case seller has already dispatched product, cancellation request can be rejected.
You can request for return after obtaining product, you should send the product in question to seller.
After seller checks if returned product is flawed, and approves your request, return is completed and payment is refunded.
You can request for exchange if wrong product is shipped, you should send the product in question to seller.
After seller checks if returned product is flawed, seller approves your request, and re-sends new product.

Criteria for Return/Exchange

You can request for return/exchange within 7 calendar days following delivery date. But return/exchange request cannot be made in following cases:

When request due to change of mind is made after 7 calendar days following delivery date
When product is used, destroyed or damaged
When tag attached to product is removed or package of product is opened and product value is damaged
When sealed package is opened or packaging materials are lost
When too much time has passed and product value has so decreased that its re-sale is not possible
When return/exchange request is made for customized product such as hand-made shoes or accessories
When components of product (including free gift) have been used or lost
When buyer did not follow instructions included in product

As e-voucher products are immediately sent to your e-mail, returns/exchanges are not available. Please take note of this before purchase, and input your e-mail address correctly.
As Mobile Top-up products are directly reloaded on your cell phone number, returns/exchanges are not available. Please take note of this before purchase, and enter your cell phone number correctly.
For any inconvenience regarding Cancellation/Return/Exchange, please contact Customer Service at 03-2720 0000 and we will do our best to help you.
Notice
Please note that, direct transaction with the seller without using 11street payment service can cause problems such as; not receiving the product, receiving different product etc.
For sales products and contents registered by the seller, 11street run by Celcom Planet has no responsibility on any of the registered contents.