Store's Best Items
MaxAudio
Satisfaction Rating 100%
Grade Power Seller
Seller Information
Seller Information
Seller
MaxAudio
Seller's Address

Ship-From Address

Kuala Lumpur, Wilayah Persekutuan Kuala Lumpur

Return/Exchange Address

Kuala Lumpur, Wilayah Persekutuan Kuala Lumpur
Close
Basic Information of Product
Basic Information of Product
Product Status/Sales Type
New
Product No.
1399188
Weight (kg)
0.5 kg
Country of Origin
N/A
Shipping Method

Courier Service

GST Applicable
SR 6%
Tax Invoice
Yes (available in My Page)
After Sale Service
E-mail: maxaudio09@gmail.com
Phone: +603-92878259/ +6016-3375742

Official Website: www.maxaudio.com.my
Company Name: Max Audio Online Sdn. Bhd.

Address:
74, Jalan Jejaka,
Taman Maluri, Cheras, 55100,
Kuala Lumpur, Malaysia

Drive by Waze http://waze.to/hw283fcjst

GPS Coordinate:

- N3° 7.579'
- E101° 43.814'

Land Mark:

1. Behind Aeon (Jaya Jusco)
2. Same roll With pizza hut
3. Facing Main road
11street receives report on products to protect buyers' right. For further information on safe trade, please contact us.
Reportgo
For order related and other issues, kindly click on E-mail Enquiry here.
E-mail Enquiry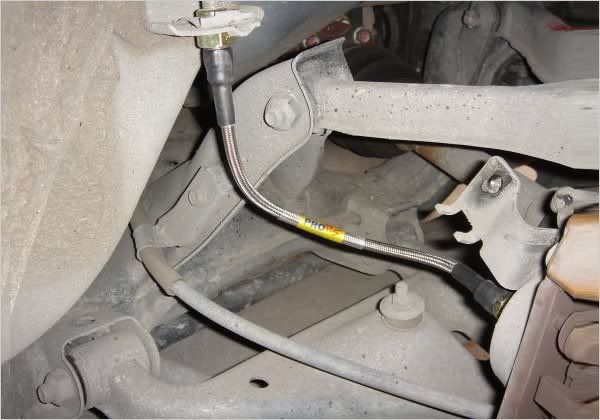 PRO-RS Stainless steel-braided PTFE hose is manufactured by world's leading Aerospace hose manufacturer in the U.S. & Japan

Package Included Front & Rear Complete Brake Hose

Material: Stainless Steel Braided Hose

Estimated Life Span: 7 to 10 Years

Warranty: 2 Year

Official Website:

www.pro-rs.com

PRO-RS Hose is manufactured and assembled in accordance to Quality Management Systems, standards and procedures which is compliant to the ISO/TS 16949:2002 and ISO9001:2000 standards.

Same brake hose technology applied in F1/F3/Japan GT racing cars,

Virtually no skidding during emergency braking,

Reduced stopping distance,

Firmer & quicker responsive braking with excellent feel,

Made to individual car model specification to ensure installation as OEM brake hose,

Made to SAE J1401 Safety Standard

ELIMINATES BRAKE FADE UNDER HEAVY BRAKING

INCREASES BRAKING EFFICIENCY

ABRASION AND CORROSION RESISTANT

INCREASES SAFETY

Eliminates original rubber brake hose sponginess

All PRO-RS Brake Hose Kit is now furnished with POLYOLEFIN Sleeves at the joint between hose and metal fittings.

This sleeves protects the joint from corrosion and reduce the hose flexing at the joint. This feature increases Reliability and Extend the life-time of PRO-RS

Brake Hose Kit

Bracket for mounting PRO-RS Brake Hose to the shock absorbers is now a standard feature for all brake hose kit. No more cable-tie or ancient wire-tie to secure the brake hose to shock absorber bracket as used by other brands of performance brake hose kit.

PRO-RS fittings and brackets is as close as you can get to OEM installation.

Installation Fees:

Brake Hose: Rm80 (4 Hose), Rm120 (6 Hose)

Clutch Hose: Rm50 (1 Hose), Rm60 (2 Hose), Rm70 (3 Hose)

*Brake Oil is not included during installation
Name

Date
Installed

Comment

Car Model

Edmund Lim
7 Feb 2004
Better responds on the pedal feel, more grip

Satria GTi 1.8

Hasrin
7 Feb 2004
Firmer feel on pedal, no complaint

Wira 1.6

Lok
9 Feb 2004
Normal driving is ok, make big difference
in high speed

Accord SV4

Khairol
13 Feb 2004
Better than original, better response

Mit. Airtrek Turbo

Ong
14 Feb 2004
Very satisfied with the performance

Proton Saga 1.5

Vick
16 Feb 2004
Good pedal feel, can do late braking
during cornering

Corolla AE-111

Teoh
16 Feb 2004
Better braking respond when cruising
on highway

Honda Stream

Aizai
17 Feb 2004
Very happy, pedal feel is firm

Satria GTi 1.8

Jim
23 Feb 2004
More grip and excellent pedal respond

Putra 1.8

Phang
23 Feb 2004
Good respond and more firmer pedal feel (from Penang)

Kancil

Brandon
26 Feb 2004
Running with new disc, feel more grip
and good respond

Punto Gt Turbo

Cheah
27 Feb 2004
Happy that Pro-RS is available for his car (Custom Made)

Volvo 240

Lim
1 Mar 2004
Better safety on highway.
Travels KL-Penang often

Citroen ZX 1.9 / BMW E39

David
6 Mar 2004
Feels more firm on the pedal and better braking responds

Proton Wira
1.8 DOHC

Yong
6 Mar 2004
I've fitted a set on my Fiat Coupe. This is my second set. Not much to comment, but extremely happy with the performance.

Fiat Coupe/ Perodua Kenari

Karl (Audi A4 Club)
6 Mar 2004
More and more of our members are investing in PRO-RS

Audi A4

J.J
6-Mar 2004
Performing to my expectation. Considering on installing RACE SPORT EQUIP brake disc. Wonder if the discs will make more difference

Mercedes Benz W124 300E

Billy
10 Mar 2004
Better brake respond, helps a lot
since I'm using 18" inch wheels

Perdana V6
Club

Robin Lim
13 Mar 2004
PRO-RS enhanced my stopping power, especially during emergency

Mazda 323 Estate

Nicolas Chen
13 Mar 2004
Stopping ability felt much better

Proton Satria GTi 1.8

Izam
13 Mar 2004
Very good in terms of braking respond. Will install for my BMW as well.

Mercedes
Benz 190E

Lee
17 Mar 2004
Helps a lot on my braking, feels more firm

Proton Wira
1.6

Lai
20 Mar 2004
Feels more firm. Now I know my brake system is in top performance

Toyota Celica 1990

Alias
26 Mar 2004
Tip top performance. Feels even better after I changed to new brake pads

Peugeot 306
1.6

Kelvin
1 Apr 2004
Feels firm under heavy braking as my car is quite heavy

Volvo 850
Estate

Alan
3 Apr 2004
Need to check my master pump. At least
I know my hose is ok.

Honda Civic
EG6 VTEC

Arthur
15 Apr 2004
Feels Good! At least there is performance hose for my old junk.

Toyota
AE82 1.6

Edward
17 Apr 2004
I've removed my Taiwan cheating stainless braided hose and install Pro-RS. Now it really makes a big improvement in braking.

Honda CRV
1st Gen

Yap
26 Apr 2004
My braking much improved. Getting a pair of Race-Sport disc.

Proton Waja
1.6

Sharin
28 Apr 2004
Feels even better with my upgrade calipers. Less spongy

Honda Integra DA6 Vtec

John
(Singapore)
28 May 2006
I do find PRO-RS brake lines have improved the responsiveness of my brakes. Its installed on my car for more than two years. Last year I turbo charged the car and I've also changed to bigger front rotors and calipers. PRO-RS are holding fine.

Italian Car



Seller Information
Seller Information
Seller
MaxAudio
Ship-From Address
Kuala Lumpur, Wilayah Persekutuan Kuala Lumpur
Return/Exchange Address
Kuala Lumpur, Wilayah Persekutuan Kuala Lumpur
Notice on Return/Exchange
We want you to love what you ordered, but if something isn't right, let us know. We'll give you a credit refund or send you another new set, or an entirely different style. Here are some points to note when you want to return the merchandise to us.

If you received your order items with any defect/ wrong item received or size related issue. Kindly inform us at maxaudio09@gmail.com within 24 hours after you received it. You should provided the information such as Order No., Your name, Contact number, Photo of the relevant products and reason of return for further processing. We will get back to you within 24 hours. Your exchange or return will be approved subject to size availability and stock availability. If we do not have the preferred size in stock, you will be given the same value credit to purchase for the item in our store.

You must send the item back to us within 7 days upon you received our reply. We will only bare the postage fees for the return items have defect or accidentally sent the wrong items to you. However, for exchange size request, Customer have to bear the postage fees. A RM5 administration fees will be charged per order/per transaction.
Additional information:
- All goods sold are not refundable.
- Sales item are not eligible for returns or exchanges. No exception will be made.
- Defective items are eligible for return shipping reimbursement at Skynet rate.
- Please ensure that all return items must NOT be worn, altered, or washed.
- The packaging should be in original condition in original shipping container as received.

The returned goods/products will be checked with the receipt together and the goods should be in the good condition. Returns received in damaged or used condition will not be processed.

If the goods/products has been used or damaged by the customer, there will not be any refund.
Return / Exchange Policy
Cancellation

Request for cancellation if product has not been dispatched after payment completion.

Return

Request for return within 7 calendar days following delivery date.
Check seller's approval on buyer's request.
Buyer sends product in question to seller.
Seller receives and checks returned product
Seller approves return and return is completed.

Exchange

Request for exchange within 7 calendar days following receipt of delivery.
Check seller's approval on buyer's request.
Buyer sends product in question to seller.
Seller receives and checks returned product
Seller send new product to buyer, and buyer receives it, and exchange is completed.
How to Request for Cancellation/Return/Exchange

You can request for cancellation after completing payment and if product has not been dispatched by then, cancellation request is approved and you can receive refund.
But, in case seller has already dispatched product, cancellation request can be rejected.
You can request for return after obtaining product, you should send the product in question to seller.
After seller checks if returned product is flawed, and approves your request, return is completed and payment is refunded.
You can request for exchange if wrong product is shipped, you should send the product in question to seller.
After seller checks if returned product is flawed, seller approves your request, and re-sends new product.

Criteria for Return/Exchange

You can request for return/exchange within 7 calendar days following delivery date. But return/exchange request cannot be made in following cases:

When request due to change of mind is made after 7 calendar days following delivery date
When product is used, destroyed or damaged
When tag attached to product is removed or package of product is opened and product value is damaged
When sealed package is opened or packaging materials are lost
When too much time has passed and product value has so decreased that its re-sale is not possible
When return/exchange request is made for customized product such as hand-made shoes or accessories
When components of product (including free gift) have been used or lost
When buyer did not follow instructions included in product

As e-voucher products are immediately sent to your e-mail, returns/exchanges are not available. Please take note of this before purchase, and input your e-mail address correctly.
As Mobile Top-up products are directly reloaded on your cell phone number, returns/exchanges are not available. Please take note of this before purchase, and enter your cell phone number correctly.
For any inconvenience regarding Cancellation/Return/Exchange, please contact Customer Service at 03-2720 0000 and we will do our best to help you.
Notice
Please note that, direct transaction with the seller without using 11street payment service can cause problems such as; not receiving the product, receiving different product etc.
For sales products and contents registered by the seller, 11street run by Celcom Planet has no responsibility on any of the registered contents.