IROAD T9 WIFI 2CH Blackbox Dashcam 16GB Set FullHD 1080p WIFI DVR Car Vehicle Video Recorder - Dash Camera Video Recorder Digital DVR Recorder
IROAD T9 adopted format free technology and manipulation prevention technology,span>
JDR format free recording way that records every second not as usual as 30sec or 1min can be defragmented to minimize possibility of fragmentations. No necessarily need to format and it brings increase of lifespan of SD card.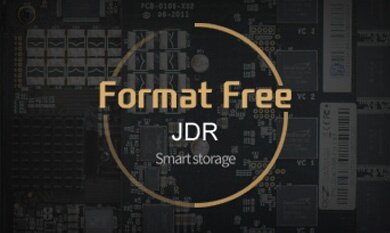 Stable, all new concept file format
JDR format, the next generation format system after AVI and MP4 format, is applied to improve the security of saved data.
Recordings are automatically saved in a main memory unit and it is much safer than previously used format
JDR format does not require deleting the whole files in a memory card regularly, whereas other existing in-car cameras do require it.
Automatic rebooting function which IROAD T10 provides guarantees the safety of the device and its saved dataspan>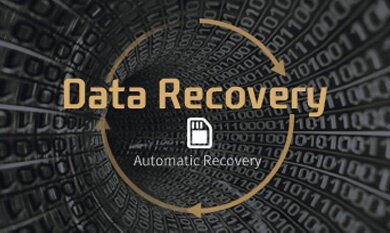 Saved recordings auto recovery function
Keep saved data safe with automatic recovery function
Damaged files or even mistakenly deleted files are automatically recovered once a SD memory card is reinserted onto the camera.
And also it assigned to a block of data to a certain size, and can optionally adjust the amount of data that the user wants to record to allocate space according to their size.
JDR format recordings can be played via PC dedicated viewer and Smartphone.(unable to run on normal media players). JDR files can be converted into AVI format from the viewer and Smartphone applicationspan>
STORAGE
Supports large capacity memory of up to 64GB

So that genuine IROAD memory cards can always record High Definition video, rear Full-HD 30-frame, strictly tested to ensure best speed and image storage stability.
Applying the format and recording systems in order to support large memory of up to 64GB, you can store plenty of high quality images for a longer time.
Please use our genuine memory card.
*16GB – 2CH – FHD*HD – 30fps : About 3H 10Min
*32GB – 2CH – FHD*HD – 30fps : About 7H 20Min
*64GB – 2CH – FHD*HD – 30fps : About 14H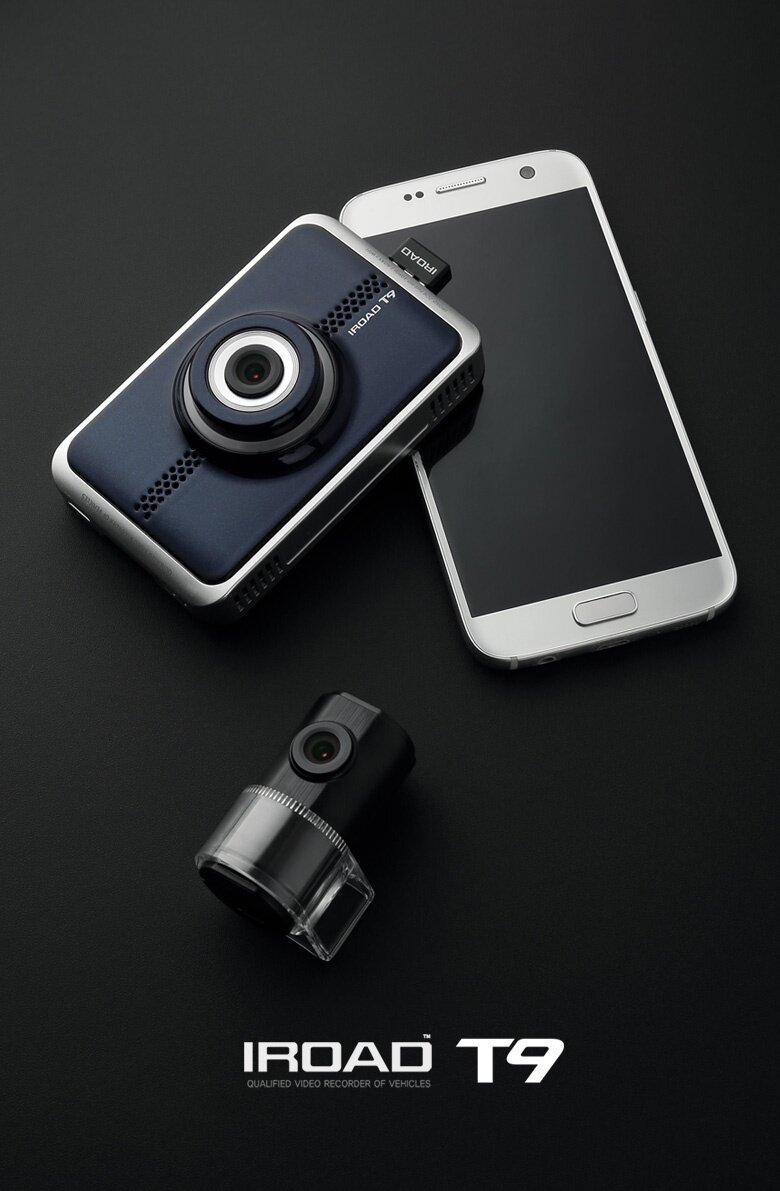 Wi-Fi
Easy to Wi-Fi Wireless
Wi-Fi is automatically connected after running IROAD application and regularly check whether it is updated with the latest version.
The most convenient Wi-Fi function which IROAD A9 has to offer, patent obtained.
Wi-Fi function for other existing in-car cameras is rather give users a real hassle and is hard to connect.
A9 provides automatic connection/disconnection function
(i.e. Wi-Fi is automatically connected after running IROAD mobile application, disconnected after exiting the application.)
IROAD SMARTPHONE APPLICATION
SEARCH 'IROAD' ON GOOGLE PLAYSTORE & APP STORE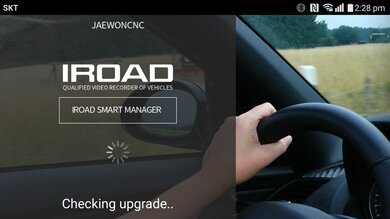 AUTOMATIC WI-FI CONNECTION
AUTOMATIC FIRMWARE UPDATE
Wi-Fi is automatically connected after running IROAD application and regularly check whether it is updated with the latest version.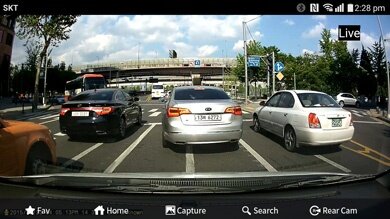 FRONT & REAR LIVE SCREEN
Users are able to watch front/rear live screen. Date, time, voltage and travelling speed and GPS info are all shown on the bottom of the screen.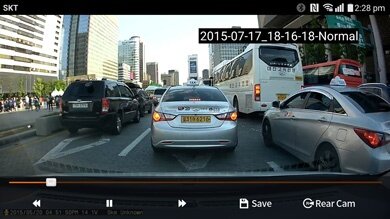 FRONT & REAR RECORDINGS
PLAYBACK AND SAVING
Front/Rear recordings can be played using smartphone. The recordings saved in the smartphone can be simply uploaded to Youtube, SNS and more.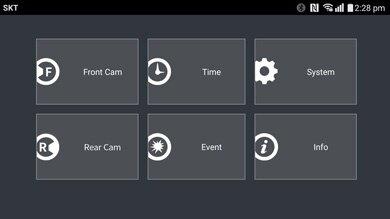 VARIOUS SETTINGS
On the settings in the mobile application, users can steer the following : Resolution, frame, recording mode, sensor sensitivity, time and date, memory capacity allocation and voltage control(uninterrupted power/low voltage cut-off)
2.6W
The minimum electricity consumption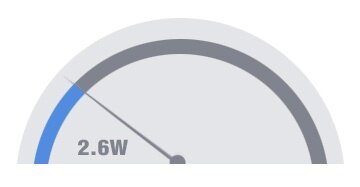 2.6W (2CH basis)
The half of electric consumption is in lesser need than other products since it releases heat from electric circuit
2CH basis(12V, LCD OFF basis) : 2.6W
LBP
Battery discharge prevention function
Low voltage cut-off function(uninterrupted power) is embedded
For the purpose of battery protection, IROAD A9 automatically detects and cuts off voltage when the voltage drops below certain point. Once initiated, recording is stopped and power is turned off. The motion detection function is effective for saving battery.
IROAD T9 Uninterrupted Fuse Cable is the basic component. You don't need to be purchased separately.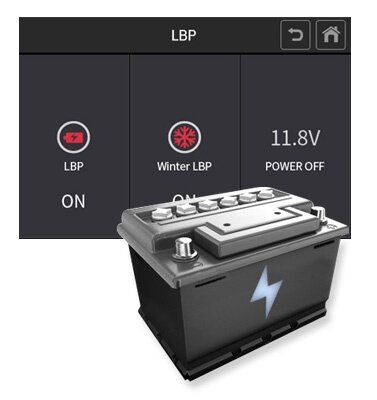 DESIGN
Upgraded Design, IROAD T9
Deep Blue & Silver Combination
IROAD T9 designed comfort and classy with beautiful deep blue and matt silver.
Rounded appearance expresses soft and high-grade product and Anti-bolt assembly represents sturdy and perfect design.
Well-designed transparent cradle supports to closer positioning installation in windscreen, even rear cradle rotates 360degress flexibly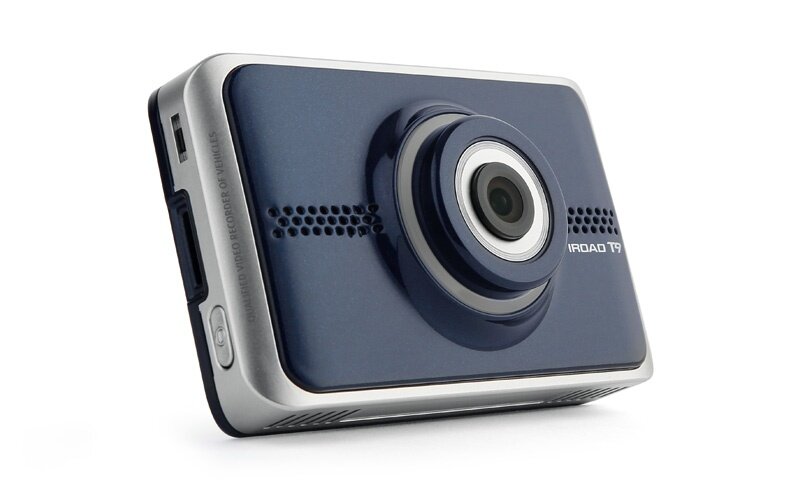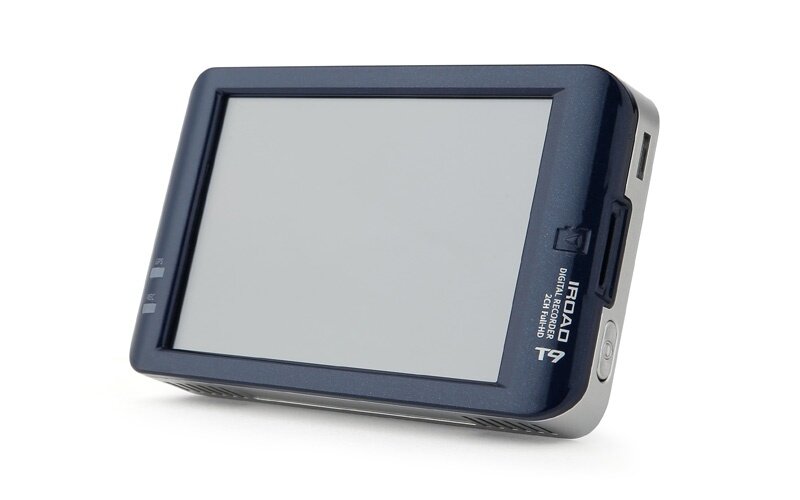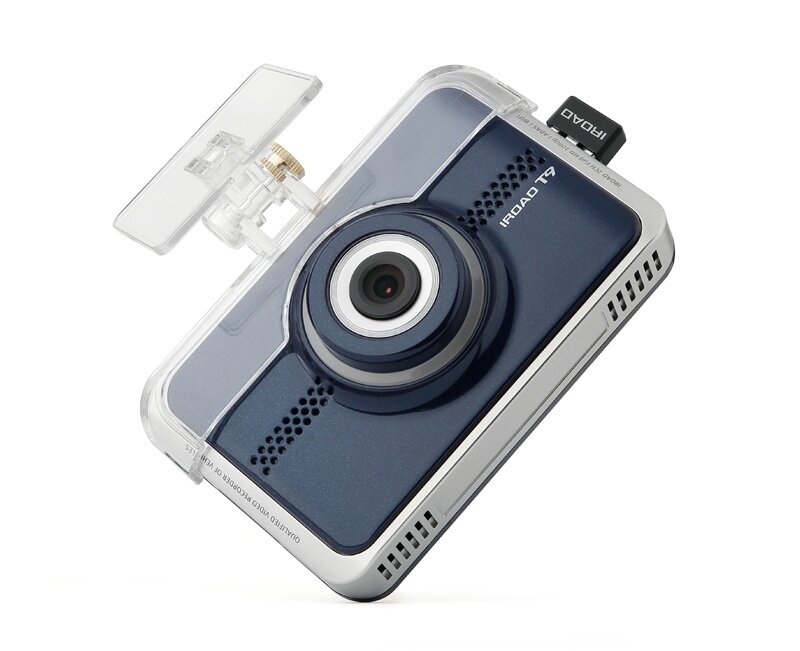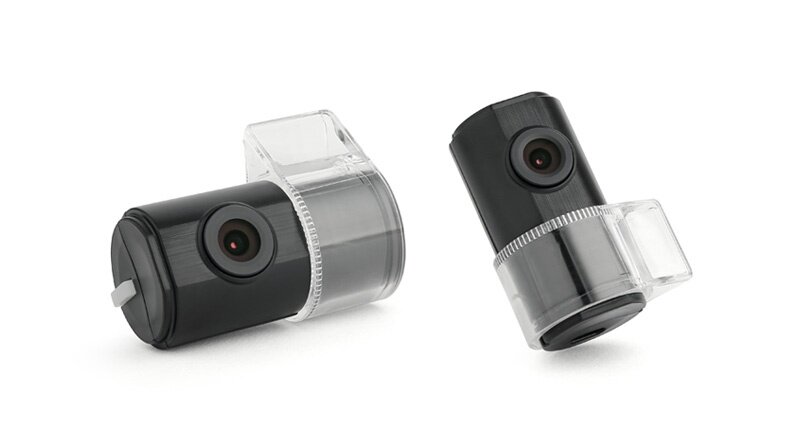 RECORDING
Various recording modes
Steady and stable recording methods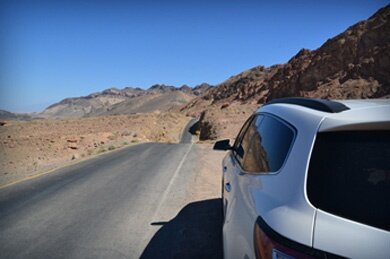 Normal (driving) recording
When the car engine is started, the device is automatically turned on and starts recording on driving mode.
The circumstances surrounding the front and rear license plates of vehicles may not accurately record the picture quality of Full HD.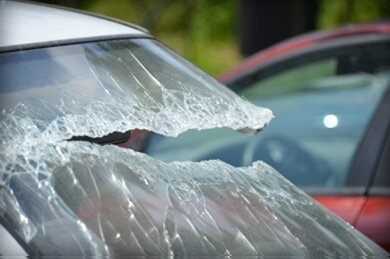 Impact (Event) recording
During parking or driving, when a motion is detected within the vehicle, it will automatically start an event recording.
Motion detection
24 Hour recording while Parking

Safe parking to support the recording mode to protect the vehicle, even when parked.
IROAD T9 uses an advanced parking mode, the engine starts up automatically once it is detected by the car (when using uninterrupted fuse cable). It can easily determine when entering parking mode in order to switch the recording modes more accurately.
Front and rear camera automatically detects movement before any motion. It will automatically record the motions and you can manage the recordings in the memory card storage.
After entering the parking mode, if some events happen, there will be voice guidance.
"An event occurred during parking."
A Wide viewing angle
142 degrees optimal viewing angle,
watch distortion-free images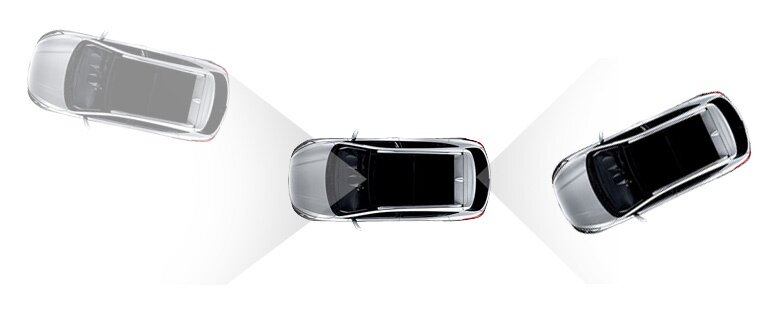 IROAD T9 is 142-degrees angle wide, records the front and rear view of the vehicle in Full HD.
Provides optimal wide ratio to record left/right distortion-free footage and its wide viewing angle enables to record wider to the left and the right. More things will be recorded.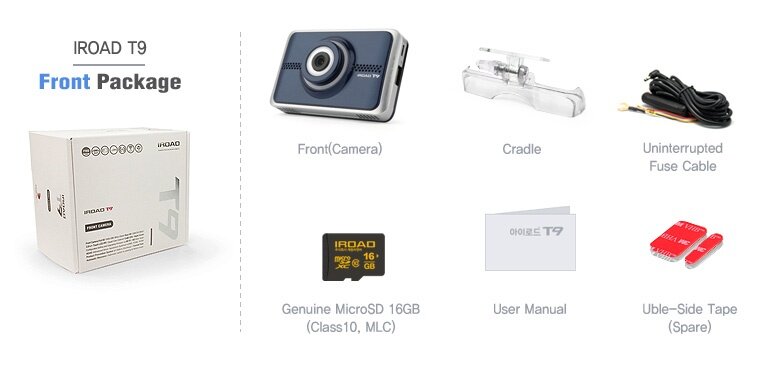 REAR PACKAGE
IROAD T9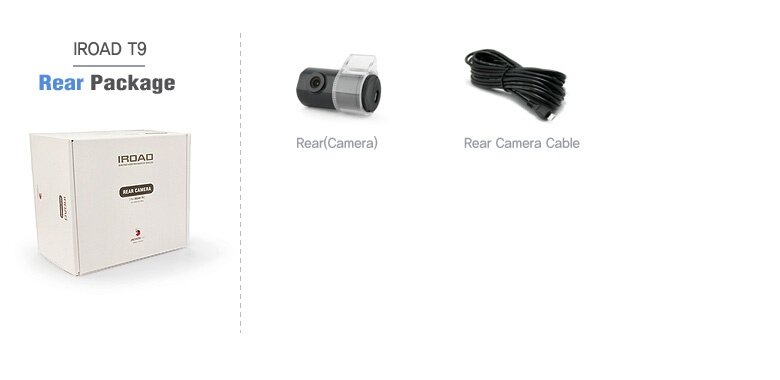 Basic Information
Basic Information of Product
Product Status/Sales Type
New
Product No.
52732631
Weight (KG)
1 kg
Country of Origin
N/A
Shipping Method
Courier Service
GST Applicable
SR 6%
After Sale Service
Brand
None
Already purchased this product? Write your review here.
Read more

Read less
/300
(this will only be visible between you and seller)
All your Q&A posts are available in My Page > My Shopping Talk > My Q&A History.
Once seller replies, you will be notified by email.
Your posts may be removed and 11street reserves the right to suspend your account if inappropriate contents are found;

Any implication of direct trade / discounts with your contact number, email address, or any offline contact point.
Any indication of libel/defamation, inappropriate price comparison, unrelated ads, etc.
Seller's Information
Seller
online car accessories
Shipping from
Return/Exchange address
Notice on Return/exchange
If you received your order items with any defect/wrong item received or size related issue. Kindly inform us at lkkcaraudio@gmail.com or WhatsApp 010-5660825 (Ms Low) within 24 hours after you received it. You should provide the information such as Order No., Your name, Contact number, Photo of the relevant products and reason of return for further processing. We will get back to you within 24 hours. Your exchange or return will be approved subject to size availability and stock availability. If we do not have the preferred size in stock, you will be given the same value credit to purchase for the item in our store.

You must send the item back to us within 7 days upon you received our reply. We will only bare the postage fees for the return items have defect or accidentally sent the wrong items to you. However, for exchange size request, Customer have to bear the postage fees. A RM5 administration fees will be charged per order/per transaction.
Additional information:
- All goods sold are not refundable.
- Sales item are not eligible for returns or exchanges. No exception will be made.
- Defective items are eligible for return shipping reimbursement
- Please ensure that all return items must NOT be worn, altered, or washed.
- The packaging should be in original condition in original shipping container as received.

The returned goods/products will be checked with the receipt together and the goods should be in the good condition. Returns received in damaged or used condition will not be processed.

If the goods/products has been used or damaged by the customer, there will not be any refund
11Street Return/Exchange Policy
Cancellation

Request for cancellation if product has not been dispatched after payment completion.
Strictly no cancellation for E-voucher after purchased.

Return

Request for return within 7 calendar days following delivery date.
Check seller's approval on buyer's request.
Buyer sends product in question to buyer.
Seller receives and checks returned product.
Seller approves return and return is completed.
Strictly no return or refund for E-voucher.

Exchange

Request for exchange within 7 calendar days following receipt of delivery.
Check seller's approval on buyer's request.
Buyer sends product in question to seller.
Seller receives and checks returned product
Seller send new product to buyer, and buyer receives it, and exchange is completed.
No exchange for E-voucher purchased.
How to Request for Cancellation/Return/Exchange
You can request for cancellation after completing payment and if product has not been dispatched by then, cancellation request is approved and you can receive refund.
But, in case seller has already dispatched product, cancellation request can be rejected.
You can request for return after obtaining product, you should send the product in question to seller.
After seller checks if returned product is flawed, and approves your request, return is completed and payment is refunded.
You can request for exchange if wrong product is shipped, you should send the product in question to seller.
After seller checks if returned product is flawed, seller approves your request, and re-sends new product.
Criteria for Return/Exchange
You can request for return/exchange within 7 calendar days following delivery date. But return/exchange request cannot be made in following cases:
When request due to change of mind is made after 7 calendar days following delivery date
When product is used, destroyed or damaged
When tag attached to product is removed or package of product is opened and product value is damaged
When sealed package is opened or packaging materials are lost
When too much time has passed and product value has so decreased that its re-sale is not possible
When return/exchange request is made for customized product such as hand-made shoes or accessories
When components of product (including free gift) have been used or lost
When buyer did not follow instructions included in product
As e-voucher products are immediately sent to your e-mail, returns/exchanges are not available. Please take note of this before purchase, and input your e-mail address correctly.
As Mobile Top-up products are directly reloaded on your cell phone number, returns/exchanges are not available. Please take note of this before purchase, and enter your cell phone number correctly.


For any inconvenience regarding Cancellation/Return/Exchange, please contact Customer Service at 03-2720-0000 and we will do our best to help you.
Notice
Please note that, direct transaction with the seller without using 11street payment service can cause problems such as; not receiving the product, receiving different product etc.
For sales products and contents registered by the seller, 11street run by Celcom Planet has no responsibility on any of the registered contents.