Style. Passion. Intelligence. And that's even before you turn it on.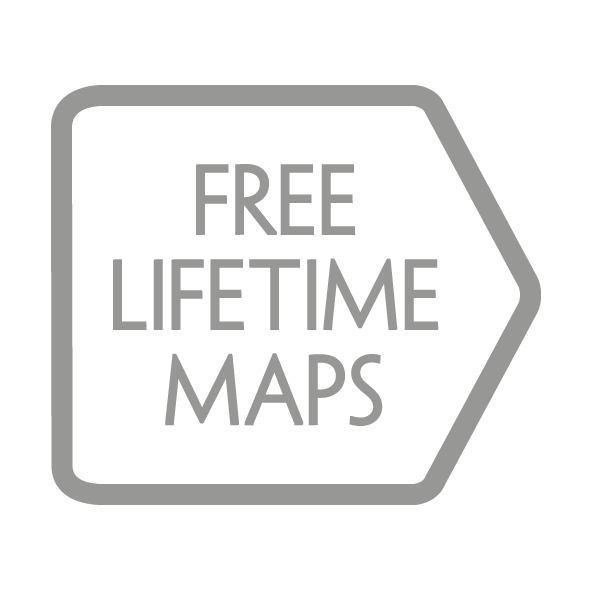 Navigation with a Lifetime of Maps
zūmo 350LM includes maps for the whole of Europe and offers you the convenience of lifetime map updates⊃2;, which gives you up-to-date mapping and the most current information about businesses like restaurants, cashpoints, hospitals and more. zūmo features an advanced navigation engine with a faster, more intuitive interface. The navigation features you'll get include:
The easy-to-use search bar and quick type address entry which shows you only the letters possible to make a valid address
The new Service History Log lets you record the date, mileage and type of maintenance performed on your motorcycle. Tire mileage, tire changes, tire pressure, chain cleanings, oil changes, new spark plugs - anything you can think of, zūmo will keep a record of it
Speed limit indicator and

Cyclops Speed Cameras

provided by specialists, Cyclops
Exit Services - know what you'll find when you exit the highway
With TracBack you can ride wherever the road takes you, then navigate along that same route back to where you started
Lane assist with junction view, realistically displays road signs and guides you to the correct lane, making unfamiliar junctions and exits easy to navigate

Rugged and Waterproof
Rugged and waterproof to IPX7⊃1;, zūmo 350LM is built tough for bikers - by bikers. We tested it on rutted-out roads, cobblestone streets, in heavy rain and glaring sunshine and the result was always the same - zūmo kept on navigating.

Plan and Share Trips
Use BaseCamp™ to plan your next ride. You can create routes, waypoints and tracks from your computer and then transfer them to your zūmo. The "Track Draw" feature lets you trace your planned route and view elevation changes, helping you estimate the difficulty of your ride. Plan the perfect scenic route, making sure your navigator takes you through your favourite places. Even play back your trips over time and save and share your adventure.

Navigate by sight or sound
zūmo 350LM features a highly visible, sunlight-readable 4.3" (10.9 cm) touchscreen display with a simple glove-friendly interface. With a Bluetooth™-enabled helmet or headset (sold separately), you can get clear, turn-by-turn spoken directions. Also included is a motorcycle-specific mount so zūmo rides sturdy, and you ride with confidence. There's even a car mount included for automotive navigation.
⊃1;Protected against water immersion for 30 minutes at a depth of 1 m.
⊃2;If you purchase a nüMaps Lifetime subscription (sold separately or bundled together with certain GPS models), you will receive up to 4 map data updates per year, when and as such updates are made available on Garmin's website, for 1 compatible Garmin product until your product's useful life expires or Garmin no longer receives map data from its third party supplier, whichever is shorter. A product's "useful life" means the period during which the product (a) has sufficient memory capacity and other required technical capabilities to utilize current map data and (b) is capable of operating as intended without major repairs. A product will be deemed to be out of service and its useful life to be ended if no updates have been downloaded for such product for a period of 24 months or more. Unless otherwise stated, the updates you receive under the subscription will be updates to the same geographic map data originally included with your Garmin product when originally purchased. In some instances, your Garmin product might not have sufficient memory remaining for you to load an update to the map data, in which case you will need to either (a) select reduced map data coverage for your updates, or (b) purchase separately a microSD™/SD™ card (if and as applicable to your Garmin product) and load all or a portion of the map data coverage for your updates to the card and insert the card into the microSD/SD card slot contained in your Garmin product. If neither of the measures in (a) or (b) can be used to address your product's lack of sufficient remaining memory, then Garmin may conclude that the "useful life" of your product has expired. Garmin may terminate your nüMaps Lifetime subscription at any time if you violate any of the terms of this agreement or your subscription. Your nüMaps Lifetime subscription may not be transferred to another Garmin product.
Physical & Performance

Unit dimensions, WxHxD:

5.12"W x 3.7"H x 1.18"D (13.0 x 9.4 x 3.0 cm)

Display size, WxH:

3.7"W x 2.2"H (9.4 x 5.6 cm); 4.3" diag (10.9 cm)

Display resolution, WxH:

480 x 272 pixels

Display type:

WQVGA colour TFT with white backlight

Weight:

9.5 ounces (270 g)

Battery:

rechargeable lithium-ion

Battery life:

up to 7 hours

Headphone jack/audio line-out:

yes

High-sensitivity receiver:

yes

Waterproof:

yes (IPX7)
Maps and Memory

Preloaded street maps:

yes

Includes lifetime map updates:

yes

nüMaps Guarantee:

yes

3-D terrain view:

no

3-D buildings and landmarks view:

no

Built-in memory:

internal solid state

Accepts data cards:

yes microSD™ card (not included)

Waypoints/favorites/locations:

1000

Routes:

100
Features and Benefits

Drive stress-free. Save time and money.

Voice prompts (e.g. "Turn right in 500 ft."):

yes (internal speaker)

Speaks street names (e.g. "Turn right ON ELM STREET in 500 ft."):

yes

Voice-activated navigation (operate device with spoken commands):

no

Traffic compatible (routes around traffic with a receiver and subscription):

yes (in automotive mount)

Lifetime traffic updates (receive free lifetime traffic updates):

no

Lane assist (guides to proper lane for navigation):

yes

Junction view (displays junction signs):

yes

myTrends™ (predicts your routes):

no

trafficTrends™ (calculates routes based on predicted traffic flow):

yes

ecoRoute™ (calculates a more fuel-efficient route):

no

Auto sort multiple destinations (provides most direct route):

yes

Route avoidance (avoid highways, tolls etc.):

yes

Garmin nüLink! services: (receive accurate real-time travel information):

no

XM® compatible for U.S:

no

Navigate safely and easily.

Bluetooth® wireless technology:

yes (helmet or headset use only)

Speed limit indicator (displays speed limit for most major roads in the U.S. and Europe):

yes

Where Am I? (find closest hospitals, police & gas stations, nearest address & intersection):

yes

Enhanced pedestrian navigation (guides you as you walk around town):

no

Photo navigation (navigate to geotagged photos):

no

Exit services (tells you approaching services on highway):

yes

Custom POIs (ability to add additional points of interest):

yes

Garmin Lock™ (anti-theft feature):

no

Enjoy the drive and customize.

Garmin Garage™ vehicles compatible (download car-shaped icons to your device):

yes

Garmin Garage™ voices compatible (download custom voices to your device):

yes

MP3 player:

no

Audio book player:

no
Basic Information
Basic Information of Product
Product Status/Sales Type
New
Product No.
857300
Weight (KG)
0.5 kg
Country of Origin
N/A
Shipping Method
Courier Service
GST Applicable
Not Applicable (Non-GST seller)
After Sale Service
carrot2006@gmail.com
Brand
Already purchased this product? Write your review here.
Read more

Read less
/300
(this will only be visible between you and seller)
All your Q&A posts are available in My Page > My Shopping Talk > My Q&A History.
Once seller replies, you will be notified by email.
Your posts may be removed and 11street reserves the right to suspend your account if inappropriate contents are found;

Any implication of direct trade / discounts with your contact number, email address, or any offline contact point.
Any indication of libel/defamation, inappropriate price comparison, unrelated ads, etc.
Seller's Information
| | |
| --- | --- |
| Seller | Carrot Store |
| Shipping from | |
| Return/Exchange address | |
| Notice on Return/exchange | 39f0eb57ee4c55bda8fdc304c4e2e32a |
11Street Return/Exchange Policy
Cancellation

Request for cancellation if product has not been dispatched after payment completion.
Strictly no cancellation for E-voucher after purchased.

Return

Request for return within 7 calendar days following delivery date.
Check seller's approval on buyer's request.
Buyer sends product in question to buyer.
Seller receives and checks returned product.
Seller approves return and return is completed.
Strictly no return or refund for E-voucher.

Exchange

Request for exchange within 7 calendar days following receipt of delivery.
Check seller's approval on buyer's request.
Buyer sends product in question to seller.
Seller receives and checks returned product
Seller send new product to buyer, and buyer receives it, and exchange is completed.
No exchange for E-voucher purchased.
How to Request for Cancellation/Return/Exchange
You can request for cancellation after completing payment and if product has not been dispatched by then, cancellation request is approved and you can receive refund.
But, in case seller has already dispatched product, cancellation request can be rejected.
You can request for return after obtaining product, you should send the product in question to seller.
After seller checks if returned product is flawed, and approves your request, return is completed and payment is refunded.
You can request for exchange if wrong product is shipped, you should send the product in question to seller.
After seller checks if returned product is flawed, seller approves your request, and re-sends new product.
Criteria for Return/Exchange
You can request for return/exchange within 7 calendar days following delivery date. But return/exchange request cannot be made in following cases:
When request due to change of mind is made after 7 calendar days following delivery date
When product is used, destroyed or damaged
When tag attached to product is removed or package of product is opened and product value is damaged
When sealed package is opened or packaging materials are lost
When too much time has passed and product value has so decreased that its re-sale is not possible
When return/exchange request is made for customized product such as hand-made shoes or accessories
When components of product (including free gift) have been used or lost
When buyer did not follow instructions included in product
As e-voucher products are immediately sent to your e-mail, returns/exchanges are not available. Please take note of this before purchase, and input your e-mail address correctly.
As Mobile Top-up products are directly reloaded on your cell phone number, returns/exchanges are not available. Please take note of this before purchase, and enter your cell phone number correctly.


For any inconvenience regarding Cancellation/Return/Exchange, please contact Customer Service at 03-2720-0000 and we will do our best to help you.
Notice
Please note that, direct transaction with the seller without using 11street payment service can cause problems such as; not receiving the product, receiving different product etc.
For sales products and contents registered by the seller, 11street run by Celcom Planet has no responsibility on any of the registered contents.