Garmin Vivofit JR Activity Tracker Watch For kids
(NEW) Garmin Vivofit JR Activity Tracker Watch For kids
Daily Activity Tracker for Kids
Features 1+ year battery life; no recharging needed
Kid-friendly design is comfortable, durable and swim friendly⊃1;
Tracks steps, sleep and 60 minutes of daily recommended activity⊃2;
Free parent-controlled app

5

includes fun and educational mobile adventures for kids and chore/behavior management for parents
Kids can earn coins to redeem for agreed-upon rewards managed by parents

A wearable just for kids? Oh yes, we did. Meet vívofit jr. This stylish, swim-friendly⊃2; activity tracker encourages your kids to stay on the move. Parents, we didn't forget about you. While the youngsters will love the compatible app for its fun mobile adventure trail they can unlock, you can control the app and use it to monitor your kiddos' steps and active minutes, assign chores and even hand out virtual rewards. Control it all from your mobile device.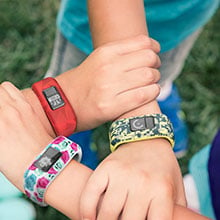 Sweet Style with a Sturdy Design
Perfect for pint-sized powerhouses, vívofit jr. features a comfortable, durable 1-piece band that kids can slip on and off. Available in multiple fun, vibrant designs, your child can rock it everywhere from recess to practice to the pool and even to bed. Check out additional adult-size accessory bands that let kids change up their look. The user-replaceable battery will keep kicking for up to a year, so no need to recharge.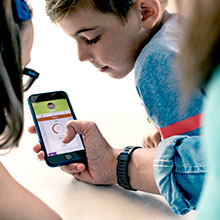 Your Parental Personal Assistant
The vívofit jr. activity tracker can be managed by parents using the compatible app. From the app, you can add multiple children and see their steps, sleep, daily activities and task data when it automatically syncs⊃3; to your smartphone. Assign tasks, find out how many reward coins each child has, and even invite the family to compete in a daily step challenge (from the Adventure Trail) — all from your Apple® or Android®smartphone4.
Stay on Top of Chores
Take the fuss out of household chores by letting vívofit jr. do the work. Parents can assign chores from the smartphone app, and kids will see on their bands they have new jobs to do. These can be set up to recur daily or even weekly — perfect for children who need reminders to brush their teeth and make their beds. And for youngsters who like to procrastinate, set up a task timer so vívofit jr. can remind them that time to finish homework or get dressed is ticking down.

Extra Credit for Sweat
The vívofit jr. activity tracker makes it easy to reward and motivate kids. As kids reach their daily 60-minute activity goals, fun facts and a mobile adventure trail are unlocked, inspiring kids to do their best every day. By completing their assigned chores, kids earn virtual coins to collect and then exchange for rewards you have agreed on, such as an extra 30 minutes of screen time or having a friend spend the night.
Basic Information
Basic Information of Product
Product Status/Sales Type
New
Product No.
39319562
Weight (KG)
0.4 kg
Country of Origin
N/A
Shipping Method
Courier Service
GST Applicable
SR 6%
After Sale Service
2 Year Local Manufacturer Warranty
Brand
Garmin
Already purchased this product? Write your review here.
Read more

Read less
/300
(this will only be visible between you and seller)
All your Q&A posts are available in My Page > My Shopping Talk > My Q&A History.
Once seller replies, you will be notified by email.
Your posts may be removed and 11street reserves the right to suspend your account if inappropriate contents are found;

Any implication of direct trade / discounts with your contact number, email address, or any offline contact point.
Any indication of libel/defamation, inappropriate price comparison, unrelated ads, etc.
Seller's Information
Seller
IT Hyperstore
Shipping from
Return/Exchange address
Notice on Return/exchange
Return Policy (Applicable to Malaysia only)

Our return policy allows for item(s) return and your choice of a full refund or replacement item(s). However, we do have requirements for processing a return.

You may want to return your order due to any of the following reasons:

Reasons

Description

Damaged

The product is damaged upon arrival

Defect

The product does not function as described in its manufacturer specification

Incorrect/wrong item

Not the product the customer ordered.

Missing items/parts

Missing items/parts as indicated in the packaging

Does not fit

Customer receives the size that was ordered but it does not match with the website description

Website error

The product does not match website specifications, description, or image (this issue is attributable to a website error/misinformation)

Unless otherwise stated in the product description, the general requirements for returns are as follows:

Returned item must be shipped back to us within fourteen (14) calendar days or report to our customer service team within 2 days after the item is received. Countdown starts from the date you received the item to the post stamp stated on the parcel you return to us.
Your proof of purchase (order number)
The product must not fall into the non-returnable product list.
The goods must be in new condition and returned in the original packaging along with all accessories (including manuals, warranty cards, certificate of authenticity) and free gifts received with it.
The product must not have been used or installed or had any data inputted.
All sealed must not be opened / broken. In case you have opened the seal, please refer for assistance to the relevant service center indicated on your warranty card.
All the item label and bar code must be remain in original condition
11Street Return/Exchange Policy
Cancellation

Request for cancellation if product has not been dispatched after payment completion.
Strictly no cancellation for E-voucher after purchased.

Return

Request for return within 7 calendar days following delivery date.
Check seller's approval on buyer's request.
Buyer sends product in question to buyer.
Seller receives and checks returned product.
Seller approves return and return is completed.
Strictly no return or refund for E-voucher.

Exchange

Request for exchange within 7 calendar days following receipt of delivery.
Check seller's approval on buyer's request.
Buyer sends product in question to seller.
Seller receives and checks returned product
Seller send new product to buyer, and buyer receives it, and exchange is completed.
No exchange for E-voucher purchased.
How to Request for Cancellation/Return/Exchange
You can request for cancellation after completing payment and if product has not been dispatched by then, cancellation request is approved and you can receive refund.
But, in case seller has already dispatched product, cancellation request can be rejected.
You can request for return after obtaining product, you should send the product in question to seller.
After seller checks if returned product is flawed, and approves your request, return is completed and payment is refunded.
You can request for exchange if wrong product is shipped, you should send the product in question to seller.
After seller checks if returned product is flawed, seller approves your request, and re-sends new product.
Criteria for Return/Exchange
You can request for return/exchange within 7 calendar days following delivery date. But return/exchange request cannot be made in following cases:
When request due to change of mind is made after 7 calendar days following delivery date
When product is used, destroyed or damaged
When tag attached to product is removed or package of product is opened and product value is damaged
When sealed package is opened or packaging materials are lost
When too much time has passed and product value has so decreased that its re-sale is not possible
When return/exchange request is made for customized product such as hand-made shoes or accessories
When components of product (including free gift) have been used or lost
When buyer did not follow instructions included in product
As e-voucher products are immediately sent to your e-mail, returns/exchanges are not available. Please take note of this before purchase, and input your e-mail address correctly.
As Mobile Top-up products are directly reloaded on your cell phone number, returns/exchanges are not available. Please take note of this before purchase, and enter your cell phone number correctly.


For any inconvenience regarding Cancellation/Return/Exchange, please contact Customer Service at 03-2720-0000 and we will do our best to help you.
Notice
Please note that, direct transaction with the seller without using 11street payment service can cause problems such as; not receiving the product, receiving different product etc.
For sales products and contents registered by the seller, 11street run by Celcom Planet has no responsibility on any of the registered contents.