GARMIN Forerunner 620 (Malaysia Warranty)
In The Box:
Forerunner 620 GPS watch with 1 year Garmin Malaysia warranty
Charging data cradle
Manuals
Advanced Running Watch with Recovery Advisor
Touchscreen GPS running watch with high-resolution color display that tracks distance, pace and heart rate¹
Calculates your recovery time and VO2 max estimate when used with heart rate
HRM-Run™ monitor¹ adds data for cadence, ground contact time and vertical oscillation
Connected features²: automatic uploads to Garmin Connect, live tracking, social media sharing
Compatible with free training plans from Garmin Connect
It's the next best thing to having your own personal running coach. Forerunner 620 features recovery advisor, race predictor and VO2 max estimate so you can train smarter. When used with the HRM-Run monitor¹, the 620 also gives you feedback on your running form by showing your cadence, ground contact time and vertical oscillation. For indoor training, the built-in accelerometer tracks distance, so you don't need a separate foot pod.
It Knows Your Potential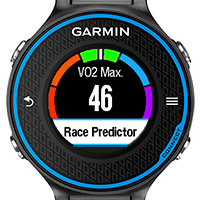 Forerunner 620 can estimate your VO2 max, your body's maximal oxygen consumption. Knowing your VO2 max is a great way to measure your physical fitness and improve your performance. When used with a heart rate monitor, the 620 crunches data, including your running speed, beats per minute and heart rate variability to estimate your VO2 max. The number itself indicates the maximum volume of oxygen you can consume per minute, per kilogram of body weight at your max performance.
A color gauge on the watch shows how your VO2 max data compares to other runners of your gender and age range. Based on your VO2 max estimate, the 620 can predict your race times for several distances. This can give you a time target for your next race, assuming you've completed proper training.
Train and Race The Way You Want
Forerunner 620 features separate activity profiles for Ride/Race/Run, and makes it easy to switch between them, for viewing only the information you want to see. The "Ride" profile defaults to speed instead of pace, sets the activity as cycling for Garmin Connect, and supports cycling speed and pedaling cadence measurements when paired with Garmin wireless speed and cadence sensors. The "Race" profile is an additional running profile that allows you to set up and quickly switch to different data fields for races than those you use for day-to-day training.
Rest Day or Run Day
With Forerunner 620, you don't have to guess how much recovery time you need between workouts. It knows your physiology based on your heart rate data, so it factors this against your last workout and then shows how much time before you are fully recovered and ready for your next hard running workout.
When wearing HRM-Run, the 620 provides a recovery check, which is a real-time indication of your state of recovery within the first several minutes of your run. When you've completed a run, the recovery time shows how long before you should attempt another hard workout. Color coding on the gauge makes it easy to interpret — green means you're good to go. When you see red and a recovery time of more than 3 days, you might consider taking a rest day or just doing a light recovery run.
Following Your Form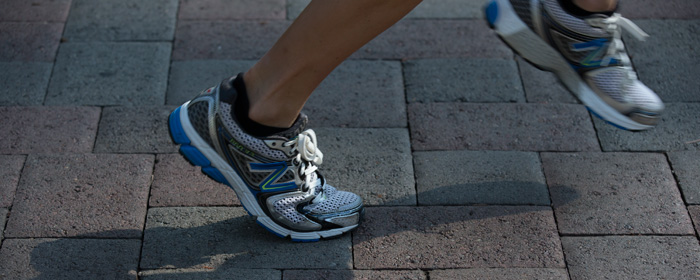 The 620 is the first GPS running watch that provides feedback on your running form by reporting multiple metrics. When used with the HRM-Run monitor¹, the 620 reports your cadence, vertical oscillation and ground contact time. These metrics are called running dynamics, and they effect your running economy.
The HRM-Run has an accelerometer, which measures your torso movement as you run to compute these metrics. Cadence is the total number of steps you take per minute, left and right foot combined. Vertical oscillation is the degree of "bounce" in your running motion, measured in centimeters. Ground contact time is just like it sounds — the amount of time your foot spends on the ground during each running step, measured in milliseconds. A color gauge makes it easy to see how your running dynamics compare to other runners.
Physical & Performance

Physical dimensions
1.8" x 1.8" x 0.5" (45 x 45 x 12.5 mm)
Display size, WxH
1.0" (25.4 mm) diameter
Display resolution, WxH
180 x 180 pixels
Touchscreen
Color display
Weight
1.5 oz (43.6 g)
Battery
Rechargeable lithium-ion
Battery life
Up to 6 weeks in watch mode; up to 10 hours in training mode
Water rating
5 ATM
GPS-enabled
High-sensitivity receiver
Vibration alert
Watch functions
Includes date and alarm.
Maps & Memory

History
200 hours of activity data
Running Features

Virtual Pacer™ (compares current pace to target)
V02 max estimate
Recovery advisor
Race predictor
Running dynamics
Accelerometer (calculates distance for indoor workouts, without need for a foot pod)
Personal records
Cycling Features

Bike speed/cadence sensor
Yes (optional)
Running & Cycling Features

Heart rate monitor
Yes (Some versions)
Foot pod
Yes (optional)
Virtual Partner® (train against a digital person)
Auto Pause® (pauses and resumes timer based on speed)
Auto Lap® (automatically starts a new lap)
Auto Scroll (cycles through data pages during workout)
Advanced workouts (create custom, goal-oriented workouts)
Pace alert (triggers alarm if you vary from preset pace)
Time/distance alert (triggers alarm when you reach goal)
Interval training (set up exercise and rest intervals)
Heart rate-based calorie computation
Calculates calories burned
Training Effect (measures impact of an activity on your aerobic fitness)
Customizable screen(s)
Shock Resistant
Garmin Connect®

Garmin Connect™ compatible (online community where you analyze, categorize and share data)
Automatic sync (automatically transfers data to your computer)
Basic Information
Basic Information of Product
Product Status/Sales Type
New
Product No.
857261
Weight (KG)
0.5 kg
Country of Origin
N/A
Shipping Method
Courier Service
GST Applicable
Not Applicable (Non-GST seller)
After Sale Service
carrot2006@gmail.com
Brand
None
Already purchased this product? Write your review here.
Read more

Read less
/300
(this will only be visible between you and seller)
All your Q&A posts are available in My Page > My Shopping Talk > My Q&A History.
Once seller replies, you will be notified by email.
Your posts may be removed and 11street reserves the right to suspend your account if inappropriate contents are found;

Any implication of direct trade / discounts with your contact number, email address, or any offline contact point.
Any indication of libel/defamation, inappropriate price comparison, unrelated ads, etc.
Seller's Information
| | |
| --- | --- |
| Seller | Carrot Store |
| Shipping from | |
| Return/Exchange address | |
| Notice on Return/exchange | 39f0eb57ee4c55bda8fdc304c4e2e32a |
11Street Return/Exchange Policy
Cancellation

Request for cancellation if product has not been dispatched after payment completion.
Strictly no cancellation for E-voucher after purchased.

Return

Request for return within 7 calendar days following delivery date.
Check seller's approval on buyer's request.
Buyer sends product in question to buyer.
Seller receives and checks returned product.
Seller approves return and return is completed.
Strictly no return or refund for E-voucher.

Exchange

Request for exchange within 7 calendar days following receipt of delivery.
Check seller's approval on buyer's request.
Buyer sends product in question to seller.
Seller receives and checks returned product
Seller send new product to buyer, and buyer receives it, and exchange is completed.
No exchange for E-voucher purchased.
How to Request for Cancellation/Return/Exchange
You can request for cancellation after completing payment and if product has not been dispatched by then, cancellation request is approved and you can receive refund.
But, in case seller has already dispatched product, cancellation request can be rejected.
You can request for return after obtaining product, you should send the product in question to seller.
After seller checks if returned product is flawed, and approves your request, return is completed and payment is refunded.
You can request for exchange if wrong product is shipped, you should send the product in question to seller.
After seller checks if returned product is flawed, seller approves your request, and re-sends new product.
Criteria for Return/Exchange
You can request for return/exchange within 7 calendar days following delivery date. But return/exchange request cannot be made in following cases:
When request due to change of mind is made after 7 calendar days following delivery date
When product is used, destroyed or damaged
When tag attached to product is removed or package of product is opened and product value is damaged
When sealed package is opened or packaging materials are lost
When too much time has passed and product value has so decreased that its re-sale is not possible
When return/exchange request is made for customized product such as hand-made shoes or accessories
When components of product (including free gift) have been used or lost
When buyer did not follow instructions included in product
As e-voucher products are immediately sent to your e-mail, returns/exchanges are not available. Please take note of this before purchase, and input your e-mail address correctly.
As Mobile Top-up products are directly reloaded on your cell phone number, returns/exchanges are not available. Please take note of this before purchase, and enter your cell phone number correctly.


For any inconvenience regarding Cancellation/Return/Exchange, please contact Customer Service at 03-2720-0000 and we will do our best to help you.
Notice
Please note that, direct transaction with the seller without using 11street payment service can cause problems such as; not receiving the product, receiving different product etc.
For sales products and contents registered by the seller, 11street run by Celcom Planet has no responsibility on any of the registered contents.