Store's Best Items
Carrot Store
Seller Information
Seller Information
Seller
Carrot Store
Seller's Address

Ship-From Address

Shah Alam, Selangor

Return/Exchange Address

Shah Alam, Selangor
Close
Basic Information of Product
Basic Information of Product
Product Status/Sales Type
New
Product No.
857268
Weight (kg)
0.5 kg
Country of Origin
N/A
Shipping Method

Courier Service

GST Applicable
Not Applicable (Non-GST seller)
Tax Invoice
No
After Sale Service
carrot2006@gmail.com
11street receives report on products to protect buyers' right. For further information on safe trade, please contact us.
Reportgo
For order related and other issues, kindly click on E-mail Enquiry here.
E-mail Enquiry
In The Box:
Edge 810
Mounts (standard and out-front)
Premium heart rate monitor
Speed/cadence sensor
USB cable
AC charger
Manual
Bike Computer for Performance and Navigation
Connected features⊃1; such as live tracking, send/receive courses, social media sharing and weather
Built-in basemap and optional detailed maps
Distance, speed, ascent/descent and GPS position
Optional heart rate, speed/cadence and power
Wireless data transfers to Garmin Connect
Activity profiles store preferences for different cycling activities

This Is Your Edge
The touchscreen Edge 810 is designed for the cyclist who wants it all — navigation and advanced training capabilities in 1 device. Connected features⊃1; through your smartphone include live tracking, social media sharing and weather. The 810 is compatible with optional detailed street or TOPO maps, so it can guide you during touring, commuting or other activities requiring onboard maps and navigation. Because it's GPS-enabled, Edge 810 provides accurate data and navigation capabilities, anywhere in the world.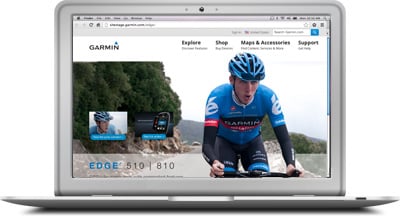 Track Every Detail
In addition to mapping, Edge 810 records distance, speed metrics, ascent/descent, grade and more. It's also compatible with ANT+™ sensors that measure heart rate⊃2;, speed/cadence⊃2; and power⊃3;. Activity profiles let you customize data fields and device settings based on cycling activity, such as road, mountain or touring. Switch profiles with a simple swipe of the touchscreen and the 810 will be set up to show the data for that ride.
Get Connected
Edge 810 offers a suite of connected features when paired with your smartphone (iPhone or Android™) and the Garmin Connect™ Mobile app. Get comprehensive, accurate ride data from a dedicated device, while saving your phone battery. Edge tracks the data and sends it to your phone using Bluetooth®. Stay connected and share all the details of your ride with friends, family and social media. Post an update immediately after your ride or race. Create the posts via your smartphone, and the ride data's already there, thanks to the interface with Garmin Connect Mobile.
Cycling Dynamics
When paired with a dual-sensing Vector™ power meter, Edge 810 now displays our revolutionary Cycling Dynamics metrics and are included in Garmin Connect™ for post ride analysis. These metrics measure where the power is being applied throughout the pedal stroke, and where on the pedal it is being applied, allowing the cyclist to understand his or her particular way of riding. The Seated/Standing metric will follow in early 2015.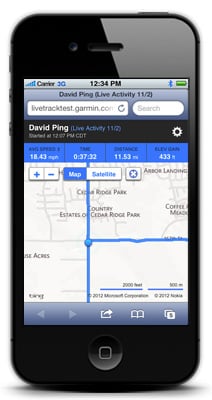 Live Tracking
Live Tracking lets friends and family follow your races and training activities in real time. Invite followers using email or social media, and they can view your live data on Garmin Connect. Once they get your email invite, they can follow and see your stats and location on the map.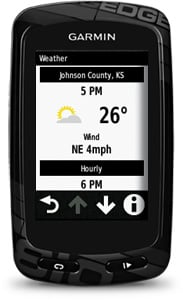 Weather
Get real-time weather conditions, forecasts and alerts (in areas with coverage) directly on the Edge 810 when paired with a smartphone and the Garmin Connect Mobile app. Your smartphone stays safe and dry, while the weather data you need is right at your fingertips.
Wireless Data Transfers
Instantly store, share and analyze every detail of your ride. Using Garmin Connect Mobile, you can wirelessly upload completed activities from your device as soon as you are finished. Activities can be automatically or manually uploaded. Once your ride has posted to Garmin Connect, your own "connections" can view them. You can also search your courses and workouts4stored at Garmin Connect, download to your smartphone, then send directly to your Edge 810 — wirelessly. You can then navigate to the start of the course and use the Virtual Partner® feature on your Edge to race your previous activities in real time.
Shimano Di2 Integration
Like the Edge 1000, the Edge 810 now integrates with Shimano Di2 shifting systems5 to display your current gear on the screen. We've also expanded the integration capabilities for those Edge users with compatible Shimano Dura Ace Di2 systems by allowing them to directly control their Edge from the small buttons inside the brake hoods.
Segments
Similar to the Edge 1000, the Edge 810 now include segments. Cyclists can turn every ride into a race by competing on Garmin Connect segments and seeing real-time results, including alerts for segment start/finish and leaderboard rankings.
Edge Remote Integration
Control your Edge 810 without removing your hands from the handlebar. The 3-button Edge remote uses ANT+® wireless connectivity to mark laps and scroll through pages. You can even program the third button.
Purpose-built Bike Computer
Edge 810 is rugged and waterproof, and has up to a 17-hour battery life. The touchscreen is easy to operate, even with a gloved finger and when wet. Mounting options include a new out-front mount⊃2; for heads-up positioning and a standard quarter-turn mount.
Physical & Performance

Physical dimensions
2.0" x 3.7" x 1.0" (5.1 x 9.3 x 2.5 cm)
Display size, WxH
1.4" x 2.2" (3.6 x 5.5 cm); 2.6" diag (6.6 cm)
Display resolution, WxH
160 x 240 pixels, touchscreen
Touchscreen
Weight
3.5 oz (98.0 g)
Battery
rechargeable lithium-ion
Battery life
up to 17 hours

Water rating

IPX7
GPS-enabled
High-sensitivity receiver
Barometric altimeter
Maps & Memory

Basemap
Ability to add maps
Accepts data cards
microSD™ card (some versions include a City Navigator microSD card)
Waypoints/favorites/locations
200
Routes
Limited by memory space available
History
up to 180 hours
Cycling Features

Bike speed/cadence sensor
Yes (Some versions)
Running & Cycling Features

Heart rate monitor
Yes (Some versions)
Virtual Partner® (train against a digital person)
Courses (compete against previous activities)
Auto Pause® (pauses and resumes timer based on speed)
Auto Lap® (automatically starts a new lap)
Auto Scroll (cycles through data pages during workout)
Advanced workouts (create custom, goal-oriented workouts)
Time/distance alert (triggers alarm when you reach goal)
Interval training (set up exercise and rest intervals)
Heart rate-based calorie computation
Customizable screen(s)
Power meter compatible (displays power data from compatible 3rd party ANT+™-enabled power meters)
Yes (records data approx. 1 per second)
Temperature (displays and records temperature while you ride)
Shock Resistant
Garmin Connect®

Garmin Connect™ compatible (online community where you analyze, categorize and share data)
Additional

Additional

Operating temp: -20°C to +55°C

Connected features via a smartphone: yes

GLONASS: no

Compatible with Garmin Connect™ Mobile: yes
Seller Information
Seller Information

| | |
| --- | --- |
| Seller | Carrot Store |
| Ship-From Address | Shah Alam, Selangor |
| Return/Exchange Address | Shah Alam, Selangor |
| Notice on Return/Exchange | 39f0eb57ee4c55bda8fdc304c4e2e32a |
Return / Exchange Policy
Cancellation

Request for cancellation if product has not been dispatched after payment completion.

Return

Request for return within 7 calendar days following delivery date.
Check seller's approval on buyer's request.
Buyer sends product in question to seller.
Seller receives and checks returned product
Seller approves return and return is completed.

Exchange

Request for exchange within 7 calendar days following receipt of delivery.
Check seller's approval on buyer's request.
Buyer sends product in question to seller.
Seller receives and checks returned product
Seller send new product to buyer, and buyer receives it, and exchange is completed.
How to Request for Cancellation/Return/Exchange

You can request for cancellation after completing payment and if product has not been dispatched by then, cancellation request is approved and you can receive refund.
But, in case seller has already dispatched product, cancellation request can be rejected.
You can request for return after obtaining product, you should send the product in question to seller.
After seller checks if returned product is flawed, and approves your request, return is completed and payment is refunded.
You can request for exchange if wrong product is shipped, you should send the product in question to seller.
After seller checks if returned product is flawed, seller approves your request, and re-sends new product.

Criteria for Return/Exchange

You can request for return/exchange within 7 calendar days following delivery date. But return/exchange request cannot be made in following cases:

When request due to change of mind is made after 7 calendar days following delivery date
When product is used, destroyed or damaged
When tag attached to product is removed or package of product is opened and product value is damaged
When sealed package is opened or packaging materials are lost
When too much time has passed and product value has so decreased that its re-sale is not possible
When return/exchange request is made for customized product such as hand-made shoes or accessories
When components of product (including free gift) have been used or lost
When buyer did not follow instructions included in product

As e-voucher products are immediately sent to your e-mail, returns/exchanges are not available. Please take note of this before purchase, and input your e-mail address correctly.
As Mobile Top-up products are directly reloaded on your cell phone number, returns/exchanges are not available. Please take note of this before purchase, and enter your cell phone number correctly.
For any inconvenience regarding Cancellation/Return/Exchange, please contact Customer Service at 03-2720 0000 and we will do our best to help you.
Notice
Please note that, direct transaction with the seller without using 11street payment service can cause problems such as; not receiving the product, receiving different product etc.
For sales products and contents registered by the seller, 11street run by Celcom Planet has no responsibility on any of the registered contents.