Fuel Shark NEO SOCKET FUEL SAVER! GUARANTEE SAVE 10-30% FUEL!!*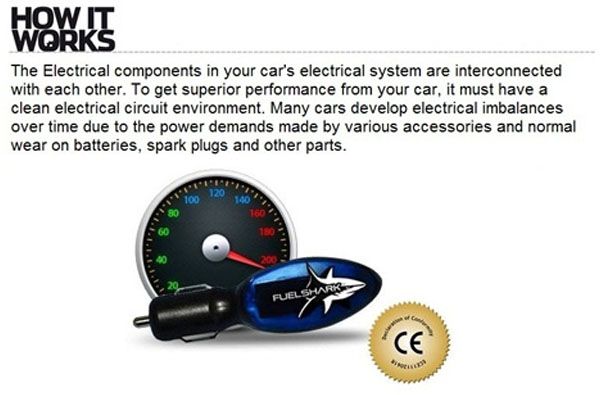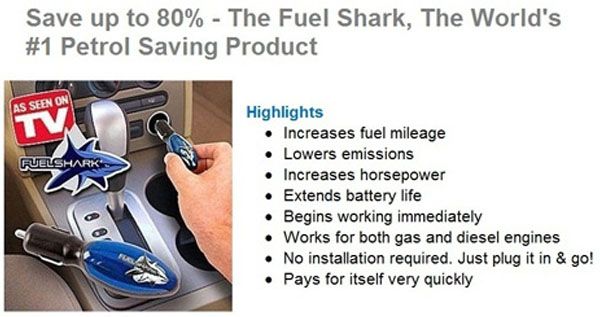 Product Description of Neosocket Fuel Saver Just Plug And Save Blue
What's in the Box:
1 x Neosocket Fuel Saver Just Plug And Save Blue
Neo Socket is the latest technology, a breakthrough invention and patented device that could save fuel consumption by 10-30%. The 100% Japanese made device was first launched in Hokkaido, Japan and it is presently being used in the United States, Canada, Australia,United Kingdom, Germany, France, Middle East and Asia.
Neo Socket also helps improve car's engine acceleration and the performance of on board equipment such as stereo, air-condition and lights. It also provides more horse power, longer battery life and higher throttles response. Neo Socket, gives cars cleaner emission and helps reduce carcinogenic emissions that are responsible for Global Climate Changes (GCC). That means less pollution and more clean air. Neo Socket is proven safe, convenient and easy to use. Just plug-in into the 12V cigarette lighter of your car and Neo Socket starts working instantly.
Electrolysis Condenser / Capacitor
Is a passive electrical component that can store energy in the electric field between a pair of conductors (called "plates"). The process of storing energy in the capacitor is known as "charging", and involves electric charges of equal magnitude, but opposite polarity, building up on each plate. A capacitor's ability to store charge is measured by its capacitance, in units of farads.
Capacitors are often used in electric and electronic circuits as energy-storage devices. They can also be used to differentiate between high- frequency and low-frequency signals. This property makes them useful in electronic filters. Practical capacitors have series resistance, internal leakage of charge, series inductance and other non-ideal properties not found in a theoretical, ideal, capacitor.
A capacitor consists of two conductive electrodes, or plates, separated by a dielectric, which prevents charge from moving directly between the plates. Charge may however move from one plate to the other through an external circuit, such as a battery connected between the terminals.
Dieletric in center
When any external connection is removed, the charge on the plates persists. The separated charges attract each other, and an electric field is present between the plates. The simplest practical capacitor consists of two wide, flat, parallel plates separated by a thin dielectric layer.
Energy Storage
A capacitor can store electric energy when disconnected from its charging circuit, so it can be used like a temporary battery. Capacitors are commonly used in electronic devices to maintain power supply while batteries are being changed. (This prevents loss of information in volatile memory.)
In car audio systems, large capacitors ranging from .5 to over 100 farads are used to store energy for the amplifier to use on demand.
Somewhat Like a Battery
Capacitors act like tiny storage batteries that charge and discharge rapidly. Made of two plates separated by a thin insulator or sometimes air, when one plate is charged negative and the other positive, a charge builds up and remains after the current is removed. When power is required, the circuit is switched to conduct current between the plates, and the charge is released. See ultracapacitor.

Last Updated @ 6/23/2014 10:05:47 AM


Basic Information
Basic Information of Product
Product Status/Sales Type
New
Product No.
355258
Weight (KG)
0.1 kg
Country of Origin
N/A
Shipping Method
Courier Service
GST Applicable
SR 6%
After Sale Service
Refer to product description
Brand
None
Already purchased this product? Write your review here.
Read more

Read less
/300
(this will only be visible between you and seller)
All your Q&A posts are available in My Page > My Shopping Talk > My Q&A History.
Once seller replies, you will be notified by email.
Your posts may be removed and 11street reserves the right to suspend your account if inappropriate contents are found;

Any implication of direct trade / discounts with your contact number, email address, or any offline contact point.
Any indication of libel/defamation, inappropriate price comparison, unrelated ads, etc.
Seller's Information
| | |
| --- | --- |
| Seller | WING ELECTRONICS |
| Shipping from | |
| Return/Exchange address | |
| Notice on Return/exchange | Refer to product description |
11Street Return/Exchange Policy
Cancellation

Request for cancellation if product has not been dispatched after payment completion.
Strictly no cancellation for E-voucher after purchased.

Return

Request for return within 7 calendar days following delivery date.
Check seller's approval on buyer's request.
Buyer sends product in question to buyer.
Seller receives and checks returned product.
Seller approves return and return is completed.
Strictly no return or refund for E-voucher.

Exchange

Request for exchange within 7 calendar days following receipt of delivery.
Check seller's approval on buyer's request.
Buyer sends product in question to seller.
Seller receives and checks returned product
Seller send new product to buyer, and buyer receives it, and exchange is completed.
No exchange for E-voucher purchased.
How to Request for Cancellation/Return/Exchange
You can request for cancellation after completing payment and if product has not been dispatched by then, cancellation request is approved and you can receive refund.
But, in case seller has already dispatched product, cancellation request can be rejected.
You can request for return after obtaining product, you should send the product in question to seller.
After seller checks if returned product is flawed, and approves your request, return is completed and payment is refunded.
You can request for exchange if wrong product is shipped, you should send the product in question to seller.
After seller checks if returned product is flawed, seller approves your request, and re-sends new product.
Criteria for Return/Exchange
You can request for return/exchange within 7 calendar days following delivery date. But return/exchange request cannot be made in following cases:
When request due to change of mind is made after 7 calendar days following delivery date
When product is used, destroyed or damaged
When tag attached to product is removed or package of product is opened and product value is damaged
When sealed package is opened or packaging materials are lost
When too much time has passed and product value has so decreased that its re-sale is not possible
When return/exchange request is made for customized product such as hand-made shoes or accessories
When components of product (including free gift) have been used or lost
When buyer did not follow instructions included in product
As e-voucher products are immediately sent to your e-mail, returns/exchanges are not available. Please take note of this before purchase, and input your e-mail address correctly.
As Mobile Top-up products are directly reloaded on your cell phone number, returns/exchanges are not available. Please take note of this before purchase, and enter your cell phone number correctly.


For any inconvenience regarding Cancellation/Return/Exchange, please contact Customer Service at 03-2720-0000 and we will do our best to help you.
Notice
Please note that, direct transaction with the seller without using 11street payment service can cause problems such as; not receiving the product, receiving different product etc.
For sales products and contents registered by the seller, 11street run by Celcom Planet has no responsibility on any of the registered contents.