EvioAsia All-In-One Universal Adapter For Worldwide
Selling Price

RM

19.90

Original Price

RM

45.00

Discount Rate

56% OFF
EvioAsia All-In-One Universal Adapter For Worldwide


USEFUL WHILE TRAVELLING ABROAD,A MUST FOR EVERY HOME Travel adapter with different plugs adapts for traveling worldwide 4 types of popular AC power plug selectable Fits the plugs in Europe/UK/USA/China/Japan/Australia/Spain/Thailand and almost every country in the world. Provide protected safety shutter, power indicator and surge protector.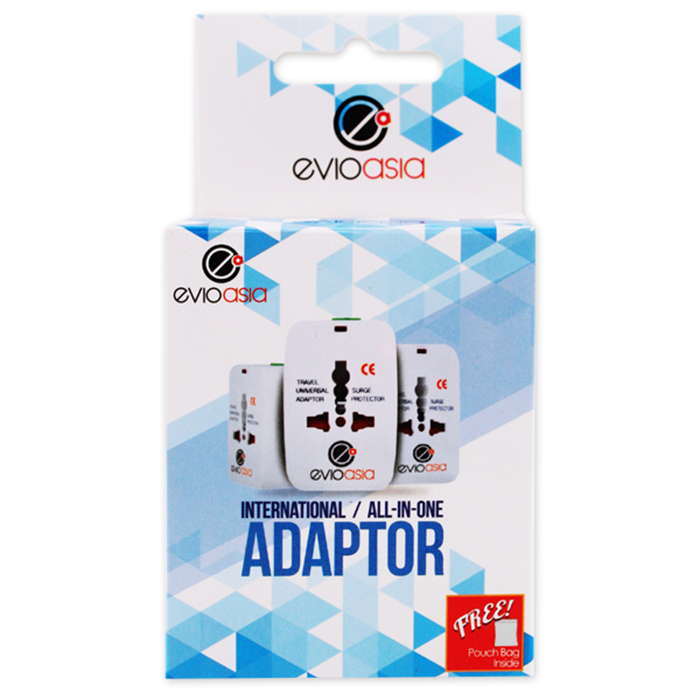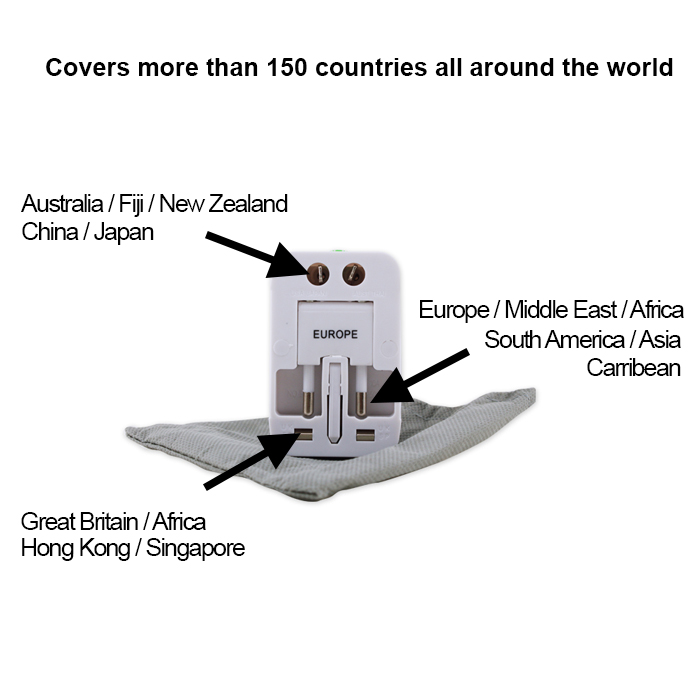 You can plug this into any available power outlet and then connect your device to the international adapter.
Compact size and light weight, you can easily bring along with while you travel in any countries.
Convenience to use - no need to bring extra adapter when travel around It is an useful item for people who travel around world and need different power plug of equipment


Features -
The travel adapter is the perfect product for the professional that travels often and needs different power plugs in the most popular world destinations
Fits electrical wall outlets in all the most commonly traveled regions
High quality and durable
Easy to use OPEN/LOCK switches
Built-in surge protector that keeps your appliances safe from spikes in the flow of foreign electricity This unit does not convert voltage.
Make sure the power outlet has proper voltage work with your device before using this adapter to avoid possible damage
Works in worldwide: United States, Canada, Europe, Middle East, South America, Asia, The Caribbean, Great Britain ,Ireland, Africa, Hong Kong, Singapore, Australia, Fiji, New Zealand, China, Japan, and more than 150 countries
This charger adapter plug converts the power outlet only, it does NOT convert electrical output current and voltage.
Basic Information
Basic Information of Product
Product Status/Sales Type
New
Product No.
835890
Weight (KG)
0.1 kg
Country of Origin
N/A
Shipping Method
Courier Service
GST Applicable
SR 6%
After Sale Service
Should you need further assistance / information, please do not hesitate to contact us at 03-9011 2777.
Brand
None
Already purchased this product? Write your review here.
Read more

Read less
/300
(this will only be visible between you and seller)
All your Q&A posts are available in My Page > My Shopping Talk > My Q&A History.
Once seller replies, you will be notified by email.
Your posts may be removed and 11street reserves the right to suspend your account if inappropriate contents are found;

Any implication of direct trade / discounts with your contact number, email address, or any offline contact point.
Any indication of libel/defamation, inappropriate price comparison, unrelated ads, etc.
Seller's Information
Seller
Evio Asia
Shipping from
Return/Exchange address
Notice on Return/exchange
Cancellation:
1. Customer cannot cancel the order after item(s) being paid.
WE WILL NOT REFUND YOUR PAYMENT EVEN IF YOU RETURN THE PRODUCT TO US.
2. We DO NOT accept cancellation due to change of mind.
3. Item(s) being paid are non-refundable, can only do replacement with same item or other product with same or higher value and buyer shall pay the difference.

Returns & Exchange:
1. We DO NOT accept return and exchange due to change their mind about the product; Not satisfied with the quality after the goods have been used; Caused the fault by using the product in an abnormal way; Damage the product by making alterations; Damage the product where the damage is cause by any factors beyond our control.

2. If you're found any defects due to manufacturer or incorrect (model/size/color/we sent wrong item) , we will gladly accept returns of packages within 7 days of your receipt and exchange one to one. Simply contact us and return the defects item in its original condition to us.

3. Customer need to return the item for our inspection and after inspected by us (usually within 72 hours of receipt), if the item is incorrect or defective, we will process for an exchange and deliver a replacement to you at our expense.

4. To exchange due to wrong item, color or size selected by customer prior to delivery, please contact and advise us on your request within 2 days from the date of receipt.

5. The exchange is subject to Management approval and delivery charges for the returned item and second re-delivery will be borne by customer.
11Street Return/Exchange Policy
Cancellation

Request for cancellation if product has not been dispatched after payment completion.
Strictly no cancellation for E-voucher after purchased.

Return

Request for return within 7 calendar days following delivery date.
Check seller's approval on buyer's request.
Buyer sends product in question to buyer.
Seller receives and checks returned product.
Seller approves return and return is completed.
Strictly no return or refund for E-voucher.

Exchange

Request for exchange within 7 calendar days following receipt of delivery.
Check seller's approval on buyer's request.
Buyer sends product in question to seller.
Seller receives and checks returned product
Seller send new product to buyer, and buyer receives it, and exchange is completed.
No exchange for E-voucher purchased.
How to Request for Cancellation/Return/Exchange
You can request for cancellation after completing payment and if product has not been dispatched by then, cancellation request is approved and you can receive refund.
But, in case seller has already dispatched product, cancellation request can be rejected.
You can request for return after obtaining product, you should send the product in question to seller.
After seller checks if returned product is flawed, and approves your request, return is completed and payment is refunded.
You can request for exchange if wrong product is shipped, you should send the product in question to seller.
After seller checks if returned product is flawed, seller approves your request, and re-sends new product.
Criteria for Return/Exchange
You can request for return/exchange within 7 calendar days following delivery date. But return/exchange request cannot be made in following cases:
When request due to change of mind is made after 7 calendar days following delivery date
When product is used, destroyed or damaged
When tag attached to product is removed or package of product is opened and product value is damaged
When sealed package is opened or packaging materials are lost
When too much time has passed and product value has so decreased that its re-sale is not possible
When return/exchange request is made for customized product such as hand-made shoes or accessories
When components of product (including free gift) have been used or lost
When buyer did not follow instructions included in product
As e-voucher products are immediately sent to your e-mail, returns/exchanges are not available. Please take note of this before purchase, and input your e-mail address correctly.
As Mobile Top-up products are directly reloaded on your cell phone number, returns/exchanges are not available. Please take note of this before purchase, and enter your cell phone number correctly.


For any inconvenience regarding Cancellation/Return/Exchange, please contact Customer Service at 03-2720-0000 and we will do our best to help you.
Notice
Please note that, direct transaction with the seller without using 11street payment service can cause problems such as; not receiving the product, receiving different product etc.
For sales products and contents registered by the seller, 11street run by Celcom Planet has no responsibility on any of the registered contents.