Everki Atlas Wheeled Laptop Backpack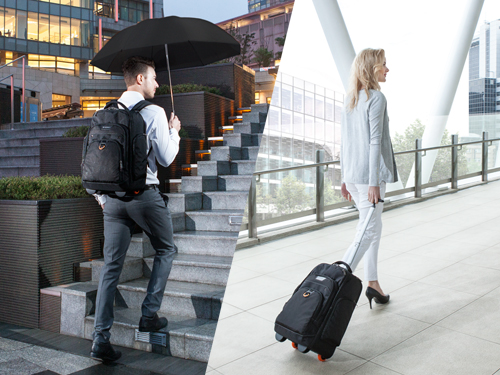 Everki Atlas Wheeled Laptop Backpack, 13-Inch to 17.3-Inch Adaptable Compartment
The Mobile Backpack with Versatile Functionality

As a mobile professional, you require versatility. So we crafted the Atlas Wheeled Backpack with flexible functionality. You can quickly wheel its sleek profile through the airport, or if needed, comfortably carry the Atlas as a backpack with our well-padded and extra wide straps. Got a lot of bags? Simply slip the Atlas onto another trolley handle with the discreet pass-through strap. Carrying a large laptop? Our innovative laptop pocket adjusts to snugly secure a 17.3" laptop or a slim 13" Ultrabook. If you're not carrying a laptop this trip, take out the laptop pocketto make room in the main compartment for additional garments or gear. Taking only your tablet instead? Slip it into the super-soft felt lined tablet pocket. The Atlas – adapts to fit your diverse lifestyle.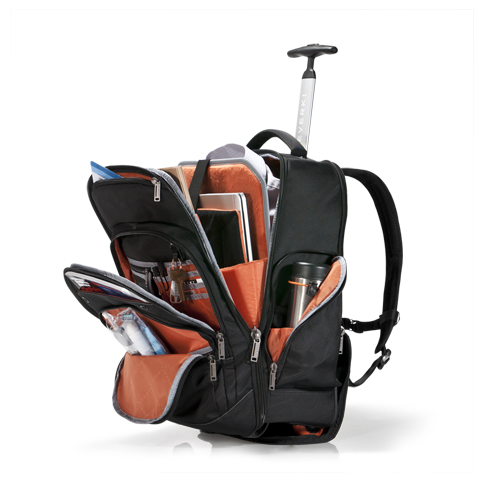 Everki's Intuitive Design
The Atlas – Everki's wheeled backpack. A backpack that offers flexibility as well as thoughtful functionality. Pack your mobile office in the Atlas, or use it on a weekend getaway. There's lots of room in the spacious main compartment, an RFID protected pocket, a removable and adjustable laptop pocket and a quick-access pocket for your phone on the top of the bag. In the front you'll find see-through mesh pockets, slots for pens and peripherals, and a designated hook for your keys. A space for your tablet, water bottle, wallet and magazines are all intuitively placed in the Atlas. And all of these features are handsomely accented by our high contrast orange interior. The Atlas. Versatility on wheels.



Peace of Mind
Everki makes products of value because we value our relationships. Every product Everki makes comes with our Limited Lifetime Warranty which covers manufacturing defects over the entire life of the product. Everki. We give you peace of mind.
MAIN FEATURES

Multiple Secure Technology Compartments


Laptops come in many sizes. That's why we designed the innovative laptop pocket to fit a wide variety of laptops. Our fully padded laptop pocket adapts to snugly secure a slim 13" Ultrabook or a large 17.3" rugged laptop; or you can remove it completely for even more space in the main compartment. Customize the size of the pocket from the bottom and both sides, and use the Velcro strap to secure your device from the top. Carrying your tablet also? The Atlas has a place for that as well. The easy access iPad/Kindle/ tablet pocket is lined with super-soft felt to protect from nicks and scratches.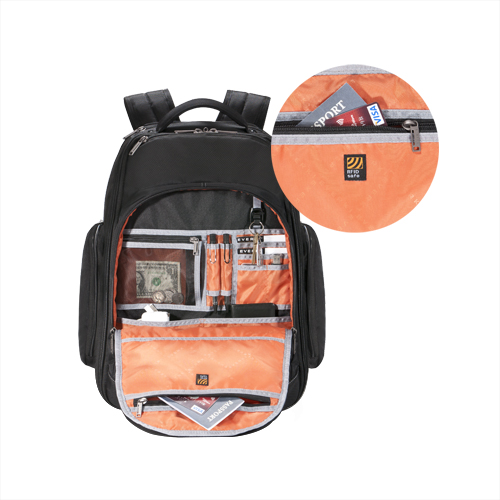 RFID Protection
Most contemporary passports, credit cards and smart cards come equipped with an RFID micro-chip. Carrying them may make you vulnerable to illegal remote scans of the personal information stored on them. Identity theft is a serious concern. So we designed the Atlas to protect the sensitive data on your passport and credit cards with an RFID-protected pocket. Simply slip your passport, credit cards or other forms of identification into the secure pocket, and your personal and banking information are safe from illegal RFID scans.
Comfortable and Quiet
We've engineered the Atlas with sturdy, large wheels that are inset into the bag for a smooth, quiet ride through the airport or into the office. When you can't roll your bag, use the extra-wide, padded straps to carry the Atlas as a backpack. The weight distributing chest strap balances the load front to back, and the straps won't dig into your shoulders when the pack is loaded. The backpack straps are neatly zipped away in the back flap when they're not in use, and the same flap covers the wheels and protects your clothes when you're carrying it as a backpack. Discreet, quiet comfort
.
Additional Features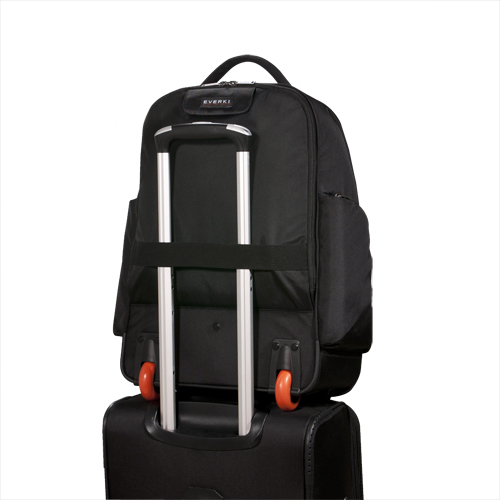 Trolley Handle Pass-Through
When you're traveling with many bags, the trolley handle pass-through on the back of the Atlas allows you to double your efforts. Simply compress the telescoping trolley handle and slip the Atlas onto the handle of your roller luggage.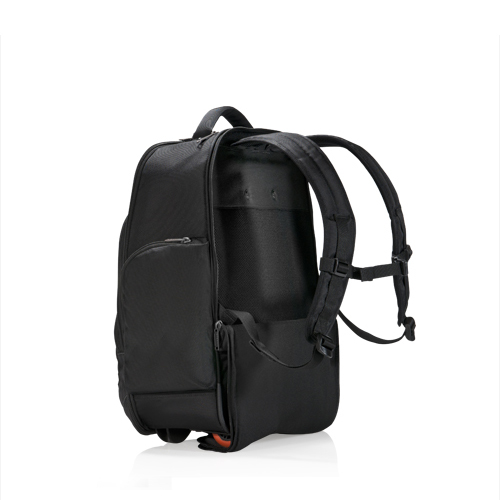 Wheel Cover
When inclement weather or rough terrain require you to carry the Atlas as a backpack, don't worry. Unzip the flap that conceals the backpack straps, tuck it under the bag and secure it to the Velcro closure to cover the wheels. No dirt, dust or marks on your clothing.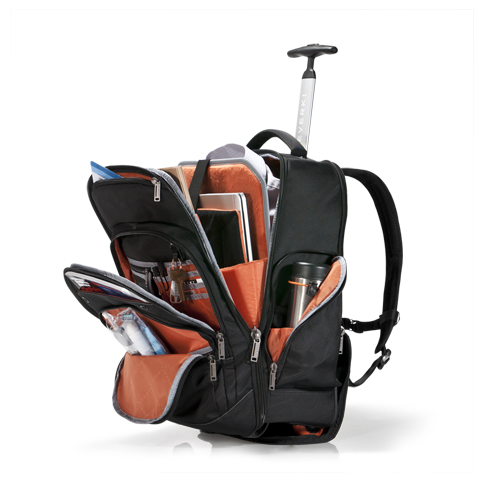 High-Contrast Lining


Stylish.andAll Everki interiors are stylish, high-contrast orange because we know how frustrating it is to mistakenly leave a compartment unzipped, and how difficult it is to organize against a black background. Savvy and Stylish

Durable Zippers and Metal Pulls


Have you ever broken a zipper on your favorite bag? We have. That's why we designed the Atlas using heavy duty zippers with extra-large metal pulls. So your favorite bag can remain your favorite bag.
Basic Information
Basic Information of Product
Product Status/Sales Type
New
Product No.
1302598
Weight (KG)
3 kg
Country of Origin
N/A
Shipping Method
Courier Service
GST Applicable
SR 0%
After Sale Service
Shipping:

We offer shipping on all domestic orders placed on our store, with no minimum order sizes or special exceptions. We do offer special items on FREE SHIPPING, please check on the respective item description.

We understand that getting your items quickly is important to you, so we make every effort to process your order quickly. When you order from our store, you can expect to receive your order within 5-7 business days.

Delivery method : We are using POS LAJU for item delivery.

Shipping charges : Since each items are different in size and weight, please refer to each item stated delivery charges. During promotions period, some items are offer FREE SHIPPING.

For Enquiry, please contact us via email provided in the store.

Warranty :

Each items are differ in warranty period given by the manufacturer. Please see each item stated warranty period in product description. Customers are taking the responsibility including any delivery charges to return the item to us and may require to pay for the shipping charges for sending the replacement item back to customers.
Brand
None
Already purchased this product? Write your review here.
Read more

Read less
/300
(this will only be visible between you and seller)
All your Q&A posts are available in My Page > My Shopping Talk > My Q&A History.
Once seller replies, you will be notified by email.
Your posts may be removed and 11street reserves the right to suspend your account if inappropriate contents are found;

Any implication of direct trade / discounts with your contact number, email address, or any offline contact point.
Any indication of libel/defamation, inappropriate price comparison, unrelated ads, etc.
Seller's Information
Seller
all great
Shipping from
Return/Exchange address
Notice on Return/exchange
Product Return :

We don't exercise product return for our products. However, we do accept products exchange with no money refund for any exchange below the purchase value.

All product exchange shall take effect within 3 days after customers received the item from us. Request for exchange after 3 days of the received date shall not be entertain.

Customers are require to top up the differences amount should the product exchange with higher value item. Customers are to take the responsibility including the shipping charges for the product exchange to deliver.
11Street Return/Exchange Policy
Cancellation

Request for cancellation if product has not been dispatched after payment completion.
Strictly no cancellation for E-voucher after purchased.

Return

Request for return within 7 calendar days following delivery date.
Check seller's approval on buyer's request.
Buyer sends product in question to buyer.
Seller receives and checks returned product.
Seller approves return and return is completed.
Strictly no return or refund for E-voucher.

Exchange

Request for exchange within 7 calendar days following receipt of delivery.
Check seller's approval on buyer's request.
Buyer sends product in question to seller.
Seller receives and checks returned product
Seller send new product to buyer, and buyer receives it, and exchange is completed.
No exchange for E-voucher purchased.
How to Request for Cancellation/Return/Exchange
You can request for cancellation after completing payment and if product has not been dispatched by then, cancellation request is approved and you can receive refund.
But, in case seller has already dispatched product, cancellation request can be rejected.
You can request for return after obtaining product, you should send the product in question to seller.
After seller checks if returned product is flawed, and approves your request, return is completed and payment is refunded.
You can request for exchange if wrong product is shipped, you should send the product in question to seller.
After seller checks if returned product is flawed, seller approves your request, and re-sends new product.
Criteria for Return/Exchange
You can request for return/exchange within 7 calendar days following delivery date. But return/exchange request cannot be made in following cases:
When request due to change of mind is made after 7 calendar days following delivery date
When product is used, destroyed or damaged
When tag attached to product is removed or package of product is opened and product value is damaged
When sealed package is opened or packaging materials are lost
When too much time has passed and product value has so decreased that its re-sale is not possible
When return/exchange request is made for customized product such as hand-made shoes or accessories
When components of product (including free gift) have been used or lost
When buyer did not follow instructions included in product
As e-voucher products are immediately sent to your e-mail, returns/exchanges are not available. Please take note of this before purchase, and input your e-mail address correctly.
As Mobile Top-up products are directly reloaded on your cell phone number, returns/exchanges are not available. Please take note of this before purchase, and enter your cell phone number correctly.


For any inconvenience regarding Cancellation/Return/Exchange, please contact Customer Service at 03-2720-0000 and we will do our best to help you.
Notice
Please note that, direct transaction with the seller without using 11street payment service can cause problems such as; not receiving the product, receiving different product etc.
For sales products and contents registered by the seller, 11street run by Celcom Planet has no responsibility on any of the registered contents.