EF2 Gear Smart Watch with Bluetooth Anti Lost Feature
Product Description of EF2 Gear Smart Watch with Bluetooth Anti Lost Feature Gold
What's in the Box:
1 x EF2 Smart Watch
1 x box
1 x charging cable
If you had a slightest doubt about smart watches becoming the next Bluetooth hands-free speakers to make and receive calls? Then think again. The Ef2 Gear bracelet watch here is a true example of the future. This state-of-the-art watch that weighs about 43g and fits all wrist sizes uses Bluetooth to connect with an iPhone or any other Android phone to make and receive call hands-free
Fashion Vibrating bluetooth bracelet with LED Time for men and woman. The bracelet shows Call ID Answer, dialing, rejecting calls, and name display. This bracelet connects to the Mobile phones through bluetooth, answers the call hands-free, syncs phone contacts to the bracelet and it will show the caller's name and number.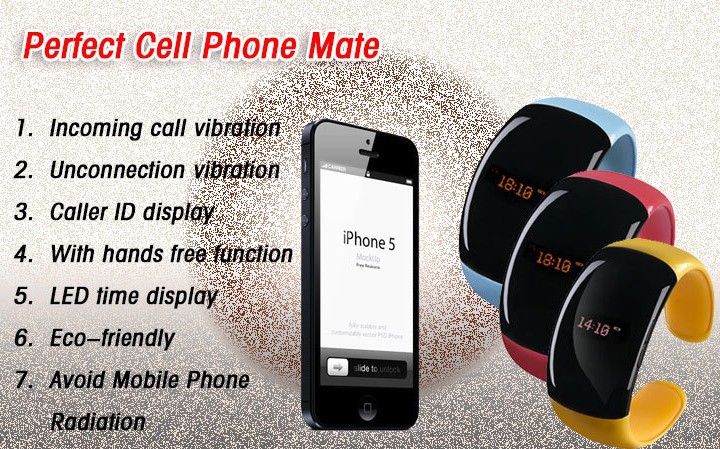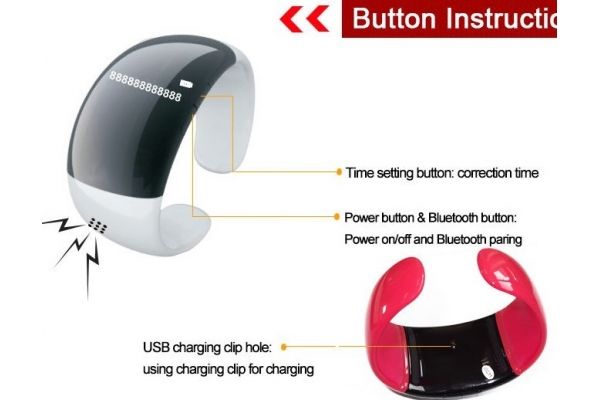 Fashionable Quality Bracelet
This comfortable watch is a wonderfully designed bracelet which also functions as a Bluetooth device which vibrates when you receive calls. It is made of a durable smooth plastic and has soft gel padding underneath so it won't damage your skin. Many girls have their phones in their hand bags and don't feel the vibration or even hear their ring tone in busy areas. With this awesome bracelet they can have a wearable fashion accessory and never miss a call again.
Caller ID and LED Time Display
This beautiful bracelet also displays the caller ID, so you can see the phone number of the person calling, so instead of having to struggle opening your bag in a busy area, you can instantly tell if the call is important or not. You can also reject calls from the bracelet itself by pressing the B button three times. Another great feature of this bracelet is that it features a time display. A lot of girls these days don't like wearing a tight fitting watch, and so this comfortable and stylish bracelet gives girls the perfect solution to have a cool fashion accessory that can also tell the time.
Universal Compatibility
This Nova Gear bracelet watch compatible with most of the Bluetooth capable smartphones in the market. Full compatible with IPhone, Android, Samsung, Sony , HTC and also most of the China Phones
Security Loss Vibration
Do you ever forget your phone at the office, home, restaurant or on a night out with your friends? This awesome Bluetooth bracelet will vibrate when paired with your mobile phone if it travels more than 20 meters away from the phone. With this great function you will never forget your phone again.

Description
Product Name:

Best Bracelet Watch Phone Cheap Wireless Bracelet Watch

Item Code: 193882754
Category:

Smart Watch

Add to Favorite Categories

Short Description:

OLED time display vibration wireless bluetooth bracelet smart watch answer call with caller id display Support for Multiple languages newest

Quantity: 1 Piece
Package Size: 30.0 * 35.0 * 25.0 ( cm )
Gross Weight/Package: 0.25 ( kg )
Specification :
Bluetooth range: 10m
Supports 11 languages:
Chinese traditional; Chinese simplified;
English; Korean; Russian; Spanish; French; German; Italian; Portuguese; Arabic
Caller ID, Caller Can Answer and Talk, Caller Hang Up, Vibration mode
High quality and sleek fashionable Red Bracelet with Answer Call Function with Vibration
OLED Time Display with Battery Life Indicator
Simple Bluetooth setup and Secure Connection
Security Loss Vibration – 10 meter range from Phone
Functional and Fashionable
Rechargeable Lithium Battery
Color: Black/rose red /white
Bluetooth Version:V3.0
Voltage:3.6V-4.2V
Current:45mA
Frequency:2.4GHz
Charge Time:2-3 hours
Standby Time:up to 72 hours
Battery:Li Battery
Input Voltage:110~240V
Frequency:50Hz
Input current:0.15A
Output Voltage:5.7V
Output current:600mA
Functions: Display Caller ID, Time, Music player, Anti-lose Vibrate, Answer Call.
Charge time: 2 hours
Standby time: up to 72 hours
Battery: Lithium Polymer
Basic Information
Basic Information of Product
Product Status/Sales Type
New
Product No.
354294
Weight (KG)
1 kg
Country of Origin
N/A
Shipping Method
Courier Service
GST Applicable
SR 6%
After Sale Service
Refer to product description
Brand
None
Already purchased this product? Write your review here.
Read more

Read less
/300
(this will only be visible between you and seller)
All your Q&A posts are available in My Page > My Shopping Talk > My Q&A History.
Once seller replies, you will be notified by email.
Your posts may be removed and 11street reserves the right to suspend your account if inappropriate contents are found;

Any implication of direct trade / discounts with your contact number, email address, or any offline contact point.
Any indication of libel/defamation, inappropriate price comparison, unrelated ads, etc.
Seller's Information
| | |
| --- | --- |
| Seller | WING ELECTRONICS |
| Shipping from | |
| Return/Exchange address | |
| Notice on Return/exchange | Refer to product description |
11Street Return/Exchange Policy
Cancellation

Request for cancellation if product has not been dispatched after payment completion.
Strictly no cancellation for E-voucher after purchased.

Return

Request for return within 7 calendar days following delivery date.
Check seller's approval on buyer's request.
Buyer sends product in question to buyer.
Seller receives and checks returned product.
Seller approves return and return is completed.
Strictly no return or refund for E-voucher.

Exchange

Request for exchange within 7 calendar days following receipt of delivery.
Check seller's approval on buyer's request.
Buyer sends product in question to seller.
Seller receives and checks returned product
Seller send new product to buyer, and buyer receives it, and exchange is completed.
No exchange for E-voucher purchased.
How to Request for Cancellation/Return/Exchange
You can request for cancellation after completing payment and if product has not been dispatched by then, cancellation request is approved and you can receive refund.
But, in case seller has already dispatched product, cancellation request can be rejected.
You can request for return after obtaining product, you should send the product in question to seller.
After seller checks if returned product is flawed, and approves your request, return is completed and payment is refunded.
You can request for exchange if wrong product is shipped, you should send the product in question to seller.
After seller checks if returned product is flawed, seller approves your request, and re-sends new product.
Criteria for Return/Exchange
You can request for return/exchange within 7 calendar days following delivery date. But return/exchange request cannot be made in following cases:
When request due to change of mind is made after 7 calendar days following delivery date
When product is used, destroyed or damaged
When tag attached to product is removed or package of product is opened and product value is damaged
When sealed package is opened or packaging materials are lost
When too much time has passed and product value has so decreased that its re-sale is not possible
When return/exchange request is made for customized product such as hand-made shoes or accessories
When components of product (including free gift) have been used or lost
When buyer did not follow instructions included in product
As e-voucher products are immediately sent to your e-mail, returns/exchanges are not available. Please take note of this before purchase, and input your e-mail address correctly.
As Mobile Top-up products are directly reloaded on your cell phone number, returns/exchanges are not available. Please take note of this before purchase, and enter your cell phone number correctly.


For any inconvenience regarding Cancellation/Return/Exchange, please contact Customer Service at 03-2720-0000 and we will do our best to help you.
Notice
Please note that, direct transaction with the seller without using 11street payment service can cause problems such as; not receiving the product, receiving different product etc.
For sales products and contents registered by the seller, 11street run by Celcom Planet has no responsibility on any of the registered contents.