9" ewing 8GB Dual Core 1.5Ghz Android 4.2 Tablet Dual Camera- 4 color option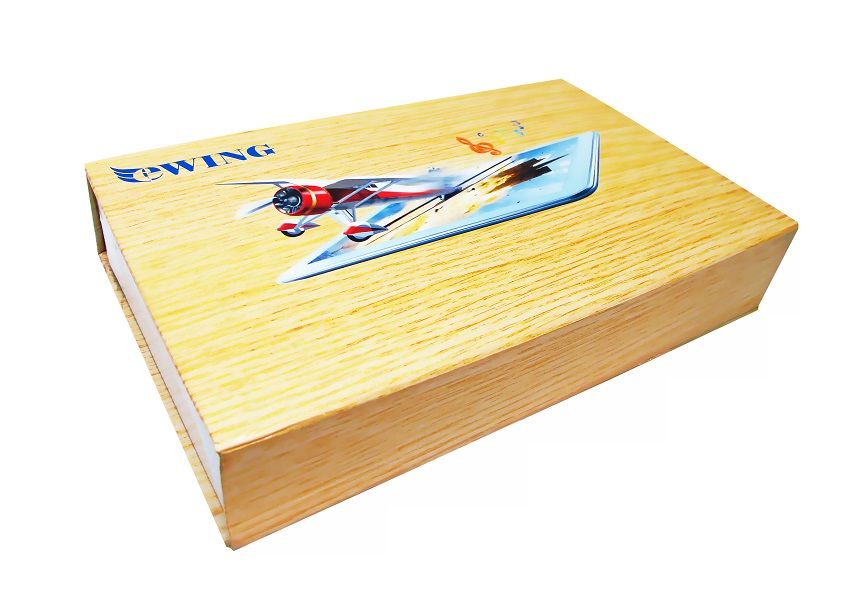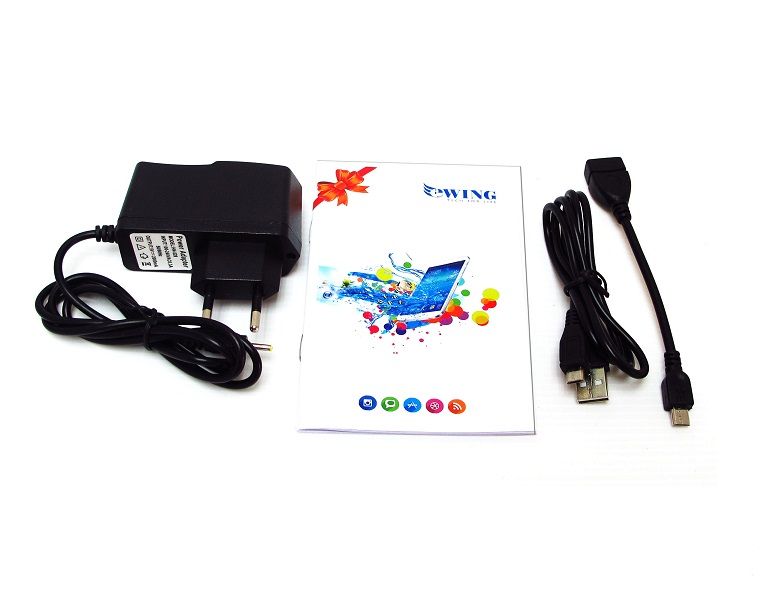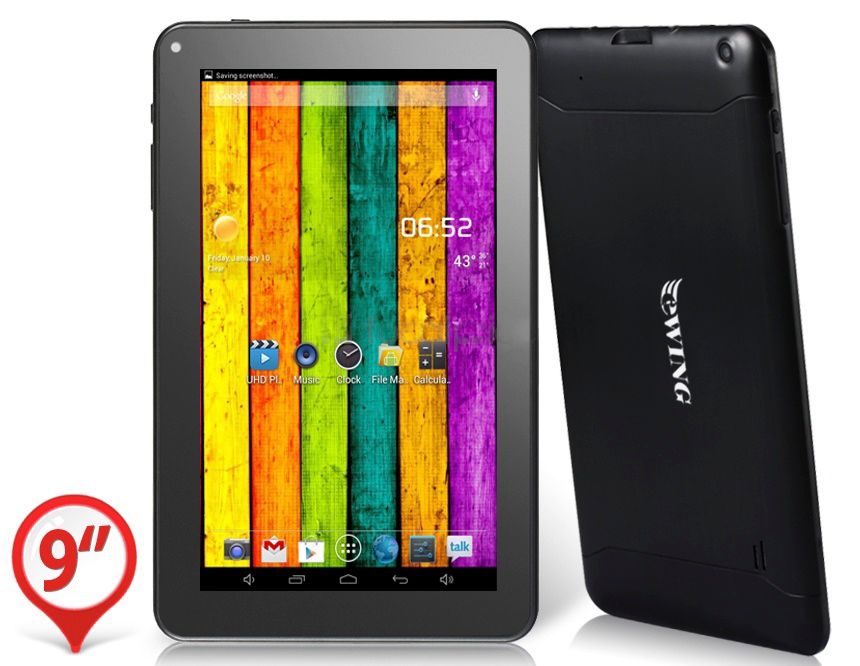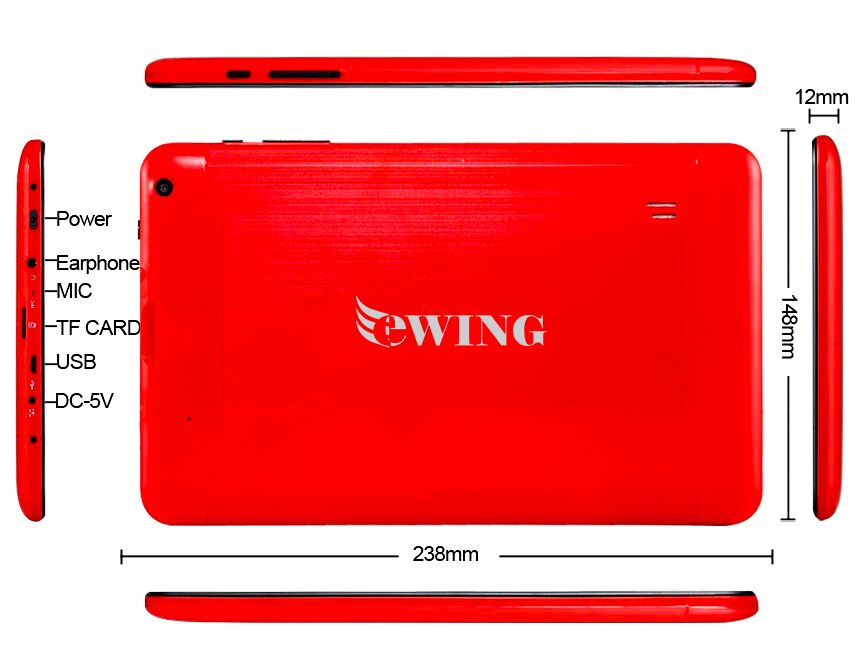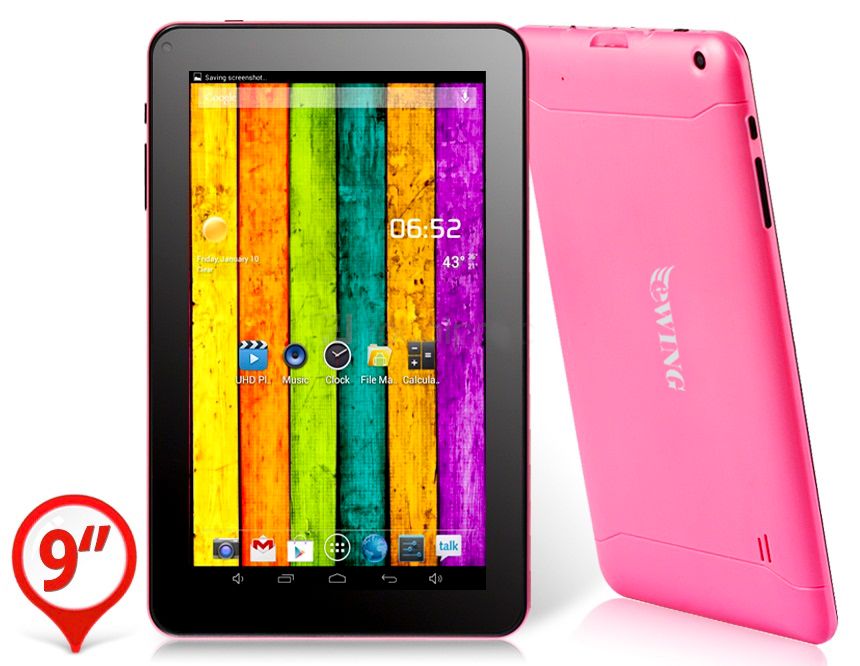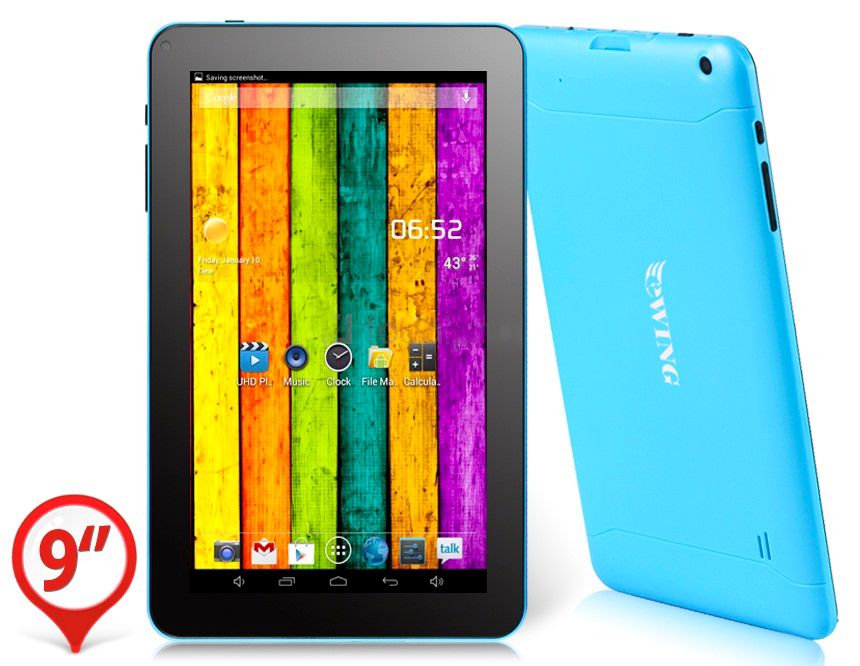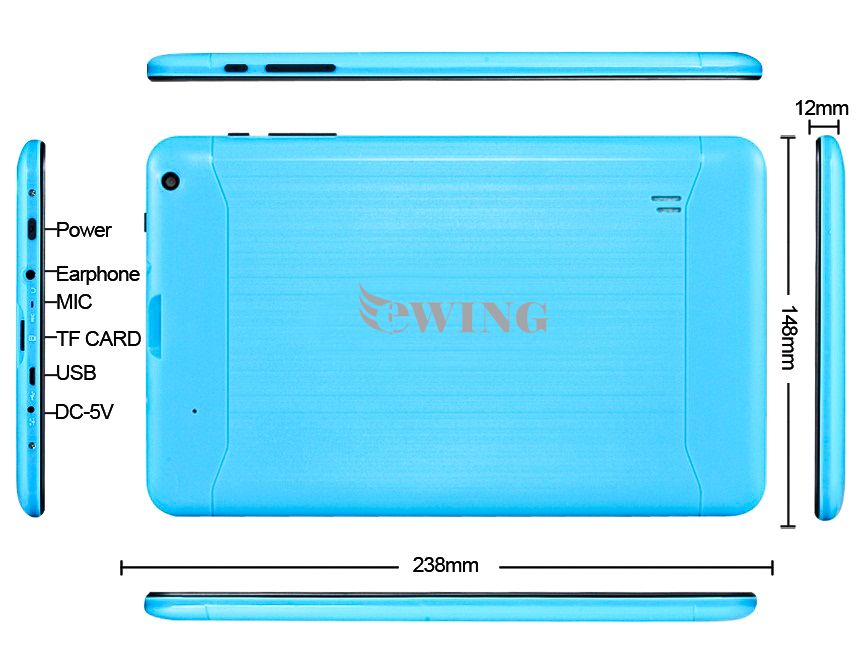 Malaysia brand : www.ewing.my
Keep yourself connected the right way, and the best way possible. The 9" ewing 8GB Dual Core 1.5Ghz Android 4.2 Tablet provides that possibility, allowing you to surf online anywhere and anytime, leaving it all up to you. The Tablet offers access to thousands of apps to make the tablet, your tablet. Turn this tablet into the ultimate media player, by storing your music, pictures and favourite movies and access them whenever you want, wherever you want.
Android 4.2 Jelly Bean
Android 4.2 takes the speed and simplicity of Jelly Bean to a different level – a completely new camera experience that's beyond smart, a new form of typing that helps you power through your messages, and much more.Uses Android 4.2 operating system, allowing you to download thousands of apps on the Android Market.Easy to send/receive Email, read News, manage your daily business Ideal for home entertainment and office use.



Wireless Internet Access
Supports Wi-Fi, letting you surf the Internet anywhere covered by Wi-Fi network.








G-Sensor and Accelerometer
Featuring a built in G-Sensor for automatic screen rotation, the 9" ewing has landscape/portrait functionality. When you turn the device, the G-Sensor detects the movement and rotates the screen accordingly and it rotates in all four directions. The accelerometer means you can turn and tilt the tablet so games come to life and as the 9" ewing tablet has a built in MaliMP2 400MHz graphics processor, it makes for a great gaming experience.




Google Play Store
Google Play is an app store that allows users to browse and download apps published by third-party developers. Want to download more apps? Google Play is where all the apps live! Just click Play and choose from over 800,000 apps. The best part is that over half of them are completely free!






9" Capacitive Screen
The responsive capacitive screen makes operation effortless. Electrical fields in the screen sense the touch of your finger on the display - there is no need to press the screen - just a touch or swipe of your finger allows you to select a function, scroll pages, flip through photos etc. With multi-touch technology you can "pinch-to-zoom" to easily view the page how you want to see it.









Dual Core CPU
The 9" ewing tablet features an impressive Allwinner A23 1.5 GHz Dual-Core Cortex A7 CPU coupled with the renowned MaliMP2 400MHz dedicated graphics processor means you can run more apps concurrently without the inevitable CPU slowdown you get with lower specification tablets and you can experience seamless play in 3D games.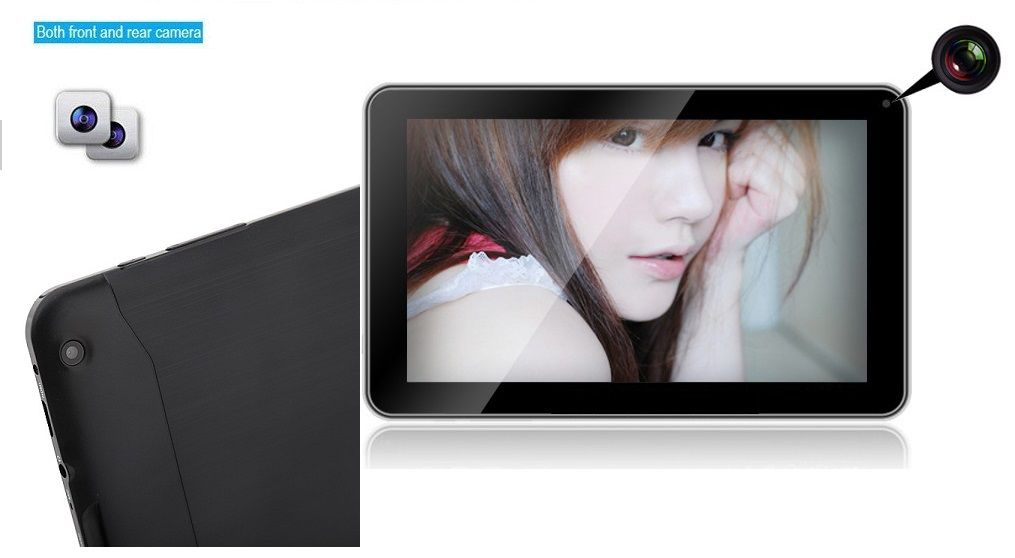 Dual Cameras
With a built-in front and rear cameras you can easily capture photos and record videos. The 9" ewing tablet also has a built in microphone for recording audio.
CPU: All Winner A23 DUAL CORE
up to 1.5ghz
GPU: Mali 400
Operating System: Android 4.2
RAM: 512mb DDR3
Storage: 8GB Storage
Other: microSD(TF) up to 32GB
Dual Camera
Build in Wifi
Bluetooth 2.1
support 3D gaming

Size (L x W x H 18 x 12 x 0.9

Weight 0.5
Warranty Period 1 Year
Warranty Type Local Supplier Warranty

What's in the Box:
1 x tablet
1 X USB cable
1 X OTG cable
1 X ewing Exclusive Tablet Box
1 X ewing Exclusive user manual (english +chinese)



add on 4gb original kingston for RM20
ADD ON 8gb original kingston for RM30

ADD RM30 TO GET HIGH QUALITY MAGIC LEATHER CASING . CAN FIX THE TABLET STAND IN ANY ANGLE!
ADD RM40 TO GET KEYBOARD WITH LEATHER CASING (normal price rm70)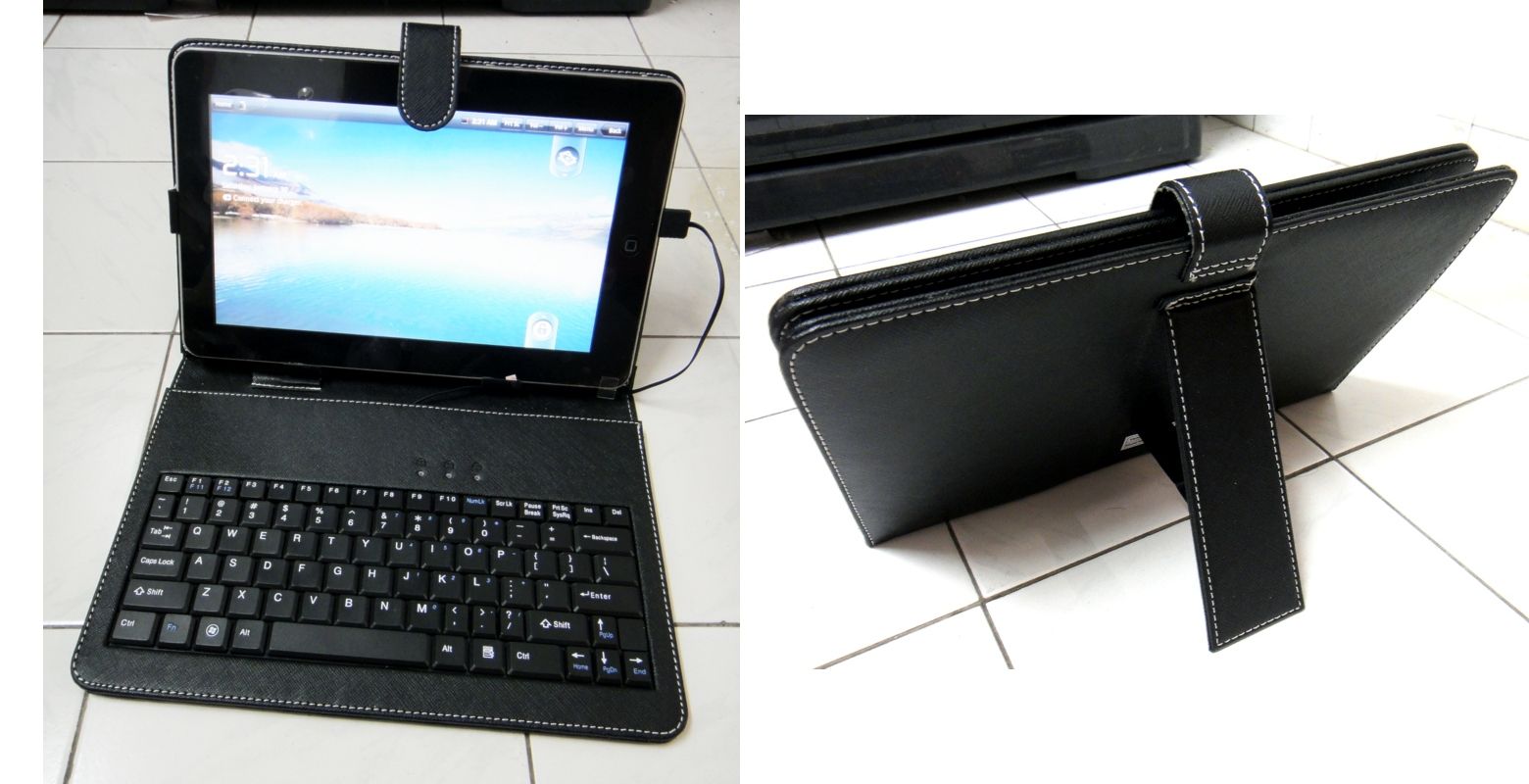 Last Updated @ 7/14/2014 11:42:41 PM


Basic Information
Basic Information of Product
Product Status/Sales Type
New
Product No.
354159
Weight (KG)
1 kg
Country of Origin
N/A
Shipping Method
Courier Service
GST Applicable
SR 6%
After Sale Service
Refer to product description
Brand
None
Already purchased this product? Write your review here.
Read more

Read less
/300
(this will only be visible between you and seller)
All your Q&A posts are available in My Page > My Shopping Talk > My Q&A History.
Once seller replies, you will be notified by email.
Your posts may be removed and 11street reserves the right to suspend your account if inappropriate contents are found;

Any implication of direct trade / discounts with your contact number, email address, or any offline contact point.
Any indication of libel/defamation, inappropriate price comparison, unrelated ads, etc.
Seller's Information
| | |
| --- | --- |
| Seller | WING ELECTRONICS |
| Shipping from | |
| Return/Exchange address | |
| Notice on Return/exchange | Refer to product description |
11Street Return/Exchange Policy
Cancellation

Request for cancellation if product has not been dispatched after payment completion.
Strictly no cancellation for E-voucher after purchased.

Return

Request for return within 7 calendar days following delivery date.
Check seller's approval on buyer's request.
Buyer sends product in question to buyer.
Seller receives and checks returned product.
Seller approves return and return is completed.
Strictly no return or refund for E-voucher.

Exchange

Request for exchange within 7 calendar days following receipt of delivery.
Check seller's approval on buyer's request.
Buyer sends product in question to seller.
Seller receives and checks returned product
Seller send new product to buyer, and buyer receives it, and exchange is completed.
No exchange for E-voucher purchased.
How to Request for Cancellation/Return/Exchange
You can request for cancellation after completing payment and if product has not been dispatched by then, cancellation request is approved and you can receive refund.
But, in case seller has already dispatched product, cancellation request can be rejected.
You can request for return after obtaining product, you should send the product in question to seller.
After seller checks if returned product is flawed, and approves your request, return is completed and payment is refunded.
You can request for exchange if wrong product is shipped, you should send the product in question to seller.
After seller checks if returned product is flawed, seller approves your request, and re-sends new product.
Criteria for Return/Exchange
You can request for return/exchange within 7 calendar days following delivery date. But return/exchange request cannot be made in following cases:
When request due to change of mind is made after 7 calendar days following delivery date
When product is used, destroyed or damaged
When tag attached to product is removed or package of product is opened and product value is damaged
When sealed package is opened or packaging materials are lost
When too much time has passed and product value has so decreased that its re-sale is not possible
When return/exchange request is made for customized product such as hand-made shoes or accessories
When components of product (including free gift) have been used or lost
When buyer did not follow instructions included in product
As e-voucher products are immediately sent to your e-mail, returns/exchanges are not available. Please take note of this before purchase, and input your e-mail address correctly.
As Mobile Top-up products are directly reloaded on your cell phone number, returns/exchanges are not available. Please take note of this before purchase, and enter your cell phone number correctly.


For any inconvenience regarding Cancellation/Return/Exchange, please contact Customer Service at 03-2720-0000 and we will do our best to help you.
Notice
Please note that, direct transaction with the seller without using 11street payment service can cause problems such as; not receiving the product, receiving different product etc.
For sales products and contents registered by the seller, 11street run by Celcom Planet has no responsibility on any of the registered contents.