3M™ Filtered Water Dispenser HCD2, Ultraviolet light tech, 3m Hot Cold Water Dispenser, 3m hcd2
FREE TRIAL DRINK! CALL US NOW @ 012 326 4381
100% Brand new, 3M™ Filtered Water Dispenser HCD-2, Ultraviolet light technology + Extreme High Quality Carbon Block Filter, Water Dispenser, Water Filter *Black Color
***FREE delivery &
Standard Installation.
West Malaysia [ selective area], please whatsapp / call to 018-287 4381
# PACKAGE CONTENT:
1 X 3M™ Filtered Water Dispenser HCD-2 & accessories.
# FREE GIFT:
FREE EXTRA 2 FILTERS FOR NEXT 2 YEARs REPLACEMENT!
# Features:
3M™ HCD2 Hot Cold Room Temperature Water Dispenser -
BPA Free /
Reduce Chlorine /
Save Electricity /
99.9% UV Sterile Drinking Water
Black color only
Healthier Child, Brighter Future

Choose The Filtration Technology You Can Count On

At 3M, we understand your desire to secure your family's health by ensuring that the water you drink daily is of the highest quality.

The new 3M™ Hot, Cold & Room Temperature Filtered Water Dispenser uses a miniaturised 3M Filter based on proven filtration technology with more than 75 years of history.


3M is known worldwide for innovation that has given rise to a continuous stream of superior technologies and thousands of innovative products that are making life easier and better. With 3M hot, cold & room temperature filtered water dispenser, you and your child can enjoy cleaner, clearer and better tasting water any time of the day.
Cleaner, Clearer, Better Tasting Water Every Day
Innovative Features
BPA Free
The dispenser is free of bisphenol A (BPA) so you need not worry about chemicals leaching into drinking water. BPA can disrupt our neurological functions and pose risk to our health Similar to the feature that you look out for in water bottles

Extended Water Dispensing Space
Fills water bottles up to 25cm in height Option to dispense up to two litres at one go

High Quality Filtered Water
3M™ AP2 Cartridge is tested in accordance with NSF International standards Reduce chlorine taste and odour Reduce sediment down to 0.5 micronReduce 99.95 percent of Protozoan cysts — Cryptosporidium & Giardia that may cause foul smell in stagnant water and gastrointestinal illness like diarrhoea Remove slime and rust Maintain the pH value of water supplied by the PUB at 7.5 – 8.3. A pH value of more than 7 is alkaline
UV Lamp
UV inactivate the pathogenic bacteria such as Staphlococcus Aurerus and viruses, sterilising your drinking water up to 99.9 percent

Convenient & Easy to Use
Hot, cold and room temperature filtered water any time Save precious time; no need to boil, cool and store water Save space on kitchen countertops and in refrigerator; no need for kettles, hot water flasks and water containersCompact size with large water capacity

Save Electricity
Up to 40 percent less electricity than some conventional hot water dispensers in the market


Technical Specifications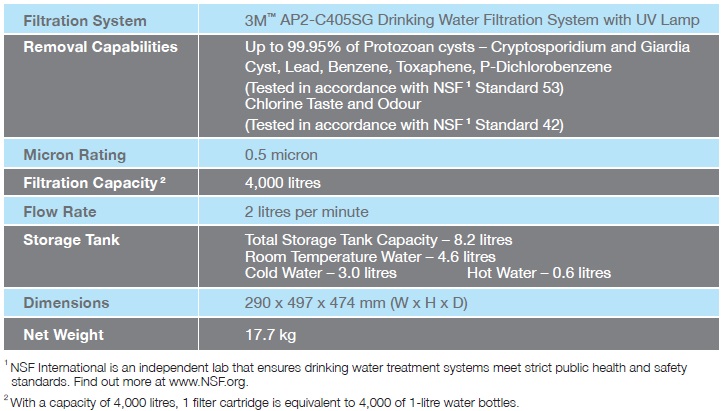 Quality Assured

Our water dispenser has received IEC and IECEE certification (Test Report Reference No. 077-2370814-000).

The dispenser has obtained Singapore Safety Mark (Certification No. 141214-11) and meets Singapore Standard SS375 requirements for non-metallic products for use in contact with hot or cold water intended for human consumption.

Our AP2-G Filter has been tested in accordance with the NSF International Standards 42 and 53, complies with the requirements of the Water Regulations Advisory Scheme (WRAS), and is registered with the Water Quality Association (WQA).
Why filter your water?

A water dispenser installed in your home not only allow you to enjoy clear tasting water straight from the tap.

As part of the water treatment process, chlorine is added to water to help ensure it is safe for consumption, but this may result in a taste that some people find unpleasant. Refer to the table below for more information on potential health effects and remedies to reduce their presence in your drinking water.

What are the potential health effects?

Chlorine itself usually does not present major health concerns; however, it does affect water taste and odor.

Chlorine does react with other substances present in water to produce disinfection by-products, such as Trihalomethanes (TTHM).

Some people who drink water containing TTHM in excess of the EPA's standard over many years may experience problems with their liver, kidneys, or central nervous system. They may also have an increased risk of getting cancer.

How can it be reduced in drinking water?

Filter your water

Look for an NSF certified drinking water filtration system that is certified to reduce chlorine taste and odor and/or TTHM

3M Clean Water Solutions drinking water systems are NSF certified to reduce chlorine taste and odor

The 3M™ Advanced Drinking Water System also reduces TTHM
You have the right to drink clean drinking water.
Benefits of 3M Water Dispenser

3M Water Dispenser is designed to remove harmful substances such as iron, calcium, sediment and rust so you and your family enjoy better tasting, higher quality drinking water. The dispenser also protects your appliances from scale build-up that reduces appliance efficiency.

3M Water Filtration & Aqua-Pure water systems consist of two primary components: the water conditioning system and the drinking water filtration system. These two systems in your home will not only help improve your water quality, they also help improve your overall health.
Keep Costs Down


Eliminates the need for expensive and bulky store-bought or delivered bottled water
Helps to protect expensive plumbing fixtures from scale build-up, which reduces water flow and pressure
Save money by reducing overall soap and detergent use.



Enhance Your Appearance


Reduce dry skin and hair, leaving them softer and smoother



Increase efficiency


Achieve up to 30 percent water efficiency by reducing scale build-up with filtered water for your laundry, plumbing and appliances
Remove spots and streaks on dishes, glassware and silverware
Reduce soap scum and residue build-up on shower fixtures and enclosures, tubs and skins - saving cleaning time by up to 70 percent.



Improve The Taste Of Beverages


Remove the taste of chlorine from the water you consume
Enjoy the real taste of coffee and tea
Why choose 3M?

With over 40 years of experience in filtration technology, 3M Purification (3M PI) is a leading filtration solution provider in a wide range of markets. Our filtration solutions are used for even the most demanding and challenging process applications in many industries:
Pharmaceutical laboratories,
Desalination plants,
Manufacturing facilities,
Oil & Gas refineries,
Restaurants, fast food chains and cafés,
And many more.
| | |
| --- | --- |
| | Moreover, all 3M Water Filter Systems are tested and certified by NSF International. |
Basic Information
Basic Information of Product
Product Status/Sales Type
New
Product No.
19380660
Weight (KG)
20 kg
Country of Origin
N/A
Shipping Method
Courier Service
GST Applicable
Not Applicable (Non-GST seller)
After Sale Service
For more information visit www.SHOPNSAVE.my after sale service and support.
Brand
None
Already purchased this product? Write your review here.
Read more

Read less
/300
(this will only be visible between you and seller)
All your Q&A posts are available in My Page > My Shopping Talk > My Q&A History.
Once seller replies, you will be notified by email.
Your posts may be removed and 11street reserves the right to suspend your account if inappropriate contents are found;

Any implication of direct trade / discounts with your contact number, email address, or any offline contact point.
Any indication of libel/defamation, inappropriate price comparison, unrelated ads, etc.
Seller's Information
Seller
SHOPNSAVE
Shipping from
Return/Exchange address
Notice on Return/exchange
Now Enjoy 7 Days Free Returns.
Any item in its original unopened packaging is eligible to be returned within 7 days of receipt.
If the product is used/opened/not in original state, you are not eligible for return/refund.
All sale is final and not refundable.
11Street Return/Exchange Policy
Cancellation

Request for cancellation if product has not been dispatched after payment completion.
Strictly no cancellation for E-voucher after purchased.

Return

Request for return within 7 calendar days following delivery date.
Check seller's approval on buyer's request.
Buyer sends product in question to buyer.
Seller receives and checks returned product.
Seller approves return and return is completed.
Strictly no return or refund for E-voucher.

Exchange

Request for exchange within 7 calendar days following receipt of delivery.
Check seller's approval on buyer's request.
Buyer sends product in question to seller.
Seller receives and checks returned product
Seller send new product to buyer, and buyer receives it, and exchange is completed.
No exchange for E-voucher purchased.
How to Request for Cancellation/Return/Exchange
You can request for cancellation after completing payment and if product has not been dispatched by then, cancellation request is approved and you can receive refund.
But, in case seller has already dispatched product, cancellation request can be rejected.
You can request for return after obtaining product, you should send the product in question to seller.
After seller checks if returned product is flawed, and approves your request, return is completed and payment is refunded.
You can request for exchange if wrong product is shipped, you should send the product in question to seller.
After seller checks if returned product is flawed, seller approves your request, and re-sends new product.
Criteria for Return/Exchange
You can request for return/exchange within 7 calendar days following delivery date. But return/exchange request cannot be made in following cases:
When request due to change of mind is made after 7 calendar days following delivery date
When product is used, destroyed or damaged
When tag attached to product is removed or package of product is opened and product value is damaged
When sealed package is opened or packaging materials are lost
When too much time has passed and product value has so decreased that its re-sale is not possible
When return/exchange request is made for customized product such as hand-made shoes or accessories
When components of product (including free gift) have been used or lost
When buyer did not follow instructions included in product
As e-voucher products are immediately sent to your e-mail, returns/exchanges are not available. Please take note of this before purchase, and input your e-mail address correctly.
As Mobile Top-up products are directly reloaded on your cell phone number, returns/exchanges are not available. Please take note of this before purchase, and enter your cell phone number correctly.


For any inconvenience regarding Cancellation/Return/Exchange, please contact Customer Service at 03-2720-0000 and we will do our best to help you.
Notice
Please note that, direct transaction with the seller without using 11street payment service can cause problems such as; not receiving the product, receiving different product etc.
For sales products and contents registered by the seller, 11street run by Celcom Planet has no responsibility on any of the registered contents.